While not quite as large as some of its integrated peers, Occidental Petroleum Corporation (NYSE:OXY) is still a giant in the American oil & gas industry. From extensive holdings in the Permian Basin region, which includes EOR and unconventional drilling activities, to its downstream OxyChem operations to its international upstream portfolio to its midstream assets, Occidental Petroleum has diversified its cash flow streams within the sector. When the integrated almost oil major reports its Q2 2016 earnings on August 3, here are a few things to keep an eye out for as the oil & gas market emerged from its early-2016 lows.
Financial outlook
Occidental Petroleum's management team has done a solid job managing the finances of the company, which is a large reason why its stock price has done so well relatively speaking. In 2014, Occidental sold off its 50% stake in the BridgeTex Pipeline for $1.15 billion, divested its Hugoton Field asset for $1.4 billion, and completed the spin-off of California Resources Corporation (NYSEMKT:CRC) (at the time, Occidental still held onto 71.5 million shares of CRC). Last year, Occidental sold off its upstream Bakken/Three-Forks holdings for $600 million and exited the Zubair oilfield in Iraq for an undisclosed sum.
On top of optimizing its asset base and shedding operations that weren't a part of its long term plan, Occidental Petroleum Corporation sharply scaled back its capex budget. Occidental spent $8.93 billion on capital expenditures in 2014, which fell down to $5.27 billion in 2015 and is guided to keep falling to $3 billion this year. Its annual dividend payments will come in around $2.3 billion and Occidental also has to cover its non-capitalized interest payments, which would come in around $230 million per year based off of its Q1 2016 results.
By the end of Q1 2016, Occidental had $8.24 billion in current assets versus $6.83 million in current liabilities, which includes $2 billion in short term debt, and $5.61 billion in long term debt. During the first quarter, Occidental received $550 million in payments from Ecuador and $285 million from non-core asset sales. Another $300 million is on its way from the settlement with Ecuador. Considering how Ecuador recently paid $112 million to Chevron Corporation (NYSE:CVX) to settle a different liability and that the first tranche has already been paid, there is a high likelihood that Occidental will see that $300 million.
In Q2 2016, Occidental issued out $2.75 billion in senior notes to cover the $2 billion in upcoming maturities through a successful debt issuance. That should materially improve Occidental's liquidity position while creating a more favorable maturity schedule. Add in additional proceeds from its Ecuador settlement and Occidental Petroleum Corporation's balance sheet remains rock solid. On a net basis, Occidental received $2.72 billion from its bond issuance.
Occidental guided to use the cash to pay off $750 million of its bonds that matured in June 2016 and should have used an early redemption option to retire $1.25 billion in debt due in Q1 2017 in May 2016. Shareholders and interested investors should look out for news regarding the settlement with Ecuador, the possibility for a few more small non-core divestitures, and what the firm's balance sheet looks after the financing maneuvers.
In regards to cash flow generation, investors should see how a sharp bounce in WTI, Brent, and later on in the quarter Henry Hub pricing had on Occidental Petroleum Corporation. Before factoring in $360 million in "other costs" (including severance expenditures due to its ramp down in drilling activity) and $320 million in working capital changes, Occidental generated $820 million in cash flow during the first quarter of this year. That fell short of its interest, capex, and dividend payments.
Conventional and unconventional Permian update
Initial updates from unconventional players that operate in the Permian Basin have been fairly bullish this quarter as gains on the ground helped alleviate the pressures from a low pricing environment. As Occidental Petroleum has been a part of the optimization process, investors should see what kinds of gains the company was able to lock in last quarter.
Occidental has been pushing forward with more intense completion designs, which entails using more proppant per foot, increasing the number of frac stages, and having more clusters per frac stage, and longer well laterals. For instance, the firm recently increased the proppant per foot of its standard completion technique to 1,500 pounds per foot from 1,000 pounds per foot and has completed several wells with 10,000-foot laterals. The idea is that bigger completion practices and longer well laterals lead to much higher levels of productivity that fully compensate, and then some, for the higher costs.
As of its Q1 report, Occidental had tested out two wells with completion designs that used 2,000 pounds per foot of proppant. It's worth looking out for any commentary on how Occidental has been able to boost EUR (estimated ultimate recovery) rates and for what cost.
Lower third-party rates, faster drilling times and possibly faster completion times are also on tap, as is the reasonable likelihood that standard well costs (adjusting for the recent changes) continued to move lower, albeit marginally at this point in time.
On the conventional front, Occidental Petroleum will probably provide addition info on its Residual Oil Zone Development project. By using work-over rigs to drill deeper in the South Hobbs and West Seminole areas, Occidental hopes to develop oil reserves in the lower parts of those plays through CO2 injection at a very low cost.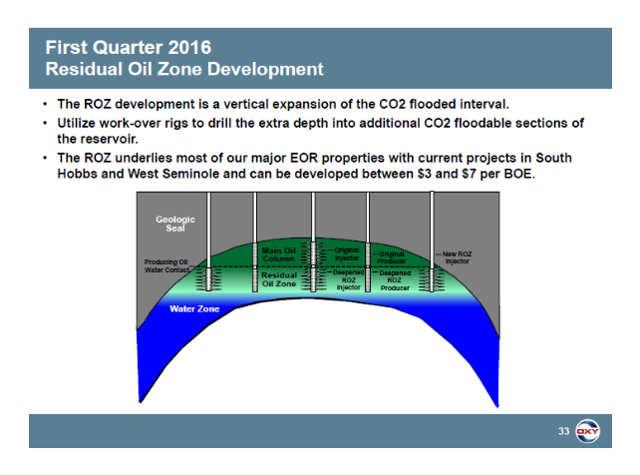 Source: Occidental Petroleum Corporation May 2016 Presentation
This is an excerpt from its Q1 2016 conference call (emphasis added);
"Phase 1 of CO2 injection at South Hobbs continues to perform well. Additionally, the initial implementation of the residual oil zone, or ROZ, projects are underway at South Hobbs and West Seminole. The ROZ development is a vertical expansion of the CO2 flooded interval. This activity is economic in a low price environment, because we typically utilize work over rigs to drill the extra depth into the CO2 floodable sections of the reservoir. The residual oil zone underlies most of our major EOR properties and can be developed between $3 and $7 a barrel."
Lower crude oil prices have put a tremendous amount of pressure on third-parties to sharply cut their rates to keep their customers, which has been a major boon for Occidental Petroleum's Permian Basin EOR operations in the face of a terrible pricing environment. Below is a look at the difference in its operating costs in a $55 WTI and a $35 WTI environment.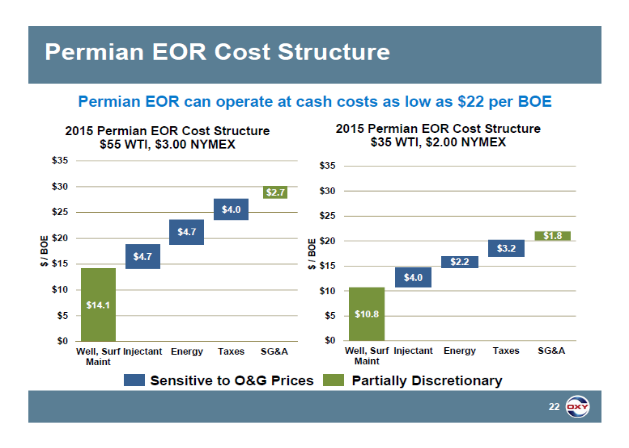 Source: Occidental Petroleum Corporation May 2016 Presentation
Look out for any commentary around both Occidental Petroleum Corporation's unconventional and EOR Permian operations this earnings cycle.
Final thoughts
Occidental Petroleum Corporation is also getting closer and closer to bringing its $1.45 billion petrochemical project online in Ingleside, Texas, through its 50/50 partnership with MexiChem. As the start-up for the venture is expected to be in early 2017, management will most likely give a update on how that is progressing, which is worth noting. While some oil & gas firms battle bankruptcy and hefty cash flow shortfalls, Occidental Petroleum Corporation is on solid footing with a rock solid balance sheet. This earnings release, management should be able to paint a much brighter future going forward.
Disclosure: I/we have no positions in any stocks mentioned, and no plans to initiate any positions within the next 72 hours.
I wrote this article myself, and it expresses my own opinions. I am not receiving compensation for it (other than from Seeking Alpha). I have no business relationship with any company whose stock is mentioned in this article.