Not sleepy anymore?
At last, the wait might be over. After demonstrating multiple false rallies, coffee futures are finally starting to gain momentum. Increasingly bullish large traders' bets suggest a high possibility of the present rally being sustained. After being short the commodity for nearly 2 years, large speculators had a plenty of time to analyze the coffee market before accumulating the current build-up in net-long positions, as seen in the chart below.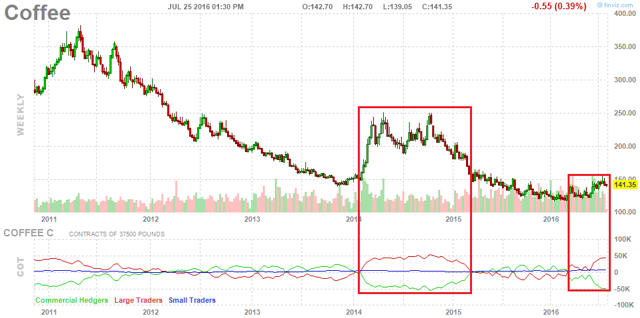 Source: Finviz.com
Even though it might not be appropriate to call the current price movement a "rally", one should note that it can get quite serious if the net-long positions continue to increase, which they currently do.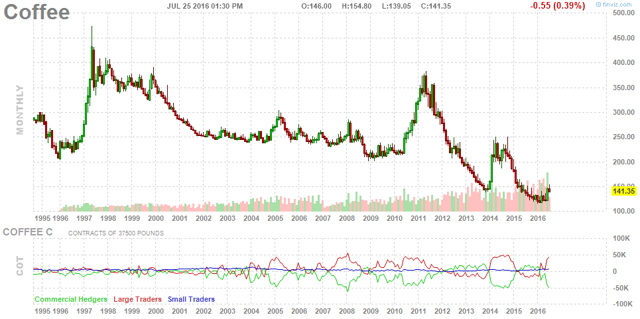 Source: Finviz.com
Is coffee the right side of the trade this year?
Demand: at record highs and growing
The USDA projects global coffee demand to grow by 1.15 percent this year, with most of the largest consuming countries experiencing continued coffee consumption growth. It estimates global coffee consumption for the 2015/2016 calendar year at record 149.09 million bags.

Global Coffee Consumption in 1000s of 60-kg bags. Made by the author. Source: USDA (June 2016).
The International Coffee Organization is even more optimistic at estimating this year's consumption.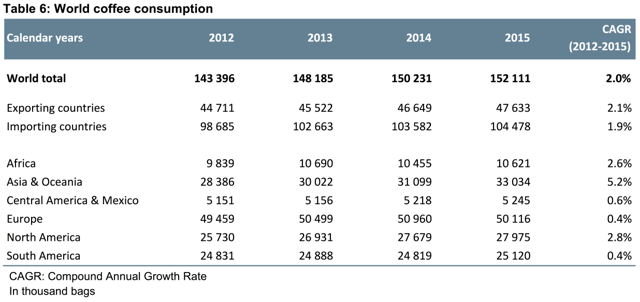 Source: International Coffee Organization (June 2016). Note: 2015 is the 2015/16 calendar year.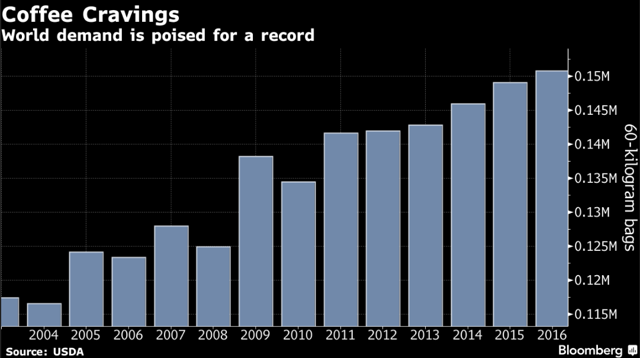 Falling inventories
While the USDA expects the world exports to decrease 2.6 percent from last year's record due to lower shipments from Indonesia, Vietnam and Brazil, strong demand is expected to push inventories to a 4-year low.
Global Coffee Inventories in 1000s of 60-kg bags. Made by the author. Source: USDA (June 2016).
Inventories in the major exporting and importing countries are forecast to decline as well.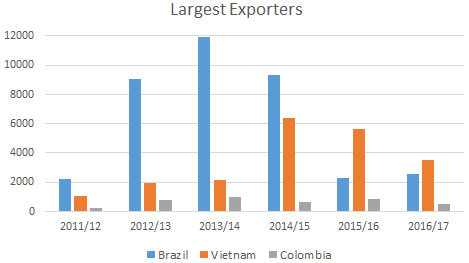 Major Exporters' Coffee Inventories in 1000s of 60-kg bags. Made by the author. Source: USDA (June 2016).
"Planned coffee auctions by Brazil's crop supply agency Conab should be seen as bullish as it signals tightness in Brazil's domestic market, although the impact on prices may be dampened by the fact the problem is largely domestic," Shweta Upadhyaya, agricultural commodities analyst with Agrimoney's Global Coffee Monitor, told Reuters.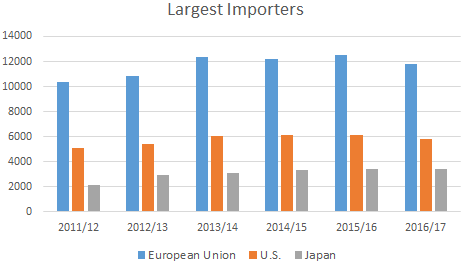 Major Importers' Coffee Inventories in 1000s of 60-kg bags. Made by the author. Source: USDA (June 2016).
Supply: higher Arabica production
According to USDA, world coffee production for 2016/17 is expected to increase by 1.54% to 155.7 million 60-kilogram bags: "Record Arabica output in Brazil more than offsets lower Robusta production in Brazil, Vietnam, and Indonesia. As a result, world Arabica output is expected to rebound to 60 percent of total production after being below this level the previous 5 years."

Made by the author. Source: USDA (June 2016).
As a result of continued droughts, Brazilian Robusta beans are now selling at a premium over Arabica, forcing roasters to buy less of the usually-cheaper bean type and readjust their blends.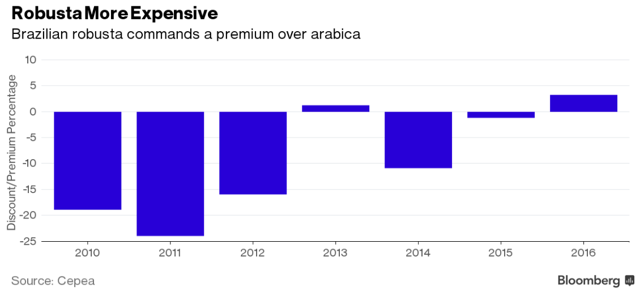 Source: Bloomberg (2016).
The Robusta production cuts are also weighing on the 2 largest producers' exports.
Vietnam: even though the country's Robusta exports are still up by 32 percent this season, June's exports came in 2.2 percent lower in comparison with May's figures. Moreover, inventories stood at just 10% of preceding harvest vs. 20% last year, Agrimoney reports.
Brazil: June's Robusta exports demonstrated a 79.5 percent y-o-y decline due to particularly dry conditions in Espirito Santo. Robusta area losses may even be worse than expected based on early drying results, according to Brazilian consultants Safras & Mercado.
Higher Arabica supplies increase the average coffee price
This calendar year, the world Arabica supply is expected to account for more than 60 percent of total coffee production for the first time in 5 years. Higher average prices lead to higher values of the Bloomberg Coffee Subindex - the underlying asset of the iPath Coffee ETN (NYSEARCA:JO). According to Bloomberg, the index is a single commodity subindex of the Bloomberg CI composed of futures contracts on Coffee. It reflects the return of underlying commodity futures price movements only and is quoted in USD.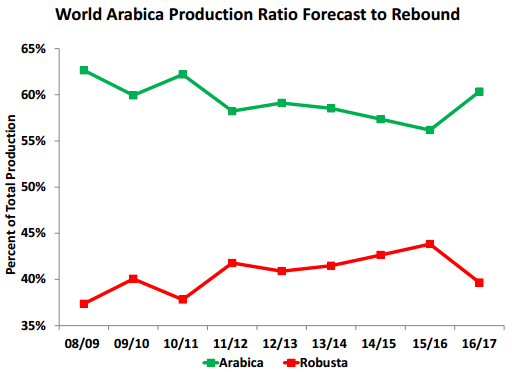 Source: USDA (June 2016).
Despite demonstrating some short-term technical weakness, the index remains in an uptrend.
Source: StockCharts.com
Brazilian real continues to rise
For as long as the country continues to be the world's largest coffee exporter, fluctuations of its currency are of paramount importance to the future coffee price movements. According to USDA, exports from Brazil are expected to total 27.3 percent of global coffee exports in the 2016/17 calendar year, up from 27.2 percent in 2015/16.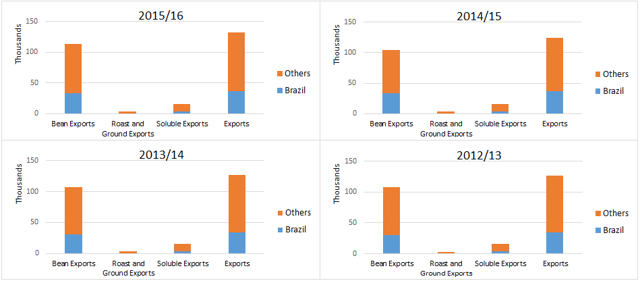 Global Coffee Exports in 1000s of 60-kg bags. Made by the author. Source: USDA (June 2016).
Brazilian currency has been on average demonstrating a rather strong momentum since the beginning of this year.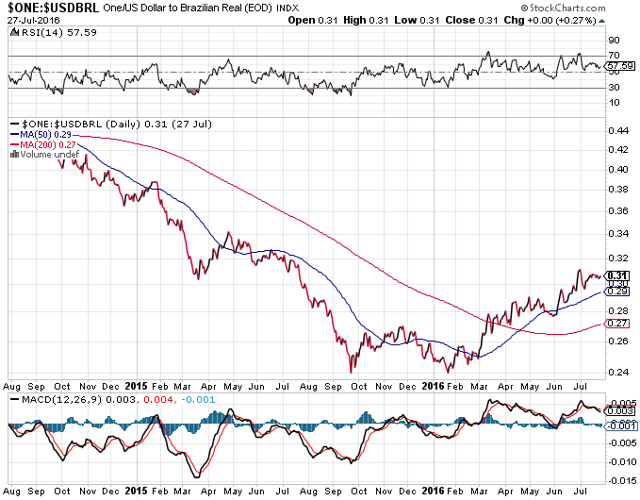 Source: StockCharts.com
The overall conditions are quite bullish, but...
It is always difficult to distinguish between the noise and actual price trends in the commodity sector. Even though it might be reasonable to stick with the broad picture for as long as coffee futures continue to demonstrate strong momentum and large traders' positions continue to increase, there are numerous news and factors that should be taken into account as well. Some of them might to a certain extent undermine the bullish thesis for coffee this year.
Despite the significant price uptrend, coffee futures traded on ICE exchange are not demonstrating a flattening futures curve, which would indicate tighter supply in the short term.

Made by the author. Source: Intercontinental Exchange, Inc (NYSE:ICE).
Starbucks (NASDAQ:SBUX) has just recently announced that the company is "over 50% price locked [on coffee] for fiscal year 2017". However, of note is the fact that the company was over 80% locked for coffee costs as of July 2015. The company might expect the prices to weaken later this year.
The near-term trend of the Brazilian real is closely tied with the country's political situation and is thus subject to strong short-term volatility. Continued depreciation would most probably result in a coffee price weakness.
The coffee price-optimistic estimates of the USDA and related agencies might suffer downward revisions in case the forecasts prove to be overly optimistic.
Conclusion
Despite the large number of potential outcomes and factors that are supportive of a coffee rally this year, the true price trend remains to be seen.
Nonetheless, I prefer to stick with the broad overview of the coffee market, which currently indicates the following:
Bullish sentiment;
Inventory drawdowns;
Record demand levels;
Falling production;
Appreciation of the Brazilian real.
The iPath Bloomberg Coffee Subindex Total Return ETN - JO - is my preferred way of obtaining exposure to the coffee futures. It has an expense ratio of 0.75% and a market cap. of $153.15 million. The ETN is rather illiquid and might only be suitable for a small position. Finally, its performance might diverge from the performance of the underlying index given the roll-over costs.
After having sold my position in sugar (NYSEARCA:SGG) just recently, I am planning to establish a long position in JO during the next week. I am also considering using December 2016 call options for this position.
Timing is everything. Even if the rally does not prove to be as exciting as it is expected to be by many, one can still profit from the short-term uptrend if the trade is well-timed. Let's see if JO can hold its last week's gains. A fall below the 50-day SMA would create a reasonable buying opportunity, in my view.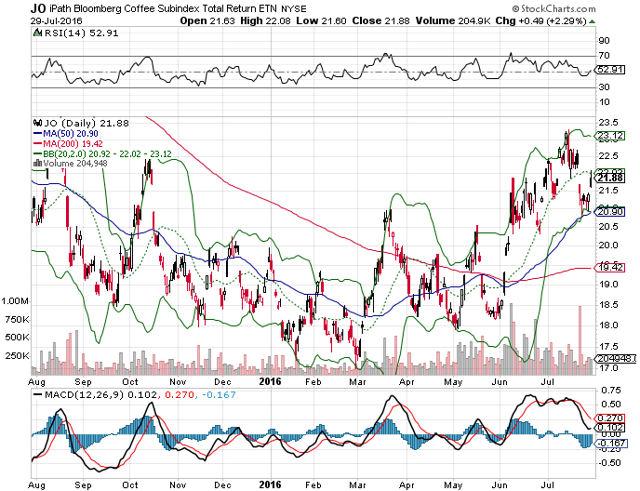 Source: StockCharts.com
I assign JO a "Buy" rating.
Disclosure: I/we have no positions in any stocks mentioned, but may initiate a long position in JO over the next 72 hours.
I wrote this article myself, and it expresses my own opinions. I am not receiving compensation for it (other than from Seeking Alpha). I have no business relationship with any company whose stock is mentioned in this article.
Additional disclosure: This is not an investment advice. I am not an investment advisor.