I recently did an article on Express Scripts (NasdaqGS: ESRX), a pure-play on pharmacy benefits management (PBMs). One of their major competitors is CVS Health (NYSE: CVS), which offers an interesting comparison due to their diversification. United Health (NYSE: UNH) is the final major player in the space, and their integration as a massive insurance company will make that an interesting comparison as well in a future article. The PBM market share is broken down below: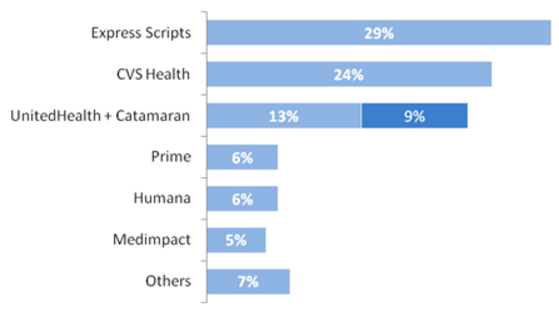 Source: Forbes
When most people think of CVS, they think of the retail chain that contain their pharmacies as well as a store. However, their PBM business provides a significant portion of their revenues. These two segments mesh well, and provide an integrated approach to healthcare that has achieved high returns for a long time.
If you have already read my article on ESRX, you should skip the next section explaining the operations of PBMs.
How Pharmacy Benefits Managers Work
Pharmacy Benefits Managers (PBMs) are the intermediaries between pharmacies, manufacturers, and insurance providers that negotiate drug pricing for the insurance companies. PBMs work to get discounts and mitigate high prices on certain drugs, something that has been a hot topic the last few years. They maintain profitability by charging a premium on the drugs to the insurance companies. The successful PBMs are those that can negotiate the best deals with manufacturers while also having the largest distribution network of pharmacies. These go hand in hand, as manufacturers of drugs are more likely to give the better prices to the large PBMs that can guarantee their drugs will be sold in a larger market. Because of these large deals, however, PBMs can end up relying heavily on only a few large deals.
(click to enlarge)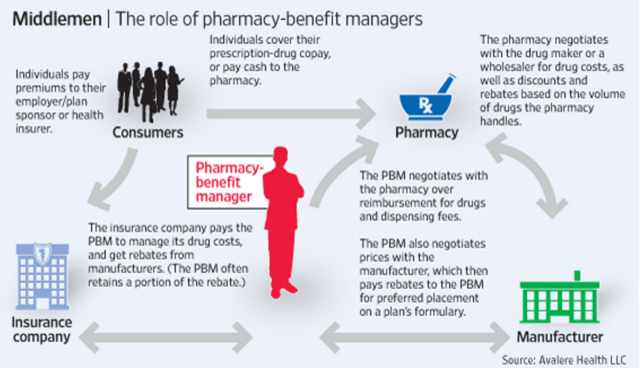 Source: WSJ
Governmental Scrutiny
A well-known trend affecting healthcare today is the increased scrutiny being paid to the pharmaceutical industry. High profile cases of extortionate drug prices have led to a public outcry and the potential for governmental interference into the space. Excessive drug costs have been a hot-button issue for the political season, and that has led to many great companies being overly beaten down in the health care space. Some believe that the PBMs actually bear a good amount of responsibility for the high prices due to taking their cut as the middle man between manufacturers and insurance companies. This could very well cause legislation changing the way that PBMs operate. However, these companies don't exist solely to take a cut. By all accounts, PBMs manage to keep drug prices down by extensively negotiating with drug manufacturers for the best deal. In my opinion, the most likely outcome from all this is increased transparency in PBM operation. A better view of the PBM process and their role in negotiating pricing should keep them safe from whatever is coming.
Growth
Their Target (NYSE: TGT) pharmacy acquisition should be nearing completion as they finish rebranding the huge number of pharmacies they got with that deal. CVS pharmacies average around twice as much business as Target pharmacies, so once CVS rebrands them and begins advertising, investors should expect a high level of growth with these newly acquired stores. On a side note, I believe this could act as a tailwind for Target, another excellent company. CVS plans on not only converting existing pharmacies but opening new ones in stores that didn't have them before. This could definitely benefit foot traffic for them from existing CVS pharmacies. CVS filled 21.6% of all prescriptions in 2015, and investors should expect a higher market share in 2016. Combined with their regular store openings, CVS has expanded to the point where 76% of the population lives within 5 miles of one of their pharmacies. This massive pharmacy network grants CVS Caremark significant leverage when negotiating in their PBM business. It is one of the reasons I believe CVS is more sustainable than ESRX when considering long-term investment. As far as growth, I discussed in my previous article and it has been well documented on Seeking Alpha that the macro trends supporting the healthcare industry are going to be a tailwind for many years. CVS is positioned as a healthcare market leader, and is well positioned to make the most of these trends.
Same store sales increased at a 4.2% rate in Q1, during what most would consider to be a very tough environment for retail. However, being a pharmacy, CVS holds an enviable spot with stores that I believe are virtually Amazon (NasdaqGS: AMZN) proof. Looking forward, CVS isn't too far from reaching saturation with regards to their retail business. I believe that their decision to exit the tobacco business and to focus on more health-centric food offerings focused their business and was a tough decision. This should pay off in the future as the country as a whole becomes more health-conscious. I expect CVS to be able to leverage their size and customer retention to deliver market-beating returns in their retail segment.
Earnings
Earnings are being reported on August 2nd. CVS has a pretty excellent track record of meeting their earnings estimates. Normally, I would be hesitant of initiating a position in a company heading into an earnings report, but CVS has shown consistency:
(data courtesy of FAST Graphs)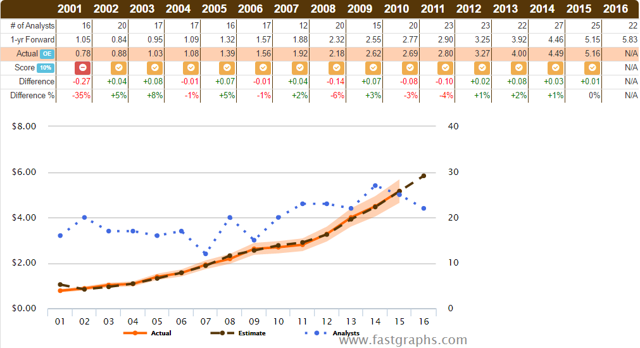 Seeing this, I would expect them to come in very close to their estimates. However, there is no way of knowing how the market will react, even if they meet expectations. Their stock has declined around 12% since their last earnings report, lagging behind the market. Meeting estimates could very well cause a nice rebound.
Profitability and Cash Generation
CVS has increased their return on equity consistently over time, showing their increasingly profitable business. As of right now, their return on equity slightly lags both their peers, and is something that I expect to improve as they leverage their scale to streamline their process. With that, investors should pay attention to their margins over time. With organic growth becoming harder for them to achieve over time, margin expansion will be increasingly important for them to increase earnings.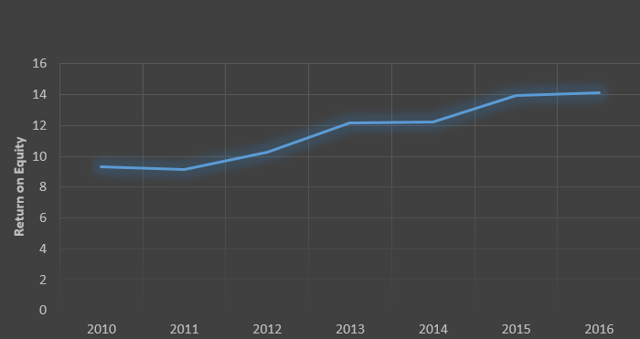 CVS has a positive ROIC-WACC spread with over 10% ROIC. This lags UNH but is higher than ESRX. This positive spread shows their growth creates shareholder value over time.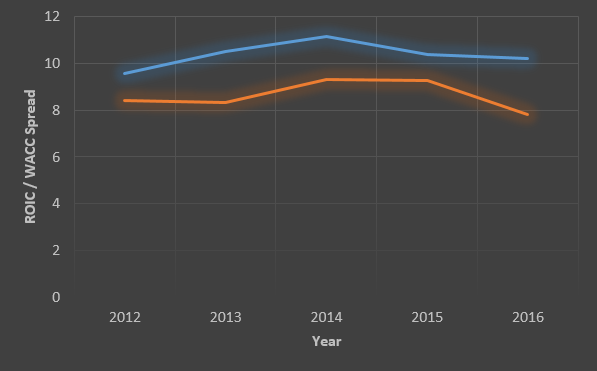 The final quantitative metric I want to discuss is their stable and increasing amounts of free cash flow generation. This provides alot of stability to their business and gives them room for continued dividend growth.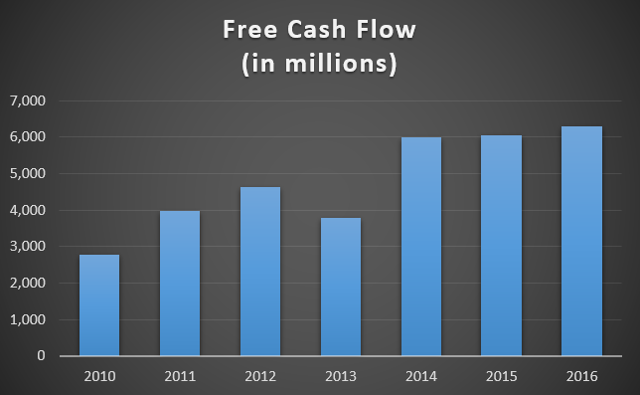 Dividend
CVS has increased their dividend for 11 straight years, making them a dividend contender, according to David Fish's CCC list. Their growth rates have been amazing over time:

CVS offers a low dividend yield, but with their dividend growth rates as high as they are your yield on cost will climb very quickly. I don't really care about yield on cost, except that if my YOC is really high and the yield is low, I must be sitting on a big capital gain. That is definitely the case for long term investors in CVS over the last decade, and should be far into the future based on their low payout ratio of ~32%.
Valuation
I believe CVS is trading around fair value right now. They are expected to grow earnings ~15% per year over the next 5 years, and if this comes to pass, I think buying them at a ~17X P/E ratio will prove to be a bargain. They aren't as cheap as ESRX, but they will offer greater stability long term due to the diversification of their business.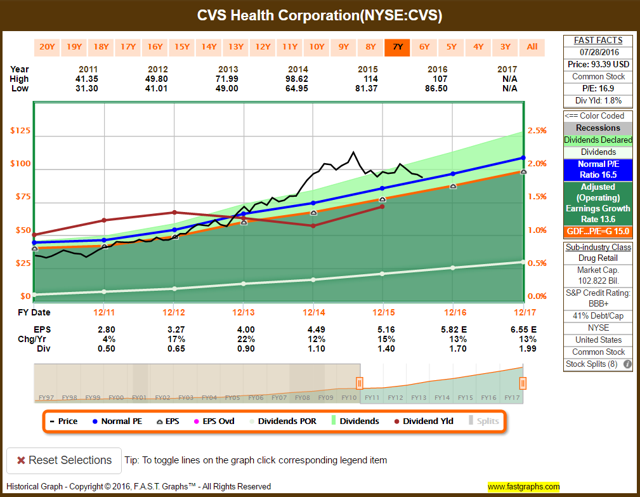 Conclusion
CVS Health offers excellent prospects for long-term investors. Their diversification and above average growth rates in earnings and dividend should provide great returns for a long time. Because of their diversification, I believe that they represent a better choice for investment dollars today than ESRX, but of course that depends on the individual investor. I will compare both of them to UNH in an article later this week.
If you liked this article, and would like to read more like it, please click the follow button next to my picture at the top. Thanks for reading.
Financial statistics were sourced from FinViz, unless otherwise stated. This article is for informational purposes only and is not a formal recommendation to buy or sell any stock. Please do your own due diligence and/or consult a financial professional prior to making investment decisions.
Other excellent companies in the healthcare sector:
Disclosure: I am/we are long CVS.
I wrote this article myself, and it expresses my own opinions. I am not receiving compensation for it (other than from Seeking Alpha). I have no business relationship with any company whose stock is mentioned in this article.