This week, the S&P 500 (SPDR S&P 500 Trust ETF SPY) lost 0.06%. Stocks have gone absolutely nowhere since the 14th of July. In this article, I want to discuss a few interesting indicators that could tell us what is about to happen during the next few weeks.
The S&P 500 has paved the way for a strong stock market rally. Stocks have broken the sideways move since 2014 and rallied almost 4% after the break-out.
At this point, it looks like stocks are pricing in a lower ISM index. I added my July ISM guess to the graph (small grey line) which is 0.4 points below the official expectations.
I wrote a few articles with reasons why the ISM index could come in lower next month. I will show you a few in this article.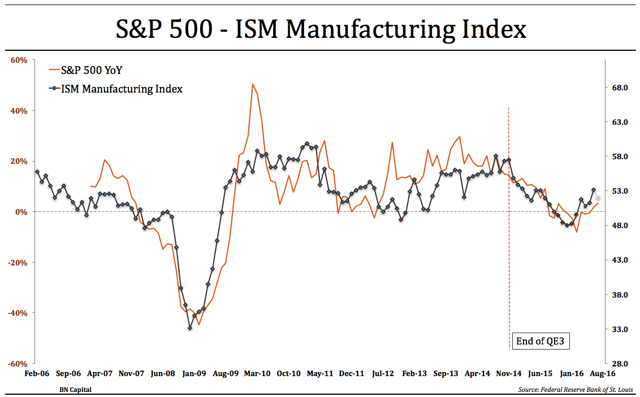 The graph below shows the spread between long term government bonds TLT, the stock market SPY and oil USO. Oil has entered a new bear market after falling more than 20%. Stocks didn't react at all.
The ratio spread between stocks and bonds has reacted. The main reason is quite simple. Falling oil prices lead to deflationary pressures which is good for bonds. Hence the lower stock/bond spread. This also indicates that the willingness to take risk is lower which is putting quite some pressure on stocks (note divergence)

I need to add that the USD has weakened quite a bit after the Fed postponed a rate hike. This should take some pressure off oil and other commodities.
Transportation stocks failed once again to outperform utilities. Even after some strong ISM prints they fail to start a sustainable uptrend. This week, the divergence between risk indicators and stocks widened once again.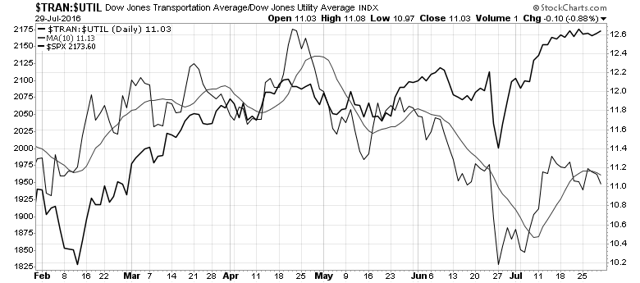 The consumer is doing a lot better. Consumer cyclicals started a strong uptrend and cooled down just a bit this week. The difference between the consumer cyclicals/staples ratio spread and the spread I just showed you is the fact that the consumer market is stronger than for example the transportation and industrials business.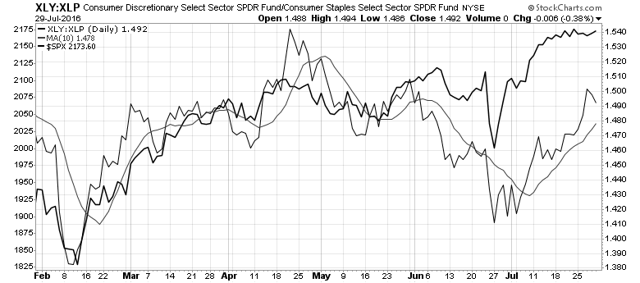 Market breath started to weaken too. Only 75% of all stocks are above their 50 days moving average. Declines at these levels normally point towards an 'extended' period of sideways moves or even declines.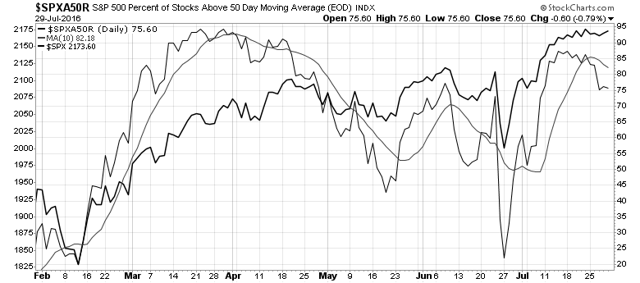 On Monday, we get new ISM numbers. This means that Monday is going to show us where stocks are headed. An ISM index between 52 and 53 points is priced in at these levels. If the USD weakens further, we will see higher commodity prices which is a nice tailwind for stocks. If the ISM index surprises to the upside, we get some serious buying opportunities.
I've cut some outright long positions and added/opened a few market neutral spreads. I don't think the risk/reward is interesting enough to go outright long. I also don't think the chances are high that the ISM index is going to beat estimates on Monday.
I hope you enjoyed this article. Feel free to leave a comment if you have any questions or remarks.
Disclosure: I/we have no positions in any stocks mentioned, and no plans to initiate any positions within the next 72 hours.
I wrote this article myself, and it expresses my own opinions. I am not receiving compensation for it (other than from Seeking Alpha). I have no business relationship with any company whose stock is mentioned in this article.