"After years of skepticism, signs of euphoria are emerging," Bloomberg wrote on Friday.
I don't agree. For one thing, I don't call this "years of skepticism"...

Looks more like "years of euphoria" to me. Deutsche Bank is happy to go along for the ride. Here's their "mania-o-meter":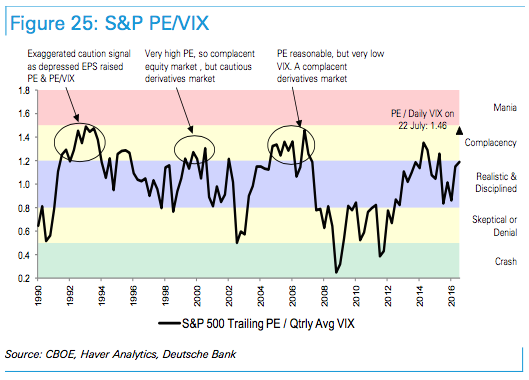 (Chart: Deutsche Bank)
See that little black triangle at the top right-hand side? That's supposed to represent "mania." "You are there," so to speak.
I have to tell you folks I don't feel the "euphoria" or the "mania." What I'm feeling now is a palpable sense of despondency, some of which is to be expected with the summer lull.
But note that despondence is something different from bearishness. It's also something different from complacency. Despondence is low spirits from loss of courage and I think you're starting to feel that across markets (NYSEARCA:SPY).
In case you weren't paying attention, the Bank of Japan basically threw in the proverbial towel on Friday. A few more trillion here, a few more trillion there in ETF purchases, which by the way isn't meant to come across as trite, because after all, they already own two-thirds of the market, but two things should concern you: 1) the fact that Kuroda is "ordering" an "assessment of effectiveness of BOJ policy for September meeting," and 2) this chart:

See that disconnect there on the right? That should have been an absolute bloodbath. Here's what I said elsewhere going into the meeting referencing BNP's take:
See anything inconsistent in that analysis? We do. If "expectations for aggressive action have increased considerably" and "measures could struggle to clear a rising bar," then why in the world would you want to be long USDJPY going into the meeting? You wouldn't. You'll get slaughtered.
And stocks should have too.
I believe Kuroda's demand for a "review" signals the beginning of the end for this monetary policy regime. Does that mean they're going to make him fall on his sword? Well or course not, but if you didn't feel the air go out the room last week then you weren't breathing. This is one of the rare times where I disagree (sort of) with Bloomberg's Richard Breslow. Here's what he had to say late in the week:
This has been a good run for central banks. In their individual ways, yet collectively, they made this latest round of meetings and comments a net positive for their own and the global economy.

Most importantly, I can't remember parsing a spate of meetings and hopefully wondering if they have finally gotten a clue about what they should be doing to help world growth. Sometimes, less is more

The BOJ did absolutely the right thing today. Kind of an ironic thing to say with the yen surging and JGBs having their worst day in a number of years. Equities are confused, but will realize this isn't such a bad thing
Insightful, yes. Actually, this time, maybe not. "Less cannot, by definition be more" when you're talking about making the world grow. Less can be more on chocolate. Or on steak (wait, maybe not on steak), but certainly not on the revitalization of the global economy.
Besides, for once Breslow seems to have misread the tea leaves. Everyone knows that BoJ statement was a disaster which is why, as Breslow says, it's "kind of an ironic thing to say with the yen surging and JGBs having their worst day in a number of years."
Yes, it's either "kind of ironic" or you're "kind of wrong," my brother.
Do want to know first hand what despondency feels like at a sellside desk via words? Consider this from Deutsche Bank, out this weekend:
The BoJ increased the size of the ETF programme by ~JPY3trn to JPY6trn, but refrained from cutting the policy rate deeper into negative territory and from increasing the pace of JGB purchases. In the press conference, Kuroda indicated that the BoJ could cut the policy rate further and/or increase the pace of QE if necessary. But he also recognised the negative impact that the flat yield curve could have on the banking system and called for a review of the effectiveness of current easing measures. Earlier in the week, Abe announced a fiscal stimulus with a headline number of JPY28trn, of which JPY13trn represents actual additional fiscal spending. The precise nature and timing of the package and its implications for issuance remain unclear, but more details are expected to be unveiled next week.
I can sum that up in one picture and ad-lib: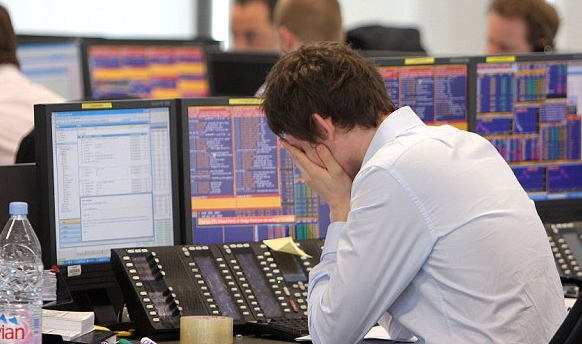 ("Oh God, please don't make me write that exact same paragraph again!)
Ever had your paycheck dependent upon paraphrasing yourself 1,000 times? No? Well it's no fun.
Much more to come. There's about a thousand pieces of research to go though and I'd rather be at a Tiki bar.
Disclosure: I/we have no positions in any stocks mentioned, and no plans to initiate any positions within the next 72 hours.
I wrote this article myself, and it expresses my own opinions. I am not receiving compensation for it (other than from Seeking Alpha). I have no business relationship with any company whose stock is mentioned in this article.