Oil (NYSEARCA:USO)(NYSEARCA:OIL)(NYSEARCA:UWTI) sped up on the downside this week. The world has been reporting slowing demand trends while production reports have been picking up. While fundamentals point to lower prices we're going to continue to let price dictate our direction. For now it's down.
Here's the oil chart.
Oil broke an uptrend and has clearly formed a downtrend.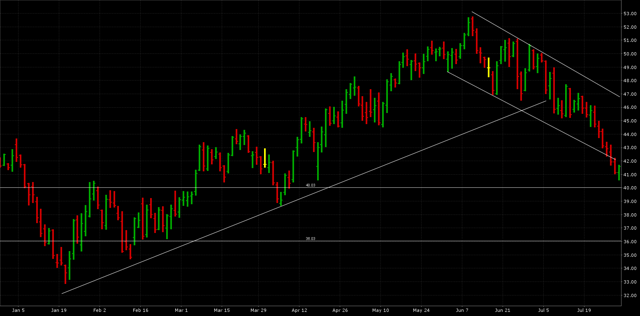 The horizontal lines below are multi-decade levels that represent key support and resistance.
If we can get below $40 it will represent an important level that could cause more selling. We need to see how we do around that level.
Here's the longer term chart we showed last week showing the important longer term levels.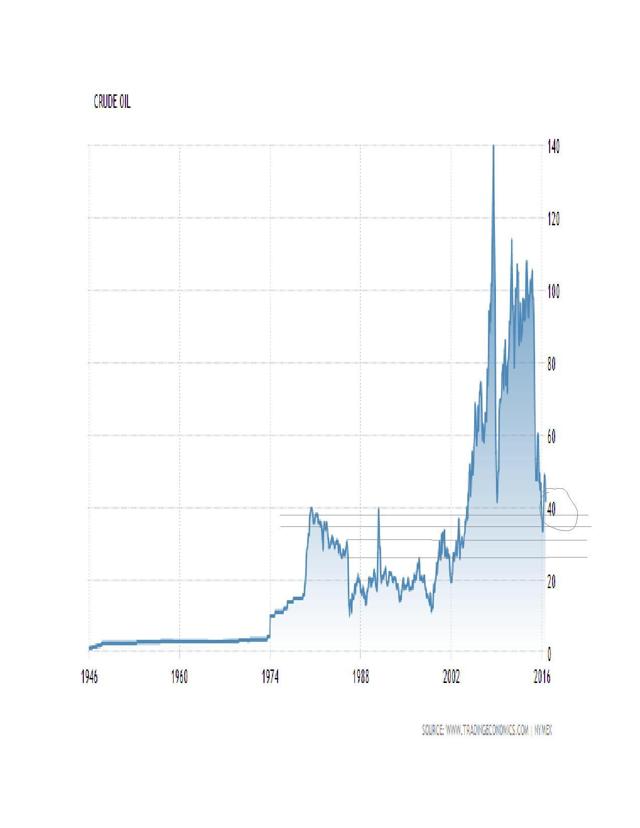 Those key levels are $40, $36, $31 and $25. You can see $40 has been a key level for about forty years. The other levels also carry key longer term significance.
Each level will need to be measured to see how oil acts.
For now oil is cascading lower.
We are not trying to make a call on that aspect because it could mean one of two things
1) The pace is picking up on the downside.
or just the opposite
2) The down move is overdone and extended and could get a bounce.
Either way we are not making a call on the accelerated nature of the down move. We are keeping our call simple. As long as the oil chart points down we are bearish.
We have been reporting that supply is up and demand is down. It looks like that news trend continues.
We showed that June OPEC production was higher than May. Here are those numbers.
| | | | |
| --- | --- | --- | --- |
| | Apr | May | June |
| Iran | 3457 | 3567 | 3644 |
| KSA | 10160 | 10242 | 10308 |
| Total OPEC | 32620 | 32594 | 32858 |
In the above grid you can see overall OPEC and Saudi Arabia ("KSA") production picked up.
Reuters reported that OPEC will likely have higher production again in July.
Meanwhile the US came out with an unseasonal uptick in inventory last week.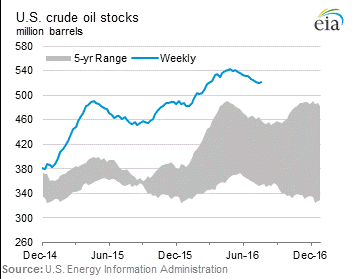 Above you can see US inventories ticked higher in a period that normally sees inventory draw-down. You can also see that inventories are way above the last five years.
Russia Pushes out Meeting With OPEC
We had reported that Russia planned to meet with the new OPEC minister in August but it appears that the meeting was pushed to September. Russia said there is no expectation to decide on production levels with OPEC.
Risk For Global Production Up For Years
There are reports that based on current offshore production plans production may not peak until 2019.
We recently reported that Russia, the world's third largest producer is expected to increase production for several years into the future.
KSA Statements A Sign For Risk Of Higher Global Supplies
We recently heard the KSA saying bearish comments on production. It sounded to us like they were dissatisfied with the cooperation of other OPEC nations to cut production. It also sounds like they are capitulating to also increase production. Here's what they said,
"We believe that Saudi Arabia should not be the one to assume the lion's share of cuts and that everybody should step up and take responsibility, or take steps to ensure there is a balance in the market."
This tells us that production is going to continue to slip higher until OPEC figures out a consensus. They don't have a meeting until November 30th so we don't expect any consensus. KSA being the largest OPEC member also means production is likely biased higher.
We expect this to continue to pressure oil prices.
Demand slowing as well
Global GDP has been disappointing. GDP is the ultimate demand for oil. The US is the largest global consumer of oil. A slow overall demand picture in the face of rising supply calls for oil price pressure.
US GDP missed expectations on Friday. GDP came in at 1.2% versus expectations of 2.6%
Here's the GDP chart.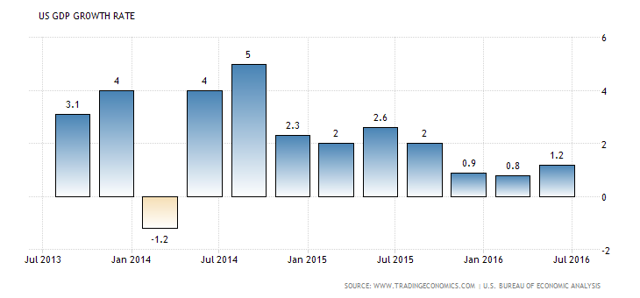 Above you see US demand in the form of GDP. You can see that while 1.2% is an uptick it is clearly a slowdown from last year.
European GDP was also reported to be weak last week.
Here's Euro-GDP.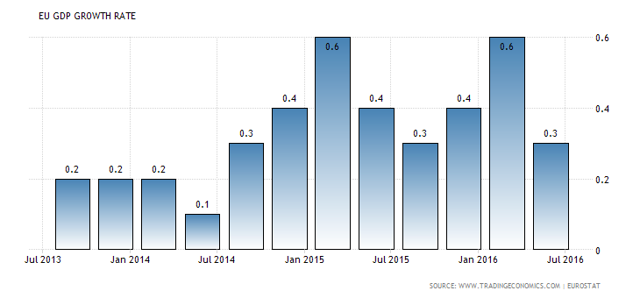 Here you see GDP in Europe slowing down in its recent report.
Slower economic demand in the US and Europe can continue to pressure oil prices.
Conclusion
The main factor that caused us to go bearish on oil July 11th is still in effect. The oil price continues to be in a downtrend. That downtrend is going to keep us bearish.
As for fundamentals, news continues to call for higher supply and weaker demand. Weaker demand could lead to higher inventories cycling the oil price lower.
Short term oil prices could be extended but we are focused on the medium term trend rather than on catching the wiggles.
We see a major level at $40 which has shown importance for forty years. If it breaks and holds we see oil going to its next key level of $36.
If you want Elazar's analysis on Seeking Alpha, scroll to the top of the article and hit "Follow." Elazar also writes real-time pieces as news is reported. If you want to be among the first updated check the box for "Real-time alerts on this author" under "Follow."
Disclaimer: All investments have many risks and can lose principal in the short and long term. This article is for information purposes only. By reading this you agree, understand and accept that you take upon yourself all responsibility for all of your investment decisions and to do your own work and hold Chaim Siegel, Elazar Advisors, LLC, bestideas, their related parties, and its authors harmless.
Disclosure: I/we have no positions in any stocks mentioned, and no plans to initiate any positions within the next 72 hours.
I wrote this article myself, and it expresses my own opinions. I am not receiving compensation for it (other than from Seeking Alpha). I have no business relationship with any company whose stock is mentioned in this article.