There are a lot of items that go into being a successful investor in the biotech sector. Patience and sound portfolio management techniques are crucial. Selection criteria in the small-cap arena also is critical. There are myriad things I look for before taking a small stake in a promising small-cap concern in this volatile, but lucrative, area of the market within a well-diversified biotech portfolio.
Among these is the fact that I want to have multiple "shots on goal", addressable potential markets as well as funding in place for continuing development. I prefer late-stage developmental concerns over early-stage, and I like to know there are near-term catalysts that could cause the stock to rally if positive.
Currently, there are couple of small vaccine plays that meet these criteria and are attractive on a risk/reward basis.
Company Overview:
Novavax, Inc. (NASDAQ:NVAX) is a clinical-stage small vaccine maker which focuses on recombinant nanoparticle vaccines and adjuvants. The company produces its vaccines using its proprietary recombinant nanoparticle vaccine technology and has several near-term market catalysts on the horizon. The company currently sports a market capitalization of approximately $2 billion and trades around $7.30 a share.
Pipeline:
Novavax's product pipeline includes an important respiratory syncytial virus (RSV) vaccine candidate in Phase III clinical trials for elderly and maternal immunization; a pediatric RSV candidate in Phase I clinical trial; seasonal quadrivalent influenza and pandemic H7N9 vaccines in Phase II clinical trials; a vaccine candidate against Ebola virus in Phase I clinical trial, a combination respiratory vaccine candidate and seasonal influenza vaccine candidate in pre-clinical trial; and a rabies G protein vaccine candidate in Phase I/II clinical trial.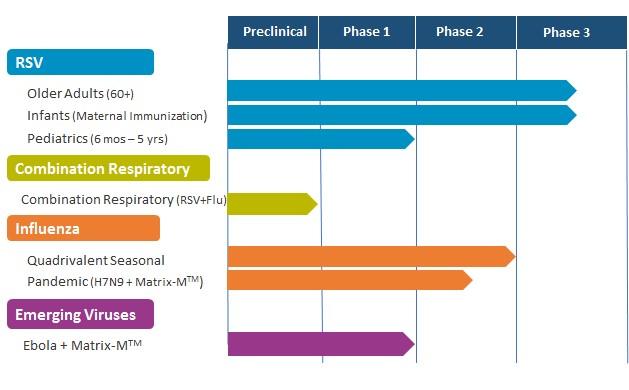 The company also has pre-clinical stage programs for various infectious diseases, including the Middle East respiratory syndrome coronavirus, and develops technology for the production of immune-stimulating saponin-based adjuvants.
The key near-term catalyst for Novavax is going to be a key Phase 3 trial readout on a vaccine it is developing to combat RSV. These results should be out by the end of September. The company estimates there are some ~37 million RSV infections annually in the US, EU and Asia, resulting in an estimated annual cost burden of roughly $80-100 billion. In the elderly (>65) U.S. population alone, there are ~ 4.3 million RSV, influenza and pneumonia infections, which result in over 800,000 hospitalizations and 50,000 deaths annually.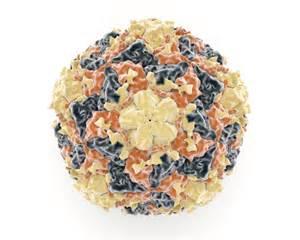 RSV F Vaccine (Respiratory Syncytial Virus Fusion Protein Vaccine)
What it Does: It is a novel vaccine developed using recombinant nanoparticle technology to target the fusion protein, or F-protein, of the RSV virus.
Key Differentiator(s):
RSV is a very common illness having potentially very serious impacts (including death) on the very young and the very old.
Efficacy: It is the FIRST and ONLY candidate to demonstrate protection from RSV in any population, breakthrough efficacy in older adults, breakthrough proof-of-principle in maternal immunization.
Phase / Status:
A key Phase III readout is expected, as mentioned above, and is due out by end of the third quarter after having been fast-tracked for older adults. Assuming positive data, the company will file a BLA early in 2017.
Top line Phase II clinical trial results were positive, indicating the candidate is safe, well-tolerated and effective at protecting infants when they are most at risk, via maternal immunization. A Phase III trial is now underway in the United States, South America, Africa and Australia, and is now being expanded into Mexico, Europe and Asia in alignment with intentions of an $89 million grant from the Bill & Melinda Gates Foundation. Preliminary results are now expected in 2018.
A Phase 1 clinical trial underway for pediatric use (6 months-5 years).
A Phase 2 clinical trial being planned to assess the addition of a booster for older adults.
Expected Market:
The company estimates worldwide RSV F vaccine revenue opportunity at $6-8 billion per year. Initially, Novavax is some 100 million individuals for RSV immunization in the U.S. market, including pregnancies over 27 weeks, infants and toddlers, high-risk patients between 50 and 59 years old and all adults over 60. The price range of existing comparable vaccines is $30-75.
Other Considerations:
This important vaccine was awarded a grant from the Bill and Melinda Gates Foundation for up to $89 million of development support with the goal of protecting infants via affordable maternal immunization in the developing world.
It has the potential to be useful for other emerging viruses, such as Ebola and H7N9.
Balance Sheet and Analyst Support:
The financial results for the quarter ended March 31, 2016 showed a cash burn rate of approximately $70 million, including significant R&D expenses related to ongoing trials. Novavax has over $425 million of cash on hand after recently strengthening its balance sheet through a $325 million convertible note offering.
Additionally, the company is adding staff in preparation for a commercial launch of the RSV F vaccine in the United States, assuming positive study results soon and filing of a BLA (Biologic License Application) in 2017. Novavax is simultaneously exploring a number of potential partnerships for commercialization of the RSV F vaccine outside of the United States, in anticipation of the upcoming Phase III data results announcements.
Looking ahead to the expected Phase III RSV vaccine data from Novavax by the end of September, Piper Jaffray indicated that the company could be an acquisition target by a larger vaccine player in late June, and recommends the stock as a Buy with a $14 price target. Piper's analyst further noted "Based on the Phase II study, we are confident the RSV Phase III trial is sufficiently powered to achieve statistical significance..."
The month before, FBR Capital also recommended Novavax as a Buy with a price target of $17, indicating the global expansion of the Phase III trial for maternal immunizations is aligned with the intentions of the grant it was awarded, and in the near term, the company remains "focused on the anticipated 3Q16 release of top-line data from the RESOLVE Phase III study in elderly adults as a potentially positive catalyst for the stock."
The company is highly likely to receive approval for its RSV vaccine and have it on the market in 2017. Novavax is well funded, has a diverse pipeline aimed at addressable markets, and at some point, could also make for a logical acquisition target. In addition, the stock has been hurt by the bear market that has existed on the biotech sector over the past year, which seems now to be ended. Its 52-week high is just over $14.00 a share, just under the median price target on the stock by the analysts that cover it. RSV puts over 200,000 elderly individuals in the hospital every year just in the States. The vaccine should be a major source of revenues in coming years, and if Novavax's pipeline continues to develop, it will be the first of several significant recurring income streams.
Note: To get these types of articles on attractive biotech and pharma stocks as soon as they are published, just click on my profile and hit the big orange "Follow" button and choose the real-time alerts option.
The second vaccine play I like at current levels is Dynavax Technologies (NASDAQ:DVAX).
Company Overview:
Dynavax Technologies Corporation is a small clinical-stage biopharmaceutical company with multiple product candidates in development for the prevention of infectious disease, the treatment of autoimmune and inflammatory diseases and the treatment of cancer. The company currently has a market capitalization of just under $600 million and a stock price of near $15.50 a share. Dynavax is developing what it hopes will be cutting-edge immunotherapies based on Toll-Like Receptor ("TLR") biology and its ability to modulate the immune system.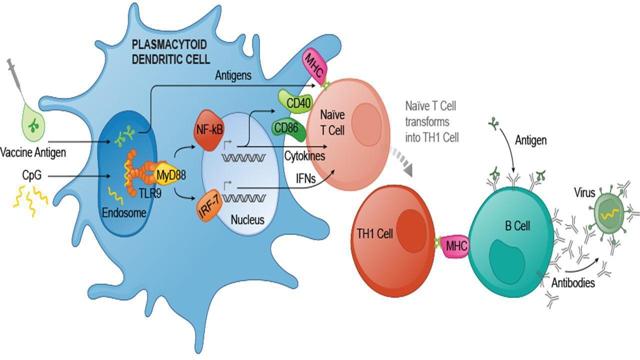 The key date for Dynavax shareholders is December 15th, as that is when the FDA will decide on the approval of its hepatitis B vaccine, Heplisav-B. Approval is highly likely. Hepatitis B is not nearly as dangerous as hepatitis C, but it is 10 times more virulent. Hepatitis B virus causes chronic liver disease, liver cirrhosis and, potentially, liver cancer, and over two million individuals in the United States have the disease.
In a large-scale (> 10,000 subject) Phase 3 trial, Heplisav-B provided greater protection than the current standard on the market, Engerix-B (~95% to ~81%). In addition, Heplisav-B can be administered effectively in two dosages over a month instead of three dosages over six months like Engerix-B. This should greatly improve on the current ~55% compliance rate with the current regime. Engerix-B does some $150-200 million in sales in an average quarter, so this is an addressable market.
Dynavax Technologies is also working on a promising asthma compound currently in Phase II testing led by development partner AstraZeneca (NYSE:AZN). Finally, SD-101 is an early-stage, but intriguing, oncology compound. The company had over $150 million in cash on the balance sheet as of the last completed quarter. Dynavax gets little analyst coverage. The latest analyst commentary was from Cowen & Co. on April 28th with a reiteration of a Buy rating and $30 price target. I like Dynavax as a standalone entity, but it also makes for a small logical acquisition target given its pipeline and low market capitalization. GlaxoSmithKline (NYSE:GSK), owner of Engerix-B, would be one possible suitor, in my opinion.
I like and own both these small vaccine plays and offer them up for consideration in front of upcoming catalysts for investors with a well-diversified biotech portfolio.
Note: The Biotech Forum is having a "Christmas in July" promotion through Monday midnight eastern standard time. Free two-week trials to the second-most subscribed to service of the over 60 on Seeking Alpha's Marketplace throughout the weekend for anyone who wants to give this benchmark-beating offering a whirl.
Thank You and Happy Hunting.
Bret Jensen
Founder, Biotech Forum
Disclosure: I am/we are long DVAX, NVAX.
I wrote this article myself, and it expresses my own opinions. I am not receiving compensation for it (other than from Seeking Alpha). I have no business relationship with any company whose stock is mentioned in this article.