Evoke Pharma (NASDAQ:EVOK) is an emerging California-based pharmaceutical company that is developing EVK-001, a nasal spray formulation of metoclopramide, a prokinetic agent (increases gut motility) for use in gastroparesis in women. The shares fell to a low of $1.52 last week after hitting a 52-week high of $11.11 after the company announced that a pivotal Phase 3 trial testing EVK-001 in women with gastroparesis did not meet its endpoint. The management expressed surprise with the study results since the earlier Phase 2 study was successful. In this article, we analyze the study results and propose a likely path for the company going forward. We also provide our valuation of the common stock using the enterprise DCF method (sum of the parts). We consider the shares undervalued at this price level and are initiating coverage on Evoke Pharma with Buy rating and common share price target (intrinsic value) = $6.11.

Investment Highlights:
- Common stock price target = $6.11
- Current stock price = $2.62
- 52-week price range = $1.52 to $11.11
- Market Cap = $19.4 million
- Average daily share volume = 1,010,570
- Cash and cash equivalents = $10.6 million
- Cash enough to last till = Q1 2017
- Debt = $4.5 million
- Short interest = 2%
- Short interest, days to cover = 1.29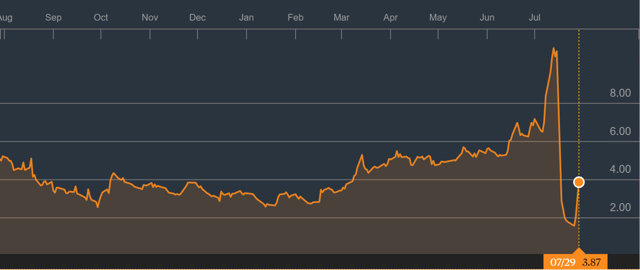 Figure 1: Evoke Pharma, common stock price chart (source: Bloomberg.com).
Investment Thesis
Market size: Gastroparesis is a condition associated with delayed gastric emptying in the absence of mechanical obstruction. Dysfunction of the autonomic nervous system results in gastroparesis in diabetes, but the condition can also result due to collagen vascular disorders, post-surgery, etc. The prevalence of gastroparesis is estimated to be 4% of the U.S. population. An estimated prevalence of gastroparesis in the United States is about 12 to 16 million patients; only 2-3 million of these are receiving treatment. 80% of these are women (which can be explained by gender differences in gut motility). Only 2 to 3 million of these are estimated to be receiving therapeutic treatment. About 4 million prescriptions of metoclopramide are written every year. About one-third may have severe symptoms that may need hospitalization, resulting in an average cost of about $22,000 for an average six days of hospitalization. 29% of these cases are due to diabetes and 36% have idiopathic type. The prevalence of gastroparesis in Type I diabetes is 25% to 55% and 15% to 30% in Type II diabetes.
No new drug has been approved to treat this common condition since 1980. There is a tremendous need for new treatments, especially in the severe cases where oral metoclopramide may not be absorbed or the patient might not be able to take it due to nausea and vomiting. Most of these patients end up being hospitalized since intravenous metoclopramide might be required. Some new medications like Cisapride had to be taken off the market due to side effects and domperidone is not available in the U.S.
Evoke Pharma is developing an intranasal preparation of metoclopramide (EVK-001), a prokinetic agent, which is already being used for many decades in oral and intravenous forms for treatment of diabetic gastroparesis. Oral metoclopramide has 55% market share in gastroparesis and 70% in moderate to severe cases.
The rationale behind developing nasal delivery of metoclopramide is that this route might still be effective when oral medication intake is not possible due to nausea and vomiting secondary to gastroparesis. Oral medications are likely to have poor absorption in gastroparesis.
Among the companies developing drugs for this clinical indication, only EVK-001 has shown clinical efficacy in improvement of the clinical symptoms in a Phase 2 study. The drug was also shown to be well-tolerated without any serious adverse events or adverse effects on the EKG.
The results of Phase 3 study were announced recently. The stock fell from its 52-week highs of $10.73 on July 15 after the company announced that the Phase 3 trial did not meet its primary endpoint. A preliminary review of topline data across all study sites revealed similar improvement in the drug and placebo groups at week 4 of treatment (as measured by the total symptom score as well as individual scores for each of the signs and symptoms), but these results were not consistent across study sites. Further evaluation of the topline data revealed that diary data from 28 of 41 sites showed a statistically significant benefit at Week 4 for the drug, which was statistically significant in comparison to results from the other 13 sites that showed significant improvement for the placebo. Press release
The company issued a press release that the results of the Phase 3 trial were unexpected and possibly an anomaly, given that metoclopramide has been approved and used for treating diabetic gastroparesis for more than 35 years. In addition, the nasal preparation was shown to be well-absorbed in the earlier clinical studies.
Our take on the Phase 3 results and what could be the next step for the company
Results of the Phase 2 study of EVK-001 in women with gastroparesis was published in the journal Clinical Gastroenterology and Hepatology (source). In this Phase 2 study, total 225 subjects were enrolled in three treatment arms: EVK-001 in two doses of 14 mg and 10 mg (4 times daily) vs. a placebo nasal spray (similar frequency) for 4 weeks. 71% patients at baseline were female. 67.7% were white. The mean age was 51.4 years. 82.5% had Type II diabetes. The mean baseline GCSI-DD score was 2.7 indicating mild-to-moderate symptoms of gastroparesis. 86% of the women were compliant in recording symptoms of gastroparesis daily. There was significant reduction in gastroparesis symptoms vs. the placebo in both doses of EVK-001 (higher in 14 mg arm) in the female subjects, but not in males as measured by a modified patient-reported outcome (modified GCSI-DD score)(Table below).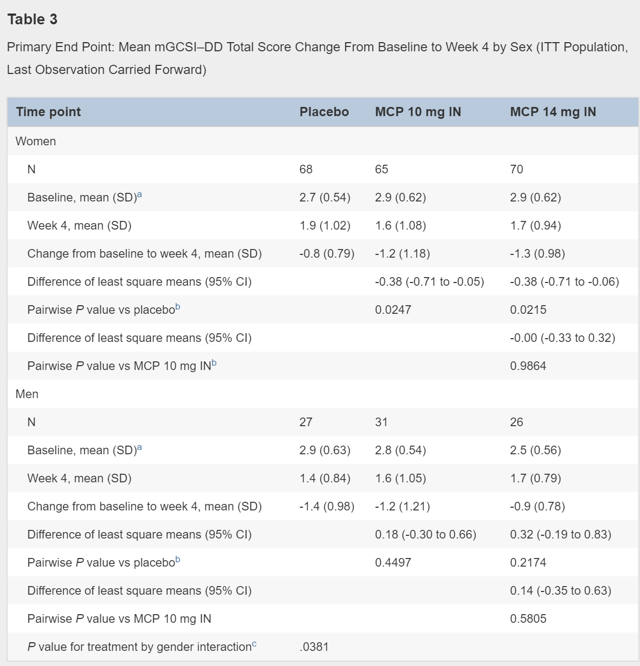 Figure 2: Clinical efficacy results of the Phase 2 study (EVK-001 vs. placebo)
There was slightly higher incidence of treatment-related adverse events in the 14 mg arm compared to 10 mg arm (Table below).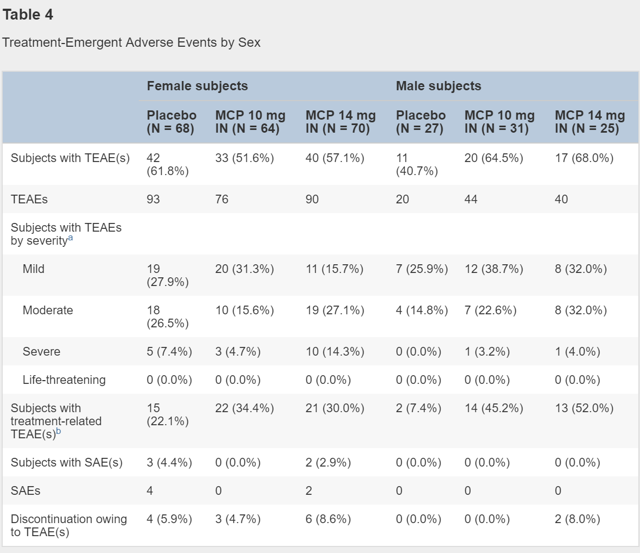 Figure 3: Safety data from the Phase 2 study
On closer analysis, higher 14 mg dose caused greater reduction in nausea, retching, vomiting, and stomach fullness symptoms from the baseline compared to the lower 10 mg dose.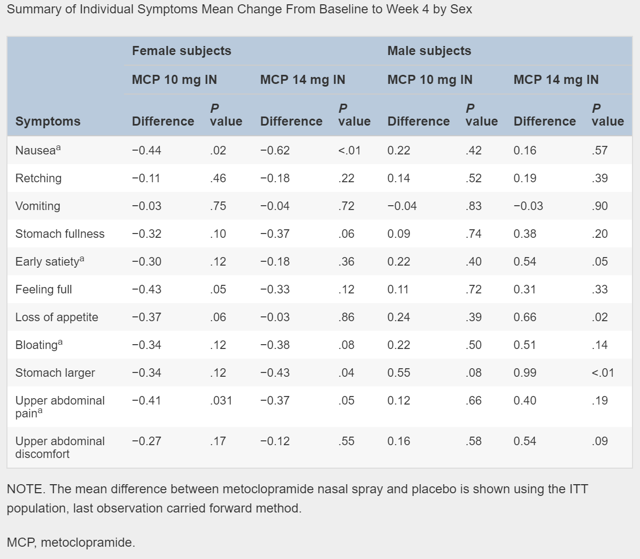 Figure 4: Phase 2 study: improvement in individual symptoms of gastroparesis from baseline.
In the Phase 3 study, Evoke Pharma decided to test the 10 mg dose (likely due to higher adverse events in 14 mg arm). Total 200 subjects were enrolled. EVK-001, 10 mg 4 times daily intranasally was tested vs. placebo intranasal spray for 4 weeks. The primary endpoint was similar to the Phase 2 study.
It is possible that higher 14 mg dose could have achieved the study primary endpoint and 10 mg dose was not enough to produce significant improvement in gastroparesis symptoms. We do not have more details on other Phase 3 data like compliance of patients in recording daily symptoms, distribution of severity of gastroparesis, duration of the disease and discontinuation of study drug due to adverse events etc. which could explain different results in the Phase 3 study.
Another reason which could explain the non-significant results in the Phase 3 study is a placebo effect. It is possible that women with mild symptoms of gastroparesis might have reported an improvement in their symptoms even after taking the placebo nasal spray. This could explain the higher reduction in the symptoms which was seen as a placebo at some study sites. A further subgroup analysis of the patients, especially in those with severe symptoms, might help to throw more light on the clinical efficacy of EVK-001 in this population.
In another earlier Phase 2 study in diabetic gastroparesis (source), EVK-001 was tested in 89 patients at six clinical sites in the U.S. (2 doses of 20mg and 10 mg). The comparable arm in this study was oral metoclopramide, 10 mg four times daily. In this study, EVK-001 showed better symptom improvement compared to the oral formulation. There was a higher symptom improvement in the 20 mg nasal dose, 86% versus 61% for the oral form. Another suggestion for Evoke Pharma might be to conduct another extension study comparing EVK-001 versus oral metoclopramide and apply for FDA approval based on that.
Eight sell-side analysts covering the company have mean peak sales estimates of $336 million for the drug. The stock fell to a low of $1.59 on July 26. On July 27, The company issued a press release that FDA has conditionally accepted the proprietary brand-name 'Gimoti' for EVK-001 (press release). The news revealed optimism in successful Phase 3 results of the drug and the stock jumped up more than 44%. The stock has since more than doubled from its lows.
Institutional Buying
Moreover, there is a significant institutional buying after the stock hit a 52-week low. Intracoastal Capital, LLC bought 472,188 shares, representing 4.99%. Frigate Ventures acquired 701,754 shares, representing 7.8%. Iliad Research and Trading LP acquired 350,000 shares, representing 4.8%. The stock certainly seems to have been oversold secondary to a knee-jerk reaction to the Phase 3 trial news. The stock was added to our bottom-fishing list and has doubled since we profiled it in our daily news digest on 7/27/16 (published on my SA instablog).
Management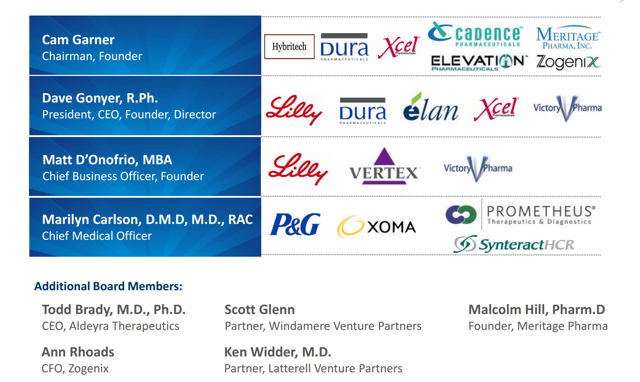 Figure 5: Management team: Evoke Pharma
Competition
There is no other competing intranasal preparation of metoclopramide under development at present.
- GSK-962040 (Camicinal) by GlaxoSmithKline (NYSE:GSK) is a motilin receptor agonist. It is administered orally and a Phase 2b study in diabetic gastroparesis has been completed (NCT02210000).
- RM-131 by Actavis/Rhythm Pharma is a ghrelin agonist which failed in a Phase 2 trial in diabetic gastroparesis. It is administered subcutaneously.
- TD-5108 by Theravence (NASDAQ:TBPH) is a 5HT4 agonist. It is administered orally and is in a Phase 2b study in idiopathic and diabetic gastroparesis (NCT02267525).
- IW-9179 by Ironwood Pharma (NASDAQ:IRWD) is a guanylate cyclase agonist and is administered orally. The molecule did not succeed in a Phase 2 study in diabetic gastroparesis and its further development has been ceased by the company.
Valuation of the common stock
Contribution of future projected revenue from EVK-001 in treatment of gastroparesis in women (U.S. only):
In calculating the potential future revenue from EVK-001 in treatment of gastroparesis in women in the U.S., we assumed that 35% of these patients have severe symptoms, which might be ideal candidates for the intranasal EVK-001. Annual cost of treatment was assumed to be about $2500 per patient, in line with certain other commercial intranasal medications. Market share of 5% was assumed at 5 years after drug launch in 2017, and then 3% annual market share growth till 2030, reaching 6.5% at peak in 2030. We risk-adjusted future projected revenues using probability of EVK-001 reaching the market = 60%.
EVK-001 was licensed from Questcor Pharma (later acquired by Mallinckrodt Pharmaceuticals (NYSE:MNK)). Under this agreement, $1.5 million is payable on NDA acceptance by FDA. Another $3 million is payable on FDA approval of the drug. Additional $47 million in milestone payments and low single-digit royalties on net sales are also payable till patent expiry.
Using these assumptions and adjusting for royalties, we modeled peak forecasted risk-adjusted revenue from EVK-001 in this clinical condition = $72 million at 2030 (patent expiry), which appears conservative compared to other sell-side estimates. Using the enterprise DCF method (discount rate = 20% for 5 years, then decreased to 15%) and diluted share count, we calculated contribution to intrinsic value/common share = $4.52 from this clinical indication. The spreadsheet for this calculation can be downloaded here.
Contribution of non-operating assets (like cash) minus liabilities:
After adjusting for deferred tax assets like operating loss carry-forwards and liabilities. and using diluted common share count (including stock options and warrants), we calculated the contribution of non-operating assets minus liabilities to the intrinsic value per common share = $1.59. The spreadsheet can be downloaded here.
Sum-of-the-parts calculation
Adding the contribution from the clinical indication mentioned above and non-operating assets minus liabilities, we calculated the price target (intrinsic value) per common share for Evoke Pharma = $6.11. Despite the recent run-up, this represents significant upside from the current stock price.

Figure: Sum-of-the-parts valuation for Evoke Pharma common share using the enterprise DCF method.
Risks in the investment: The risks are similar to those for any emerging biotechnology company with no significant revenue and described in our previous reports. Various product candidates mentioned above might fail to succeed in clinical trials, side effects might limit their use, regulatory agencies might not approve them and healthcare insurers might not reimburse them. The company requires to raise significant cash to pay its debt and develop its clinical programs. Future capital raise may dilute existing shareholders and put downward pressure on the stock price.
Conclusion
In conclusion, we are initiating coverage on the common stock of Evoke Pharma with Buy rating and price target (intrinsic value) per share = $6.11. A suggested allocation is 0.5 to 1% of the portfolio.
Updated firm model portfolio
The updated firm model portfolio can be accessed here with price targets and suggested portfolio allocation weights. Detailed research reports on these companies can be accessed here.
Note: To get more investment ideas like this as soon as they are published, click on my profile and hit the "Follow" button and choose the real-time alerts option.
Supporting Documents
Disclosure: I am/we are long EVOK.
I wrote this article myself, and it expresses my own opinions. I am not receiving compensation for it (other than from Seeking Alpha). I have no business relationship with any company whose stock is mentioned in this article.
Additional disclosure: This article represents my own opinion and is not a substitute for professional investment advice. It does not represent solicitation to buy or sell any security. Investors should do their own research and consult their financial advisor before making any investment.
Editor's Note: This article covers one or more stocks trading at less than $1 per share and/or with less than a $100 million market cap. Please be aware of the risks associated with these stocks.