Reckitt Benckiser (OTCPK:RBGLY) is an under-followed British manufacturer of home, health, and hygiene products. Notable brands include Clearasil, Lysol, Mucinex, and Durex - just to name a few. RB reported its first half results for fiscal 2016 on Friday, and shares (the US ADR's) fell by over 1%. I've followed the company for a while now and haven't been able to pull the trigger because of constant lofty valuations, but I'd like to explore it in more detail.
Growth given a boost by the weak pound
Despite growing 6% in constant currencies for fiscal 2015, reported revenues were flat due to stinging currency headwinds. After Brexit led to a precipitous drop in the pound, however, RB's revenues seemed to have received a favorable boost.
The first half of 2016 was different, with reported net revenues rising by 5%, better than the constant currencies growth of only 4%. The trend accelerated during its Q2, with constant currency revenue growth of only 3% actually transforming into a year-over-year reported growth rate of 6%. "Like-for-like" revenue growth, however, was only 4% due to a 1% haircut as a result of the impact of what the company called the South Korea "HS" issue.
The humidifier sanitizers it sold in South Korea have since been recalled, but were linked to deadly lung infections, and it might take awhile for RB to build back its trust within the country. It's also led to the firm moving the goalposts for full year revenues down to the lower end of its guidance range. Still, even with the sales haircut, the firm still managed to grow "adjusted" net income by 14%, or 12% in constant currencies.
Speaking of "adjusted" net income...
Reckitt Benckiser looks like an above-average firm when judging it by its "headline" return on equity. ROE for the last three fiscal years was 25.58% for 2015, a whopping 48.96% for 2014, and 28.38% for 2013. Not only has ROE declined sequentially over the last three years, but it's also been really erratic.
Digging up RB's annual reports for these last three years, I pulled numbers from its financial statements to create the below Dupont analysis to see if I could figure out what was going on.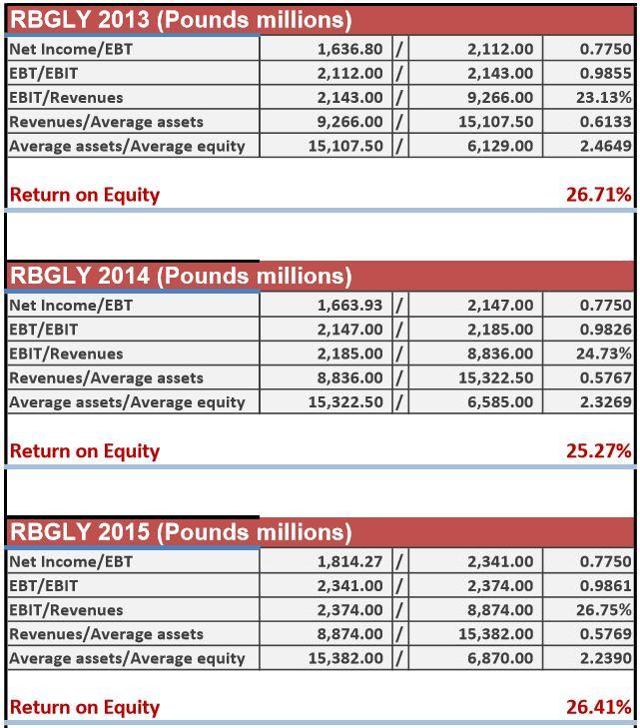 I used the company's "adjusted" operating profit for EBIT, and adjusted pretax income accordingly. I then adjusted net income by applying the firm's three year average tax rate of 22.50%. Holding everything else constant, we can see ROE looks much smoother. Underlying margins have improved, while asset turnover and leverage have both ticked slightly lower over the last three year period. It seems that the underlying business continues to generate consistent returns on the equity slice of the capital structure when adjusted for extraordinary items and one-time exceptional gains.
RB seems to be fond of "exceptional items" and recently took a £300m one due to the HS issue during its most recent quarter. The frequent one-time items likely explain most of the erratic ROE. The underlying business seems to be more stable.
Higher margins = higher profits
The company is focused on margin expansion through a couple of initiatives aimed at improving efficiencies and cutting costs.

Source: RB half year report
These initiatives appear to be paying off, as gross margins expanded by 2.40% so far this year, lifting them to 60% - although a large part of this margin expansion can also be chalked up to input price tailwinds. With a focus on cost containment and efficiency, margin expansion should continue, lifting profits along the way. The benefits of a cheaper pound could also continue to provide a lift as well.
RB is also investing in its brands, setting aside about 14.8% of revenues in the first half of fiscal 2016 to inject into its brand equity, which it defines as " the marketing support designed to capture the voice, mind and heart of our consumers". This was apparently the highest level of investment spending on BEI ever, so we will see if it pays off with increased sales growth going forward. Despite a large investment in intangibles during the first half of 2016, RB also managed to grow free cash flow by over 24%.
Conclusion: Smoother sailing ahead?
It looks like Reckitt Benckiser's previously crippling currency issues have suddenly evaporated, and constant currency growth and reported growth in sales now seem to be a little more synonymous. The company gets most of its revenues from outside the UK, so a cheaper pound helps operating costs - as it receives currencies that probably haven't dropped nearly as much as the pound did post-Brexit. And this is only one factor of its trifecta of positives going forward. The second is cost containment for an improved bottom line, and the third positive going forward is the heavy investment in marketing that hopefully boosts the top line, too.
It does get a little over 30% of its sales from developing and frontier markets with less-stable currencies, however, but these markets are also expected to grow substantially faster than the already relatively saturated developed markets. North America accounts for roughly 23% of sales, with Europe (and Australia/New Zealand) bringing home the rest.
It just bumped its interim dividend by over 16%, and with its solid growth in free cash flow, sales, and earnings, I can see why. Margin expansion will likely add to growth in the bottom line, and all-in-all, I think RB is a great business, it's just the not-so-great price at over 25 times earnings that deters me from establishing a position at this time. I'd prefer 20-22 times earnings personally before paying up.
If you enjoyed this article and would like to receive further updates and articles in the future, please feel free to hit the "Follow" button at the top of the page next to the author's name.
Disclosure: I/we have no positions in any stocks mentioned, and no plans to initiate any positions within the next 72 hours.
I wrote this article myself, and it expresses my own opinions. I am not receiving compensation for it (other than from Seeking Alpha). I have no business relationship with any company whose stock is mentioned in this article.
Additional disclosure: Articles I write for Seeking Alpha represent my own personal opinion and should not be taken as professional investment advice. I am not a registered financial adviser. Due diligence and/or consultation with your investment adviser should be undertaken before making any financial decisions, as these decisions are an individual's personal responsibility.