Introduction
This article is the continuation of a series of articles on Exchange Traded Debt (ETD). We strongly suggest that the reader peruse Part I, Part II and Part III for important background information before reading this article.
We have learned two interesting lessons from our previous series of articles on this topic. First, it would be extremely useful to have a regular snapshot/update as to the current status and recent changes in the ETD market. For example - if you want to get a feel for the Treasury Bond market, you can easily consult the likes of Bloomberg to get a snapshot including yield curves for your time period of interest. We know of no such consolidated view of the ETD market, yet we would very much like to know what key events (new issues, defaults, etc.) and summary price/rate changes occurred over the last month. Secondly, we have learned that the ETD market is not monolithic as demonstrated by our issuer and maturity bucket tables in the previous parts of this article. Thus, we will strive to provide a monthly summary that divides the market into multiple submarkets: (1) short issues with mandatory maturities through 2022; (2) intermediate issues with mandatory maturities through 2030; (3) long issues with mandatory maturities through 2047; and (4) longest issues with mandatory maturities beyond 2047. [Note to reader - We will only discuss the first three of these submarkets in this article].
The Past Month in the Markets
Let's consider the absolute and relative performances of key stock, bond and preferred indices over the past month (the monthly period we are referring to is 6/26/16-7/26/16). As can be seen from the data in the table below, it was an especially strong month for stocks, but also a nice month for long Treasuries, junk bonds and for investment grade corporates (NYSEARCA:LQD). It was also a strong month for preferreds, especially for the "ex-financials" preferred ETF (NYSEARCA:PFXF). It would be very useful to have an index/tracker of high yield preferreds but we are not aware of any. The reader should take note of the gap between long Treasury returns (NYSEARCA:TLT) and shorter Treasury returns (NYSEARCA:IEF) during this time period and consider if they expect corresponding results in ETD sub-segments.
When we first started to write this series of articles we expected to see extensive "bifurcation" in the ETD market between strong credits and "lesser" credits and over time this series of monthly updates will likely provide us with extensive correlation data between specific ETD issues/segments and the junk bond market and other specific ETD issues/segments with the Treasury bond and investment grade corporate bond markets.

Recapping the Month in Exchange Traded Debt
One relatively extraordinary event occurred this month in a closely adjacent market, yet received little attention. This event was the issuance by Public Storage (NYSE:PSA) of a perpetual preferred with a sub-5% coupon. The issue was PSA/D with a coupon of 4.95% and is currently trading at par ($25.00). We consider it remarkable that a large ($300M), BBB+ rated, perpetual preferred issue can be floated at a sub-5% rate. This may bode well for ETD issuers who can establish themselves as strong credits: it may point towards early calls of outstanding issues with high coupon rates and perhaps signal strong trading for creditworthy existing issues which cannot be called in the near term.
Defaults - There were no defaults this month.
New Issues: There were two new issues:
One was from Reinsurance Group (NYSE:RGA). This was a $400M fixed-to-floating issue with an initial coupon of 5.75% and ticker RZB. The early call date is 2026 and the mandatory maturity date is 2056. RZB has traded strongly and closed at $26.95 as of 7/27/16. This is an example of the concept of relative strength that we discussed in part II of this series. Reinsurance Group brought RZA to market in 2012 as a fixed-to-floating issue with an initial coupon of 6.25% and a 30-year mandatory maturity. RZB demonstrates the capability to float new issues with longer maturities at lower interest rates. It is also notable that RZA traded as low as $26.03 in early 2016 and has subsequently rallied to a high of $31.03. This is an example worthy of further exploration - namely, capital gains opportunities on strong, long bonds. Note that at least for the moment, 40-year bonds remain outside of our real universe of interest.
The second new issue was from NextEra (NYSE:NEE). This was a $500M issue with a coupon of 5.25%, early call date of 2021 and mandatory maturity in 2076. The ticker is NEE/K; it is a Junior, Subordinated issue and is rated Baa2/BBB. This issue also strikes us as being extraordinary. Who should be interested in a 60-year bond from a BBB credit at 5.25%?
Early Calls - Two issues were called:
MHNA - was called on its early call date of 6/15/16. The mandatory maturity was 6/15/2041, coupon 8.25% and IPO date in 2011. More recent issues (MHNB and MHNC) have come at successively lower interest rates.
EMQ - was called on 6/13/16. The mandatory maturity was 2032, coupon 6%, IPO date in 2002 and the early call date was 11/1/2007.
Departures - One issue, PFX, departed from the market as Phoenix was acquired by NassauRe and PFX no longer trades.
Monthly Submarket Summary
Based on our work in the previous parts of this article, we established then an ETD issue universe of interest sorted by mandatory maturity date also tends to sort into issuer categories. We observed four categories: (1) "old line" industrials, utilities and Telcos such as Duke Energy (NYSE:DUK), Entergy (NYSE:ETR), NextEra, NuStar (NYSE:NS), Qwest (NYSE:CTU), Pitney Bowes (NYSE:PBI), Southern Company (NYSE:SO), Stanley Black & Decker (NYSE:SWK), US Cellular (NYSE:USM), Telephone & Data Systems (NYSE:TDS) and Verizon (NYSE:VZ); (2) mega-financials and Insurance companies such as Allstate (NYSE:ALL), Goldman Sachs (NYSE:GS), KKR & Co. (NYSE:KKR), GE Capital (NYSE:GE), Hartford Financial (NYSE:HIG), Selective Insurance (NASDAQ:SIGI), Ventas (NYSE:VTR) and eBay (NASDAQ:EBAY); (3) various shipping companies e.g. Seaspan (NYSE:SSW), Star Bulk Carriers (NASDAQ:SBLK), Scorpio Bulkers (NYSE:SALT) and Scorpio Tankers (NYSE:STNG); (4) "nextgen" financials, especially BDCs such as Ares Capital (NASDAQ:ARCC), Harvest Capital (NASDAQ:HCAP), Hercules Technology Growth Capital (NYSE:HTGC), Horizon Technology (NASDAQ:HRZN), TriplePoint Ventures (NYSE:TPVG), Triangle Capital (NYSE:TCAP), THL Credit (NASDAQ:TCRD), Main Street (NYSE:MAIN), Arbor Realty (NYSE:ABR), Cowen Group (NASDAQ:COWN) and numerous others. We then followed the sorting and our series of previously described screens to establish ETD market sub-segments.
Short Issue Summary
The short issue universe of interest is summarized in the table below. The average closing price for the universe was $25.13 and the average monthly return was 1.4%. Notably, by stripping out the price movement of 2 particular shipping issues (i.e. SBLKL and SBNA), the average return dwindles to 0.72%.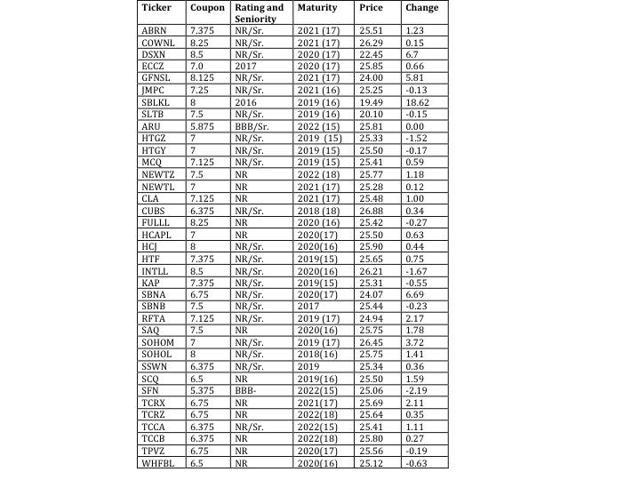 Intermediate Issue Summary
The intermediate issues are summarized by the yellow entries in the table below. The average closing price was $25.11 and the average return for the month was 2.09%. Notably, this also dwindled to 1.05% if returns from two particular issues from Arlington Asset (NYSE:AI), namely AIW and AIC were stripped from the results.
Long Issue Summary
The long issues are summarized by the blue entries in the table below. The average closing price was $26.45 and the average monthly return was 0.60%. Notably, unlike the other submarkets, there were no "outliers" that heavily impacted the average return results.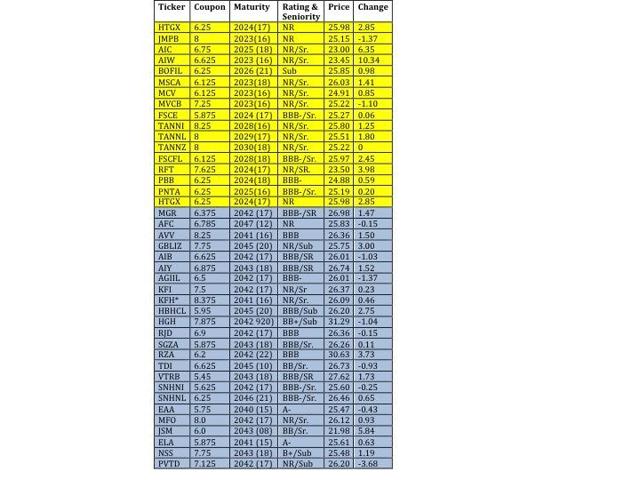 Analysis and Observations
At first glance, it was a relatively quiet month in the ETD market. However, by segmenting the market and by examining seemingly small but key events in the ETD and the adjacent (e.g. preferred) markets - a richer, more nuanced set of circumstances and observations begin to emerge:
The short and intermediate markets currently have an average valuation over par despite the sharp declines of early this year and the looming threat of early calls. One conclusion is that almost every issue has rallied, somewhat independently of the underlying credit quality. Another conclusion is that although buyers shouldn't be fixated on par (when bonds can be bought for say $25.03) that overall we are looking at "slim pickings" in terms of putting new money to work. RFTA, NEWTL, PBB, TANNZ and FSCE warrant consideration based on current prices and on the screens discussed in the previous articles.
The average valuation of the long segment at $26.45 combined with the success of the likes of RGA and NEE to float supersize issues at low rates, easy conditions and extraordinarily long maturities (60 years anyone??) are indicative of a complacent and yield-hungry environment that strongly tilts the advantage to issuers. Potential buyers should beware at these levels without strong belief in theories about continued low interest rates, economic weakness and specific strength in long bond markets.
The summary information from our tables can be used to spot either buying or selling opportunities. For example, strong rallies by shipping issues and by the likes of AIC, AIW and GFNSL warrant a closer look at the few issues that are trading well below par. The reader should do the appropriate diligence to determine the quality of these opportunities. The same summary information can provide early/timely signals of positions that should be sold (although the data from this month does not provide us with an example).
The ability of companies to float perpetual preferreds and long bonds at extraordinarily low rates may provide early warning of upcoming campaigns to cut costs by eliminating expensive debt (via early calls). However, we would note that, at least so far, easy credit conditions have been largely utilized to issue additional debt instead of to retire existing debt in the ETD markets. In our opinion, it is too early to reach conclusions, but there are only five months left in 2016 and this year is certainly heavy with early call opportunities. The actions of Maiden Holdings (NASDAQ:MHLD) in calling MHNA and floating new issues (MHNB and MHNC) at lower rates may be an important harbinger of things to come.
Disclosure: I am/we are long CLA, PBB, COWNL, SSWN, ABRN, ARU, HTGX, JMPB, SOHOL.
I wrote this article myself, and it expresses my own opinions. I am not receiving compensation for it (other than from Seeking Alpha). I have no business relationship with any company whose stock is mentioned in this article.
Additional disclosure: I am not an investment advisor. I am not offering you investment advice. I strongly suggest that you perform extensive further diligence before making any decisions.