Recently Roark Capital filed a registration statement allowing it to sell all of its shares in Wingstop (NASDAQ:WING). Roark Capital currently owns approximately 44.5% of the common stock and their selling should send shares lower. The company is also set to report second quarter results in the beginning of August on the 4th, major growth expectations are priced into this stock so anything other than a major beat are likely to push shares lower. Recently the Chief Operating Officer departed for other opportunities, we feel other departures may signal to the market the lack of faith management has in the business which is supposed to be in hyper growth and have a rising share price. Finally the valuation is extremely high relative to even other high valued fast casual businesses and despite this being a solid royalty oriented business, the bull case is already reflected in the current price in our view at $26 per share.
Roark Capital is an Atlanta based private equity firm with over $6 billion in equity capital, they owns stakes in Arby's and Carvel. The firm focuses on middle market investment opportunities in consumer and business services with a focus on franchise businesses. The fact that this large portion of stock is owned by a private equity firm is important because private equity firms look to return investor's capital within a ten year horizon generally. Given this business was founded in 1994, Roark Capital is likely looking to exit their investment with a sizeable return in the near future. Given the limited float, as 18% of outstanding shares are held short, this selling is likely to have a major effect on driving the stock lower.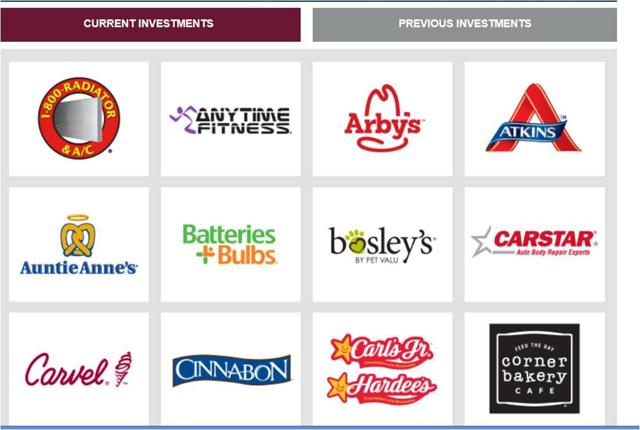 Source: Roark Capital Website
Beating quarterly results is critical for Wingstop in order to justify its valuation. However analysts are already projecting 16% year over year revenue growth based on the company already raising full year guidance in the first quarter. The company is also projected to have over 2% same store sales growth. This second quarter could be troublesome as many restaurant companies are feeling the pullback amidst high competition for consumers. Buffalo Wild Wings (NASDAQ:BWLD) a competitor to Wingstop recently reported a 2.1% drop in same store sales at their restaurants. There are also numerous signs that this will be a weak quarter including sluggish payroll growth and channel checks on fast casual store traffic from NPD group indicating a decline in May and June. Given the extreme valuation built into the shares, we feel Wingstop will have to exceed guidance on both same store sales and revenue in order to prevent a decline following reporting results. We expect any miss to drive shares lower and feel shares could ultimately move below their all time low shown below in the $20 range. Short interest also has been rising in the past month most likely in anticipation of earnings. Short interest has risen from 2.47 million shares in mid June to 2.8 million shares as of July 15th. Shorting stocks is generally the realm of institutional so called "smart money" so we suspect some funds are shorting in anticipation of upcoming catalysts, one of which is obviously the quarterly reporting.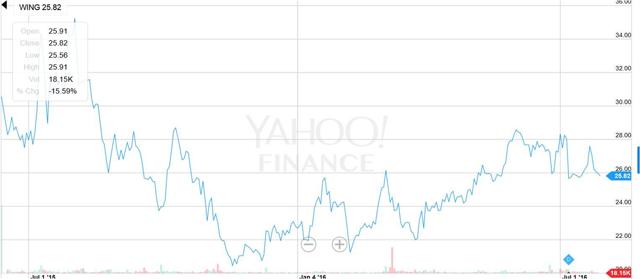 Source: Yahoofinance
In terms of valuation, Wingstop trades at a substantial premium to its high growth fast casual peers. We selected its trading peers as fast growing companies within the fast casual segment with strong franchise models. Wingstop trades for ten times forward revenue as opposed to its peers' two times forward revenue an obvious discrepancy. While Wingstop does have higher margins given its higher franchise royalty model, this valuation is way too much of a premium. If the company traded for five times forward revenue, which is double that of its peers and a more fair value for its higher margin business structure, shares would be valued at around $15 per share (downside of over 40%).

Source: Author Analysis
Key risks to our short thesis include Wingstop generating extremely high revenue growth and same store sales. We view this as unlikely given the general softness in the market, the intense competition in the sector and the already raised expectations. Recently Wedbush initiated on Wingstop with a $35 per share price target. This is the highest price target we have seen and while we agree with some of their points for instant that this high growth with minimal capital expenditures is very enticing, the valuation issue is largely ignored with the analyst unable to even apply traditional multiples to value the stock given it would not allow such a high price target. The valuation is based on free cash flow yield, which is something we have never seen in a sell side report which usually use either discounted cash flow analysis or comparable company analysis to derive a price target.
Given the high volatility in the shares, one should be very cautious in building a short position. However, we feel any quarterly miss in terms of revenue growth and/or same store sales and the continued selling pressure from the company's largest shareholder should help to move shares lower towards a more reasonable valuation.
Disclosure: I/we have no positions in any stocks mentioned, but may initiate a short position in WING over the next 72 hours.
I wrote this article myself, and it expresses my own opinions. I am not receiving compensation for it (other than from Seeking Alpha). I have no business relationship with any company whose stock is mentioned in this article.