I don't know about you, but I'm raising some cash. My Google Finance account includes a big watchlist of around 200 stocks, most of them dividend payers. Although I don't live by one single investing strategy, my goal is usually to buy reliable, dividend-paying stocks that trade well below their average price-to-earnings versus the last business cycle of ten years. It's not a complicated strategy, but it has worked and worked well.
In the past I've typically been able to easily find replacements for some of the stocks that I have sold. While there surely are a few out there that are reasonably priced, I've actually decided to do something that I haven't done for a while: raise cash.
As a good handful of the stocks I own reach higher-and-higher valuations, I've decided to lock in my gains and build up my cash position. I believe there will be better days to buy, and so I am saving up a good bit of cash for that time.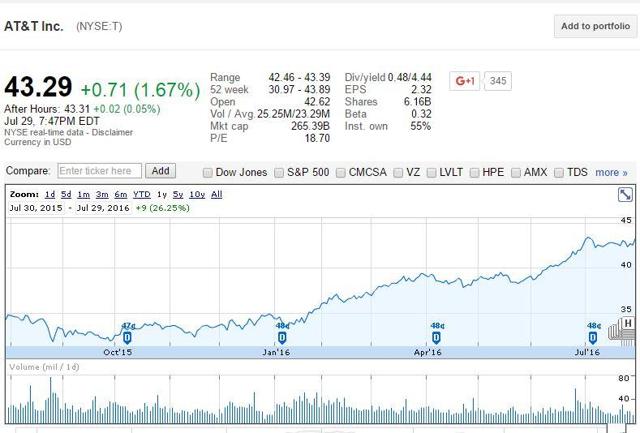 Courtesy of Google Finance.
AT&T (NYSE:T) has been a staple of mine for a handful of years, and to be sure, I hope that it can continue to be one for years to come. However, shares have appreciated quite a bit and it was throwing my stock portfolio well out of balance. Shares are currently at prices not seen since 2007.
However, despite that, AT&T trades at a reasonable 15.5 times earnings. Even though the stock's average valuation is only about 13.8 times, and the stock is therefore at a 'premium,' I believe the stock is reasonably priced nonetheless. I did sell some to rebalance my portfolio, and will probably look into selling again if shares go another 15%-20% in that direction, but for now, I continue to think that AT&T is worth holding on to. It's getting close, though.
Although AT&T expects a solid 7% EPS growth in 2016, much of that growth comes from businesses recently acquired, and AT&T took out a lot of debt to get those businesses. For the last few years AT&T has increased its dividend by just 4 cents annually, which usually comes out to around 2%-3% dividend growth. Because AT&T is now focused on deleveraging, I expect dividend growth to continue.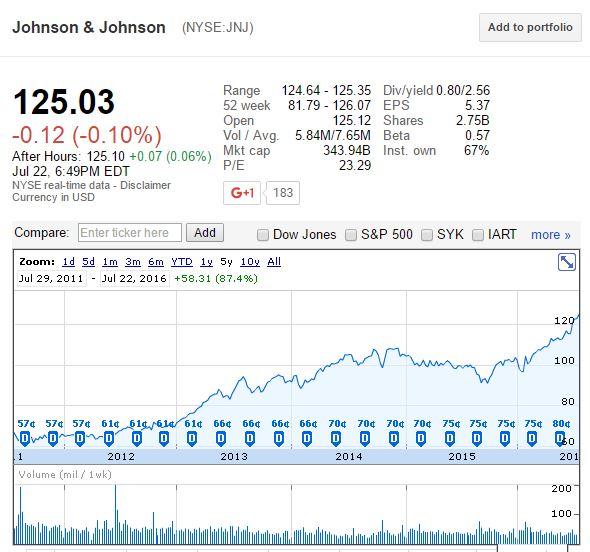 Courtesy of Google Finance.
Johnson & Johnson (NYSE:JNJ) has ground higher and higher over the last few years. While the company's earnings have grown, the stock has gone up significantly faster. J&J Is a classic example of multiple expansion. The question is, how much more can that multiple expand? Well, currently J&J is at 19.7 trailing earnings, and frankly I don't believe that multiple will expand much more. Of course, that's my own arbitrary opinion, but with an average P/E of 15.3 over the last ten years (according to data from FAST Graphs), J&J has more downside than upside here.
I expect earnings growth of between 5% and 7% for the remainder of the decade, with dividend growth to match that, depending upon circumstances.
Personally, I sold all my shares last week. I do think there are some powerful forces behind J&J, especially low interest rates which drive up demand for dividend-payers such as J&J. However, I still see more downside at some point, even if it is a few years out.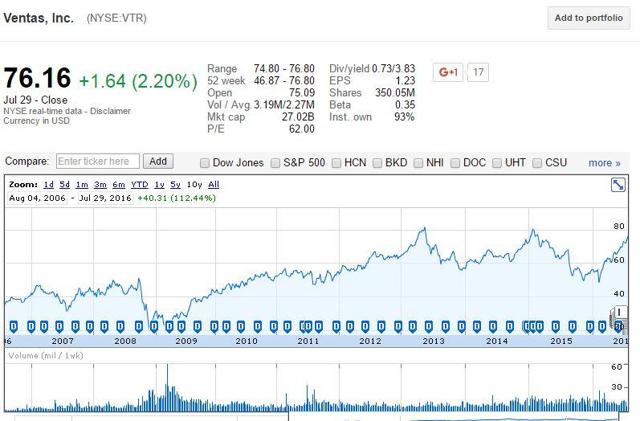 Courtesy of Google Finance.
Late last week I also sold my last shares of senior living REIT Ventas Inc (NYSE:VTR), and locked in some very substantial gains. Ventas is in a business where demand is set to grow steadily for some time. While supply is now also growing, Ventas is positioned in major urban areas with little additional space. Without getting too specific about Ventas, management has bumped up FFO growth guidance to 3%-5%.
That's not bad, but consider that Ventas now trades at 17.8 times trailing FFO, compared with an average of 15.7 times over the last ten years. Ventas is highly-levered, with debt at about 6 times trailing EBITDA. The dividend yield has since come down to 3.8% due to price appreciation. If Ventas' ten-year chart is any indication, there have been a few steep drops along with swift inclines. All-in-all I think there will be a far better time to own this one.
Conclusion
With consistent multiple expansion with modest corporate profit growth this year, I'd rather be fearful than greedy at this point. Of course, selling depends on your personal situation, and I've personally decided to raise cash. If either of these go back down substantially I would consider getting back into them.
Disclosure: I am/we are long T.
I wrote this article myself, and it expresses my own opinions. I am not receiving compensation for it (other than from Seeking Alpha). I have no business relationship with any company whose stock is mentioned in this article.