This article is a continuation of my coverage of Mednax (NYSE:MD). My initial review can be found here, while further analysis can be found on my author page.
Mednax reported earnings this past week, posting results that greatly disappointed investors. Analysts expected top line results of $774.46 million compared to actual results of $771.8 million, and expected EPS of $1.07 compared to $1.04.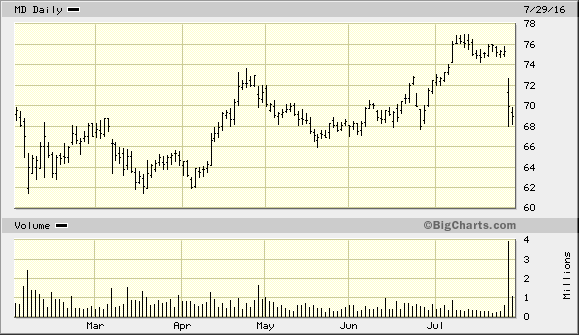 Source: MarketWatch
While earnings were not ideal, I believe investors in Mednax should see this as an opportunity to purchase more of the company.
Mednax Recap
Mednax is a Physician Practice Management business, and is the country's leading provider of neonatal, anesthesiology, and teleradiology services. It operates across 34 states and Puerto Rico, with its main neonatal unit delivering over 800,000 babies in 2014.
My investment thesis behind Mednax rested on its growth strategy, as it continually acquires new medical practices and integrates them into its business. It has excellent management and maintains steady profit margins. Mednax has a healthy balance sheet, but its one downside is its valuation. Full coverage can be found in the article I mentioned earlier.
Long-Term Thesis Remains Intact
The company's earnings miss was disappointing, but not game-changing. What makes Mednax a great company last week still makes it a great company this week, albeit with a lower stock price. Its growth via acquisition strategy does not suffer as much from elevated equity prices, as it acquires private practices as opposed to publicly traded companies. Its teleradiology business should continue to improve margins, as it can easily scale the business by delivering higher levels of revenue without massive capex or significantly higher operating expenses. Mednax is the embodiment of the healthcare consolidation trend, and can continuously gain greater negotiating power for its managed practices. I still see few major threats to the company post-earnings.
Security in a Time of Uncertainty
Mednax operates in a niche market segment with almost no major competitors. Its business does not suffer from the cyclicality of other sectors, as people will always have babies, undergo surgeries, and have their doctors perform tests on them. If investors are fearful of elevated equity levels, I believe Mednax would outperform the market if we were to undergo a price correction given that its core business is very difficult to shake.
Conclusion
Though earnings could have been better, investors should treat last week as a buying opportunity for Mednax. The company's long term viability and growth strategy have not changed, and it is a great safe haven for a fearful investor.
Disclosure: I am/we are long MD.
I wrote this article myself, and it expresses my own opinions. I am not receiving compensation for it (other than from Seeking Alpha). I have no business relationship with any company whose stock is mentioned in this article.