Few, if any, stocks in the S&P 500 Consumer Discretionary Index entered 2016 burdened with more fear and loathing than Mattel (NASDAQ:MAT). Having dropped -7% in 2015, following a miserable -31% plunge in 2014, Mattel's stock entered 2016 with a short position equivalent to 18% of outstanding shares. Keep in mind, this was a stock paying a 5.6% dividend yield in December - a dividend that short sellers had to pay with their own cash while waiting for the price to drop! This was a hugely confident expression of pessimism by the bears. For comparison, other widely-hated Consumer Discretionary names that lost big in 2015, such as Michael Kors (NYSE:KORS) and Ralph Lauren (NYSE:RL), had short positions only half the size of Mattel's. As recently as June 15th, Mattel was the fourth most shorted stock in the NASDAQ 100.
Without question, a glance at the company's fundamentals looked rather bleak. Let's quickly review the bearish case against owning Mattel:
The dividend appears unsustainable, as the annualized $1.52 payout exceeds 100% of EPS.
Traditional toys have been called a fading business. Everyone has an anecdote about watching preschoolers playing with iPads and iPhones, and this was before the Pokemon Go craze even hit. Some see MAT's core line of dolls, miniature cars and other plastic-based gadgets as hopelessly passé in our digital culture.
A series of CEOs have failed to rejuvenate the product line, restore revenue growth, or inspire the workforce. Employee morale is awful. Check out Mattel on www.thelayoff.com for more bitterness than you'll find anywhere outside of a shuttered Sanders or Cruz campaign office.
Profitability has been falling for years, pressured by weakness in the ultra high margin Barbie and Monster High lines plus the growing negotiating clout of mega customers Wal-Mart (NYSE:WMT), Toys"R"Us (privately owned), and Target (NYSE:TGT).
Rivals Hasbro (NASDAQ:HAS) and Lego (privately-owned) look unstoppable. Hasbro beat out incumbent Mattel for the right to make dolls based on Disney's (NYSE:DIS) smash-hit Princess and Frozen trademarks. And last year Lego surpassed Mattel for the claim of "world's largest toy company."
But a funny thing happened on the way to the cemetery…
So, what has transpired so far in 2016? Through July 29th, MAT shares have soared +22.9% while the S&P 500 is up +6.3% and the S&P Consumer Discretionary Index (SP500-25TR) is up just +5.3%. On a trailing 12-month basis, Mattel is up 42% vs. the S&P 500's +3% move. If "seeking alpha" is what we're all doing here, let's start by admitting Mattel has delivered it, in spades. And this performance can't be attributed solely to the early February reports that Mattel and Hasbro had discussed a possible merger in late 2015. Five months have passed since most observers concluded such a deal is impossible given the current administration's hostility toward industry consolidation.
To clarify: I'm not here to argue that Mattel is a fantastic, well-run company. Heck, I wouldn't even guarantee the $1.52 dividend will be maintained a year from now (more on that below). No investor should be counting on Mattel's dividends to fund their future mortgage payments. But I do think the story of Mattel in 2016 is worth reviewing, as an example of the power of contrarian thinking. Here was an established company with globally recognized brands, a history of prodigious free cash flow generation and generous shareholder payouts, and an investment grade balance sheet. Yet, investor sentiment was overwhelmingly negative even after the stock had been cut in half. The next time you run across a similar situation, it might pay to dig beneath the surface. Form your own opinion based on hard data, not banter from online chat rooms.
David Dreman has been an articulate proponent of this going-against-the-grain approach for decades, and I recommend his classic book, Contrarian Investment Strategies. Dreman focuses on low P/E ratios as his primary gauge of contrarian appeal, but high dividend yields, big short interest, and low price/book ratios can also help identify opportunities.
Dissecting the bear case
Now let's address some of the bearish arguments against Mattel. First, regarding the dividend: whether the board decides to maintain or trim it is a secondary issue, in my view. Sounds crazy? I'll admit, receiving those dividend credits into one's brokerage account every quarter is pleasant. And the generous payout surely dampens Mattel's price volatility, making our job of holding on for a turnaround easier to stomach. But it wasn't the 6% dividend yield - by itself - that got me to buy Mattel: it's what that unprecedented yield said about the extent of market pessimism surrounding the stock. The 5+% yield was a signal, not an end in itself. Secondly, management's stated plan to maintain this dividend is also a signal on their part. To the extent they can forecast Mattel's future cash flows (granted, that's open for debate), management is telling us that paying out $500M of dividends per year remains doable. Going forward, if Mattel identifies some reasonably-priced acquisition candidates with brands or technology capable of driving renewed profit growth, a rational investor should be willing to accept lower dividends to help it finance such an investment.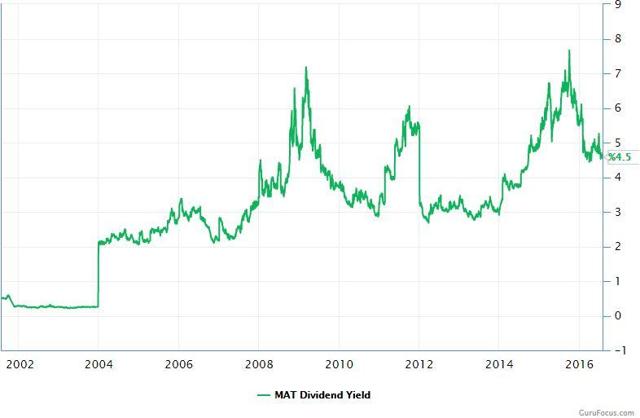 If traditional toys are dying, somebody forgot to tell the children!
Now for some of that hard data I mentioned earlier. The NPD Group is a respected market research firm that monitors consumer spending patterns around the world on a variety of products. NPD, whose data is cited by Hasbro in its 2015 annual report, estimates that the U.S. toy industry grew 7% last year. Now, before you argue that all the growth must have come from digital devices classified as "toys", check out the table below. "Youth Electronics" sales actually fell in 2015, dramatically lagging the impressive growth rates of dolls, miniature cars, board games and preschool toys!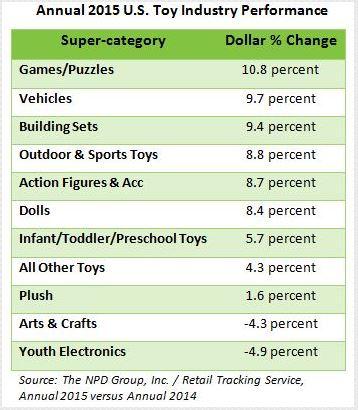 Just to put 2015's +7% growth rate for U.S. traditional toy sales in perspective: NPD also estimates that U.S. sales of prestige cosmetics & fragrances grew +7% last year, while the U.S. athletic shoe market grew at a similar +8% clip. Next time someone tells you Mattel is selling into a fading industry, inform them that Nike (NYSE:NKE) and Estee Lauder (NYSE:EL) are too. That should kick off an interesting conversation!
Remember, too, that Mattel got just 59% of its 2015 revenue from North America. Europe, Latin America and Asia are important drivers of the business, and will become only more so as birth rates and income growth in emerging markets should - over the long term - outpace North America. NPD measured toy industry growth above our +7% pace last year in Russia (+26%), Mexico (+13%), Brazil (+8%), and Germany (+8%).
Finally, let's debunk the myth of "unstoppable competition." Here are 2015's top-10 selling toys. Mattel had two of the top five and four of the top ten. Hasbro? Zero. LEGO? One.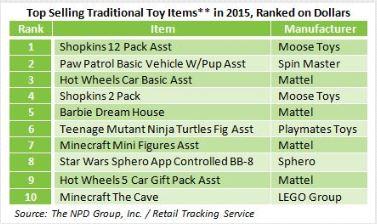 Mattel's loss of Disney's Frozen and Princess doll lines to Hasbro was unquestionably an embarrassing, costly fumble. And LEGO's growth has been very impressive. But focusing on the threats and mistakes can obscure a key fact: Wal-Mart, ToysRUs, Target, and other key retailers need and want toy-industry leadership to reside in the hands of two or three massive, technologically sophisticated, financially sound companies. They want Mattel, Hasbro and Lego to survive (without merging) so they can pit them against each other during annual pricing and shelf-space negotiations. Similarly, Disney, Universal Studios, and other major licensors of creative content want the same thing. Negotiating with dozens of small action-figure manufacturers every time they release a comic book-based movie is simply not how Disney wants to spend its time. So while the Top Ten table above may prove that small upstarts can achieve success in any given year, Mattel and its two big peers have scale advantages that should ensure many more years of dominance.
I know there are countless aspects of the Mattel story that I haven't touched on here. My intent was for this note to "set the stage" for a dive into MAT's financial statements, which I hope to finish soon. The more I've dug into the numbers, the more I'm convinced there is substantial untapped earning potential to be unlocked. Whether this management team and board of directors are the right people to get it done is an open question. Mattel had no activists listed among the top fifteen institutional holders of its stock as of 3/31/16. I'd be surprised if this remains the case indefinitely.
Disclosure: I am/we are long MAT, KORS, RL.
I wrote this article myself, and it expresses my own opinions. I am not receiving compensation for it (other than from Seeking Alpha). I have no business relationship with any company whose stock is mentioned in this article.