The Coca-Cola Company (NYSE:KO) is in a period of transition while it undergoes various divestments and strategic initiatives to become a leaner and more efficient organization. The company is temporarily suffering hits to its top-line through these structural changes before (ideally) transitioning back into a period of sustained revenue growth with higher margins to go along with it.
The company has experienced falling revenues and contracting margins over the past four fiscal years and the revenue downtrend is expected to continue through 2016 and into 2017 to mark a series of six consecutive negative-growth years. Q2 earnings brought mixed results. There was strong performance in some of the company's largest and best developed markets (U.S., Mexico, Japan), but emerging market performance (e.g., China, Argentina, Brazil, Venezuela) faced difficult macroeconomic conditions. On top of that, a strong dollar weakened overseas sales and the company suffered an unfavorable currency impact of 9% in Q2 earnings. Guidance regarding consolidated organic revenue growth was lowered due to overall slowdown in the Bottling Investments segment relative to the core business.
Regarding the company's refranchising initiatives CEO Muhtar Kent stated the following as of last Wednesday's (7/27/16) earnings call:
Over the past few months, we successfully completed the Coca-Cola European Partners and Coca-Cola Beverages Africa transactions, announced the transfer of certain territories in the United States to Arca Continental, UNITED venture and reached a new understanding with Coca-Cola FEMSA regarding joint value creation in Mexico and certain territorial expansion opportunities for company-owned bottling operations, which was announced just this morning. As we work through the comprehensive refranchising and near-term macro challenges, we will emerge a much stronger company with higher margins and returns and better positioned to deliver on our long-term growth targets.
(Source: Seeking Alpha)
The company has been particularly impacted regarding its presence in China. The country is undergoing a growth deceleration and is in the process of transitioning from an export-based economy to a service- and consumer-based model. Yet the growth deceleration has impacted overall consumer sentiment, specifically with respect to preferences regarding various categorical product offerings. Consequently, as President and COO James Quincey mentioned in Wednesday's call, the consequence of this transition has forced wholesalers to lower expected sales figures and de-stock inventory levels. Juice drinks, which appeal most to the working-class demographic, have performed the worst overall, while premium water offerings have performed best with their appeal to higher-income consumers. Still, the long-term outlook (5+ years down the line) has to be a bit rosier as KO begins to better understand and conquer its challenges in the Chinese market - one with 1.4 billion people and lower than average beverage per capita consumption relative to global averages.
China is also home to the company's largest international bottling operation, whose revenue has been impacted in accordance with macroeconomic headwinds. With a company such as KO, which splits its revenue fairly evenly between bottling operations and the concentrate and franchise segment, the bottling segment returns upwards of 5x as much revenue per drink sold relative to concentrate and franchise (but with the same roughly proportional cost). While this accordingly would not have much of an impact on profits, a drop in revenue - holding margins and everything else constant - will still expect to decrease overall free cash flows and the valuation of the company.
Regarding other emerging markets, Venezuela suffered raw material shortages and forced a temporary suspension of production at bottling plants. Needless to say, this impacted revenue and EPS results to a degree. Argentina continues to deal with an economic recovery. Brazil is also mired in an economic downturn with the standard features of rising unemployment, low consumer and industrial confidence, negative GDP growth, a corruption probe among a network of political and business leaders, and an ongoing public health scare that's muted tourism to a degree for much of the past year.
Yet North American organic revenue grew 4% during the quarter primarily due to higher pricing and a slight uptick in volume growth. In better news on the emerging economies front, the Southeast Asia market segment has seen double-digit growth in volume behind effective marketing and commercialization initiatives.
KO is currently facing an interesting scenario where its performance in developed economies has seen improvement while its emerging markets have declined overall in aggregate terms.
The company is also facing a slight headwind due to sugar prices recently coming up to their highest point in nearly four years. But this should not be a cost that works to meaningfully suppress margins - as it perhaps might have in previous years/decades - as the company is constantly adding more products to its portfolio that comprises sugar-free or sugar-lite formulas.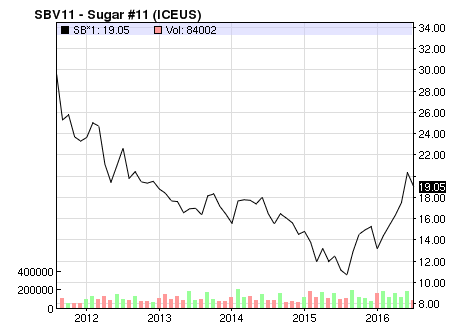 (Source: nasdaq.com)
Changing Consumer Preferences?
Some might argue that the largest secular threat to KO's business model lies in the decreasing demand for its products due to growing public health concerns. As the argument goes, as a greater amount of the population takes issue with the health and wellness effects of sugary beverages, changing consumer demands may pose a genuine threat to the demand for many options in the product portfolio. Lumped into this group are those who may not agree with the taste of diet soda and directly avoid the alternative of artificial sweeteners.
Nonetheless, I believe that health and wellness concerns are often overemphasized and attracting health-conscious customers can be met by expanding the company's product offerings, as the company has. McDonalds (NYSE:MCD) has been facing these same type of concerns for years, if not decades, regarding the health risks surrounding its salty, sugary, fatty, calorie-laden meal items. Yet its business is at a very favorable point in its history.
Like MCD, PepsiCo (NYSE:PEP), and Dr. Pepper Snapple (NYSE:DPS), KO's main consumer base typically tends to comprise of lower- to middle-class consumers who may be less concerned with the macronutrient breakdown of their food and drink items, and not the wealthier Wall Street crowd making financial and economic judgments about the business. As a result, I believe the worries over slumping global soda consumption are largely overrated, and can be hedged through the company's tea and premium water offerings, if not beyond that if consumer trends call for further innovation in that area in the future.
Capital Structure
Capital structure is important to consider, as it provides insight into a company's value relative to what it would be at its most optimal point of leverage, and what flexibility and general capability it might have to reach that point. Most companies tend to be fairly efficiently leveraged, especially in today's era of institutionalized private equity and shareholder activism, and particularly so with respect to conglomerates with predictable year-to-year profit streams.
KO's capital structure is currently comprises approximately 20% debt and 80% equity. My test for capital structure optimization involves an estimation of KO's synthetic debt rating using interest coverage ratios (projected 2016 EBIT divided by projected 2016 interest expense). The firm's cost of debt at various degrees of leveraging is then calculated using the historical spread of this debt rating estimation relative to U.S. Treasuries. This can then be used to create a capital structure curve that can be applied to display various information of interest, such as the debt-to-equity ratio at which the cost of capital ("WACC") is minimized, the intrinsic share price or enterprise value at this optimal point, and so forth. For KO, this occurs when approximately 25% of the capital structure comprises debt.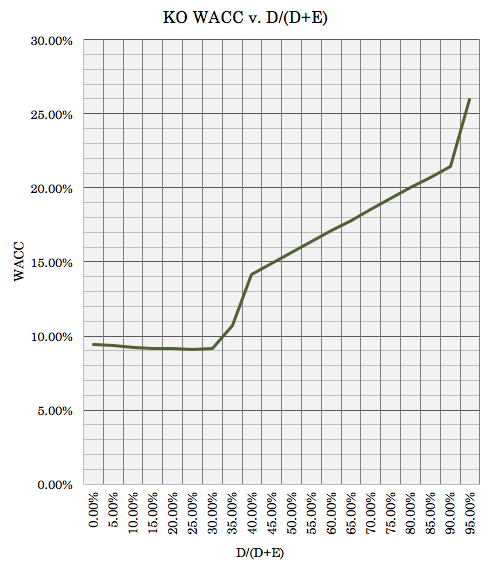 (Image source: author)
Therefore, we can determine that KO is very efficiently leveraged. Remaining on the side of slight under-leveraging is typically a good idea for the sake of buffering against difficult financial periods and allowing for share buybacks if desired.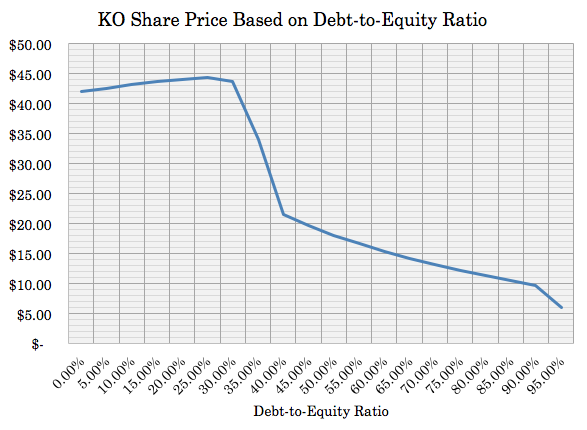 (Image source: author)
Financials and Valuation
2016 revenue, based on Q1 and Q2 earnings, should safely come in at $42 billion as a conservative estimate. 2017 revenues are highly uncertain with estimates typically ranging from anywhere from the high-$20B range to the low-$40B range. It's really a fool's errand to try and predict where revenue will come in at beyond 2016 with so many moving parts currently impacting the company. I have it entered in at $36.5B or more toward the middle of this range. KO is a company that has normally aspired to grow revenue long-term at around the 5% mark, with 2%-3% of that comprising volume increases and 2%-3% with respect to pricing. Assuming that, in 2018 and going forward, the company meets its 5% revenue growth target year-over-year, that would put KO revenue back up to $56.7B by 2026. For the sake of conservatism and my belief that growth in the industry will slowdown long-term, I have revenue growth from 2018-2026 pegged at 4.5%, placing sales at $54.3B by 2026.
Margins are expected to expand as a result of the aforementioned initiatives the company is taking on. The company's EBITDA margin should edge up into the high-20's in percentage-point terms as it begins to yield the efficiency gains from these actions. Based on the past five fiscal years, EBITDA has typically come in at around 26% of sales before trending down to 25.4% in 2014 and 24% in 2015. Soon the company should ideally push this figure closer to the 30% mark as it leans out.
Depreciation and capex are generally between 4%-5% of sales in equilibrium.
Effective tax rate at 22.5%
Terminal and cash flow from operations growth at 2%
The company appears appropriately valued at its current price assuming a cost of equity (i.e., expected annual return) of approximately 7%. For my purposes, I would not invest near this price level because of my personal return requirements, but it's truly a very individual decision.
Over the past five years, investors have yielded a compound annualized return of 5.5% to go along with a dividend yield that has generally stayed within the 2.50%-3.25% range, making it a regular among many dividend portfolios.
1-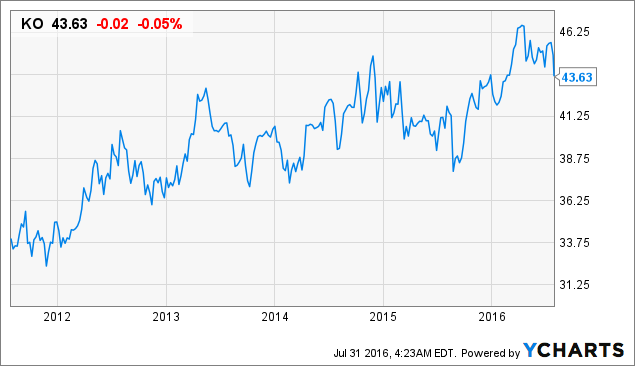 Conclusion
There is plenty occurring at KO currently with divestments being made to streamline operations, as well as currency and macroeconomic headwinds surrounding its emerging markets. I would also not expect some of these areas, such as Venezuela, Brazil, and Argentina to immediately improve, which makes 2017 revenue figures very difficult to forecast. I would expect the company's overall restructuring initiatives, including the bottling refranchising, to lower revenue going into next year, likely by double-digit percentage points. Altogether we might expect about a 13% drop in year-over-year revenue from 2016 to 2017 at the midpoint of the estimation ranges. Volumes have improved, however, which suggests that the company's increasing focus on revenue generation is yielding positive preliminary effects.
Wall Street is always forward-looking, but projecting KO's valuation at this point in time is difficult due to this period of transition and the financial effects of these initiatives won't start becoming visible until 2018 at the earliest.
Disclosure: I/we have no positions in any stocks mentioned, and no plans to initiate any positions within the next 72 hours.
I wrote this article myself, and it expresses my own opinions. I am not receiving compensation for it (other than from Seeking Alpha). I have no business relationship with any company whose stock is mentioned in this article.