A Trader's Dream, but Sluggish Price Moves for the Long-Term Holder
Under Armour (NYSE:UA) has been a favorite of mine for the long term. I missed the signs that it got ahead of itself at the $50+ range several months back, but have used recent dips over the past several months to aggressively add to my position. But the stock has sat in a range for the past several months after spiking from the previous earnings report in April. It dipped, offering buying opportunities in the $30s, and seemed to have found a base around the $36 range. Then it rose again to above $43 pre-earnings only to drop back and now sit near $38.50-40 price. Bottom line is that the stock moved in a way to make traders happy, but for longer-term holders it has sat relatively stagnant for the past few months and year overall.

Courtesy Google Finance
Solid Performance Continues
The last two reports have been solid, with the most recent one showing over 28% revenue growth and continued strong growth in both footwear (58%) and international sales (68%). It is in line with the UA expectations to continue expanding sales, and the conference call included a new NYC store in FAO Schwarz on Fifth Avenue to further hype the brand awareness. All the numbers seemed great, and two SA contributors, Trent Welsh and No Guilt highlighted them from two different perspectives.
While Trent's portion showed the solid performance, No Guilt and Stone Fox both had concerns similar to mine after reading the report. And by reading the report, investors actually have to read past that first paragraph that brings out the "ooohhhs and aaaahhhs."
Areas of Concern that Warrant Risk Mitigation
In the initial press release of the earnings, those awe-inspiring numbers are right up front and likely drive some investors to nod in agreement and read no further. But the devil is in the details and No Guilt has an overall run-down in his article, but a few additional thoughts here:
Cash on hand continues to dwindle, now at $121 million which is down from $171 million in 2015, and down from $300 million in 2014. Cash is flying out the door and I know the answer from readers will be "you have to spend to grow." And that is true, but it does not mean you ignore this factor and it should be a concern when paired with debt increases.
And speaking of debt, it was up to $1 billion from $712 million in 2015 and only $197 million in 2014. While much of this is reflected from the purchases of Connected Fitness apps, it is something that must show signs of actual monetization or it is a wasted venture.
Third, you have margin compression, and much of this is from the growth in footwear and international sales. As I noted in March, UA is competing on price with footwear to try and gain market share - a risky game, but it continues to drive sales. The concern will be if UA has to truly enter a pricing war with its competitors which would further compress margins and hurt an already low EPS.
Lastly, inventories continue to just balloon. They were up 26% in 2015, and most recently up another 30% and sit at $1.1 billion. Continuing this pattern can amplify the issues of margins, but is also likely a sign of the Sports Authority closure and moving into Kohl's (NYSE:KSS) as an additional distributor.
Not a Sell, but Worth a Hedge
One of the reasons I stayed away from UA for a long time was the lack of a dividend. Relying on capital appreciation alone assumes more risk in my investment tolerance, but has worked well for long-term holders. Buying back in the 2005-2012 era has definitely provided amazing returns. However, while the sky is definitely not falling, the stock appears to be entering a time when P/E compression is occurring and thus the stagnancy in share price. UA is a solid company with solid sponsors and is "all-in" on revenue growth over profits which in the near term is likely going to further compress the P/E over time as investors look for better options. As such, it is prudent for investors to consider alternative ways to hedge its stagnant performance as well as begin producing "dividend-like" returns.
As such, one could consider to sell covered calls on shares. A buyer today could buy at approximately $39.50 and sell the October 2016 $40 strike for ~$2, or more than a 6% return. While the next ER could send the stock spiraling downward, this yield of cash would provide an instant cash return to mitigate potential losses and provide capital to buy at lower prices. It would limit gains, but making 5-6% in less than three months is likely to outdo the S&P return during the same period. One could also sell further out of the money covered calls and buy puts as a collar, but after the past several reports, I don't see a major drop as extremely likely as guidance has remained in line and UA has a history of meeting or exceeding expectations.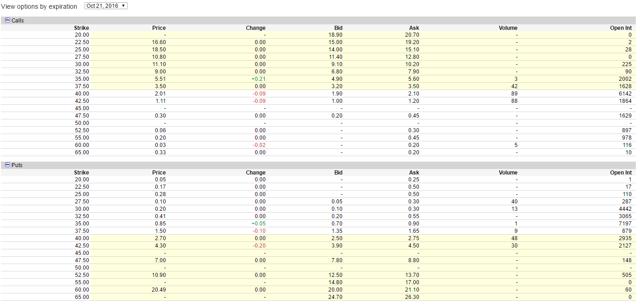 Courtesy Google Finance
But the drawback of the October calls is that they will likely expire after the next earnings report. If one is not willing to await that timeline and assume that risk, then consider the September options, where one can still pull 4%. This might be most prudent as it would then offer another chance to sell covered calls into the next earnings report if the stock remains under $40.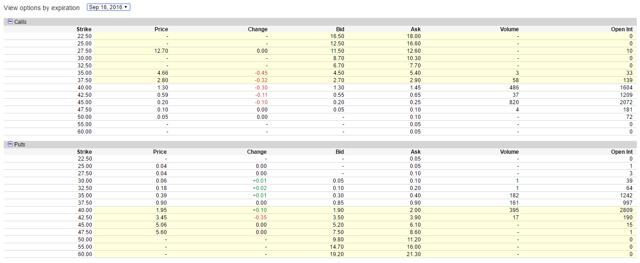 Courtesy Google Finance
Long-term Outlook Remains Positive
I view dips in UA as opportunities. The stock is not going out of business and has spread about its athlete sponsors well enough that even a certain basketball player destroying his knee is not going to put the company out of business. While the concerns are numerous, they are concerns to continue monitoring and not a reason to sell for an expanding business with room to grow. I would like for management to further explain what it will do in regards to cash dwindling and how the apps are really going to be monetized. However, sales continue to cook with gasoline which should keep the price in its current range. Therefore, UA remains a hold with covered calls sold in my portfolio as the premium is worth the risk as a long-term cash cow for me.
If you enjoyed this and would like to read more of my articles, just click the "Follow" button at the top next to my screen name. I appreciate your time and wish everyone the best of luck.
Disclaimer: This article is intended to provide information to interested parties. Since I have no knowledge of individual investor circumstances or goals, readers are expected to complete their own due diligence before purchasing any stocks or trades mentioned or recommended.
Disclosure: I am/we are long UA.
I wrote this article myself, and it expresses my own opinions. I am not receiving compensation for it (other than from Seeking Alpha). I have no business relationship with any company whose stock is mentioned in this article.