Shares of Trinity Industries (NYSE:TRN) soared on July 29th, rising in excess of 11% and ultimately closing 10.7% higher at $23.21 apiece after news broke that an activist investor bought into the company. In what follows, I will dig into the news and detail what it likely means for investors moving forward.
ValueAct got in on the action
The sole reason for Trinity's meaningful rise on July 29th appears to be related to the fact that ValueAct Capital, an activist firm, disclosed a 6.8% slice of the company. Between July 1st and July 22nd, the investment firm purchased up nearly 10.4 million shares at an average price of $19.36 each. This translates into $201.28 million invested into Trinity and, interestingly enough, the move higher by Mr. Market (an increase on ValueAct's weighted-average purchase price of 19.9%) has added $40.02 million to the company's pockets.
No matter how you slice it, this is a strong move by ValueAct that should instill a sense of confidence in Trinity's investors but a big question many of you may be asking is why the firm bought in. After all, Trinity's earnings per share this year will likely be between $2 and $2.30 each, driven largely by a bad market for railcars as traffic has declined in the U.S., Canada, and even Mexico to some degree.
Management at ValueAct did state that they bought into Trinity because they believe it to be 'undervalued' but there's more to it than just that; it seems that they want to take a more active role in the enterprise in an effort to increase the return for shareholders. In the image below, for instance, you can see their main argument as to what kinds of activities they may consider but the most important ones involve changes in "capital allocation, asset allocation, capitalization, dividend policy, financial condition," and mergers and acquisitions strategies.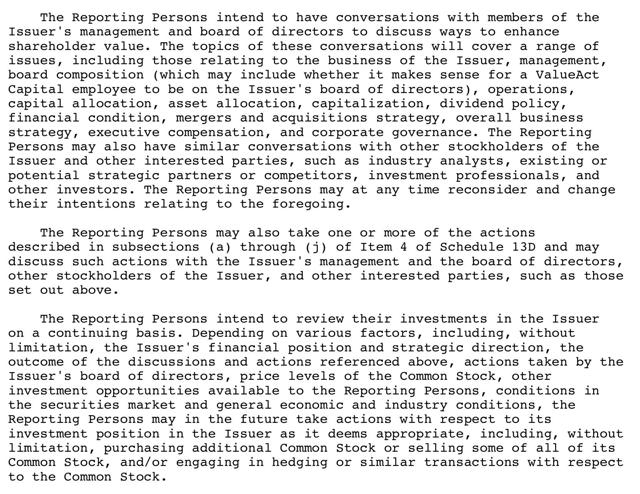 It's highly likely that ValueAct will push at least one of these items at some point. My own personal belief is that their answer will involve either Trinity's large cash horde or potential divestitures. You see, in its latest quarterly report, Trinity claimed that its cash and cash equivalents (including marketable securities) totaled $814 million. This excludes $183.3 million in restricted cash. Yes, the firm does have $3.13 billion in debt but all except for $843.9 million is non-recourse.
Add to this the fact that total liquidity, thanks to a corporate revolver and warehouse availability, is $2.08 billion while the firm's book value of equity stands at $4.18 billion, and it's hard to be bearish on these numbers. The only real wild card here relates to its current lawsuit regarding its railguards but, as I've stated before, it seems as though management has a pretty good chance of winning there.
The other idea I'm thinking about is that ValueAct may try and convince management to divest itself of certain non-core assets. These include is Energy Equipment Group, its Construction Products Group, and its Inland Barge Group. In the past, I've suggested that the company, as a whole, has been undervalued in the market despite strong and diversified segments, the likes of which would probably go for much more if they were separated from the parent company.
ValueAct got a good deal
In my mind, Trinity is one of the most interesting long-term prospects on the market, even if it ends up losing its railguard lawsuit. At the moment, shares are going for a paltry 84.7% of net assets even after the nice increase in market value seen thanks to ValueAct's move. Looking at forward earnings, shares can be picked up for between 10.1 times earnings and 11.6 times earnings. Of course, should the market turn around next year or the year after, it wouldn't be unreasonable for Trinity's profits to double or triple (they were at $5.08 per share in 2015, valuing the business with today's price at 4.6 times earnings).
Takeaway
In my view, ValueAct made a smart move that will likely grant the company's other shareholders a good chance of increasing their wealth in the long run. Not only is ValueAct acquiring a nice chunk of a quality business, but they are doing so when the firm's strong and diversified balance sheet gives great opportunities for changing the firm's capital structure in ways that will reward investors down the road. My one hope is that they don't try and convince management to pay out a dividend but focus, instead, on either mergers and acquisitions using some of Trinity's excess cash and/or explore sensible asset sales or spinoffs. Either way, things are going to get interesting moving forward and I intent to continue holding on for the ride.
Disclosure: I am/we are long TRN.
I wrote this article myself, and it expresses my own opinions. I am not receiving compensation for it (other than from Seeking Alpha). I have no business relationship with any company whose stock is mentioned in this article.