With crude having sold off nearly $8 over the last few weeks, crude markets appear to be waking up to the fact that there is just too much supply of the commodity in the US.
Crude stockpiles increased again last week and the chart below, courtesy of John Kemp at Reuters, shows very clearly that inventories are way above the 10 year range, both on absolute basis and seasonally. So crude prices have been falling off.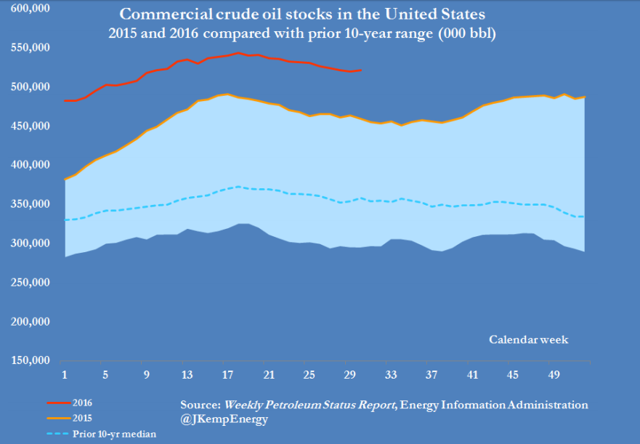 OK, so what you might think. Crude markets are reacting, oil stocks generally follow crude prices and that's what's been happening by and large. But this is not an article about crude oil (NYSEARCA:USO) (NYSEARCA:OIL).
However, this recent price action is important. As we can see from the two charts below, WTI has been somewhat of a leading indicator for "risk assets".
The charts below show that the Junk Bond ETF (NYSEARCA:JNK) - the orange line - tends to track or follow crude prices. That's because a high percentage of bond issues in the underlying Bond Index - the Barclays High Yield Very Liquid Index - are oil and gas exploration and production companies, but it's also because of the crude is seen as an important risk barometer, and "risk assets" tend to be correlated hence the expressions "risk on" and "risk off".
Currently however, the JNK ETF has not reacted to the fall in crude prices. In fact in July JNK rose while crude fell, an unusual development and a disconnect which is I believe will correct itself with a sharp fall off in the price of JNK shares. Once this happens and other market participants notice the wider "credit spreads" as a result of the pressure on the underlying junk bonds from market makers, other risk assets such as stock indices will likely fall off, as investors need to apply a higher risk premium to risky investments.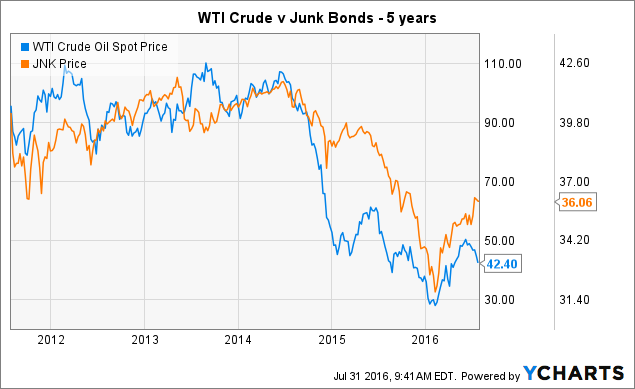 WTI Crude Oil Spot Price data by YCharts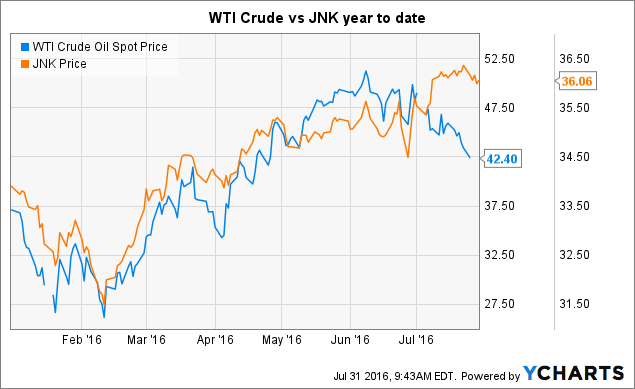 WTI Crude Oil Spot Price data by YCharts
My worries don't even stop here. US earnings have been consistently falling, while stocks go ever higher, thanks to central bank liquidity. Basically stocks based on P/E ratios are expensive now, while Q3 earnings growth expectations have been falling hard. This Yahoo! Finance story is worth reading and has some nice charts showing the clear trends in the S&P 500's valuations.
While there are always going to be nice long term investments to buy and hold, beta, or market risk, should be avoided or hedged as much as possible. Sell JNK and be positioned for a "risk-off" environment in the short term.
In the medium term, and once crude has stopped falling, "Don't fight the Fed" will apply and investors can "buy the dip" a strategy that has been highly profitable since 2009.
Disclosure: I/we have no positions in any stocks mentioned, and no plans to initiate any positions within the next 72 hours.
I wrote this article myself, and it expresses my own opinions. I am not receiving compensation for it (other than from Seeking Alpha). I have no business relationship with any company whose stock is mentioned in this article.