Source: American Capital Agency
Thus far in 2016, residential mREITs such as American Capital Agency (NASDAQ:AGNC) and Annaly Capital Management (NYSE:NLY) have done extremely well, especially compared to the broader market.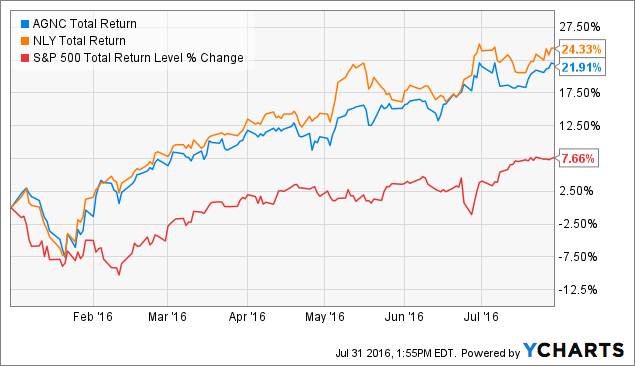 AGNC Total Return Price data by YCharts
In today's record low interest rate environment, dividend investors might naturally be attracted to American Agency's 11% payout. However, before you go investing your hard earned money into this mREIT, let's look at three critical takeaways from the company's latest earnings results, which featured big surprises, both good and bad.
More importantly, find out what dividend lovers can expect the future to hold for one of America's largest mREITs in the years to come, whether shares are worth buying today, and what risks could sink American Capital's dividend-based investment thesis.
Earnings reveal both good and bad news
| | | |
| --- | --- | --- |
| Metric | Q2 2016 Quarter-Over-Quarter Change | Q2 2016 Year-Over-Year Change |
| Comprehensive EPS | 7,200% | NA |
| Net Interest Spread | 23.4% | -33.3% |
| Book Value Per Share | 0.6% | -7.4% |
| Monthly Dividend | -10% | -12.9% |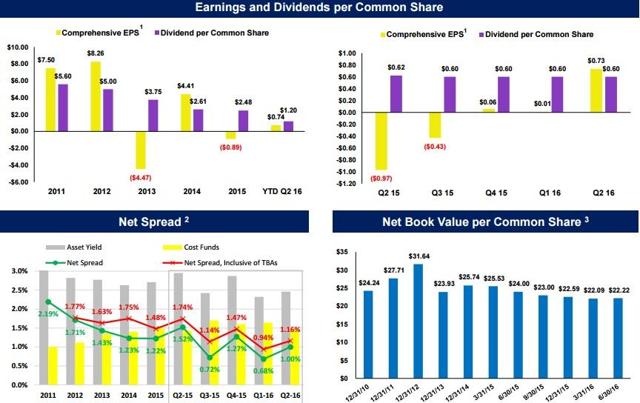 Source: American Capital Agency earnings presentation.
Compared to last quarter American Capital's results were spectacular, with comprehensive income soaring, book value rising and its dividend payout ratio falling to just 74%. However, as you can see, on a year-over-year basis things look a whole lot worse.
That's due to record low interest rates causing a compression in net interest spreads that makes up the core of American Capital's business model. Meanwhile, book value declined largely due to the fact that management has decreased the amount of interest rate hedging over the past year.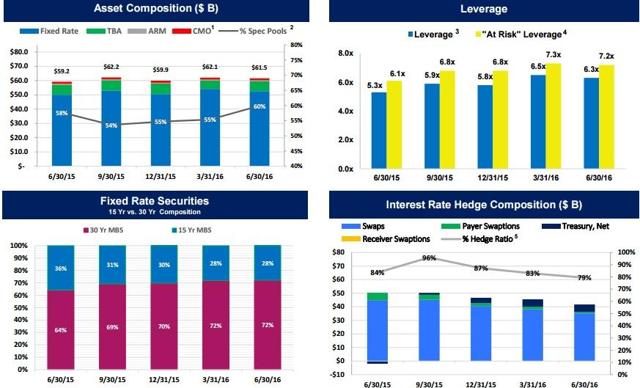 Source: American Capital Agency earnings presentation.
While this decreased hedging may seem like management is being reckless, in fact it actually shows the exact opposite. The reason why American Capital Agency cut its dividend this quarter, despite easily covering it with earnings, was due to management's conservative nature regarding the number one risk facing any residential mREIT, interest rates and its effects on prepayments.
Specifically American Capital now expects interest rates to remain virtually unchanged through 2017. Which is one of the reasons that management wants to focus on minimizing costs, in order to maximize profits from the tiny spread it's currently able to generate.
American Capital Agency's hedging strategy is designed to minimize changes in book value, as opposed to locking in specific target rates or spread levels. Which is why management is focusing on a hedging strategy that bets on interest rates remaining the same for several quarters, or even years.

Source: American Capital Agency earnings presentation.
This explains why the mREIT's hedged positions have fallen over the past year, (in order to cut hedging costs), and why the mREIT's interest rate sensitivity is negative to both positive and negative changes in interest rates.
Management internalization will help preserve the current dividend payout
Earlier this year American Capital Agency spent $562 million to buy out its external manager, American Capital Mortgage Management, to which it was paying 1.25% of shareholder equity in annual management fees. This deal, which only recently closed, (and thus didn't affect Q2's results), is expected to result in $80 million in annual operating cost savings. That comes to a $0.23/share increase in annual comprehensive EPS.
Which may make this quarter's 10% dividend reduction seem especially confusing, since American Capital Agency will now have the lowest operating cost structure of any residential mREIT in America.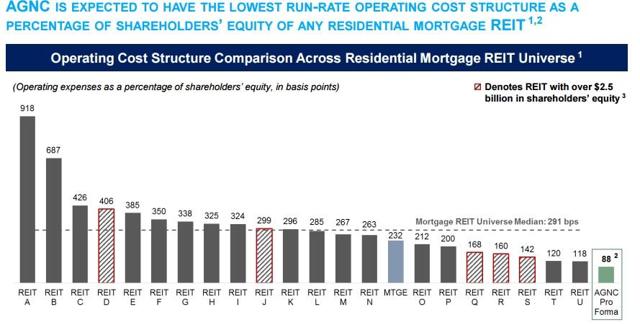 Source: American Capital Agency earnings presentation.
However, I think management's overly cautious decision to reduce the payout to a still extremely generous level should be applauded. After all, this highly conservative approach is likely to greatly increase dividend security going forward. For example, if you factor in the operating cost savings from this internalization, as well as the lower dividend, then Q2's dividend payout ratio would fall to 68.4%.
Given how volatile American Capital's earnings have been in the past, as well as the major risk factors it is currently facing, that increased security is vital to generating strong total returns for investors over the next few years.
| | | | | |
| --- | --- | --- | --- | --- |
| mREIT | Yield | Latest Quarterly Payout Ratio | 10 Year Projected Dividend Growth | 10 Year Projected Total Return |
| American Capital Agency | 11.0% | 73.9% | -0.8% | 10.2% |
| Annaly Capital Management | 10.9% | 100% | -0.9% | 10.0% |
| S&P 500 | 2.1% | 39.1% | 5.8% | 9.1% |
After all, a good rule of thumb for projecting long-term total returns is yield + dividend growth. And while American Capital's current yield of 11% is excellent, unless it can maintain that over the long term, then investors might end up suffering if management is forced to continually slash the dividend in the years to come.
Now don't get me wrong, while I love America Capital's conservative management, and think its recent decisions have made the current dividend much safer, that doesn't mean investors can become complacent - because American Capital Agency faces some enormous headwinds; risk factors that could greatly impact its dividend investment thesis.
Risks to watch going forward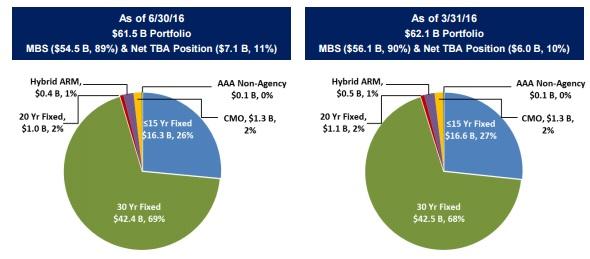 Source: American Capital Agency earnings presentation.
American Capital Agency's business model is extremely conservative in that it's entirely focused on agency-backed residential mortgages. While this means that the company's exposure to default risk is extremely low, it does expose its cash flows to very high interest rate risks.
That's because the current interest rate environment, one with short-term interest rates already near zero, means that any future decrease in rates is likely to only further compress its net interest spread.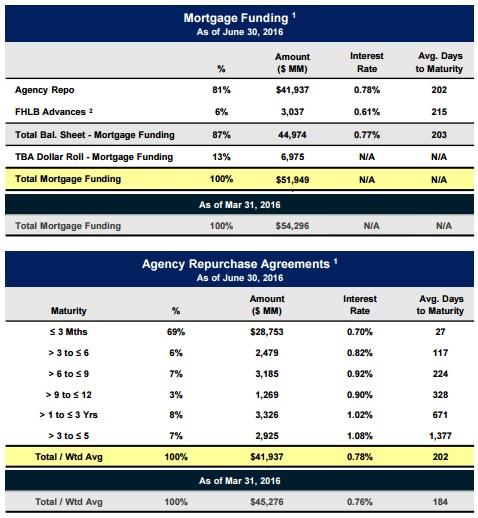 Source: American Capital Agency earnings presentation.
This is due to the mREIT obtaining the vast majority of its funding from the repo or securities repurchase market. The way this works is that American Capital will sell one of its mortgage-backed securities or MBS to a counterparty for a few months, in exchange for upfront cash with which to buy additional agency-backed mortgage loans. Then when the agreed upon purchase date arrives, the mREIT repurchases the mortgage loan at a higher price.
This business model means there are two main risks to American Capital's net interest income in today's interest rate and economic environment.
First is the fact that even if interest rates were to fall further, or even go negative, this would only lower the mREIT's borrowing costs a little. After all, repo counterparties aren't likely to pay American Capital to borrow from them in order to buy higher-yielding long-term fixed mortgage loans.
On the other hand, if rates do fall further, then long-term fixed mortgage rates are likely to keep falling as well. That would result in decreased net interest spread and thus falling EPS that could put even today's lower dividend at risk. Then there's the biggest problem for residential mREITs in a falling rate environment: prepayments.
The way residential mREITs operate is that they buy mortgages at a premium to par value.

Source: American Capital Agency earnings presentation.
This premium is then amortized over the length of the mortgage. And as long as the premium isn't too high and the homeowner doesn't default on his/her monthly payments, then American Capital ends up making a tidy profit thanks to its aggressive use of leverage.

Source: American Capital Agency earnings presentation.
However, as you can see, over the past quarter the conditional prepayment rate, or CPR, on American Capital's loan portfolio came in much higher than management initially forecast. In fact, in Q2 the CPR was 11.8%, 34% above last year's rate of 8.8% for the same quarter.
Anytime a homeowner repays the mortgage early, usually via a home refinance loan, American Capital loses the chance to finish amortizing the premium it paid for the loan. In other words, depending on when the loan is refinanced, management may have to take a loss on a loan that otherwise could have been highly profitable.
Now there are ways to protect against early prepayments. For example, American Capital's current loan portfolio consists mainly of HARP, or Home Affordable Refinance Program, mortgages. These were the main cause of the spike in refinancing that took place in 2012. In other words, American Capital owns the very refinanced mortgages that allowed homeowners to pay off their original mortgages early.
Usually HARP loans have lower prepayment risk, since a borrower who's already refinanced his/her mortgage has generally less to prepay on the new loan. However, if interest rates continue falling and stay low for a prolonged period of time, then refinance risk increases. That's especially true if home prices continue rising as they have in recent years.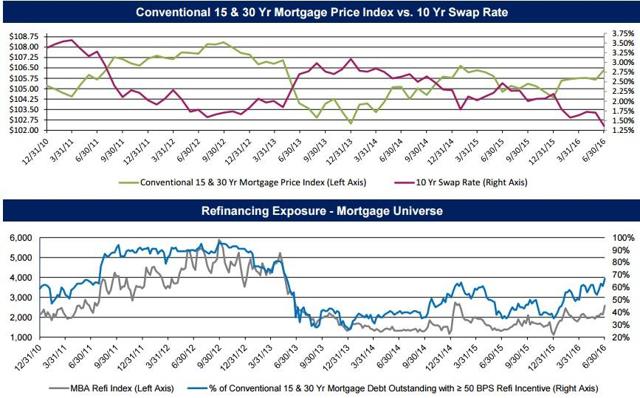 Source: American Capital Agency earnings presentation.
How likely is it that interest rates keep falling, and thus prepayment risk keeps rising in the coming years? While no one can predict short-term interest rates, the fact that US economic growth in the first half of 2016 came in at a snail-like 1.0% doesn't bode well for chances of rates rising anytime soon.
In addition, should the economy falter further, or even fall into recession, then the Federal Reserve has indicated that it would consider not just lowering rates to absolute zero, but potentially even take them negative. That would potentially create a perfect storm for American Capital investors.
Not only would rising unemployment mean higher mortgage default rates that could hurt its cash flow, but falling fixed-term mortgage rates could also result in rising prepayments. Thus American Capital's earnings could be hit hard from both sides and its dividend may have to be cut even further.
Bottom line: Though hardly a SWAN stock, American Capital Agency is one of the best residential mREITs you can buy today
Don't get me wrong, all mREITs are highly sensitive to interest rates and especially those who are so heavily exposed to residential MBS. That being said, American Capital Agency's recent internalization, as well as its continued safer, HARP-based mortgage book, means that it's one of the less risky residential mREITs you can own.
While no one can predict what long-term economic growth and thus interest rates will be, dividend investors with a high risk tolerance, and a well-diversified portfolio, may end up doing very well over the coming years owning shares of one of the best run mREITs in the industry.
Disclosure: I/we have no positions in any stocks mentioned, and no plans to initiate any positions within the next 72 hours.
I wrote this article myself, and it expresses my own opinions. I am not receiving compensation for it (other than from Seeking Alpha). I have no business relationship with any company whose stock is mentioned in this article.