MLPs finally broke down a bit this week under the weight of still dropping oil prices (another 6% decline this week). The chase for yield, plus some pretty solid earnings results this week kept MLPs from falling further, and a 1.1% move Friday helped them avoid a worse fate.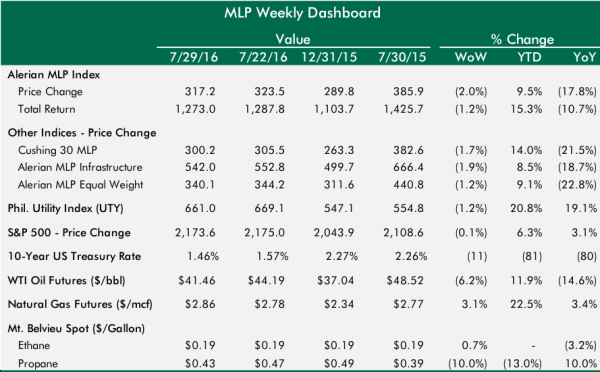 If MLPs were going to break down, it's not a surprise to see it happen on a major ex-date week for the sector. Whether it's investors holding on for just one more distribution before selling or distribution capture trading strategies, MLPs tend to struggle around ex-dates.
Status Update
With Friday's close, we've reached the end of another month, the seventh of the year so far. Friday's positive close pushed MLPs into positive territory (including distributions) for July, making it 5 straight positive months for the MLP Index.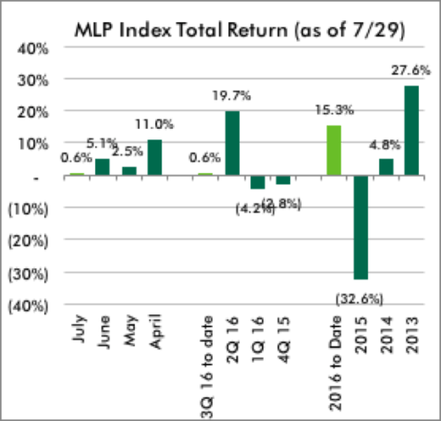 Distribution capture trading tends to be a headwind for August, which has been negative in 7 of the last 11 years, including a 5% drawdown last year. It will likely take a turnaround in oil and NGL prices or a pick-up in MLP M&A to make August positive this year.
Less Hysteria This Time Around
Stable trading in July for MLPs is quite a feat, given that July ended as the worst month for WTI oil prices in a year (down around 15%). The last time oil prices went from $50/bbl to $40/bbl, MLP panic levels were at Biblical Ghostbuster levels (Human sacrifice! Dogs and cats living together! Mass hysteria!), and MLPs fell 15%+ in a month and a half.
MLP investor sentiment today seems a bit less hysterical. It may have something to do with plummeting interest rates since Brexit and the hunt for yield. It probably is helped by MLP closed-end fund and hedge fund forced selling being much less of a factor this time around.
Even still, there is a nervousness out there. It's reminiscent of one of Eddie Murphy's characters in Bowfinger, Kit Ramsey. This character has had a nervous breakdown before, and he's worked with a life coach to develop a mantra to help him maintain, and it happens to go along with his initials: Keep it Together. Throughout the movie, as he starts to freak out that a movie is being filmed starring him without his consent, he repeats this mantra to calm himself.
When oil was shooting higher from $40 to $50, however, and certain G&P names were taking off, some investors were probably regretting not having exposure to those MLPs. Here is another bite at the apple, so to speak, as long as you can keep it together.
Winners and Losers
JP Energy Partners (NYSE:JPEP) made it 2 straight weeks in the top 5, but this week at least, there was some news as JPEP maintained its distribution. Even after the last two weeks, it yields 13.6%. Alliance Resource Partners (NASDAQ:ARLP)'s strong 2Q results and natural gas price strength helped the coal operator make the top 5.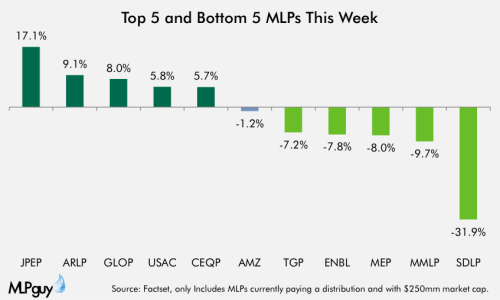 On the downside, Martin Midstream Partners (NASDAQ:MMLP) was pounded on weak 2Q results (0.76x coverage in the quarter) and the lack of strategic announcement. Enable Midstream Partners (NYSE:ENBL) made it two straight weeks in the bottom 5. Seadrill Partners (NYSE:SDLP) brought up the rear after a 60% distribution cut did not result in a rally like we've seen recently; instead, it dropped 30%+.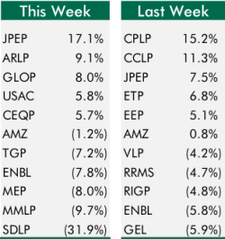 Year to Date
JPEP's meteoric rise the last few weeks puts it at the top of the winner's circle for the year so far. SDLP had been number 2, but it fell completely out of the top 5, replaced by CONE Midstream Partners (CNNX). All of the top 5 from last week declined declined, with the exception of JPEP.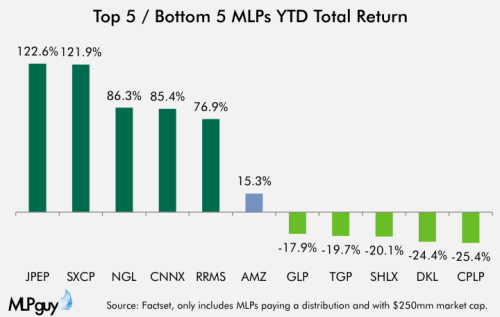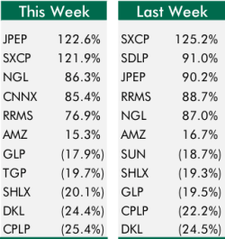 General Partner Holding Companies
GPs underperformed MLPs this week, but Alliance Holdings GP (NASDAQ:AHGP) was a major outlier as the only positive GP. SemGroup Corporation (NYSE:SEMG) followed oil lower again this week, and joined ONEOK, Inc. (NYSE:OKE) and Archrock Inc. (NYSE:AROC) as back-to-back members of the bottom 5.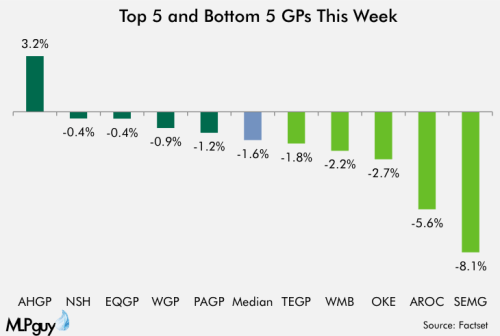 News of the (MLP) World
Not much in the way of news outside of earnings this week. A small equity deal, notable because it was a full marketed offering over the course of a day (as opposed to an overnight deal), which we haven't seen an MLP execute in probably a year. Given that Viper Energy Partners (NASDAQ:VNOM) isn't a typical MLP, I wouldn't expect more traditional MLPs to follow its lead.
Financing
M&A / Growth
Other