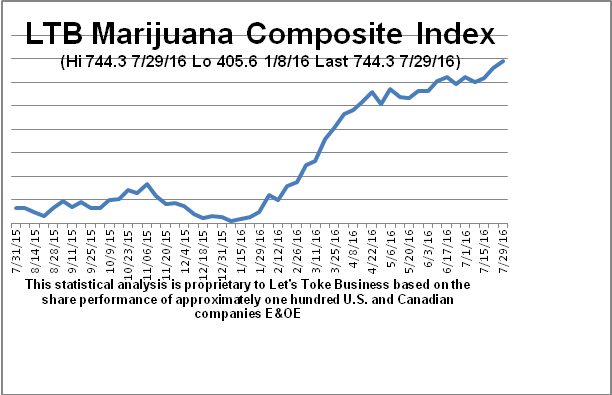 The LTB Marijuana Composite Index recorded a third consecutive weekly gain closing at 744. This threatens to make a trend after many weeks of backing and filling where the longest trend in the previous thirteen weeks was two weeks up or down. As I have been saying, between now and year-end, I believe the marijuana stocks will make a run at the all-time index high of 869 set in March 2014. (see accompanying chart) Fuelling these gains will be the Health Canada (HC) response to the Allard decision that must come before August 24, 2016 (HC v. Allard), the November U.S. elections at which time we believe several states including California will vote to legalize medical or recreational marijuana and the promised cannabis legalization legislation in Canada by the spring of 2017. (Canada to Legalize Marijuana)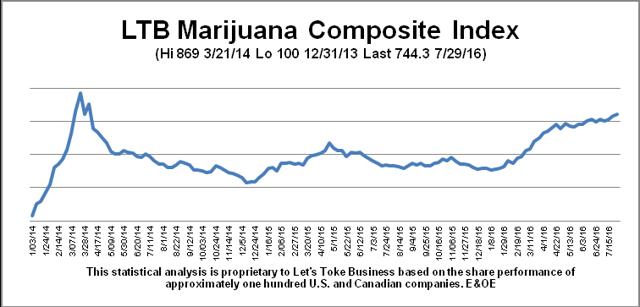 I have also said the assault will likely take place in two stages and the index has already made a start. We expect to see a check-back, maybe from round the 800 mark to a higher low before finally breaking out. It has taken almost two-and-one-half years to reach this point but investor psychology is far more constructive now than it was back in 2014. In March 2014, the prevailing investor sentiment was highly speculative. Now it is more sedate and probably better able to support further gains. Back in early 2014, you only needed to be a failed mining company and say you're thinking about getting into marijuana to see your stock price jump and money come your way. Today, you have to be real to get investors to respond. If you are not generating revenue or close to it, the response will likely be sleep-inducing. Given these changes, I think this is a sector that can go much higher before a speculative fever is a cause for concern. Given that the record is less than 20% away, I think this is an easily attainable goal. Once that high point is surpassed, there is substantial room for blue sky ahead.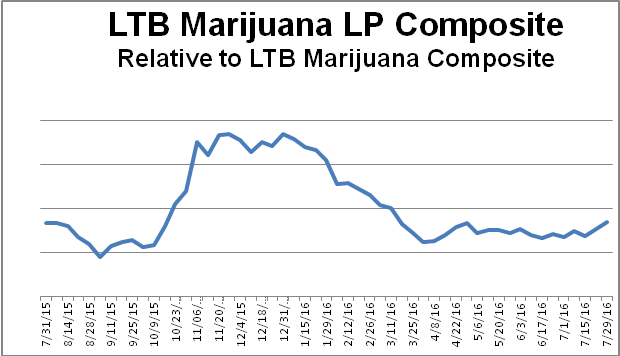 The other message I have hammered home consistently of late is to overweight the Licensed Producer group. (Complete List of Licensed Producers) This group led the way again last week with a gain of 6.7%. Clearly, others are starting to jump on the bandwagon. I think portfolios can favour Canopy Growth (OTCPK:TWMJF) as the industry leader listed on a major exchange, Aphria (OTCQB:APHQF) as the low cost producer and Organigram (OTCQB:OGRMF) as a certified organic grower.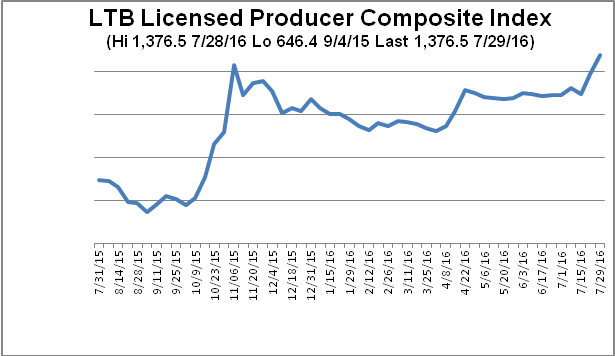 I can't repeat it often enough. The marijuana stocks are the place to be right now. Here is a recent comparison of the LTB Marijuana Composite Index and major world markets in the first half of 2016. A holding or two of marijuana stocks in most portfolios would have added a significant "alpha" factor to your results.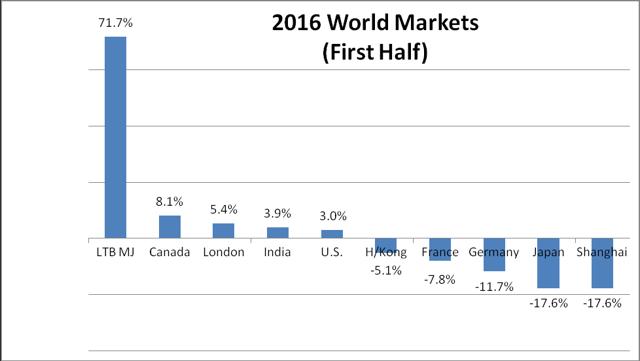 Yes, stock prices can be volatile and even the larger Canadian cannabis companies are small by most market cap measures. But to my way of thinking, investing in this sector need not be speculative. It is assuming measured and manageable risks. I expect cannabis stock prices will continue to be volatile but that volatility will come on the upside. Now is the time. Don't over wait. Overweight.
Disclosure: I/we have no positions in any stocks mentioned, and no plans to initiate any positions within the next 72 hours.
I wrote this article myself, and it expresses my own opinions. I am not receiving compensation for it (other than from Seeking Alpha). I have no business relationship with any company whose stock is mentioned in this article.
Editor's Note: This article covers one or more stocks trading at less than $1 per share and/or with less than a $100 million market cap. Please be aware of the risks associated with these stocks.