I recently wrote articles on the 2 largest pharmacy benefits managers in the country, Express Scripts (NASDAQGS: ESRX) and CVS Health (NYSE: CVS). Their largest competitor, and the final company in the series, is UnitedHealth Group's OptumRx (NYSE: UNH), which has recently merged with Catamaran to become the third largest PBM. The interesting thing about the comparison between these three companies is their different levels of vertical integration. United Health, for instance, has their well known insurance business, run under the moniker United Healthcare. Below is a breakdown of market share in the PBM space: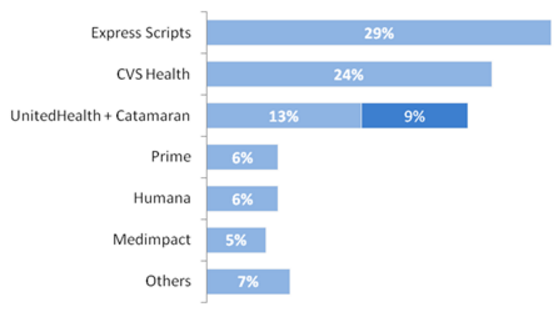 Source: Forbes
For large companies, finding synergies is really important, especially when it comes to largely contract-driven businesses like healthcare. CVS running the second-largest PBM and also having the largest pharmacy chain in the country provides excellent stability to their business, since they have one side of the PBM equation locked up and can focus on finding additional pharmacies. The other side of that equation is the insurance provider, which uses PBM's to control costs. This provides UNH with similar stability, having the largest insurer in the country as a locked-in customer for Optum.
If you have read my previous articles on the PBM space, you can skip the following where I detail how they work and the potential governmental impact.
How Pharmacy Benefits Managers Work
Pharmacy Benefits Managers (PBM's) are the intermediaries between pharmacies, manufacturers, and insurance providers that negotiate drug pricing for the insurance companies. PBM's work to get discounts and mitigate high prices on certain drugs, something that has been a hot topic the last few years. They maintain profitability by charging a premium on the drugs to the insurance companies. The successful PBM's are those that can negotiate the best deals with manufacturers while also having the largest distribution network of pharmacies. These go hand in hand, as manufacturers of drugs are more likely to give the better prices to the large PBM's that can guarantee their drugs will be sold in a larger market. Because of these large deals, however, PBM's can end up relying heavily on only a few large deals.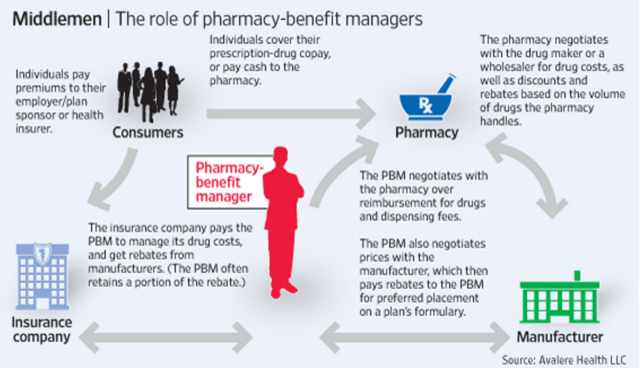 Source: WSJ
Governmental Scrutiny
A well-known trend affecting healthcare today is the increased scrutiny being paid to the pharmaceutical industry. High profile cases of extortionate drug prices have led to a public outcry and the potential for governmental interference into the space. Excessive drug costs have been a hot-button issue for the political season, and that has led to many great companies being overly beaten down in the health care space. Some believe that the PBM's actually bear a good amount of responsibility for the high prices due to taking their cut as the middle man between manufacturers and insurance companies. This could very well cause legislation changing the way that PBM's operate. However, these companies don't exist solely to take a cut. By all accounts, PBM's manage to keep drug prices down by extensively negotiating with drug manufacturers for the best deal. In my opinion, the most likely outcome from all this is increased transparency in PBM operation. A better view of the PBM process and their role in negotiating pricing should keep them safe from future regulation causing loss of revenue.
Obamacare
UNH recently announced that they will be exiting nearly all of their exchange markets, which have been experiencing losses. This will be almost immediately accretive to earnings, on the order of around .35 per share. Losses totaling around $650 million on these policies alone have driven management to pull out, which may lead to opportunities for other insurance carriers. I see this as a positive for the company, specifically that management identified the problem quickly and exited an unprofitable market. It's possible that the company will choose to re-enter the market at a later time with a different strategy, but that is not clear at this time. The number of people they were insuring was a very small percentage of the total for the massive insurance carrier, so trimming their losses here was probably the right move for shareholders.
Growth
Their acquisition of Catamaran catapulted Optum into being the third largest PBM in the country. This led to revenues for the segment expanding 69% in their most recent earnings report. The way this segment of healthcare operates is definitely based on scale. Becoming one of the largest PBM's gives the company greater bargaining power. They can land bigger contracts with pharmacies, which leads to more customers to dangle in front of the drug manufacturers leading to better deals. These better deals will lead to more business, as well as improved margins. Look for this trend to continue for UNH going forward, as they continue to integrate their Optum business and land bigger clients. As the sector matures, there will definitely be fewer opportunities for acquisition in the PBM space, which was one of the larger downfalls of ESRX. UNH will have to focus more on streamlining operations and improving their customer relationships, something that they have been working on recently.
Optum is growing much faster than their insurance business. As far as their PBM, Optum has done a fantastic job of winning bids against their 2 large competitors. Investors should expect this to only improve now that they are larger and better able to leverage their scale. One issue that can hamper growth is competing insurers being less likely to give business to United. It obviously hasn't been an issue so far, with the growth that Optum has been seeing, but it is definitely possible that it could sway insurer's opinions that Catamaran is now owned by a direct competitor. As far as I can see, Optum should continue to grow faster than ESRX and CVS over the near term due to their newfound size.
Comparison
(numbers courtesy of GuruFocus and Morningstar)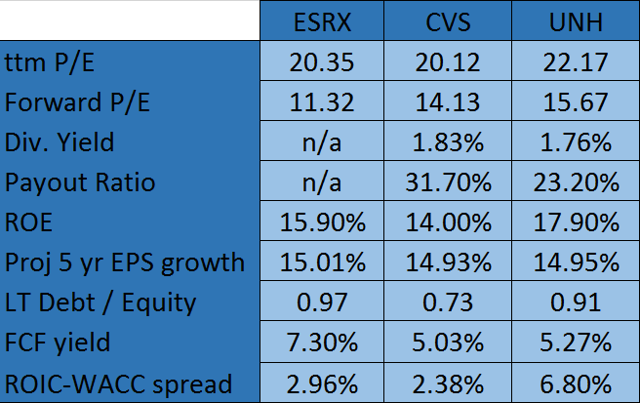 A quantitative breakdown is hard to do for three companies that have very different businesses on top of their PBM's. ESRX is a pure-play, CVS can compare with companies like Walgreens Boots Alliance (NasdaqGS: WBA) as much as it can with ESRX, and UNH can compare with other major insurers like Aetna (NYSE: AET) and Humana (NYSE: HUM). However, as discussed before, the vertical integration definitely plays into each individual company's strengths, so we will look at the metrics objectively.
UNH carries the highest ttm and forward P/E, and I think that is based on their highly publicized growth in Optum from the Catamaran acquisition. However, analysts have all three companies growing at the same rate over the next 5 years. CVS and UNH carry similar dividends while ESRX doesn't have one, and they both have great dividend growth rates, as well. UNH has the best return on equity, and with improving margins over time, I expect that metric to continue upwards. ESRX has a lower ROE due to massive share dilution from acquisitions a few years back. ESRX has the best FCF yield, and UNH has the best ROIC and ROIC-WACC spread. Looking at the metrics as a whole, I believe that UNH is the best in class. However, they are also trading at the highest valuation.
Dividend
UNH has increased their dividend every year for 7 consecutive years at an outstanding rate: (numbers courtesy of Dave Fish's CCC List)

They are carrying a low payout ratio and are generating wads of free cash flow, so investors should expect excellent dividend growth to continue.
Valuation
I don't believe that UNH is trading at a value today. They seem to be priced for perfection, and one hiccup could grant investors shares at a lower price. However, that doesn't necessarily mean they make a bad investment. Their metrics appear to be best-in-class, but investors will have to pay for it. Attached is a FAST Graph to show visually their P/E expansion over time. The blue line represents their normal P/E ratio over the last 10 years and the orange line represents a P/E of 15.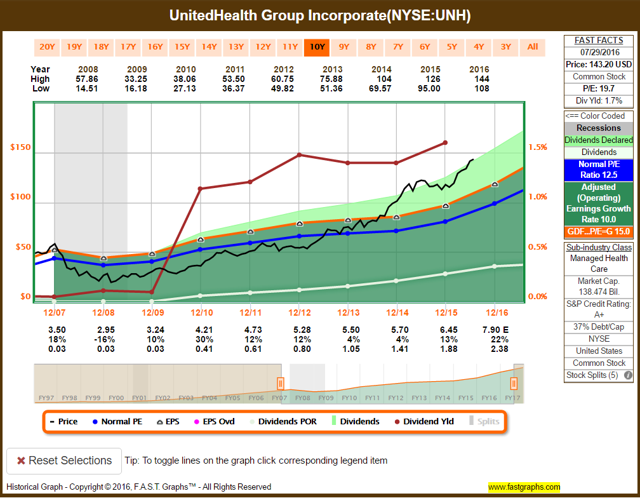 Conclusion
When looking at the three biggest companies within this space, I can't help but feel like ESRX is the least well positioned for the long term. However, ESRX carries the best value proposition at the moment, mostly due to their pending lawsuit with Anthem (NYSE: ANTM). CVS and UNH boast broader diversification and their multiple businesses provide them greater stability and security. On top of that security, reinvested cash has greater opportunities to spur growth when, for instance, CVS decides to improve its pharmacy footprint vice investing in its PBM business. Analysts seem to feel similarly about the growth rates of the three companies, and for that reason, it falls to valuation concerns between CVS and UNH. In that case, I feel like CVS has a slight edge. I don't think investors would be wrong to consider any of the three companies, as they all seem to be well-run and are riding excellent macro trends. At the moment, however, I think CVS presents the best opportunity for a long-term investment.
If you liked this article, and would like to read more like it, please click the follow button next to my picture at the top. Thanks for reading.
Financial statistics were sourced from FinViz, unless otherwise stated. This article is for informational purposes only and is not a formal recommendation to buy or sell any stock. Please do your own due diligence and/or consult a financial professional prior to making investment decisions.
Other excellent companies in the healthcare space:
Fears Over Cardinal Health Are Overblown
McKesson: Better Than Aristocrats?
Disclosure: I am/we are long CVS.
I wrote this article myself, and it expresses my own opinions. I am not receiving compensation for it (other than from Seeking Alpha). I have no business relationship with any company whose stock is mentioned in this article.