Introduction
One would think the increasing uncertainty in the European economy will hit the companies focusing on temporary labor quite hard, but fortunately there aren't any signs of 'real' slowdowns just yet at Randstad (OTCPK:RANJF) (OTCPK:RANJY) (whereby one ADR of RANJY represents ½ of acommon share), one of my favorite labor-related companies due to its strong free cash flow profile and low net debt position. Of course, the impact of the Brexit is still an unknown for this Europe-focused entity, but at least the company is able to improve its balance sheet to be fully prepared for potential heavy weather.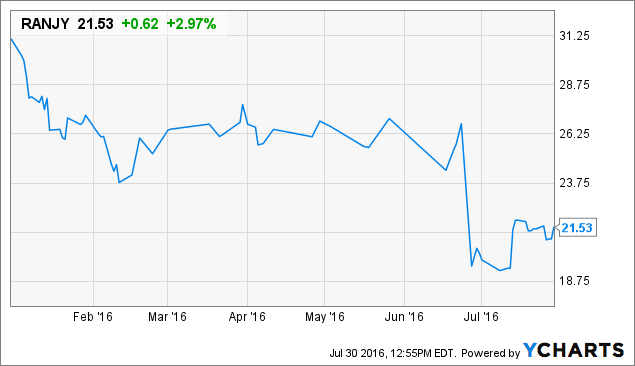 Randstad is a Dutch company and has its main listing on Euronext Amsterdam, where it's part if the AEX 25 index. The ticker symbol is RAND, and the average daily volume in Amsterdam is 1.3 million shares per day. Right now, Randstad's market capitalization is approximately $7.75B.
As expected, Q2 was much better than the first quarter
Randstad had plenty of reason to be pleased with its financial and operating results in the second quarter of the year, as its organic growth rate remained positive at 3.1%. The company doesn't seem to be too worried about a serious slowdown as it announced a few acquisitions during the first semester as well, and these acquisitions should increase Randstad's revenue by approximately 1.5B EUR ($1.67B) per year.
Source: financial statements
As the revenue increased by 8% (compared to the first quarter) to 5.1B EUR ($5.7B), one would like to expect this trend to continue. And indeed, as the total operating expenses (excluding the COGS) increased by less than 4%, the company's operating profit jumped from 135M EUR ($150M) to a stunning 214M EUR ($240M) in the second quarter. That's a 58% increase (but in line with my previous expectations considering Randstad is operating in a seasonal business environment where Q2 and Q3 are busier than the first and final quarter.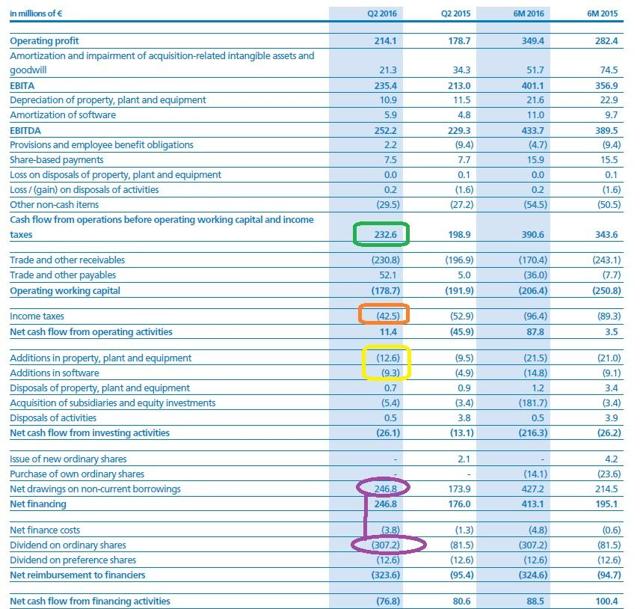 Source: financial statements
The net income also increased (up 50% compared to Q1 and exactly 20% compared to the same quarter last year), but more important is the 50% increase in the operating cash flow (pre-tax and pre WC changes) on a QoQ basis. In the second half of the year, Randstad's adjusted operating cash flow was approximately 190M EUR ($210M), resulting in an adjusted after-tax sustaining free cash flow of approximately 170M EUR ($190M) in the quarter. That's a very welcome boost to the Q1 results (where the adjusted FCF was less than 100M) to end up with an adjusted free cash flow of 258M EUR ($289M) in the first semester.
Borrowing to pay the dividend? Not really
You will correctly notice Randstad had to increase the amount it borrowed under its longer term facilities to pay for the dividend, which cost the company approximately 307M EUR ($340M), whereas the dividend payment last year resulted in an outflow of just 81.5M EUR ($90M). What happened? Did Randstad pay a special dividend, funded by debt (which I profoundly hate)?
Not at all.
First of all, the company pays a dividend just once per year. So unlike the American companies paying a quarterly dividend, Randstad shareholders get one dividend per year, usually in April/early May, that's it. So the 300M+ payment is 'one and done'.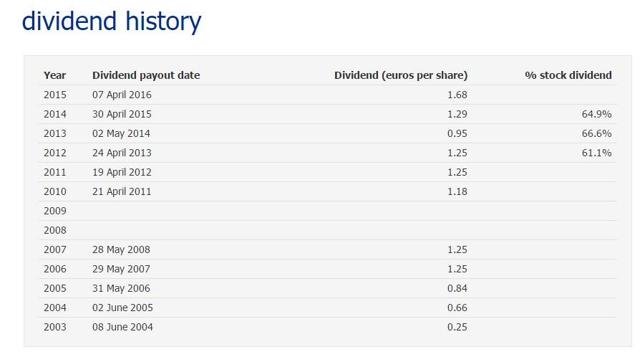 Source: company website
But why is the cash outflow so much higher than last year? There are two different reasons for this. First of all, the dividend was hiked by approximately 30%, to 1.68 EUR/share ($1.88), but secondly - and this had a much bigger impact - in the past few years Randstad allowed its shareholders to elect to receive their dividend in cash or in stock. That choice wasn't available this year, so the entire (increased) dividend had to be settled in cash.
On top of that, the majority of the free cash flow is usually being generated in the second half of Randstad's year. If you pull the results from last year, Randstad generated just 36% of its full year free cash flow in the first half of the year.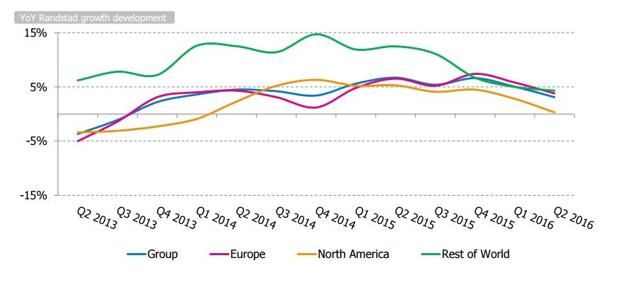 Source: company presentation
If I would apply this ratio to the achievements in the first semester, Randstad could be moving towards a total adjusted free cash flow of 716M EUR ($802M). That would happen in a 'perfect world', but the higher net income will also increase the tax bill, and the increased uncertainty on the markets will obviously also have a negative impact on Randstad's cash flows (this will partly be compensated by the cash flow from the new acquisitions). That's why I'm aiming for a full-year adjusted free cash flow of 650M EUR ($728M) for the current financial year. That's a conservative guesstimate, but I like to be safe, rather than sorry.
Randstad continues to find a healthy balance between rewarding its shareholders and reinvesting cash in the business. In June, Randstad announced it would make an all-cash offer for Euronext Paris listed Ausy. Combined with the previously-announced acquisitions, Randstad will be able to increase its revenue by approximately $1.65B and the incorporation of the new subsidiaries in the consolidated entity should unlock additional economic benefits.
Investment thesis
Randstad very likely won't be able to end the year without any net debt (as I was hoping/expecting), but there's a very good reason for this as Randstad has spent a few hundred million dollar on acquisitions that will contribute to its top line and bottom line. Right now, Randstad has a net debt position of approximately 460M EUR ($515M), but has already paid the entire dividend and should be able to fund the acquisition of Ausy with its internally generated cash flow.
With a trailing 12 month EBITDA of in excess of 900M EUR ($1B), Randstad will very likely keep its net debt/EBITDA below 0.5 and probably even below 0.25 and if the acquisitions wouldn't have occurred, Randstad would have had a net cash position by the end of this year.
I still have a small long position and have written several put options on Randstad, but those are now all out of the money. As they begin to expire (starting in September) I might take advantage of a temporary weak share price to write more put options, and perhaps use the option premiums to increase my position in the company's common shares. Based on my expectations for this year, Randstad is trading at a free cash flow yield of approximately 9%, and despite the fact the temp labor market is a cyclical business, I feel very comfortable having a long position in Randstad, thanks to the clean balance sheet and the low capex requirement to keep the business up and running.
Disclosure: I am/we are long RANJF.
I wrote this article myself, and it expresses my own opinions. I am not receiving compensation for it (other than from Seeking Alpha). I have no business relationship with any company whose stock is mentioned in this article.
Additional disclosure: I have a long position in the common shares and have written put options.
Editor's Note: This article discusses one or more securities that do not trade on a major U.S. exchange. Please be aware of the risks associated with these stocks.