In this article, we give you five reasons to buy shares of Ellie Mae (NYSE:ELLI). But we'll also give you some reason for caution. Here are the reasons to buy:
Killer business model and strengthening industry position.
Steadily growing revenues and earnings, even through industry hard times.
Solid balance and cash generation.
Quarterly results once again beat expectations.
The company has once again raised guidance.
Killer business model
The business model of Ellie Mae is offering a one stop solution automating what can be a rather complex process with multiple parties involved. What ELLI is offering, first through their Encompass software, and then via its Encompass cloud solution, is to streamline all of this.
The following figure shows how Encompass simplifies the whole process: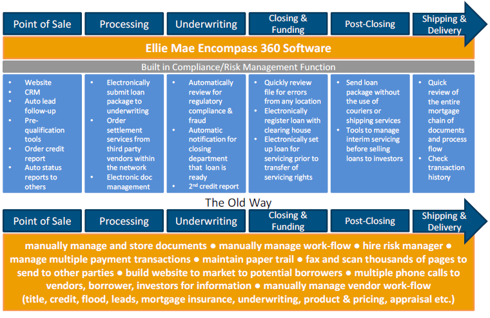 How complex the mortgage industry used to be becomes clear from a case study by the famous management guru Tom Peters:
The average loan is handled by 61 people, and requires 45 days to travel from application to funding.
Using Encompass delivers many benefits. Not only in terms of cost, but also eliminating duplication (and hence the chance of error), time, compliance with regulation, fraud detection, income verification, etc., as it's all automated.
With their Encompass on demand SaaS cloud solution, it has become even easier for the different parties in the mortgage origination business to link up and streamline the whole process, as depicted in the following figure: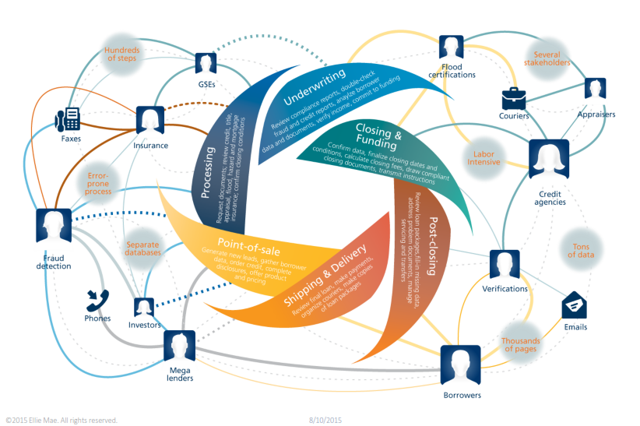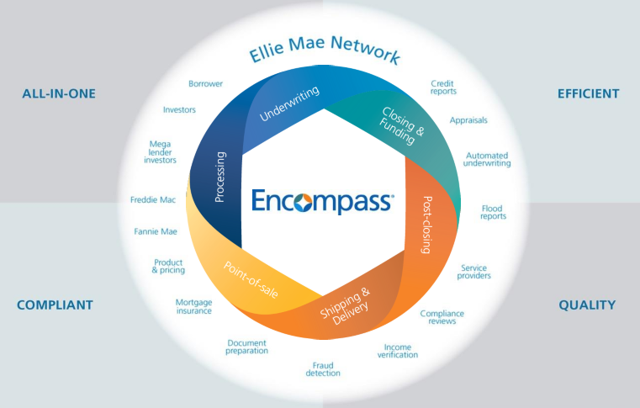 This is why many clients have shifted away from hosting their own Encompass solution and adopted ELLI's cloud solution. This has been beneficial to ELLI as well as it generates more recurring revenues and higher margins.
Adoption is growing steadily, and this isn't surprising, as (from the latest investor presentation):
Encompass can benefit a lender as much as $970 per loan.
Clients studied benefitted an average of $572 per loan.
Savings increases with the adoption of additional services, like their Total Quality Loan Program.
Innovation
The company isn't sitting still either. They are already working on their new platform (from the Q2CC):
At the same time, we continue to make progress with our next generation platform, which we believe positions us to deliver even greater value to our ecosystem. Next gen encompass will bring an open, fully programmable cloud collaboration platform to our customers and partners and enable them to build, deploy and run innovative highly secured solutions. By creating an open platform for the industry, we're also building even stronger and stickier network around encompass to both lenders and industry partners, which we believe will further Ellie Mae's market leadership. This month, we released encompass 16.2, which delivers many of the foundational components to allow some of the next generation encompass releases planned for later this year into early next year.
Rapid revenue and earnings growth
Another reason why ELLI is such a fantastic stock (we first recommended to buy in 2012 when the stock price was $15) is the steady and rapid increase in revenues and earnings.
See for instance the rather spectacular revenue growth in the graph below (from the latest investor presentation):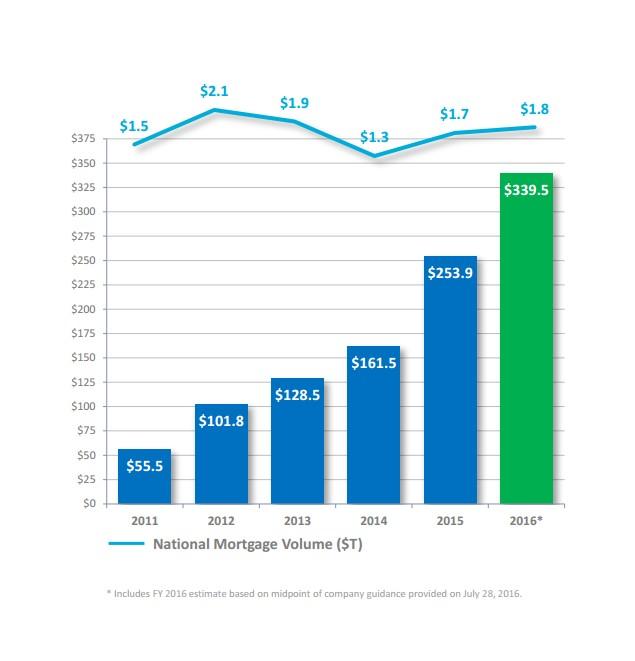 What is undoubtedly even more impressive is that this growth has continued unabated even through periods in which the mortgage industry was declining (from 2012-2014, as the top line in the graph indicates).
Earnings have mostly kept up: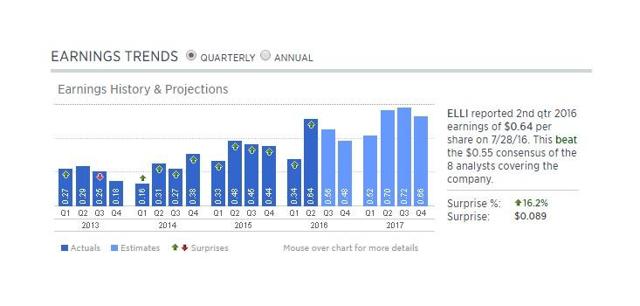 You'll note another impressive feature in the graph above: with very few exceptions, earnings are beating expectations, often with significant margin.
The second quarter results
Q2 results, which were out after the market closed on July 28th, didn't exactly disappoint either. Earnings beat by over 16% to 62 cent per share (where 55 cents per share was the consensus expectation).
Growth continued to be very, very good:
Revenue grew from $90.1M in Q2 last year to 65.9M this quarter, a 37% increase.
EPS grew from 48 cents last year to 64 cents this year, a 33% increase.
EBITDA grew from $22.6M last year to $30.9M this year, a 37% increase.
It's also not hard to see where that impressive growth is coming from. The company added a whopping 13,000 seats (users) to its platform (193,000 in total, 23% of a potential market of 850,000 mortgage banking professionals) and the revenue per user (ARPU) grew 14% to $601.
The company's CEO Jonathan Carr said something else during the Q2 CC that was reassuring:
Since we completed virtually all of our on-premise migrations last quarter, all of this strength came from new customers and existing customer additions. Furthermore, we finished the quarter with a very healthy pipeline. We continue to see demand from a broad array of financial institutions across each of our segments, including midmarket and large enterprise and really feel great about our pipeline going forward.
Many analysts assumed that one of the sources of ELLI's earnings growth was the conversion from Encompass customers to Encompass on demand, the SaaS cloud solution.
This transformation is now basically completed, but growth seems to experience no slowdown whatsoever. That's quite reassuring.
The mortgage market itself is growing a bit faster than expected, with 65% of the market as purchase decisions (that is, 35% are refinancing of existing mortgages).
Balance sheet
ELLI continues to have a very healthy balance sheet, with no debt and $133M in cash and cash equivalents (up $19M from Q1).
Operations are projected to generate $105M in cash with CapEx at $65M for the year. Free cash flow will therefore be between $40M and $45M in 2016.
Guidance
Not only did the quarterly figures beat expectations, this allowed the company to engage in another mainstay, raising guidance:
Q3 revenue is now expected to reach $90M-$92M ($87M was expected by analysts).
Q3 earnings are now expected to reach 56-59 cents (56 cents were expected).
FY 2016 revenue is expected to reach $338M-$341M (prior guidance was $325M-$329M).
FY 2016 EPS is now expected to reach $2.00-$2.06 (prior guidance was $1.84-$1.92).
The company has a longer-run growth model, and the CFO had this to say about that model during the Q2CC:
With a significant opportunity ahead, we remain comfortable in our ability to drive our targeted 25% plus topline growth over the next few years, while seeing increasing leverage in adjusted EBITDA which is the primary measure of profitability that we focus on. We expect to reach adjusted EBITDA range within the next two years. As we've mentioned in the past. We are also targeting gross margins of 70% to 75%, but because of the investments we are making to keep up with our sales success. Our user growth and the capital investments that we are making to drive future growth it will take us slightly longer.
Considering their past performance even during market shrinkage, and increasing strength of their position within the industry, we have little doubt that they will be able to manage this.
Valuation
Here is where it gets tricky, as there is a large difference between GAAP and non-GAAP earnings, and most of this comes from stock compensation:
On a GAAP basis, Q2 EPS was 34 (up from 25 cents in Q2 2015). This is just over half of non-GAAP earnings (64 cents per share).
As we argued more extensively before, there are solid reasons to consider GAAP earnings. While stock compensation is a non-cash expense, it dilutes shareholder value.
Stock compensation becomes a cash expense when management routinely sells shares in the open market (as ELLI management does, as can be seen here scrolling to the bottom) the company engages in a significant share buyback program, which ELLI has.
On a GAAP basis, there can be no doubt that the shares are very expensive. Even with the raised guidance for the year, GAAP EPS is expected to arrive at 86-89 cents, less than half the non-GAAP EPS ($2-$20.6).
That gives the stock a price to earnings multiple of 100, even with the selloff last Friday. This is a top quality stock at a top price, no doubt about it.
Unlike us, the market seems to ignore these valuation issues, and this has been the situation as long as we can remember. It isn't unreasonable to expect this to continue, providing it doesn't get any worse.
Risks
The sky-high valuation is inherently risky though. One even mildly disappointing quarter and the stock price will suffer from a double blow. The disappointment itself, and a substantial, perhaps even severe multiple collapse will ensue.
How likely is this? The company has a very entrenched, probably even an unassailable one in the industry. They have shown that they can grow just as well through lean mortgage years.
But one headwind might come when interest rates start to rise. Not only will this create some drag in new purchases, refinancing especially could dry up. The fact that the interest rate environment is supposed to be more benign for longer is one reason the shares have performed so well, in our opinion.
One way the company is dealing with this is that they are guiding pretty conservatively. Basically, every quarter produces a substantial earnings beat (see the earnings graph above), and guidance is raised almost as frequently.
Technical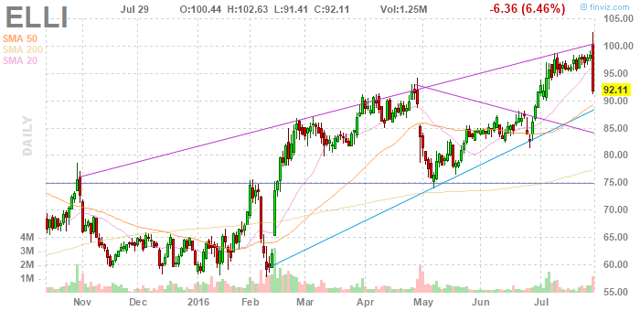 Some air was let out of the price on Friday after the earnings. We have no reason to think that the upward trend channel will be broken anytime soon.
This seems to offer attractive entry points at just below $90, but we would advise you to keep the valuation issues in mind. Multiple expansion seems very unlikely to us, and while there is no reason to expect any multiple contraction anytime soon, this can't be ruled out, and that could take a considerable bite out of the price if and when it happens.
Disclosure: I/we have no positions in any stocks mentioned, but may initiate a long position in ELLI over the next 72 hours.
I wrote this article myself, and it expresses my own opinions. I am not receiving compensation for it (other than from Seeking Alpha). I have no business relationship with any company whose stock is mentioned in this article.