Lloyds (NYSE:LYG) published Q2 results. Our takeaways were as following.
A pick-up in NIM was the key positive takeaway
Stronger NIM was driven by improvements in deposit margins and lower funding costs. Margin resilience in a low-to-zero interest rate environment is an achievement and in contrast to European peers where NIMs have come under significant pressure.
The market currently expects a 25bps cut by the Bank of England. While lower interest rates would be a drag for the bank's interest income, we think Lloyds will be able to protect its margins going forward, thanks to its fixed-rate retail deposit book of around GBP50bn (~12% of Lloyds' total deposit book), which still pays customers around 2%. This could be repriced down, in our view.
In addition, 2016 guidance for NIM of 2.7% has been reaffirmed.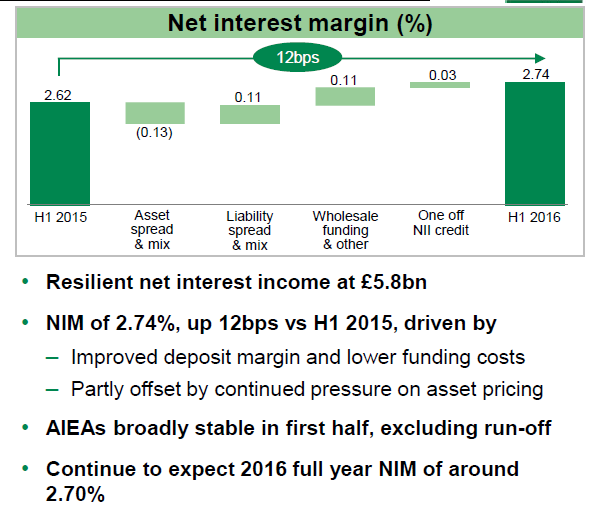 Source: Company data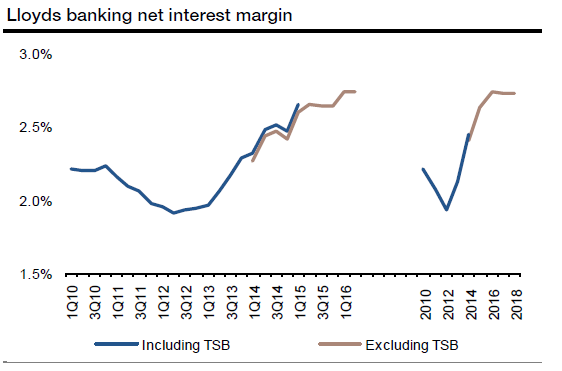 Source: SG Investment Research
A de-risked business model
Lloyds has significantly de-risked its business model over the past five years. Its average mortgage loan-to-value ratio printed at 43% in Q216 vs. 56% in 2010, with less than 1% of mortgages with an LTV>100% and only 9% with an LTV>80%.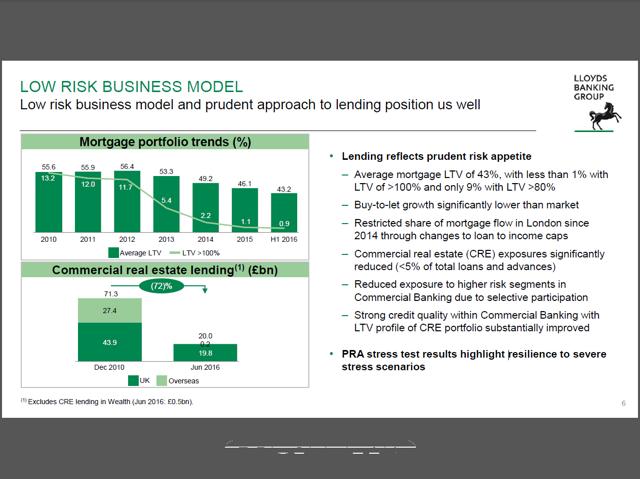 Source: Company data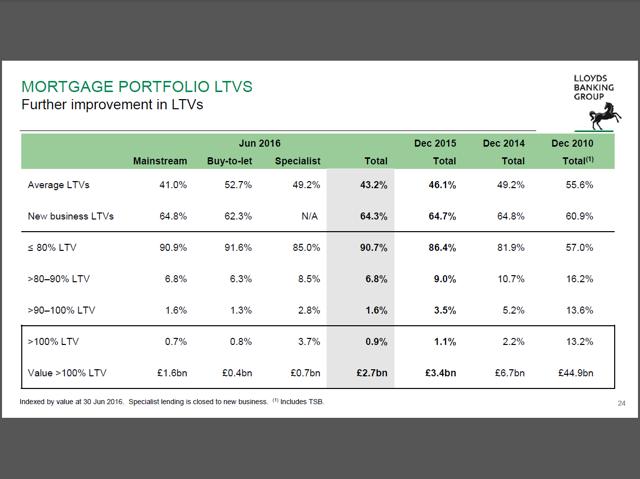 Source: Company data
The below chart shows that Lloyds' mortgage book with an LTV of over 80% has fallen from 647% of the bank's tangible equity down to 70%.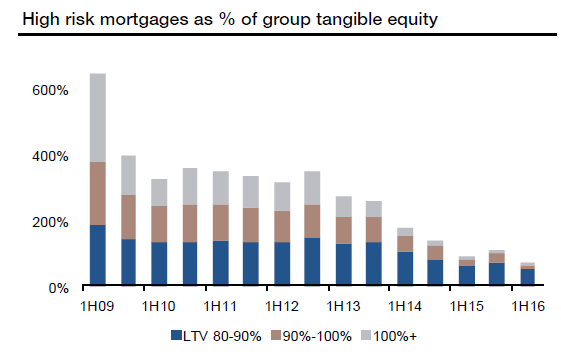 Source: SG Investment Research
Asset quality remains strong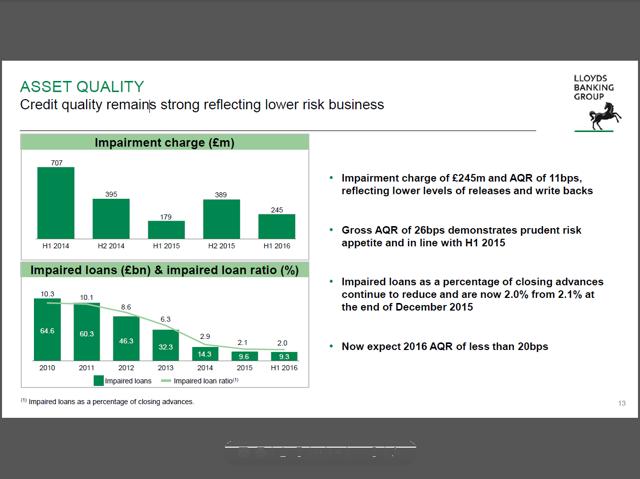 Source: Company data
Lower guidance on organic capital generation
The bank cut its 2016 capital-generation target to 200bps from 160bps. According to the press release, "the impact on the Group of the referendum is dependent on economic and political outcomes which remain uncertain, however we now expect to generate around 160 basis points of CET1 capital in 2016 pre dividend, due to the impact of the EU referendum, in particular the effect of FX rates on RWAs."
However, Lloyds reaffirmed the payout ratio and its progressive dividend policy. While lower guidance on capital generation is certainly a disappointment, we note that Lloyds has a very strong starting point - CT1 generation of 200 bps per annum. We think that capital build-up of 160 bps per annum still gives Lloyds good scope to withstand Brexit uncertainty and return capital to shareholders.
Lloyds' CET1 printed at 13% in Q216. It is one of the highest CET1 ratios amongst European banks.
Liquidity is not an issue
Lloyds has significantly improved its liquidity ratios over the past five years.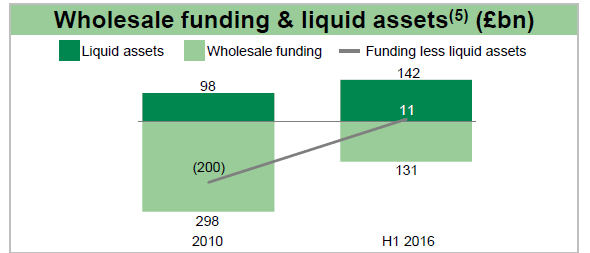 Source: Company data
In addition, the Bank of England has several instruments to deal with any liquidity/funding issues that may arise at Lloyds:
The regular monthly market-wide Indexed Long-Term Repo (ILTR) operations are aimed at banks, building societies and broker-dealers with a predictable need for liquid assets. The ILTR provides consistent six-month committed liquidity, at cheaper (auction-determined) rates, and against the full range of eligible SMF collateral.
The Contingent Term Repo Facility (CTRF) is a contingency liquidity facility that the Bank can activate in response to actual or prospective market-wide stress of an exceptional nature. The CTRF enables the Bank to provide additional sterling liquidity to banks, building societies and broker-dealers against the full range of eligible collateral.
The bilateral on-demand Discount Window Facility (DWF) is aimed at SMF participants experiencing a firm-specific or market-wide shock. It allows participants to borrow highly liquid assets in return for less liquid collateral in potentially a large size and for a variable term.
Still in the value territory
Lloyds trades at 15% discount to the sector's regression line.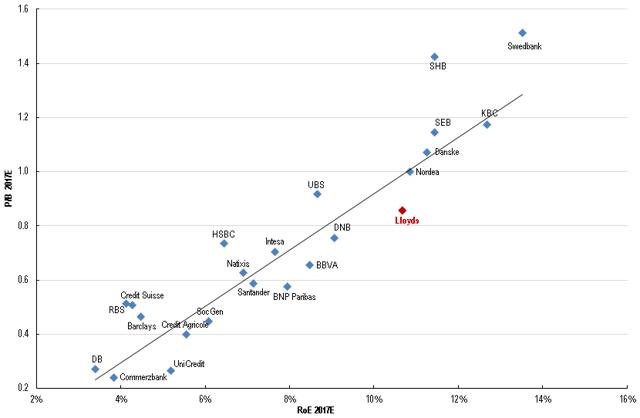 Source: Bloomberg, Renaissance Research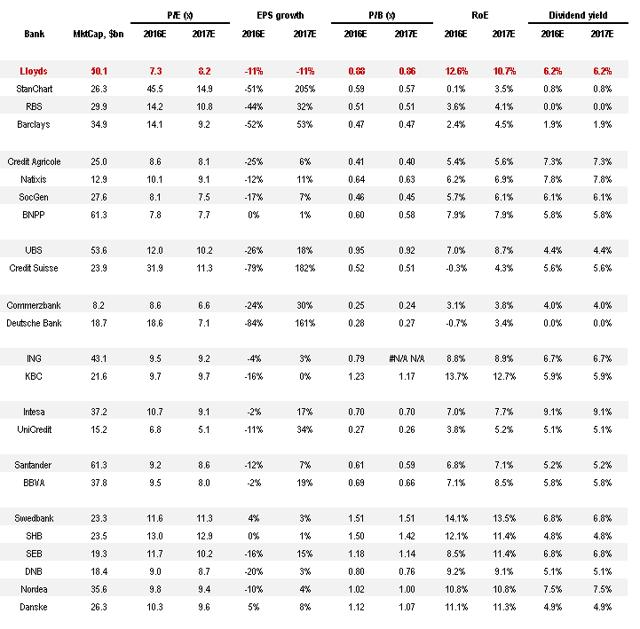 Source: Bloomberg, Renaissance Research
Bottom line: Given margins' resilience, a de-risked business model and strong organic capital generation, we think Lloyds is well-positioned to withstand Brexit uncertainty. The shares offer a dividend yield of 6% - we think there is an upside risk to the dividends and scope for buybacks.
Disclosure: I am/we are long LYG.
I wrote this article myself, and it expresses my own opinions. I am not receiving compensation for it (other than from Seeking Alpha). I have no business relationship with any company whose stock is mentioned in this article.