Days like these are my favorite days of the month. We get a whole bunch of leading indicators from various countries. In this article, I want to discuss the PMI index from the most important European countries as well as China, India and South Korea.
The Eurozone average declined 0.80 points and stayed close to the 18 months average.

The bad news is that the second and third largest European economies have a PMI below 49(!). The UK prints the lowest value since 2013. France is currently in a 5 month losing streak. The only one that is quite strong is Germany along with Spain and Italy who are close to 50. Greece enters the contraction zone once again after a surprisingly strong print in June.
The best news is that China managed to go above 50 for the first time since the start of 2015.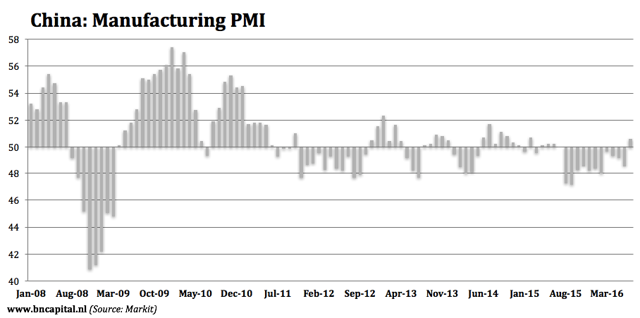 Japan on the other hand stays below 50 once again. The fifth month of contraction in a row. Just like France. It looks like the BoJ is losing the fight against growth slowing since the BoJ balance sheet is about to grow bigger than the FED balance sheet.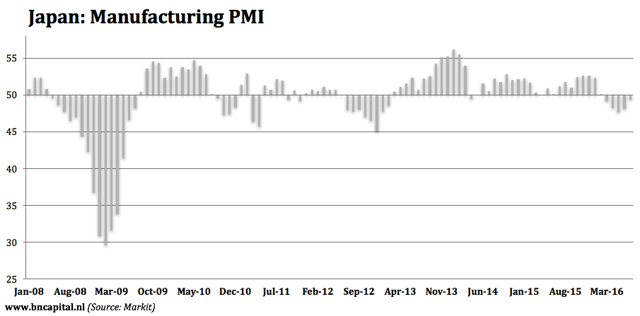 The graph below shows that growth slowing started at the end of 2014. In the US we saw the same. The only difference is that the US came back after bottoming in February of 2016.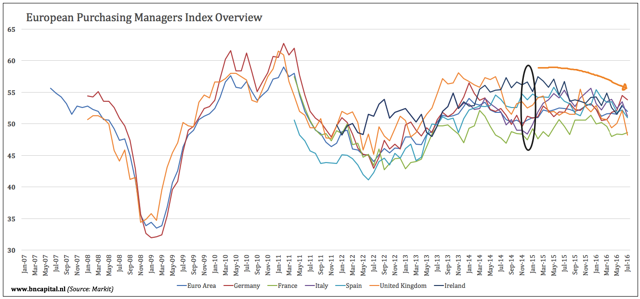 I don't like today's PMIs at all. They confirm the downtrend that started in 2014. The worst part is that France and the UK are among the biggest losers. The next coincident indicators are going to be very interesting.
Many thanks for reading my article, I hope you enjoyed my PMI breakdown. If you have any questions or remarks, feel free to leave a comment below.
Disclosure: I/we have no positions in any stocks mentioned, and no plans to initiate any positions within the next 72 hours.
I wrote this article myself, and it expresses my own opinions. I am not receiving compensation for it (other than from Seeking Alpha). I have no business relationship with any company whose stock is mentioned in this article.