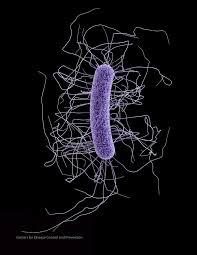 Clostridium difficile Source : CDC
Seres Therapeutics (NASDAQ:MCRB) has reported that the primary endpoint for its phase 2 trial of first generation microbiome product SER-109, was not met. This endpoint concerned reduction of the risk of recurrence of Clostridium difficile infection (CDI) in the period up to 8 weeks post-treatment, with a cohort of 89 patients (30 receiving placebo and 59 receiving SER-109).
This led to a drastic sell-off of Seres stock. I've written previously about the Seres program for treating CDI, a major problem of diarrhea following antibiotic treatment, especially in hospitals and aged care facilities.
SER-109 is the first microbiomic product to seek registration with the FDA and it has Orphan Drug status, as Seres works with the FDA to explore how these microbiomic products will be handled as they proceed towards approval.
The dramatic fall in share price (69%) probably signals to many investors that this company is irretrievably damaged. Here I suggest that this is not the case.
Key initial findings from the SER-109 trial
Why the difference between the open label phase 1b and placebo controlled phase 2 trial?
It became clear in the conference call hosted by Seres, that there were changes to the formulation of the product used in the phase 2 trial, so this is an obvious place to look at why the phase 2 trial did not achieve the outstanding outcome achieved with the phase 1b trial. It was reported that the donors for phase 1b and phase 2 trials were not qualitatively or quantitatively different. Clearly this will be looked at more closely.
I do wonder about details of the formulation. It was stated that the phase 2 product was "more concentrated" and "purer", being delivered in 4 oral capsules. SER-109 is composed of spores of gut microbes obtained from healthy donors. How these spores are formulated is likely to be critical to viability and ability to populate the gut of patients. "Simple" things like making sure the spores survive passage through the digestive system are critical in ensuring the spores get to where they need to be, in sufficiently robust form to be able to populate the gut. I'm sure the Seres scientists are looking closely at this and many other issues in trying to sort out what went wrong between the phase 1b and phase 2 studies.
Seres CEO Roger Pomerantz made clear that this is the first ever placebo controlled trial of a microbiomic product. So this is revolutionary stuff.
He stated that it isn't clear if there is a placebo effect in such trials (which include fecal gut transplants). Since part of the problem was that the patients in the placebo arm of the trials did better than expected, it could involve a placebo effect, or it could be that other medications taken by the patients may have contributed to a better than expected outcome.
Another point about the phase 2 trial is that the trial was conducted over 36 trial centers. However, management is confident that all centers were well trained and so they are confident about the quality of the trial management over 36 sites.
Detailed analysis of the phase 2 trial will take time
SER-109 is a living product that exerts its action by altering the microbiome (gut bacteria) of patients. Seres has substantial capacity to see if the SER-109 did what it was supposed to do in changing the microbiome. This is no easy thing to check and Seres is one of a very small number of facilities where such studies can be done. They are undertaking a very deep analysis of the microbiome before, during and after the trial, as well as re-looking the microbiomes of the donors for both the phase 1b and phase 2 trials.
It is also important to understand that Seres is continuing to monitor and treat patients beyond the completion of the phase 2 trial, in order to better understand the treatment process and what the longer term consequences are.
Seres had no option but to report the headline results of the phase 2 trial, but it is important to understand that they have done so well before the full details of what happened are clear. It will be some time before all of the information is assembled.
It was clearly stated on the conference call that management has no plans to abandon the SER-109 program. Management sees this process as being analogous to the pioneering studies on biologic (monoclonal antibody) products. It took time to understand key parameters of the biologic products, how to formulate them and also how to deliver them. Management argues that the same applies to SER-109, the first microbiomic product.
This is a differentiator from a common position with a phase 2 trial setback, which can lead to a product being abandoned.
Management has already indicated that a number of nuances are indicated from preliminary analysis of the results, including whether the microbiome of older patients behaves differently from younger patients. When this is sorted out, it may have implications for treating patients in different age classes.
Many aspects of the trial are under the microscope, although at this stage there is no clarity about what went wrong.
Cash situation
Sometimes Biotech companies expecting near term trial results wait for good news about the trial, before completing a capital raising. When there is a problem with the trial outcome, it is a disaster if the cash situation is parlous as the share price invariably takes a hit.
I don't see Seres in this position. Q2 results have not yet been reported, but at the end of Q1 the company had over $300 million in cash, with a burn of ~$20 million a quarter. When asked about the cash position on the call, management said that they continue to be comfortable and this will be expanded on when Q2 cash is reported.
Management claims that not only is cash being well managed, but also the nature of the microbiomic product technical development, and hence trials going forward, is being well managed. SER-109 does involve a significant % of its R&D spend.
Clearly the inconclusive result will lead to a rethink of the SER-262 program, which involves a more defined mixture of gut spores that have been cultured rather than sourced from donors. However, the initial reaction from management is that there is no immediate effect on the SER-262 program. I suspect lessons (if any) learned about formulation will be translated to the SER-262 program.
Management and analyst approaches to the call
I listen to the Q&A section of critical calls to get a sense of how management is coping and also how sophisticated the analyst overview is. My take on both management and analysts was that this was a highly professional interaction, with both sides respectful and knowledgeable. Questions on the call were detailed and technical, while management showed that it is on top of both the literature and its own studies. The call reassured me that Seres is the real thing and the pioneer of commercializing microbiomics. No panic here.
There is also every indication that management is taking full advantage of Orphan Drug status of SER-109 to have lots of dialogue with the FDA concerning the next steps in overcoming the uncertainties raised by the trial results.
Conclusion
Investors in Seres will no doubt be devastated at the disastrous 69% fall in the stock price to $10.94. On the face of it, this could be a company about to fall apart. A more considered view is that the company has been unlucky to have such a dramatic difference between phase 1b and phase 2 trial results.
I don't see this setback as being fatal for Seres, nor should it be grounds for losing confidence about the prospects for microbiomic products to take their place, in due course, as mainstream medical products.
For investors interested in emerging biotech opportunities, this setback provides an opportunity to participate, while recognizing that there will be more setbacks down the track. For people holding MCRB stock, I suggest you take a deep breath and wait for this to fade into the history of the development of the microbiomic field, although this may not be easy to do.
Of course all of the above is just my view and you need to do your own due diligence.
Disclosure: I/we have no positions in any stocks mentioned, but may initiate a long position in MCRB over the next 72 hours.
I wrote this article myself, and it expresses my own opinions. I am not receiving compensation for it (other than from Seeking Alpha). I have no business relationship with any company whose stock is mentioned in this article.