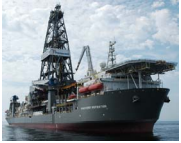 Discoverer Inspiration. Source: company's website.
Transocean (NYSE: RIG) just shocked the market with the announcement of its decision to acquire Transocean Partners (NYSE: RIGP) in an all-stock deal.
Frankly, Transocean Partners was a rather strange company. It had three rigs, no debt and it was unclear what exact purpose it was serving.
The company of its size has zero chances to prosper in the long term, so it had to either grow or be acquired by Transocean. Despite this, the acquisition was not expected by the market, probably because the market gives too much focus to negative stories.
Transocean Partners was surely not one of these stories - it had no immediate financial problems, and these types of deals are mostly expected when a company is in distress. For example, I expect that North Atlantic Drilling (NYSE: NADL) will become part of Seadrill (NYSE: SDRL) as a part of the latter's restructuring.
Anyway, the transaction looks like a solid deal for Transocean Partners' shareholders. They will receive 1.1427 Transocean shares for each Transocean Partners unit, which implies a 15% premium to the closing price of July 29.
Transocean expects to issue approximately 22.7 million shares in this merger. The resulting dilution is a bit more than 6%. The rationale for the deal is clear. Transocean expects to save $29 million in annual distributions to Transocean Partners shareholders and $10 million annually by eliminated the reporting and management work for Transocean Partners.
The factor that, in my view, will receive a lot of critique is timing. Transocean is offering a hefty price for Transocean Partners.
To put things in perspective, Transocean Partners shares were trading in the $12 - $15 range in the first half of 2015, when the outlook for the offshore drilling industry was much better and few people realized the size of the problems for the industry.
This year, Transocean Partners' units sold for as little as $6. Had Transocean proposed the deal back then, it would have saved almost half the dilution for its shareholders.
In essence, the deal is similar to the recent bond refinancing, when Transocean did not catch much discount on its bonds and the market did not show great interest for its new issue, resulting in a hefty interest rate for the company.
The rationale of the deal was sound, the timing was less than perfect. Better late than never, but execution has to be superior to guide an offshore driller through the current crisis.
It looks like Transocean management suddenly realized that no rebound is in sight and this revelation resulted in a series of actions. I don't think that this is a positive catalyst for Transocean shares.
I recently wrote an article titled "Transocean Shares May Slide In Summer", and this new deal is an additional catalyst for more pressure on the company's shares as we enter the last summer month.
Transocean Partners had a yield-oriented shareholder base. I suspect that not all Transocean Partners' shareholders will want to be Transocean shareholders - these are two very different companies.
First and foremost, Transocean does not pay a dividend, so those who need income will go shopping for it elsewhere. It is also a more complex company, with 28 stacked rigs and many contracts to go through and analyze. It's also not for everyone. Thus, I expect selling pressure from former Transocean Partners shareholders.
All in all, this summer is difficult for offshore drilling stocks and Transocean is not an exception. The decision to buy Transocean Partners in an all-stock deal makes sense strategically, but tactically the company could have executed a better deal for its shareholders.
This is a second miss in a row with timing, and timing is important when you deal with large swings that we saw in offshore drilling debt and equity this year. I expect that the deal will not be cheered by the market. At the same time, Transocean Partners shareholders received a good offer and should be happy with the outcome.
Disclosure: I am/we are short SDRL.
I wrote this article myself, and it expresses my own opinions. I am not receiving compensation for it (other than from Seeking Alpha). I have no business relationship with any company whose stock is mentioned in this article.