Gilead Sciences (NASDAQ:GILD) remains one of the most exciting companies in the market today. The bull/bear camp is full of knowledgeable participants with very valuable opinions that further add to the overall audience knowledge on the subject. I would like to thank all who have graciously taken the time to read and comment on my two recent articles on GILD which can be seen here and here. The article below will discuss the impact on GILD fair value if they acquire Medivation (NASDAQ:MDVN) a biotech outfit with a growing oncology product named Xtandi for the treatment of prostate cancer. With CNBC reporting that GILD is one of the four finalists in the running for MDVN, it is worth discussing in depth the impact on GILD DCF if a transaction is consummated.
Original Fair Value Model
A special thank you to Matt Hogan and the team at Finbox.io for access to the excellent tools shown below.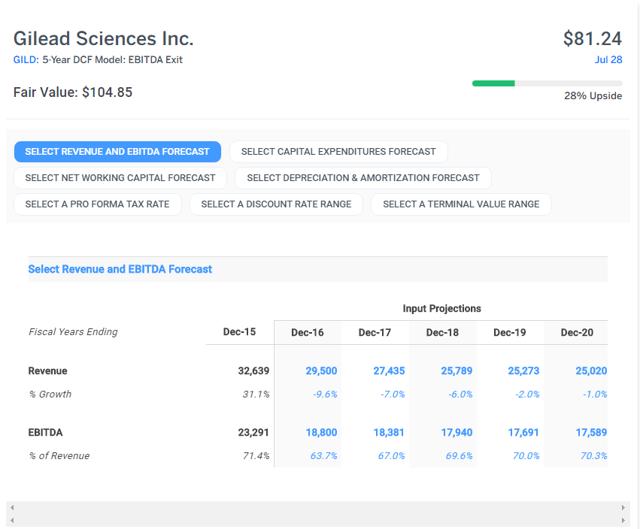 My standalone Fair Value model nets out a price target for GILD of $104.85 per share. I have incorporated the bottom end of management's revenue guidance for 2016 while using the top end of expense and a tax rate of 20%. Due to the terminal decline in the HCV franchise, the DCF indicates GILD will bleed out revenue well into 2020. I do expect the HIV franchise to show considerable growth over the next few years as a combination of annual price hikes coupled with market share gains will allow the HIV franchise to outpace the importance of the declining HCV franchise by 2019. The conversation needs to shift from continued growth in HCV to the next sources of revenue as the market is locked in a terminal decline. I am not saying it is not an important market; it has just ceased to be a growth market. The HCV revenue should be viewed almost in the same dynamic as a patent exclusivity loss. When a major branded product loses patent exclusivity, there is substantial market share loss over the first two years until it stabilizes at a much lower level. The HCV market can be viewed in a similar lens with the decline manifesting itself over a longer period. GILD is still well on pace to generate over $100 billion in revenue from its HCV franchise a very worthy endeavor considering they purchased Pharmasset for roughly $10 billion dollars in 2011. For those keeping score, GILD has generated approximately $40 billion in HCV revenue through Q2 in 2016.
Enter Medivation
Medivation can be considered a mid-tier biotech company possessing a single commercially viable product on the market today. The product is Xtandi, MDVN blockbuster treatment for prostate cancer. As a mid-tier biotech outfit, the inherent sales force is lacking thus necessitating a partnership with established players to promote your products. MDVN has partnered with Astellas where US sales are split 50/50 with ex-US sales netting MDVN a tiered royalty of 13-23% of sales. I have read various peak sales estimate of over $5 billion just in the US. For purposes of the DCF below, the following assumptions will be used to err on the side of caution. MDVN has issued sales guidance of over $900 million for 2016. I will assume GILD purchases the company for cash and does not issue additional shares or take on further debt. I have factored in Xtandi worldwide revenue of $1 billion in 2017, $1.25 billion in 2018, $1.5 billion in 2019 and $1.75 billion in 2020. GILD exit multiple of 8 remains with a discount rate of 11%.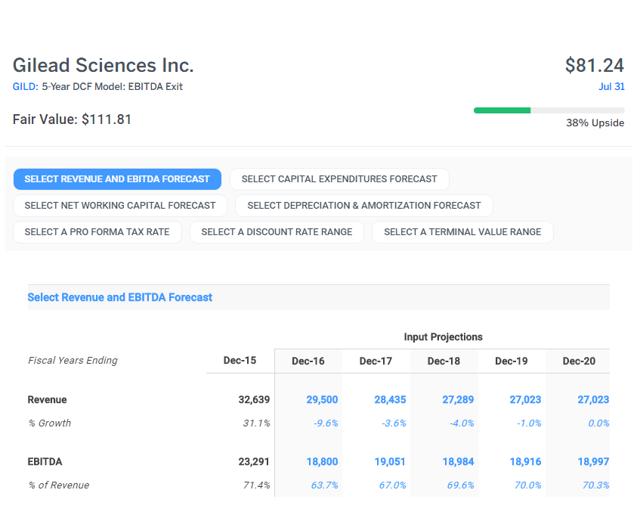 The addition of XTANDI revenue would stem a significant portion of the decline yet would not arrest the decline in its entirety. The bears on GILD are correct here; the loss of sales will not be replaced by one product. The bullish case is quite strong as well as the figures above do not reflect additional revenue sources that may spring forth either through additional M&A or internal discovery. The cure for what ails GILD is multiple hits not one massive home run although a meaningful treatment in NASH a critical area of study would be a grand slam.
My Take
GILD remains a compelling long-term play in the biotech space. In my view, the odds are a near certainty additional M&A will commence over the course of the rest of the decade. The addition of MDVN has merit as in one fail swoop CEO Milligan can vanquish a lot of the dread hanging over the share price. Bolting on MDVN with its key product Xtandi would jump start GILD sagging oncology division coupled with meaningfully diversifying the company's revenue stream. In essence, GILD would lord over a stable of 3 uber profitable franchises in various stages of growth (oncology and HIV) and decline (HCV).
More importantly, after what many perceived as a weak conference call, it would restore confidence in the management team. The thought that they are clueless would be permanently put to rest, in my opinion, Milligan has demonstrated little tolerance for failure with executive hirings and dismissals immediately after the Q1 debacle. I suspect he has further moves in store that will be revealed before the year is out. Milligan is a key contributor of the brain trust that simply outfoxed well-established pharma with much deeper pockets namely Merck (NYSE:MRK) and Abbvie (NYSE:ABBV) to steal Pharmasset and its key product Sovaldi to launch the HCV franchise.
Utilizing a key baseball analogy, GILD can be viewed through the lens of a proven power hitter that has suddenly entered into a deep slump. The talent remains yet the results are simply not there. Perhaps a purchase of MDVN would be the trick to restart a long overdue winning streak. Thank you for reading, I look forward to your comments.
Investors are always reminded that before making any investment, you should do your own proper due diligence on any name directly or indirectly mentioned in this article. Investors should also consider seeking advice from a broker or financial adviser before making any investment decisions. Any material in this article should be considered general information, and not relied on as a formal investment recommendation.
Disclosure: I am/we are long GILD.
I wrote this article myself, and it expresses my own opinions. I am not receiving compensation for it (other than from Seeking Alpha). I have no business relationship with any company whose stock is mentioned in this article.