Better Than Berkshire
The tweet below by Value Walk caught my eye last week, because one of the stocks it lists as having a better compound average annual growth rate (OTCPK:CAGR) than Berkshire Hathaway (NYSE:BRK.A) (NYSE:BRK.B) was one of Portfolio Armor's top-10 names, Danaher Corporation (NYSE:DHR). Danaher, for those unfamiliar, is a conglomerate of business that operate in dental, environmental, life sciences, and industrial technology segments. That X-ray system in your dentist's office was likely supplied by Danaher's KaVo subsidiary.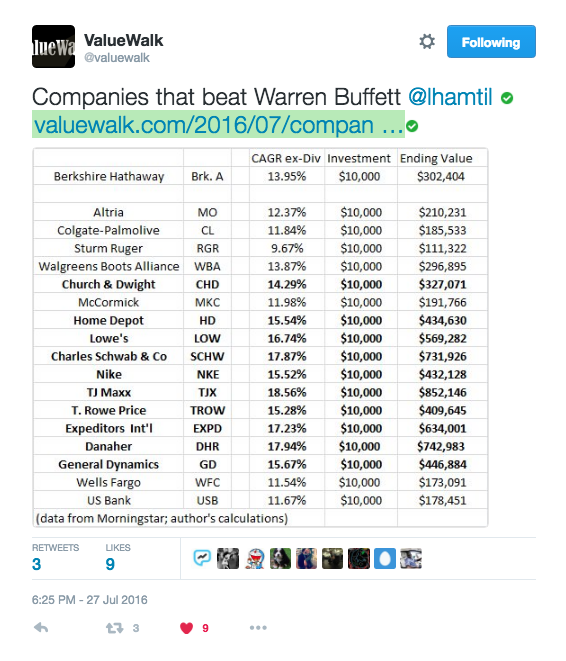 Because Berkshire Hathaway doesn't pay a dividend, the author who compiled the table above did not include dividends in the performance of Danaher, or any of the other companies. The time period for the calculations was from mid-1990 to present. You may have noticed that two of the companies that beat Berkshire Hathaway's return are current Berkshire holdings: US Bank (NYSE:USB) and Wells Fargo (NYSE:WFC). Danaher's return beat them both, and beat all the other stocks in the table with the exception of retailer TJ Maxx (NYSE:TJX).
Portfolio Armor's Fourth-Ranked Name
The reason Value Walk's chart caught my eye was because Danaher is currently the 4th-highest scoring name in the Portfolio Armor website's daily ranking of securities by potential return net of hedging costs. In my previous article (Might Relypsa Get A Higher Bid?), I discussed how the site calculates potential returns. There is some overlap with Value Walk's calculations, in that one of the components is the security's average 6-month return over the last 10 years. Another component is the security's most-recent 6-month return, and a third component is a gauge of option market sentiment about it looking at options expiring approximately 6 months out. That's where this gets interesting.
When calculating the hedging cost for stocks and ETFs its ranking, the site attempts to hedge each one against a decline of more than 9% over the next several months. The reason it does that is, the way its hedging algorithm works, the cost of an optimal hedge against a >9% decline will always be less than 9% of position value; the heuristic here is that no investor would want to pay a double-digit hedging cost.
Normally, the cost of hedging top-ranked stocks this way varies from about 4% to 8% of position value; when volatile leveraged ETFs appear near the top of the ranking, the hedging cost can be negative. But the hedging cost of top-ranked stocks is almost never negative. On Friday, it was negative for Danaher though, and not just against a >9% decline, but against a >8% decline as well.
As of Friday's close, this was the optimal collar to hedge 500 shares of DHR against a >8% decline while not capping your possible upside at less than 22% by late January.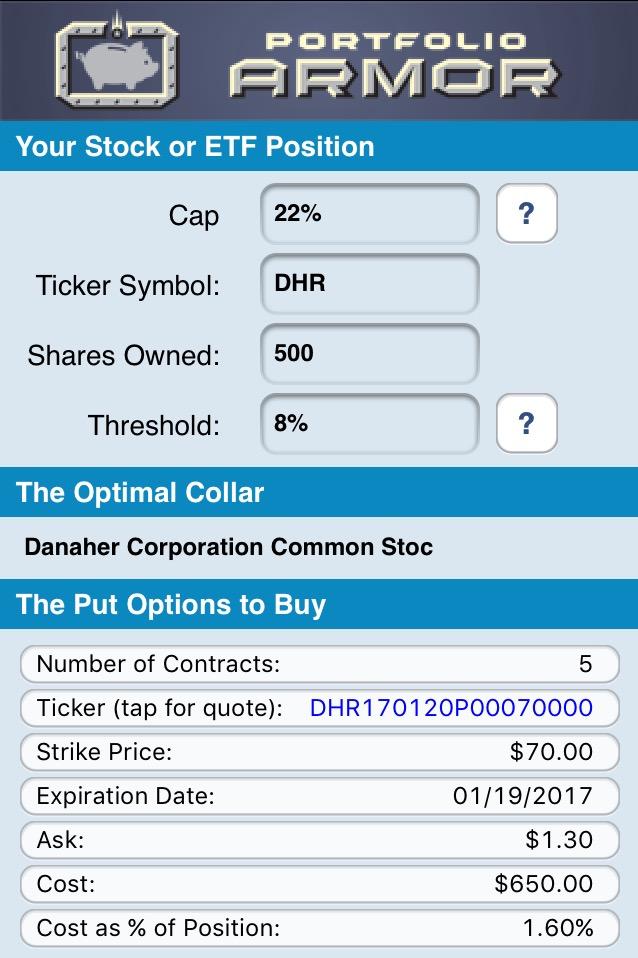 As you can see above, the cost of the put leg here was $650, or 1.6% of position value. But the income from the short call leg was $3,300, or 8.1% of position value.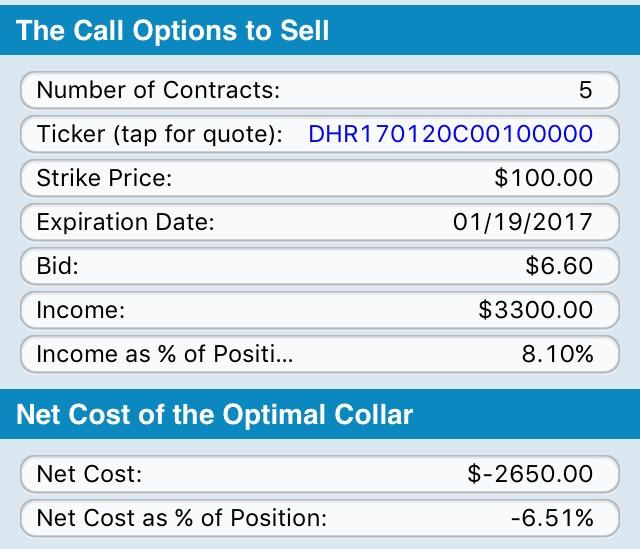 So the net cost here was negative, meaning an investor would have collected an amount equal to $2,650, or 6.51% of position value.
Taking into account the negative hedging cost, the balance between risk and reward here is quite favorable: in the best case scenario, the investor would be up 28.51%, and in the worst case scenario, he'd be down 8%. One note about this hedge: to be conservative, the cost was calculated using the ask price of the puts, and the bid price of the calls. In practice, you could likely have bought the puts for less and sold the calls for more (at some price between the bid and the ask), so you would likely have collected more than $2,650 when opening this hedge.
Disclosure: I/we have no positions in any stocks mentioned, and no plans to initiate any positions within the next 72 hours.
I wrote this article myself, and it expresses my own opinions. I am not receiving compensation for it (other than from Seeking Alpha). I have no business relationship with any company whose stock is mentioned in this article.
Editor's Note: This article covers one or more stocks trading at less than $1 per share and/or with less than a $100 million market cap. Please be aware of the risks associated with these stocks.