The discrepancy of automotive stories between irrelevant ones getting tons of attention and important ones that people never talk about never ceases to amaze me. Tesla (NASDAQ:TSLA) sold 50,568 cars in 2015 and has guided for 100,000 - whoops 85,000, whoops now 80,000 - cars by 2016 - but is somehow viewed as the industry's most important participant.
Then, there is Subaru. Who is Subaru, anyway? It is majority-owned by Fuji Heavy Industries, with Toyota (NYSE:TM) owning a 16.5% stake.
Subaru sold 978,000 vehicles in 2015, up 7% over 2014. Basically, Subaru sold 19x as many cars as Tesla's 50,568. Guidance for 2016 is to grow 6% to 1,033,000 cars. Out of that number, 582,675 were sold in the U.S., up 13.4% over 2014.
As you can see, 56% of Subaru's sales were in the U.S. for 2015 - and the U.S. market is Subaru's fastest-growing. Subaru's home market declined 2%, and China was actually down 14%.
For the first half of 2016, Subaru's sales were up 2.6% in the U.S. Legacy and Outback were the important outperformers, whereas Impreza and Forester declined.
On a global basis, Subaru's production was up 6% for the first half of 2016. Subaru did not report, in that press release, a useful global sales number for the first half of 2016.
Moving to the vehicles themselves, I have viewed them as a bit bland in recent years. They are practical and have as their signature feature all-wheel drive, along with an elevated ride height on many models. In many ways, they bridge the gap between station wagon and SUV/crossover. It's a formula that has had worked very well, as evidenced by two things:
Subaru's very strong sales growth.

Subaru's very low incentive spend and inventory levels on dealer lots. What that means in English is that Subaru has not been discounting as much as other automakers, and the inventory doesn't sit on dealer lots as long as other automakers either. These are the two surest indicators of financial health, suggesting Subaru isn't just growing fast, but is gaining share without sacrificing profitability.
But back to actual vehicles. While solid and rational, driving most Subarus can often feel a little bit like having to subsist on a diet of rice cakes and tofu. It's a bit bland, and it doesn't elicit feelings of enthusiasm.
However, that's about to change. Just like Volkswagen (OTCPK:VLKAY) did with its unified platforms (actually, more like a "toolkit"), Subaru has engineered a new one that will underpin most Subaru models going forward, starting in late 2016.
The first representation of this all-new platform arrives in late 2016 in the form of the Impreza. That's Subaru's small sedan and hatchback, which also is made as a crossover/SUV version called Crosstrek. As I mentioned in the sales commentary above, Impreza has seen a decline in U.S. sales year to date (through June) - 4.9% to be exact.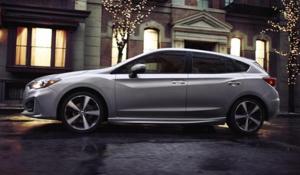 I had a chance to sit in the 2017 Impreza, and I learned one thing of importance: Just like with Volkswagen transitioning to the new generation Golf in 2014, it marks a strong improvement in terms of the seating position and the car feeling "big" and therefore more premium than its predecessor.
What do I mean by that? Just like the new Volkswagen Golf, the 2017 Subaru Impreza has generous space for the left foot, not suffering from an intrusion from the wheel well. In addition, the steering wheel telescopes away from the pedals to a greater degree than in the past.
What this means is that the all-new 2017 Impreza will be far more comfortable to drive than the current/outgoing Impreza. Taller people will fit better, and especially those with long legs and shorter arms.
Both from a production standpoint - establishing production of an important model inside the United States - and for the product itself, this 2017 Impreza is an important step for Subaru. It appears that this platform will spread to other models in the coming years, which should improve the rest of the lineup as well.
Expanding production in Indiana, U.S.
As part of this transition to the new platform, Subaru's production of Impreza will shift from Japan to Indiana, U.S., as part of an expansion of Subaru's U.S. factory. The capacity of Subaru's Indiana factory goes from approximately 244,000 cars per year to 394,000.
"Subaru expands U.S. factory and shifts Impreza production from Japan" sounds like a Donald Trump campaign slogan - but of course these decisions were made close to three years ago, and have nothing what-so-ever to do with Trump or anything else that happened under the sun in the last 2-3 years. But it would make for a great headline, er clickbait.
Valuing Subaru vs. valuing Tesla
Tesla has a fully diluted market cap of approximately $38 billion ($235 multiplied by 162 million fully diluted shares) - and it loses a lot of money, almost $20,000 per car and around $1 billion a year as a company. Subaru on the other hand isn't losing anywhere near these amounts of money, and sells more than 19x as many cars per year.
Does this mean that Subaru is worth 19x $38 billion, or $722 billion? If you believe Tesla's $38 billion valuation, that's the logical outcome. Of course, Tesla has a higher projected growth rate, and the average price per car sold is higher - but the bottom line is a lot worse, in terms of loss per car sold.
Subaru may not be getting as much attention as Tesla on CNBC, and its valuation may be a pittance compared to Tesla - but in reality it is a far bigger and more important company in better financial health.
Disclosure: I/we have no positions in any stocks mentioned, but may initiate a short position in TSLA over the next 72 hours.
I wrote this article myself, and it expresses my own opinions. I am not receiving compensation for it (other than from Seeking Alpha). I have no business relationship with any company whose stock is mentioned in this article.
Additional disclosure: At the time of submitting this article for publication, the author did not have any positions in any of the companies mentioned. However, positions can change at any time. The author regularly attends press conferences, new vehicle launches and equivalent, hosted by most major automakers.