Investment Thesis
Credit Suisse (NYSE:CS), a leading international wealth manager and investment bank, represents a turnaround story. The Group is one year into a three-year restructuring plan that aims to place greater emphasis on private banking and wealth management, especially in Asia, and narrow investment banking activities. Management expects much of the pain of the restructuring will be felt in 2016. By the end of 2018, operating expenses should be cut by CHF 3bn to no more than CHF18bn (CS reports in CHF and 1 USD buys CHF .97), capital ratios strengthened through asset sales and a partial IPO, which combined could raise CHF 3 to 5bn. Assuming flat revenues of CHF 23bn, pretax profit would come in at CHF 5bn and an after tax income of CHF 3.25bn (assuming a 30% tax rate). A very modest price earnings ratio of 8x could see the market cap rise to CHF 26bn. Book value is currently CHF 22bn. The ADRs trade at $11.50, so this would represent a doubling in the share price. The downside from current levels appears limited.
CS's Share Price Has Tanked
The stock price has been on a roller coaster ride over the last five years. A year ago, the stock price traded near $30 but in early July, it hit a low of $10. On the Swiss market, the shares haven't traded as low since 1991. I can find only one broker with a buy rating on the stock - UBS (of about eight firms).
Credit Suisse Share Price (ADR) - Last 5 Years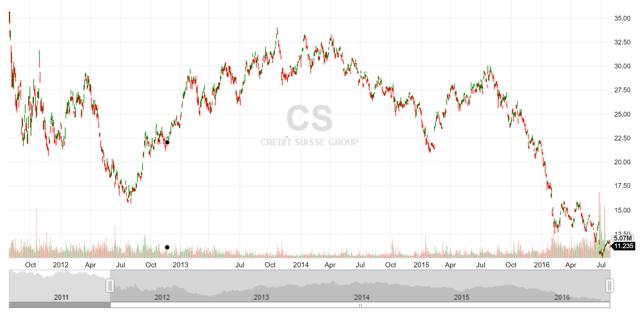 Source: Fidelity July 28, 2016
Explaining What Went Wrong
As most know, European financials have performed poorly this year. Some of the problems faced by the sector include: increased regulations, more stringent capital requirements, negative interest rates, much lower levels of client activity (equity and credit issuance), Brexit, and slow global economic growth. The table below highlights some of the larger European banks, their share price performance and current valuations.
| | | |
| --- | --- | --- |
| Bank | % off 52 week high | P/BV |
| Deutsche Bank | -61 | .25 |
| Credit Suisse | -61 | .49 |
| Barclays | -56 | .48 |
| Royal Bank of Scotland | -54 | .41 |
| Lloyds Bank | -45 | .98 |
| BBVA | -44 | .79 |
| UBS | -41 | .91 |
| Banco Santander | -40 | .63 |
| Societe Generale | -38 | .41 |
| ING | -37 | .78 |
Source: Yahoo Finance July 27, 2016
Problems specific to Credit Suisse
Given some of the issues facing some of the banks listed above, I was a little surprised to see Credit Suisse has performed as poorly as the "riskiest globally significant bank" as the IMF stated recently. In any case, here are some reasons for CS's share price tanking, in no particular order:
Large losses in 2015 mainly in investment banking related activities - in part due to outsized CLO positions and goodwill impairments, losses continued in Q1 2016 with investors pessimistic about the immediate outlook
Bad capital allocation - the Group's book value has fallen from $29 a share to $23 over two years
Dilution through a CHF 6bn capital raise in the autumn of 2015
Doubts that management can meet its targets associated with its restructuring plan
Ongoing litigation which could involve significant fines
Brexit - Credit Suisse uses London as an entrée into the EU
After a 61% fall in the share price, and with the stock selling at half book value (though book value could fall further), the shares seem to reflect a lot of bad news. Given the strengths of the group, discussed below, its underlying profitability, and the efforts to put the Group on a more stable footing, and a current dividend yield of 7%, it seems the shares offer a good margin of safety at current levels.
Let's review the structure of CS's business and the financials for 2015. Then we will examine some of the key features of the restructuring plan and review the second quarter results to see how the plan is working out.
The Organization of Credit Suisse's Businesses
Credit Suisse aims to be "a leading private bank and wealth manager with strong investment banking capabilities, both in developed and emerging economies". The bank consists of three regional divisions as well as two business units that support its global businesses.
Swiss Universal Bank (SUB) - provides advice and a wide range of financial services to private, corporate and institutional clients primarily domiciled Switzerland.
International Wealth Management (IWM) - houses asset management and provides financial solutions to wealthy private clients and external asset managers (pension funds, governments, foundations and endowments, corporations and individuals) in Europe, the Middle East, Africa and Latin America through its private banking business. Note CS sold its US private bank this year.
Asia Pacific (APAC) - offers integrated private banking and investment banking financial solutions to wealthy individuals, institutional investors and corporate clients in the Asia Pacific region
These regional businesses are supported by two units specializing in investment banking activities:
Global Markets (GM) - offers a broad range of equities and fixed income products, including global securities sales, trading and execution services, prime brokerage, underwriting and investment research. Clients include financial institutions, corporations, governments, institutional investors - including pension funds and hedge funds - and private individuals around the world.
Investment Banking and Capital Markets (IBCM) - offers a broad range of investment banking services to corporations, financial institutions, financial sponsors and ultra-high-net worth individuals and sovereign clients. These products include advisory services related to mergers and acquisitions, divestitures, takeover defense mandates, business restructurings and spin-offs. The division also engages in debt and equity underwriting of public securities offerings and private placements.
CS management created the Strategic Resolution Unit that works in tandem with other parts of the company but it also has its own specific goals:
Strategic Resolution Unit (SRU) - is akin to a bad bank, in that it manages the businesses that are deemed non-core, or up for sale, or that don't fit neatly into the other businesses. It also includes legacy assets and legacy litigation and funding costs. Its goal is to assist in right sizing the businesses as speedily as possible. It is hoped that by 2018, it will have wound down 70% of its risk weighted assets.
Key Strengths of Credit Suisse
With all the negative press and poor financial results from CS, it is easy to lose sight of some key strengths and competitive advantages of the company:
It is the second largest bank in Switzerland with a strong business and financial position
It is a preeminent wealth management firm with CHF 1.2 trillion in assets under management, putting it in the top five in the world
It has a strong presence in Europe, the Middle East, Asia and Latin America
Awarded Best Private Bank - Asia for 2015 from Asian Private Banker
Ranked #1 in Overall Penetration in Asian Equity Trading and Equity Research, Sales and Corporate Access according to the 2015 Greenwich Survey
It is the seventh largest full service investment bank in the world
CS's US equity capital markets business was ranked second behind JP Morgan in 2015
In addition and importantly, the Group also has a reasonably strong financial position:
The Group has a look-through CET1 capital ratio of 11.8%, which is the highest ever achieved by the bank. This means the bank meets all regulatory requirements as applicable as of 2019.
The Swiss banking authority has designated CS a systematically relevant bank, which entails more stringent capital requirements than Basel III's minimum requirements. The Group is making good progress to meet target dates for fulfilling these requirements.
An Overview of Financials
The table below provides a snapshot of each business unit's financials at the end of 2015. It was a bad year and looks to me as though the new CEO wanted to clear the decks as soon as possible, hence the huge write-offs and impairment charges. In fact, in the first quarter of this year, he accelerated the restructuring plan and increased cost saving targets. With respect to financials, the points I would highlight are:
Revenues are reasonably diversified across the business units, which provides some stability to the overall business. This is particularly the case when viewing the revenue streams within each business e.g., net interest income, fees and commissions, transaction related fees and investment banking revenues
I view SUB as the jewel in the crown. Its cost/income ratio (74% for PB and 54% for the Corporate and Institutional business) is very good as is its gross margins (146 basis points).
Operating expenses are clearly out of whack for GM and IBCM, which is largely due to charges and impairments taken over the period. GM is being downsized.
If we adjust income before tax for restructuring charges, goodwill impairments, and litigation expenses, we get a glimpse of what might be achievable - very roughly.
The main problem area is Global Markets and much of the restructuring plan aims to fix it.
The SRU is all about minimizing losses. It is to be wound down once its role is complete.
Credit Suisse Group 2015 Financials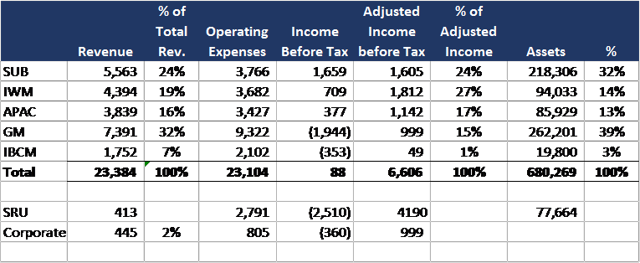 Source: Credit Suisse Annual Report 2015, CHF millions
Next, let's take a look at how management plans to put the Group on a more stable earnings growth path and strengthen the capital base.
Key Features of the Restructuring Plan
As already noted, the aim is to reduce exposure to areas of investment banking and capital markets that can be highly volatile and for which management has little control. At the same time, management wants to focus on Investment Banking areas where the Group has a strong franchise, namely equity capital markets, which is not as volatile as other areas and streamline its credit lines of business. The result is much lower capital associated with investment banking activities and lower costs across the Group.
The first set of bullet points addresses the need to cut fixed costs and strengthen the capital base mainly through resizing Global Markets and winding down SRU.
Take a net CHF 3bn out of the cost base so that total costs fall to less than CHF 18bn by 2018
Achieve CHF 1.7bn in gross cost savings in 2016; involves headcount reduction of 6000
Reduce the risk-weighted assets in Global Markets from US 118bn in 3Q 2015 to US 60bn and reduce leverage from CHF 380bn to US 290bn by the end of 2016; the Group will no longer be so vulnerable to outsized losses and volatile earnings given it will be putting less capital at risk
Exit the Distressed Credit, European Securitized Products trading and Long-Term Illiquid Financing businesses in Global Markets; reduces potential losses related to volatility in these sectors and allows for a reduction risk weighted assets.
Disposals of real estate and non-core businesses and other actions; should increase CET1 capital by at least CHF 1 billion during 2016
In second half of 2017, partial IPO of Swiss Universal Bank; expected to raise CHF 2 - 4bn
The restructuring plan also involves devoting more resources to areas of strength and areas where management wants to grow the business in order to generate more capital.
Invest up to CHF 1.5bn, of which CHF 1bn is discretionary, in growth initiatives
Hire relationship managers, particularly in Asia and IWM.
While Global Markets will be smaller, it will be more focused.
Emphasis will be on Prime brokerage, especially equities where it has a very strong global franchise; credit expertise will focus on top tier credit and securitized products; a Solutions group will focus on leveraging expertise across asset classes providing derivative and financing solutions
For IBCM, the goal is to have M&A and equity capital markets account for more than half of revenues by 2018 while leveraged finance declines to about a third of revenues.
Structure of the revamped Global Markets - Investment Banking Capabilities
The chart below illustrates the structure of the revamped Global Markets unit with well-defined lines of business in each activity spread across the Group's client base. It's important to note that while exposure to Investment Banking is being cut, management still sees it as an important arm of the company in serving its client base.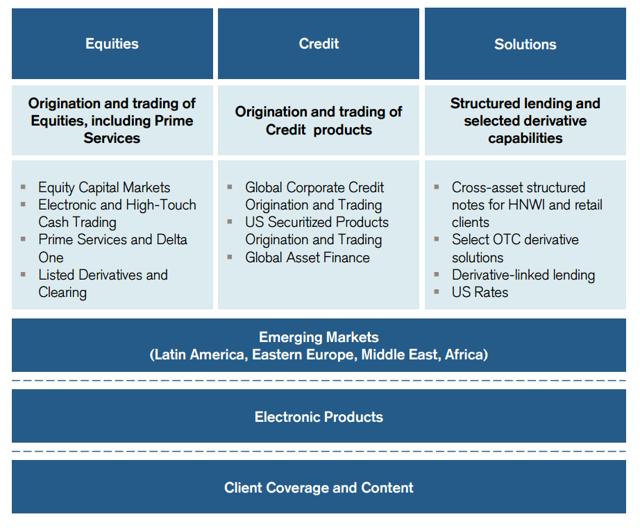 Source: Credit Suisse Strategy Update Accelerating and Restructuring, March 2016
Trends in Assets under Management
As already noted, CS is one of the largest asset managers in the world. If we were to value the Group just on AUM, it would be worth around CHF 24bn (assuming typical 2% of AUM). I like that assets are globally diversified. Efforts to grow the business by recruiting relationship managers and focusing on Asia and emerging markets will ultimately be reflected in trends in assets under management. Over the last year, CS has hired 100 relationship managers for the Asia Pacific region. In IWM, the firm has hired 90 new relationship managers, with two-thirds focused on clients in emerging markets. At the end of Q1 2016, IWM had 1,150 relationship managers.
Recent trends in AUM have been mixed. However, if we strip out market movements and forex changes, net new flows amounted to CHF 46.9bn in 2015 (see second table below).

Source: Credit Suisse Annual Report 2015

Review of 2Q 2016 Results
CS published its second quarter results on July 28th and despite beating expectations, the stock price fell by about 3%. Analysts complained about the quality of the beat. To my mind, the Group made progress in its restructuring plan, which is what I wanted to see. Below are some key takeaways from the latest results.
The Big picture
For the Group, revenues were up in Q2 from Q1 to CHF 5,108mn from CHF 4,638mn, mainly due to investment banking related activities
Expenses were more or less flat at CHF 4,937mn in Q2. The Group swung from a loss of CHF 484mn in Q1 to a pretax profit of CHF 199mn in Q2.
Net new assets under management amounted to CHF 11.3bn.
On cutting costs and increasing capital
Cost cutting on target for 2016 with headcount reduction of 6000 going to plan
Total operating expenses on target to be at or below CHF 19.8bn for the year
Capital position was strengthened with Capital Equity Tier 1 (CET1) rising from 11.4% to 11.8%. By 2018, CET1 should be 13%.
Risk weighted assets fell by CHF 9bn to CHF 271bn
Restructuring charges were estimated to be CHF 1bn for 2016.
During the second quarter, only CHF 91mn was taken following CHF 255mn in Q1. Consequently, the second half of the year will see CHF 656mn in charges taken. No provisions for potential litigation costs were taken.
Rightsizing GM
GM is now operating with Risk Weighted Assets (RWAs) of CHF 52bn, below the target of CHF 60bn; leverage of CHF 286bn is also under target of CHF 290bn.
The risk profile of GM has been significantly reduced. GM is now focused on core investment banking activities related to equities, credit and solutions. The unit generated higher revenues in Q2 vs Q1 (CHF 1,671mn vs CHF 1,252) but costs were much higher (CHF 1,480 vs CHF 1,328, excluding restructuring charges).
The goal is to get annual total expenses down to CHF 5.4bn by the end of 2018.
Narrowing the focus of the Group - SRU
While GM has been right sized, the bad assets are still in the system at the SRU and further losses are certain. Even so, the unit made progress in reducing its assets by CHF 9bn to CHF 58bn in the quarter. The reduction came as a result of selling off part of its more risky credit holdings.
Operating expenses of the unit also declined
This year, the unit has lost almost CHF 2bn, of which almost half, I believe, relate to asset sales. Given the likelihood of more fire sales and more restructuring charges, the losses will continue.
Growing Asia
The number of Relationship Managers increased to 650 from 620 in Q2.
Net new assets amounted to CHF 5bn, though it was reported that much of this was due to loans to clients. However, a Capgemini report in 2015 found that credit availability is extremely important to high net worth individuals in the region. So, it's just part of doing business.
Operating expenses rose to CHF 702mn from CHF 665mn, but this is to be expected given the increased headcount and investment in the region.
Profits declined in Q2 vs Q1 - CHF 206mn from CHF 264mn The CEO wants to double pretax profits to CHF 2bn in Asia by 2018.
Analysts have questioned CS's strategy to target Asia for growth. Looking at the chart below, I'd say management is spot on in targeting Asia, and investors just need to be patient.
High Net Worth Individual Population in Asia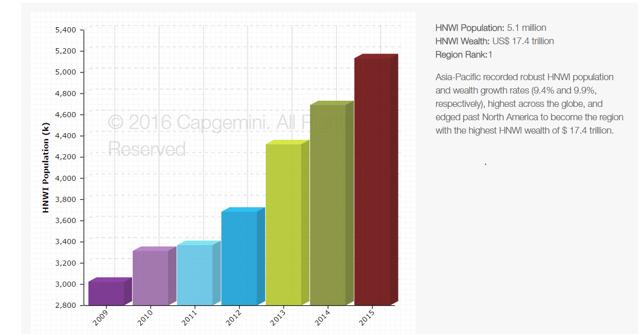 Source: Capgemini Financial Services 2016
Putting a Value on Credit Suisse
Book Value: CS has shareholder's equity of CHF 45bn or a book value of $23 per share. There is a chance that book value could decline given further asset write-downs and restructuring charges. Potential litigation costs also hang over the group, the optics surrounding the Panama relationship are still murky. Offsetting these costs are the partial IPO of SUB, and other asset sales, which should boost book value. Generating a profit would also help. Barring any outsized event, on a two to three year view, I expect book value to be at least $23 a share.
Return on Equity: With most of the restructuring out of the way by the end of this year and assuming growth initiatives start to bear fruit next year, I expect CS to be profitable in 2017 and certainly by 2018. If shareholder's equity remains at CHF 45bn, and assuming a 10% return on equity by 2018, the Group could generate a profit of CHF 4.5bn, put this on 8x and the bank would have a market cap of CHF 36bn, or about 60% above its current level.
Profit Generation
Let's assume CS achieves its cost target of CHF 18bn in 2018, but revenues remain at CHF 23bn. Pretax income is CHF 5bn and assuming a tax rate of 30%, gets you to CHF 3.5bn in after tax profits. Put that on 8x and the market cap could be CHF28bn, up from CHF 22bn.
| | |
| --- | --- |
| Business Unit | Income before tax |
| SUB | 1,700 |
| IWM | 1,100 |
| Asia | 2,000 |
| GM | 2,300 |
| IBCM | 200 |
| Total | 7300 |
Alternatively, let's assume revenues grow and costs come in at management's target of CHF 18bn. The table above shows my estimates of income for each division in 2018. Using a 30% tax rate, income is CHF 5,110bn; put it on 8x and the market cap goes to over CHF 40bn, almost equivalent to a doubling in the share price. Note the market cap could still be below book value. A payout ratio of 40% (management has stated it plans to payout 40% of free operating cash generation) would give a dividend yield of 5%.
Summary
I believe investors are taking an overly pessimistic view of CS, which is evident in the stock's valuation as well as broker ratings. The Group operates in a very competitive sector but it has a strong franchise in a number of markets and products, and a strong balance sheet. The restructuring plan is going well and I expect the company to return to profitable growth next year. One potential risk is litigation costs, which are unknown. From current levels, I believe the downside risk is limited and there is every possibility that the stock could double in a couple of years, if not sooner.
Disclosure: I am/we are long CS.
I wrote this article myself, and it expresses my own opinions. I am not receiving compensation for it (other than from Seeking Alpha). I have no business relationship with any company whose stock is mentioned in this article.