Company Overview
Fiesta Restaurant Group (NASDAQ:FRGI) owns, operates and franchises two fast-casual restaurant brands: Taco Cabana and Pollo Tropical.

Started 38 years ago in San Antonio.
Fast casual/QSR Mexican food
162 domestic locations (99% in Texas)
Four domestic franchises on college campuses in New Mexico
Two licensed locations on college campuses in Texas
Average unit volume: $1.9 million (Top 5 in AUV in the fast casual segment)
Average check: $9.16
Open 24/7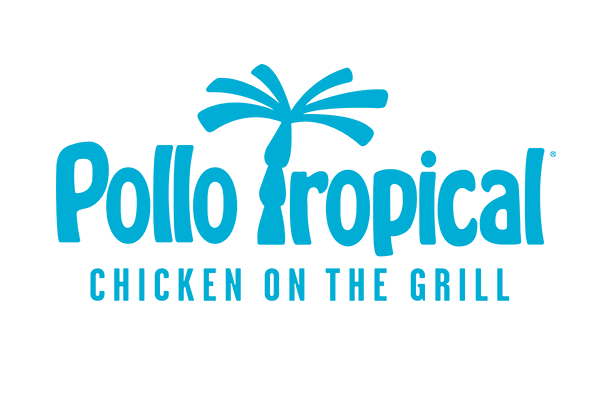 Started 28 years ago in Miami.
Fast casual/QSR Caribbean food
161 domestic locations across five states (119 in Florida, 27 in Texas, 11 in Georgia, and four in Tennessee)
31 international franchises: Puerto Rico, Honduras, Trinidad & Tobago, the Bahamas, Venezuela, Panama and Guatemala
Five licensed locations on college campuses
2,800-3,700 sq. ft.
70-90 guest capacity
Average unit volume: $2.6 million (industry-leading)
Average check: $10.76
Industry-Leading Restaurant Economics

Source: Author using company data
Both of FRGI's concepts have superior unit-level economics with industry-leading AUV and EBITDA margins. This is partly a result of efficient labor models at both concepts.
Because both Pollo Tropical and Taco Cabana are located in southern states, they have avoided the increasing wage pressures facing restaurants in other regions of the US.

Source: Author using company data

Source: FRGI Investor Presentation
Restaurant-Level Financials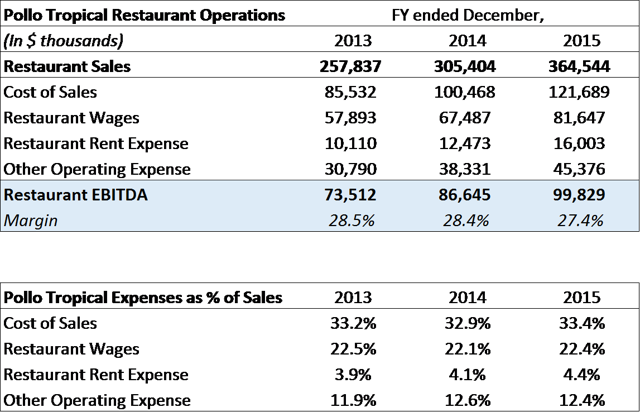 Source: Author using company data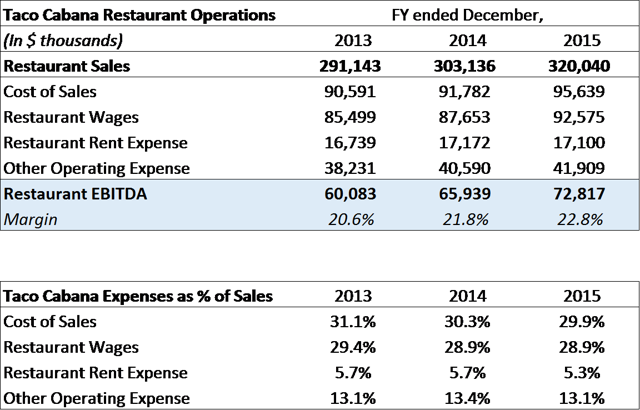 Source: Author using company data
Shown above is a more detailed breakdown of both concepts' unit economics.
Both brands have done an exceptional job at managing expenses and margins. Jeffries recently downgraded FRGI to a hold. The crux of its thesis was that increasing labor costs in the restaurant industry would be a headwind for margins going forward. While this may or not be true, FRGI is already starting at a far superior labor efficiency level compared to its QSR/Fast Casual peers.
2015 labor as a % of sales:
Pollo Tropical: 22.4%
Taco Cabana: 28.9%
FRGI consolidated: 25.4%
Industry average: 29.7%
Despite showing a superior ability to manage expenses and produce industry-leading margins, FRGI has traded at a significant multiple discount to almost all peers. The table below shows the changes in a range of restaurants' margins, COGs and labor from 2012 to 2015.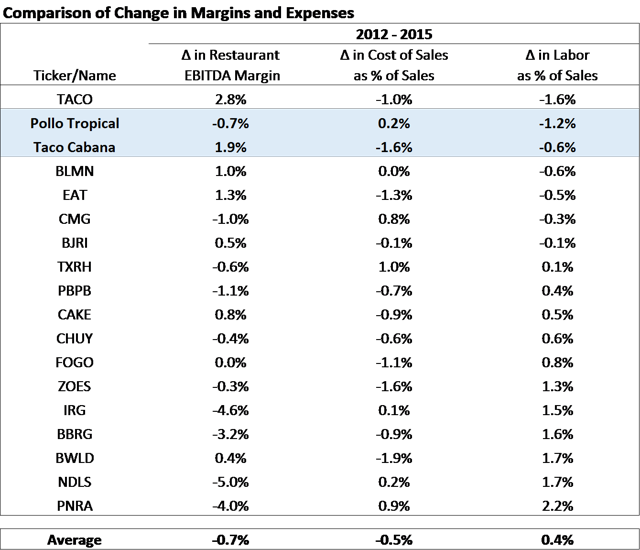 Source: Author using company data
Both Pollo Tropical and Taco Cabana were able to decrease labor as a % of sales since 2012 while some high-flying stocks such as PNRA and ZOES saw significant labor increases. The effect of this mismanagement of expenses can be seen in PNRA's 4% decrease in restaurant margins.
Exhibiting Accelerating Growth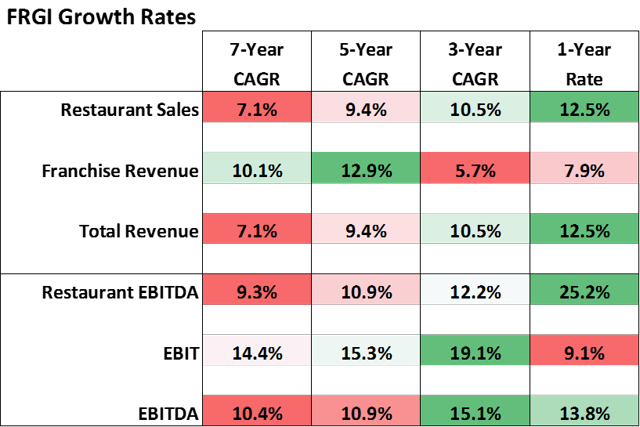 Source: Author using company data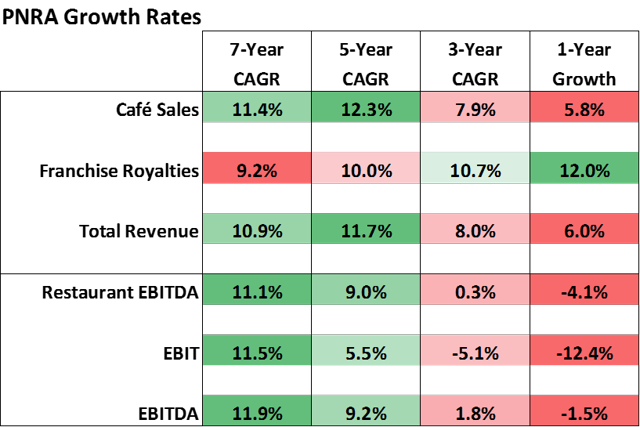 Source: Author using company data
The tables above show the growth rates in FRGI and PNRA financials (each row is colored from red (lowest) to green (highest)).
FRGI has shown accelerating growth in recent years with its one-year and three-year growth rates exceeding its five- and seven-year rates.
PNRA is used here as a Fast Casual comparison because of its "growth" narrative in the market. Its table of growth rates looks like the opposite of FRGI's with PNRA's seven-year and five-year growth rates exceeding its more recent years, signaling a slowdown, and even a decline, in most metrics.
Long Runway for Significant Expansion
Pollo Tropical Locations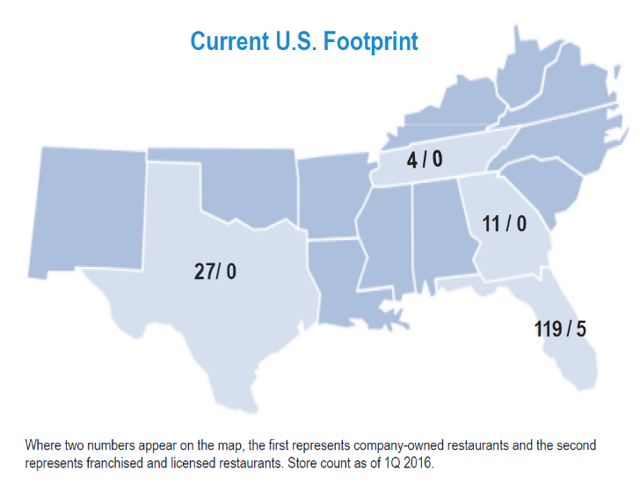 Source: FRGI Investor Presentation
Taco Cabana Units Relative to Peers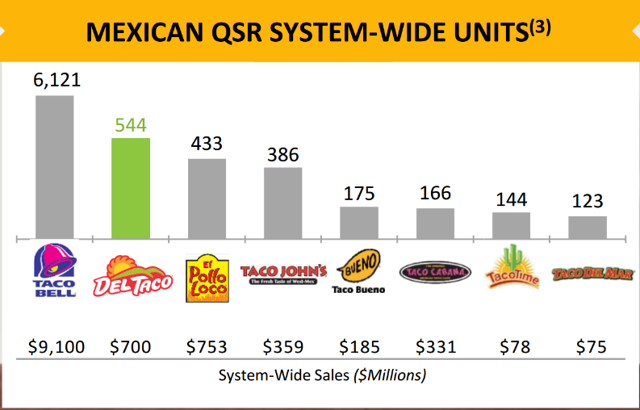 Source: Del Taco Presentation
Despite the high historical growth rate, FRGI has a long runway for continued expansion due to its current narrow geographic footprint (Texas and Florida).
Years of continued double-digit percentage unit growth are possible for both concepts.
Restaurant Stock Valuations
(click to enlarge)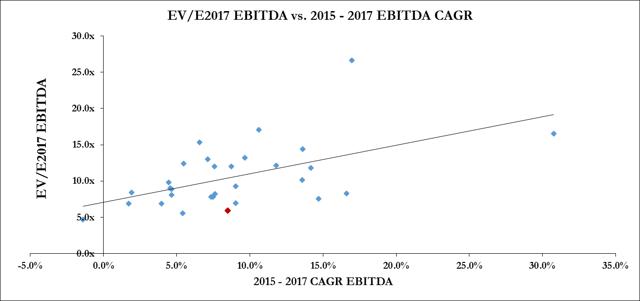 Source: Author using Jeffries estimates and company data
The chart above shows EV/EBITDA multiples relative to expected EBTIDA growth for 30 restaurant stocks (FRGI in red).
Using the regression for the entire industry, FRGI's fair value multiple should be 10.4x based off the conservative estimate for EBITDA growth of 8.5% over the next two years.
However, we just showed you that growth has been accelerating, not decelerating, and 8.5% is a lower CAGR than any time period over the last seven years. If FRGI reverts to the multiple predicted by the regression, using our base case of 10.0% EBITDA growth, the stock has 95% upside.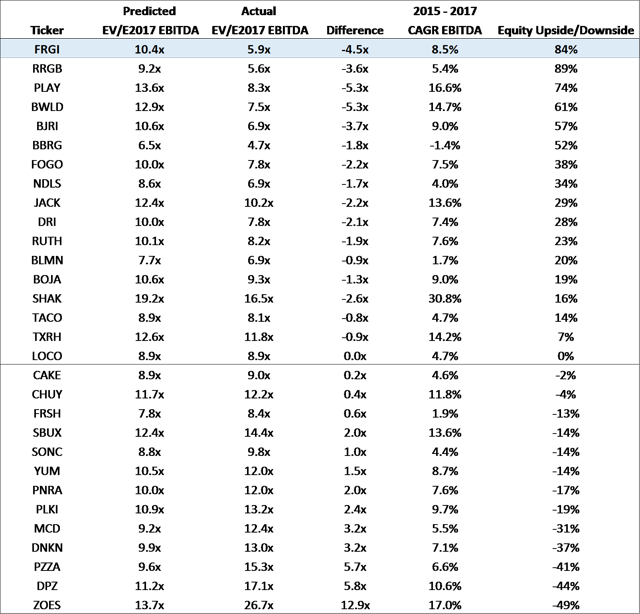 Source: Author using Jeffries estimates and company data
In the table above, the column titled "Predicted EV/E2017 EBITDA" shows the EV to estimated 2017 EBITDA multiple predicted by the regression. The column titled "Actual EV/E2017 EBITDA" shows the current EV to estimated 2017 EBITDA multiple.
FRGI Incremental Return on Capital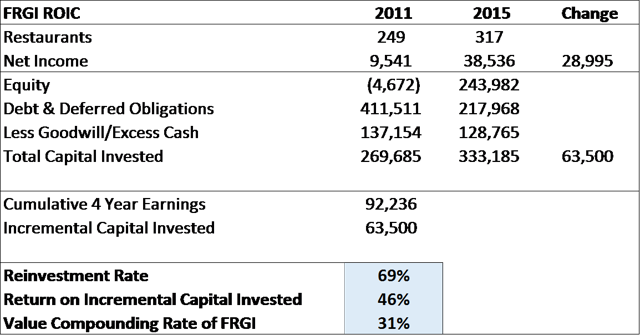 Source: Author using company data
Attractive unit economics provide for high return on incremental capital invested.
The company is making the correct decision of maintaining a high reinvestment of earnings, creating substantial intrinsic value. The company should continue this high rate of reinvestment as long as unit economics of new units/geographies remain near existing company averages.
The stock has sold off due to flattening SSS comps and has overshot fair value to the downside (went from drastically overvalued at $60/share in late 2014 to massively under-valued at $21-23/share currently).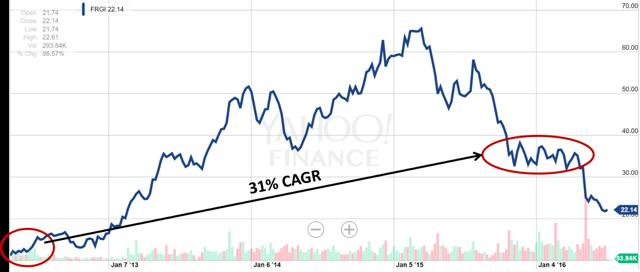 Source: Yahoo Finance
Trading Comps
We believe Chipotle (NYSE:CMG), El Pollo Loco, and Del Taco are the best public trading comps.
Del Taco:
EV: $500 million
System-wide sales: $700 million
AUV: $1.36 million
Average check: $6.79
542 units
Best pure-play comp for Taco Cabana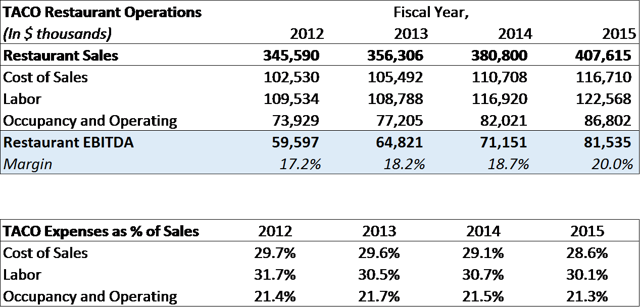 Source: Author using company data
El Pollo Loco:
EV: $610 million
System-wide sales: $753 million
AUV: $1.9 million
Average check $8-12
436 units
Best pure-play comp for Pollo Tropical
Chipotle:
We chose this as a trading comp because CMG is an industry leader in the fast casual segment (with no franchising) and has unit economics on par with Pollo Tropical.

Source: FactSet
FRGI has an EV on par with LOCO despite 60% greater EBITDA and superior growth.

Source: FactSet
FRGI trades at massive multiple discount to peer group despite faster EBITDA growth.
FRGI has differentiated concepts, born out and proven by consistently having the highest AUV in the industry.

Source: FactSet
FRGI EBIT margins are superior to TACO despite TACO having 45% of restaurant base franchised.
After a thorough investigation, we believe there are no discernible fundamental or structural reasons for FRGI's meaningful valuation discount.
Even if FRGI was not growing and didn't have industry-leading unit economics, a 5.5x EBITDA valuation would still be a terrific purchase multiple.

Source: FactSet
The entire comp group is well off its 52-week highs, but FRGI has been a notable underperformer in the last one, three, six and 12 months.
Sum-of-Parts Valuation Sensitivity Analysis
The company plans to spin off the slower growth Taco Cabana (though still growing exceptionally fast by industry standards).
We believe the fair value for Taco Cabana to be in the range of 8.0-9.0x EBITDA. This would value Taco Cabana between $300 and $350 million.
We believe Pollo Tropical is worth 10.5-11.0x EBITDA (in line with TACO and LOCO). Valuing Pollo Tropical at $600+ million.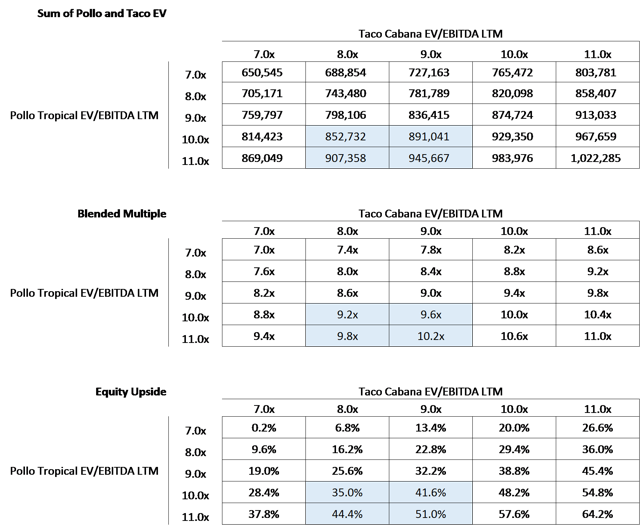 Source: Author using company data

Source: Author using company data
Bear Theses for FRGI
Pollo Tropical will not be successful outside of Florida.
Opened several locations in the Atlanta market in the mid-'90s which were closed in 1996.
Pollo Tropical has only succeeded in Florida due to the Hispanic population.
The Caribbean and Mexican style of food only appeals to certain regions, limiting expansion potential.
Doubts about management's ability to expand units.
Believe CEO Tim Taft's abilities are in stabilizing companies, not growing restaurant concepts. Previously, he spent over 10 years at Whataburger, was president and COO for five years. Three years as CEO of Pizza Inn. Two years as CEO of Souper Salad.
Management's strategy is reliant upon growing Pollo Tropical units at a double-digit rate.
Risk of shrinking margins.
Concerns of too many promotions and/or discounts used to increase SSS comps.
"Cannibalizing" old store sales as part of the strategy to maximize advertising dollars spend will put pressure on SSS comps and margins.
Mitigants/Bull Counter-Arguments:
Pollo Tropical has had success in its recent [re]expansion into Atlanta, partly due to its TV-based advertising there.
The idea that Pollo Tropical is only popular with Hispanics is doubtful, and even if it was true, Texas is ~ 40% vs. Florida's ~ 20% Hispanic population so this bear argument, ironically, bolsters the bull case for aggressive expansion into Texas.
Tim Taft's history at both Whataburger and Pizza Inn (both Dallas based) give him extensive experience in the Texas restaurant market, the main focus of Pollo Tropical's expansion plan and the sole geography of Taco Cabana's operations.
Margins are still industry-leading at Pollo Tropical and in the top 3 at Taco Cabana (in our comp base of 27 public restaurants) - even if there is slight reversion, they will still be superior to the industry. The idea of cannibalizing old store sales can be debated, but the idea to maximize advertising dollars seems efficient, especially when stores see an immediate ~10% growth in revenue once advertising is initiated in a new geography and there is evidence this strategy is working.
Ownership
None of the top 25 institutional shareholders have FRGI as a >1% portfolio position.
Small position sizing creates price insensitive selling.
Largest holders are mostly passive funds and index funds/ETFs.
Wells Capital and Fidelity have been aggressively liquidating stake in last three months.
Stock is extremely out of favor and underfollowed.

Source: FactSet
Additional Points of Interest
Average daily volume last three months has been ~615,000 shares, or ~$13.75 million worth per day. This is ~2% of the company trading hands each day, providing more than sufficient trading liquidity to establish a very large stake ($50+ million) in a short time period with minimal price moving effect.
Management is comprised mostly of ex-Whataburger executive team that built concept into a 600+ unit QSR powerhouse in Texas.
With average ticket sizes of $9 and a compelling value propositions for consumers, we feel FRGI is less economically sensitive than mass casual and fine dining concepts.
Private Equity appetite is strong for proven 100-200 unit fast casual concepts with limited geographic footprint.
Taco Bueno was sold just recently in December 2015 to TPG at estimated >8x EBITDA. Taco Bueno has much worse unit economics and is much smaller than Taco Cabana at ~$25 million in EBITDA versus $70+ million.
The deal stats shown here are calculated from public restaurant transaction comps from January 2010 to present (65 transactions total).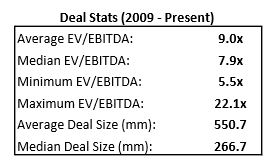 After severe stock sell-off, FRGI's forward EBITDA multiple of <6x now at the historical minimum buyout floor for public restaurant chains since 2009 despite average QSR/Fast Casual multiples being greater and FRGI having vastly superior economics.
Appendix
Demographics: Debunking Bear Thesis that FRGI can't expand outside of Florida due to limited appeal to Latinos.
FRGI's main growth MSA at present is San Antonio (the seventh largest city in America). Last year, the San Antonio metro region had the sixth-fastest growth rate in the country among metros with a population of >1 million.
Additionally, four out of the top 11 cities in the US by population are in Texas and are the focus areas of FRGI's unit growth. These Texas cities that rank among the country's largest by population (Houston, Dallas, San Antonio, Austin) are growing multiples faster than the overall US population, and especially growing faster than other top cities. This provides solid demographic underpinnings for the areas of FRGI's main unit expansion.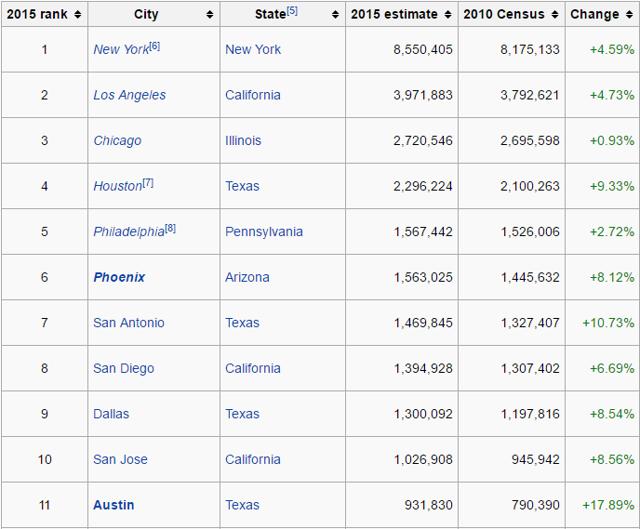 Source: Wikipedia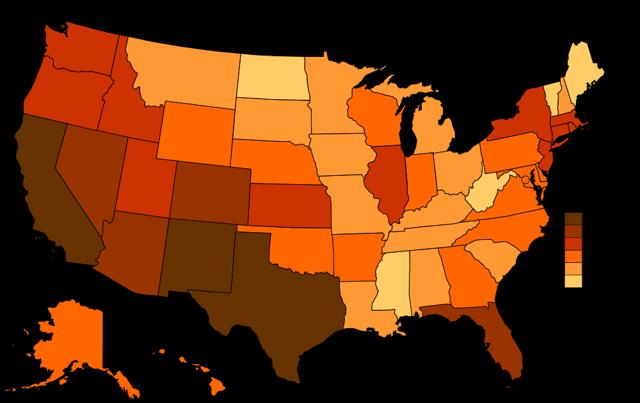 Source: Map By Ali Zifan
States with similar Latino populations as Florida and future expansion areas include Nevada, Arizona, and Colorado. States with a greater percentage of the population Hispanic are Texas, New Mexico, and California.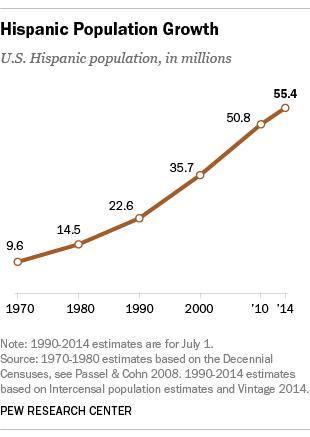 Source: Pew Research Center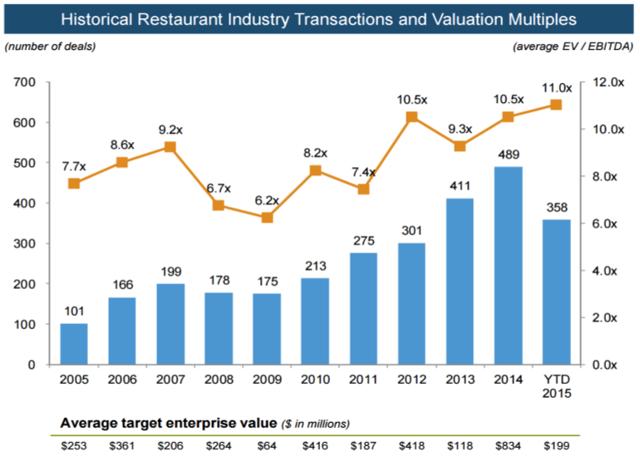 Source: Gibson Dunn 2015 Presentation
Regarding the Jefferies downgrade from 7/27/2016:
FRGI has 21% upside to its base-case PT of $27 at 7x EBITDA, which is still 3.1x full EBITDA turns below nearest comp.
FRGI has only 6% downside to its punitive bear case at 5x EBITDA.
The stock is asymmetric to the upside even using its own rationale.
Jefferies upside scenario has 79% upside, but still leaves EV/EBITDA multiple a full 2 turns below trading comps despite superior unit growth and industry-leading unit economics.
The crux of Jefferies bearish piece on FRGI is that increased labor cost will keep a lid on margins. FRGI stores are already starting at a far superior labor efficiency to the average QSR/Fast Casual peer. Labor as a % of sales 25.4% versus industry average 29.7%; Jefferies models in a slight bump in 2017 to 26.57%, which would still be 3.13% better than industry average.
Disclosure: I am/we are long FRGI.
I wrote this article myself, and it expresses my own opinions. I am not receiving compensation for it. I have no business relationship with any company whose stock is mentioned in this article.