Update: Results are in. And most everyone is bullish on the sector.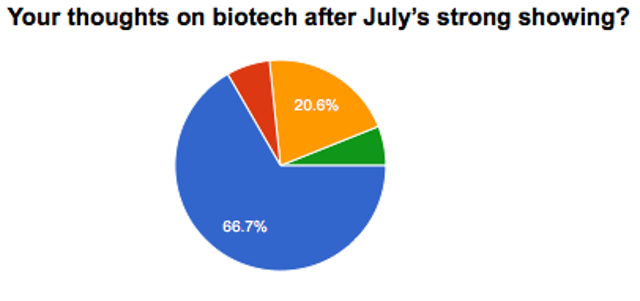 Buy biotech - the upward momentum will continue - 66.7%
Don't forget the dividend larger biotech firms pay - 6.7%
Unsure - regulatory issues, electron year politics create a lot of noise - 20.6%
Sell biotech - this is a good run, but uncertain about future - 6.1%
Thanks to everyone who participated in today's poll. And watch for more Market Challenge this week!
*****
Biotech finished July on a strong note. Can the momentum continue in August?
The top biotech indices were up more than 10% in July (thanks to Bret Jensen for the update). It was a good run for biotech stocks and ETFs during the month, but the quiet rally wasn't noticed by a lot of market observers.
Your thoughts on the sector? Are there stocks and/or ETFs that stand out? Offer your analysis below!