TimkenSteel (NYSE:TMST) first crossed my radar on SA Contributor Jeremy Raper's excellent piece on the company's imminent liquidity needs. The story there is compelling, and still remains somewhat applicable (even though the liquidity need has been plugged for now). He has since moved on from the position, but I've traded in and out of the company on the short side since then with solid success. I've held short through Q2's weakness, and still remain pessimistic on the company's outlook. I believe there is further weakness instead for the company, and my price target remains 20-30% lower than where we are today ($7-8.00/share).
Business Overview, Q2 2016 Results
TimkenSteel is primarily a producer of alloyed steel bar and pipe, with end market use primarily being some higher end applications like oil and gas rigs, distribution, and industrial applications like crankshaft and gears. Back in 2014, primary end markets were oil and gas (24%) and passenger cars and light trucks (42%). While North American light vehicle sales have remained resilient since then (likely peaking in 2015), obviously oil and gas has not. This has been rough for TimkenSteel, as its sales to oil and gas customers has always been the higher margin business. Continued relative strength in automobile sales is the only thing keeping the company afloat; the company's other channels (oil and gas obviously, but also agriculture, rail, and mining) remain incredibly weak. I believe TimkenSteel management got caught up in the "V" shaped oil recovery expectations, and as recently as year-end 2015, rig count rebound expectations were incredibly high for management: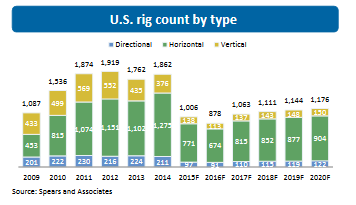 *TimkenSteel, YE 2015 Investor Presentation
Half way through 2016, we now know there is no way rig counts rebound to 878. In fact, it is highly unlikely even in 2017 that we see those kinds of numbers. Despite the weak numbers, analyst expectations have come up for current and future years over the past several months, likely driven by continued expectations of strength in raw material spread, which in my opinion will likely flatten. Granularly, sequential improvement from Q1 (-$20M EBIT to -$14M EBIT) was driven entirely by $9M benefit from that spread between raw material scrap buy prices and resulting sales.
As higher margin energy shipments fall (down 23% sequentially as discretionary capital spending falls off a cliff), price and mix has driven losses ($20M y/y by my calculations) despite total shipment volume growing 2%. With shipped volumes expected to be down into Q3 (5% lower), Q3 will be another sequentially lower loss ($10-13M net loss guidance).
Convertible Bond Offering - More To Come?
TimkenSteel priced $75M in convertible bonds (6% rate, due 2021) back in May. This capital was immediately needed in order to pay down debt on the revolver. As Jeremy discussed, the revolver's borrowing base is driven by a calculation based on receivables, eligible inventory and equipment, and cash reserves. As the company shrinks (tightening cash conversion, shrinking property valuation), so does the allowable borrowing base. While we don't know all the specifics, I do believe Jeremy was right that creditors pressured the company into raising liquidity from another source - and fast. TimkenSteel quickly took the cash raised from convertible bonds and pushed it into paying down the revolver. Balance there is now down to $80M, down from $200M at the end of Q1 as the company moved some of its cash balance, all of its bond proceeds, and its minimal free cash flow into paying down that revolver. Current cash and cash equivalents on the balance sheet ($37M at the end of Q2) is likely the bare minimum needed to maintain operations. The pressure is on.
I think it is clear that TimkenSteel has taken a gamble on an improving environment. Despite the capital raise, it isn't a large enough amount to keep the company going if the current environment continues for long. As mentioned, Q3 has been guided weak ($10-13M net loss), so, operational cash flow will be breakeven at best. Given current capex guidance of $45M, this indicates an acceleration into the second half of the year ($15M in 1H, $5M in spend guided in Q3). I can't see positive free cash flow occurring in Q3 again, and necessary maintenance seems to be pushed into Q4. Management has pulled practically all the levers it can when it comes to working capital improvement, which likely eliminates that as a source of funds through the rest of 2016. Without a strong turnaround in Q4 and optimism into 2017, TimkenSteel will once again likely be forced to raise capital. Given the lack of appetite for high yield bonds, especially companies exposed to the energy markets (hence the convertible bond issue), TimkenSteel will be forced to rely on another potentially equity dilutive event.
Before we get there, we can consider the impact of the current convertible bond on pricing of the security today. The equity is convertible at $12.58/share, and any aggressive move in the equity will have creditors salivating at the opportunity to convert and move out with a quick win. This would result in the issuance of 6M shares, diluting current equity-holders by nearly 14%. In my opinion, $12.50/share should act as a firm spot of resistance for shares for the immediate future, and indeed shares have sold off heavily off the $12/share twice since May. If you're hesitant to get in at current share prices, anywhere close to $12.50/share seems as good an opportunity as any.
Takeaway
TimkenSteel remains under stress, and without a rebound in its oil and gas end markets, I'm not sure if the company can survive. Without a meaningful rebound in commodities E&P spending, there isn't much economic value in the company's operations. That rebound seems far off at this point, and even then the company doesn't provide products with could not potentially be supplied by another competitor. The global steel market is still dealing with severe overcapacity, and there are plenty of much larger, better capitalized companies operating close by that can produce similar products, like Steel Dynamics (NASDAQ:STLD) ( prior coverage by me here on Seeking Alpha), Tenaris (NYSE:TS), and Nucore Corporation (NYSE:NUE). The steel market continues to be a place where you need to pick your holdings carefully, and I can't see giving this company the valuation it holds. At a price/book of 0.65, it still trades at a premium to some larger, profitable steel companies (POSCO (NYSE:PKX) which I own personally as an example) and only a moderate discount to profitable, niche steelmakers. This one continues to be an avoid or a short for me.
For more research like this on small/mid cap companies perpetually under-followed by Wall Street and under-owned by retail investors, consider following me (by clicking the "Follow" button at the top of this article next to my name) to receive notification when I publish research. Feel free to ask any questions in the Comments section below.
Disclosure: I am/we are short TMST.
I wrote this article myself, and it expresses my own opinions. I am not receiving compensation for it (other than from Seeking Alpha). I have no business relationship with any company whose stock is mentioned in this article.