After its earnings report last week, technology giant Apple (NASDAQ:AAPL) borrowed another $7 billion. I mentioned that the company's domestic cash pile was near its lowest levels in recent years, and Apple needs US funds to pay dividends and buy back stock. While the most recent debt issuance puts borrowings at a new all-time high, the company has definitely taken advantage of low interest rates. The chart below shows a comparison of this offering to one from earlier this year.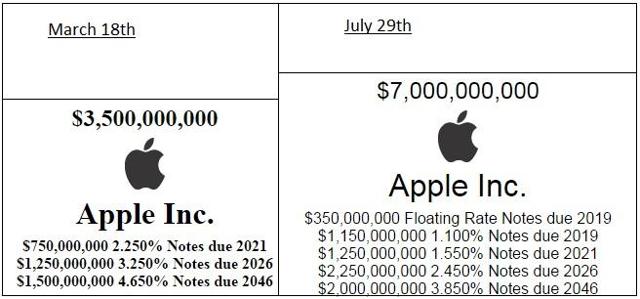 (Source: Filings from March and July)
Despite its debt level increasing and this recent note issuance being larger, Apple's interest rates were quite a bit lower. In fact, Apple paid 80 basis points less on its 30-year debt than it did just four months ago. The street is obviously not worried about the company's growing debt pile, especially given foreign cash reserves of more than $215 billion. If Apple needs to pay back debt, it could always repatriate funds and pay a tax bill if refinancing isn't an option.
Apple's interest rates are dropping because US bond yields continued to fall after the recent Brexit vote. The US 10-Year Treasury rate is currently below 1.50%, very near to its 52-week low as seen in the chart below. As a point of reference, the 10-Year rate was about 1.90% when Apple issued that other debt back in March.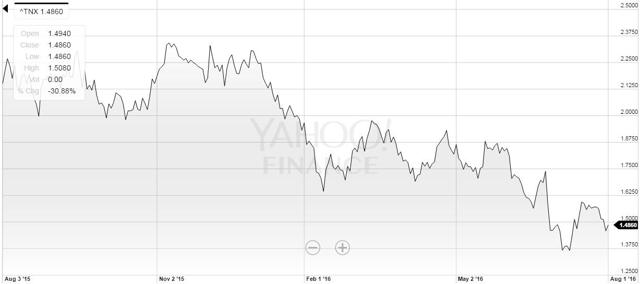 (Source: Yahoo Finance)
Apple is definitely taking advantage of low rates right now to further repurchase its shares. As of Monday morning, the stock's annual dividend yield was about 2.16%. The weighted average coupon of the four fixed rate notes in last week's issuance was 2.47%, and that was before the tax savings of debt. Using Apple's current tax rate takes the after-tax cost below 2.00%, meaning the company realizes a cash flow savings here by saving on dividend payments. This also assumes that Apple's dividend stays at the current $0.57 quarterly rate moving forward, and many believe it will increase in early 2017. If that happens, Apple's savings moving forward could be even larger if share repurchases continue at the current rate.
As of Monday morning, Apple shares were up about 18% from their 52-week low. However, the stock buyback still looks great at current levels given the low cost of debt that was seen in last week's offering. Apple is saving more on dividend payments than it is paying out in interest, so it makes sense to continue the buyback at full steam. If US interest rates continue to stay at these levels, look for Apple to continue to take advantage of this market dynamic.
Disclosure: I/we have no positions in any stocks mentioned, and no plans to initiate any positions within the next 72 hours.
I wrote this article myself, and it expresses my own opinions. I am not receiving compensation for it (other than from Seeking Alpha). I have no business relationship with any company whose stock is mentioned in this article.
Additional disclosure: Investors are always reminded that before making any investment, you should do your own proper due diligence on any name directly or indirectly mentioned in this article. Investors should also consider seeking advice from a broker or financial adviser before making any investment decisions. Any material in this article should be considered general information, and not relied on as a formal investment recommendation.