This article is a follow up to AMD is cooked and focuses on cash analysis as well as liquidity.
Last quarter, AMD (NASDAQ:AMD) received a total of $351 million of cash from the joint venture created with Nantong Fujitsu Microelectronics Co., Ltd. As a result, total cash jumped from $716 million in Q1 2016 to $957 million in Q2 2016. Nothing wrong here, the company had the opportunity to milk its asset and did it. At least, it is better than a capital increase. On the surface, AMD's cash situation looks good with roughly $1 billion in the bank.
But, digging deeper into the financial statements provides more information than scratching the surface. In particular, AMD bulls should take some time to analyze the cash flow statements in details. They point out a deteriorating financial situation with alarming cash burn. If I exclude the $351 million received, AMD burned roughly $110 million of cash last quarter with a total cash of $606 million (instead of $957 million).
I'm not even talking about the increase in accounts payable (which amounted to a net $280 million for Q2 2016 after refactoring Q1 2016 numbers. To put things in perspective, accounts payable amounted to -$28 million in Q1 2016. That is another way to show a better cash position in the short term. Without the cash injection and the big increase in accounts payable, total cash could have easily crossed the $500 million mark for the first time. As a reminder, AMD management targets a level of cash between $600 million and $1 billion (the optimal level).
Total cash level does not give a fair picture because it can easily be manipulated, as explained above. So I will focus on free cash flow to demonstrate my point. AMD had negative FCF of $232, $193 and $322 million for FY 2013, 2014 and 2015 respectively. For the first 6 months of 2016, the company's FCF is negative by $174 million.

AMD is a burning cash machine and cannot manage to earn a dime from its operations. On a cash flow perspective, AMD looks like Netflix (NASDAQ:NFLX) or Amazon (NASDAQ:AMZN), burning massive amount of cash to fuel future growth and earnings thereafter. However, the comparison stops here because AMD cannot manage to sustainably increase its sales and more importantly, earn a profit. After 3 years of ineffective turnaround strategy, total sales have gone nowhere. However, the company expects to increase sales by 18% to $1212 million for next quarter, which constitutes the second increase of sales in a row. While it is a good start, profit is still not around the corner. I build a model which forecasts an operating loss of $44 million and $34.5 million for Q3 and Q4 2016 respectively.
Coming back to my cash analysis, I expect AMD to report negative free cash flow of $350 million for FY 2016, which will put more pressure on management to stay above the $600 million mark. If the share price continues to climb the ladder, management would be wise to plan a capital increase.
Liquidity ratio analysis demonstrates the same deteriorating trend. Current, quick and cash ratio are pointing lower quarter over quarter. AMD is still not in liquidity distress with a current ratio above 1.5 and a quick ratio of 1.02 in Q2 2016. But, the trend is not improving. In fact, current ratio was close to 2 in Q1 2015. If the company continues to burn as much cash as of now, it could face a liquidity issue in a few quarters.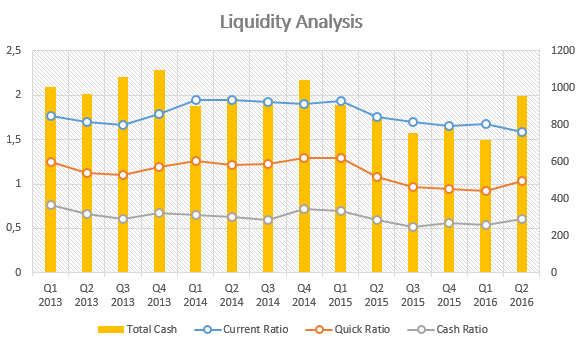 The company has different options to manage this possible issue but there are limited. With a balance sheet fully financed by debt, AMD will have a hard time to find lenders with acceptable financing terms. I haven't read the covenants for existing debt yet but I guess we can find interesting things regarding seniority of additional debt. A more probable solution would be to plan a capital increase, which would immediately improve liquidity and solvency without any drawbacks, except for existing shareholders. If you do believe AMD will make a comeback with their new "superior" products (i.e. Zen), you would like that management raises additional funds to secure its future. Because remember, profit is not around the corner.
Disclosure: I/we have no positions in any stocks mentioned, but may initiate a short position in AMD over the next 72 hours.
I wrote this article myself, and it expresses my own opinions. I am not receiving compensation for it (other than from Seeking Alpha). I have no business relationship with any company whose stock is mentioned in this article.