The Company Thesis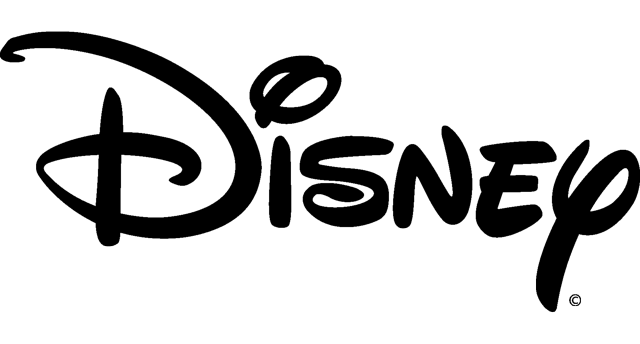 Disney (NYSE: DIS) is a diverse corporation, comprised of media networks, parks and resorts, studio entertainment, interactive media, and consumer products. Disney owns franchises such as ESPN, ABC, and Marvel to name a few. It would be difficult to find any person who has not interacted with a Disney product or service at some point in their life. From Monday Night Football to The Avengers, Disney offers some of the most sought after content across the globe.
Recently Disney has come under scrutiny for some of its business segment performance. Entertainment consumption trends, competition, and new disruptive technologies are presenting challenges that Disney will need to address. In this article, we will review each of the business segment challenges and opportunities. In the end, my thesis is that the stock and not the company is the only thing broken.
Challenges and Opportunities By Segment
Media Networks
This segment can greatly emphasize stock direction as it makes up 44% of Disney revenues. Today, consumers are cutting the cord from traditional cable and focusing on alternative media platforms to save money and increase convenience. As a result, Disney Q2 revenues remained flat compared to the same period in the previous year and were in decline versus their Q1 fiscal quarter. However, they significantly improved operating income versus the same period previous year in addition to the preceding quarter. ABC scripted and non-scripted shows such as Modern Family, Scandal, and Shark Tank appear to be down double-digits in ratings. In addition, nearly 30% of scripted shows were actually canceled, inclusive of Nashville, leaving a question mark on new content. Competitive pressures increased from NBC, owned by Comcast (NASDAQ: CMCSA). NBC shows like Blindspot, Chicago Fire, and The Voice had better year over year comparable rating fluctuations and can be found exclusively on American Airlines (NASDAQ: AAL).
According to Nielsen data, ESPN also saw decreases in subscribers. Since 2013, subscribers have fallen around 10%. As a result, Q2 ad revenue was down 13%. From a pure sports perspective, NBC has another ace up its sleeve as it covers the Rio Olympic Games in August. This coverage has potential to threaten ESPN ad revenue in Q3. If that is the case, the stock could see pressure. Finally, I think Disney fell short in their decision not to invest in daily fantasy sports. They initially committed to investing in Draft Kings, but later decided it could threaten their brand(s). Comcast and Time Warner (NASDAQ: TWX) on the other hand both invested in FanDuel or Draft Kings. According to Eilers Research in a recent Forbes article, daily fantasy is estimated to grow from $2.6 billion in 2016, up to an astounding $14.4 billion by 2020. That growth rate alone could have been proactive in squashing any rhetoric about ESPN performance and subscriber volatility. Personally, I don't feel this would have negatively impacted the brand(s) image, and it could have increased the frequency and volume of web traffic.
Overall, the disruption in this segment is real, but Disney can still excel within the evolving landscape. For one thing, Disney's media is offered across many of the disruptive mediums, such as SlingTV by Dish Network (NASDAQ: DISH). SlingTV offers cost-conscious consumers more flexibility to stream live television as low as $20 per month, without traditional cable contracts. Secondly, Disney is leveraging social platforms such as YouTube. Consumers tend to have less patience to watch an entire show, and can view a single segment on YouTube from shows like The Tonight Show Starring Jimmy Fallon. ABC originals can also be found on Netflix (NASDAQ: NFLX). Disruptor's like Netflix are investing in this content in return (e.g. ESPN Films: 30 for 30). As a result, Media Networks still provided a 9% increase in operating income. No matter the trends, Disney is finding ways to expand profitability within this challenging atmosphere.
Parks and Resorts
Disney parks are iconic and provide great family entertainment, but there are definite challenges in this space. NBC's Universal Studios recently launched two key attractions. These include The Wizarding World Of Harry Potter and The Walking Dead. I am twenty-nine years old and have no shame telling my readers that I would frequent Hogsmeade for some butterbeer. A recent article from the LA Times reports that although Disney still hosts nearly two and a half times the foot traffic of Universal Studios, the growth rate continues to favor Universal Studios. From 2010 to 2014, Universal Studios was estimated to have grown attendance by 36%, while Disneyland grew just a mere 5%. The good news is that according to the Bureau of Economic Analysis, disposable income in the United States has increased over $230 billion from January through May of this year, creating organic growth in leisure and entertainment spending. In addition, the International Association of Amusement Parks released a report that bodes well for Disney, estimating theme park revenue growth rates could reach 7.2% globally per year on average.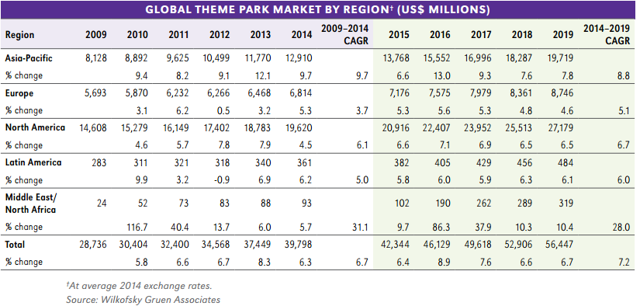 Disney cruise lines also received record earnings which have led to the demand of two additional ships, available in 2021 and 2023. Not only will this segment benefit from an increase in disposable income, but also lower oil costs. We've seen the airline stocks benefit from this and should favor Disney cruises just the same. Finally, Disney knows how to entertain and it's been their business model for years.
Studio Entertainment
The force is strong in this business segment. Disney saw a massive 27% increase in operating income and 22% in revenue for Q2 2016. This was primarily driven by the success of Star Wars: The Force Awakens and Zootopia. Combined, these two films have grossed over $3 billion in their fiscal year-to-date performance and Disney has already planned two additional Star Wars films for 2017 and 2019 release dates. Star Wars represented the highest grossing film of all time domestically and third in worldwide sales. Compare that to when Twenty-First Century Fox (NASDAQ: FOX) distributed Star Wars: Revenge Of The Sith in 2005, which only reached 50th place in worldwide gross sales.
Risks are difficult to gauge in advance of a movie rollout. Delays in scheduling, fluctuation in production costs, and timing of major competitive studio launches can impact the overall performance. But, if Disney can continue to bring franchises like Star Wars to the top of world records, their future will continue to look promising in this business segment.
Consumer Products and Interactive
This is the smallest of the four business segments and its revenue was the only one to contract during Q2 2016. Revenue shrank by 2% in Q2 versus 2015 as Disney reported a stronger U.S. dollar as the culprit. However, many Disney Stores are located in malls across the country and I suspect a decline in mall traffic to be a contributing factor. The other part of this segment is Disney Interactive, represented by 23 games and apps that coincide with crossover content (e.g. movie launches). For instance, one of their newer games includes Star Wars: Commander which was the number one downloaded app in China. This reinforces their ability to grow international markets with content and monetize the franchise products. However, Disney Infinity was a large video game project that put players in an interactive character world. Earlier this year, Disney reported it would shut down the operation and incur a write-off of $147 million.
Financial Performance and Investment Value
At the end of 2015, Disney revenue topped $52.5 billion, a 7% increase over 2014. They're currently pacing ahead of 2015 sales as of Q2 2016, with $28.2 billion in year-to-date sales. The company grew earnings per share (EPS) by 11% in Q2 and is the 11th consecutive quarter they produced double-digit growth in EPS. Even with this impressive growth, Disney missed the consensus EPS of $1.40 per share in Q2.
Compare this to Comcast who grew 2015 sales by 8.3%, and are also pacing slightly ahead in 2016 year-to-date sales versus prior year. Though the two companies are growing very similarly, the stock's price to earnings ratio (P/E) differs. Comcast trades at a P/E of 20.5, while Disney trades at a P/E of 17.7. Now consider Fox who saw annual revenue decline around 10% from 2014 to 2015. Their 2016 year-to-date sales are on pace to remain flat to 2015, and operating income is especially weak versus prior year. With that said, Fox still trades for a P/E of 16. By comparison, I would make the argument that Disney is currently undervalued based on their performance and the evaluations of peers.
Leveraging Options
With some investors anticipating a major market correction, I'd like to propose some potential ways to approach Disney without a lot of exposure. Depending on your approved trading level for options, a diagonal call strategy can help create returns by supplementing long-term in the money calls with income generation. As an example, writing an October 2016 $100 call at a $1.40 premium, while simultaneously purchasing a January 2018 call at a $20 premium, creates a net debit of $18.60 on Disney. In this case, I can gain exposure to 100 Disney shares for around $1,860, rather than purchasing 100 shares outright for roughly $9,600. If you're less worried about market volatility or have a lower level options approval, a covered call strategy may also work. In a covered call option your exposure will be greater since you own the shares outright. In this scenario, you will benefit from a 1.5% Disney yield in addition to the income generation from written calls.
Investors may also consider writing a put option if they view particular support levels. For instance, Disney stock has been trading sideways between $90 and $100 per share for the past six months. If an investors thesis is that $90 represents a key support, writing a put below $90 can be an effective strategy. If you do this, you must be willing to own more Disney shares in the event the option finishes in the money, as you are then obligated to purchase 100 shares for every contract you write. If the option expires out of the money, investors effectively build a safety net to protect their core investment. Rinse and repeat these strategies to help outperform the stock itself during periods of slower appreciation.
Closing Remarks
Disney is a fiscally fit company ran by a great management team. Their business has continued to produce growth in revenues and operating income, while growing earnings per share over eleven consecutive quarters.
The industry is getting more competitive with Comcast overlapping almost every one of their segments. Consumption trends challenge Disney to adapt, but I believe they will find a way to navigate this new landscape with their brand equity. With data suggesting a rise in leisure and entertainment spending, the company is also positioned well for organic growth barring any major economic issues. Keeping that in mind, the company appears undervalued compared to its peers and may serve as a value investment. With major indexes reaching new highs in 2016, investors should be cautious of their exposure. To reduce their risk, an options strategy can provide a safer choice without avoiding the market altogether. May the force be with you.
Disclosure: I/we have no positions in any stocks mentioned, and no plans to initiate any positions within the next 72 hours.
I wrote this article myself, and it expresses my own opinions. I am not receiving compensation for it (other than from Seeking Alpha). I have no business relationship with any company whose stock is mentioned in this article.