As we said in our article titled "Valero Isn't Worried About The Gasoline Glut - Oil Markets Daily," we will be highlighting what the refiners are saying about the concerning "gasoline glut." PBF Energy (NYSE:PBF) is one of the many refiners we are following, and it just announced its Q2 earnings on July 29. The comments were particularly interesting and radically different from what Valero said.
During the Q2 earnings call, CEO Tom Nimbley spoke about how the gasoline glut should be resolved, but that refiners will have to cutback throughput. Indications point to sharp cut in throughput to alleviate the surplus rather than a prolonged glut. Here's what he said: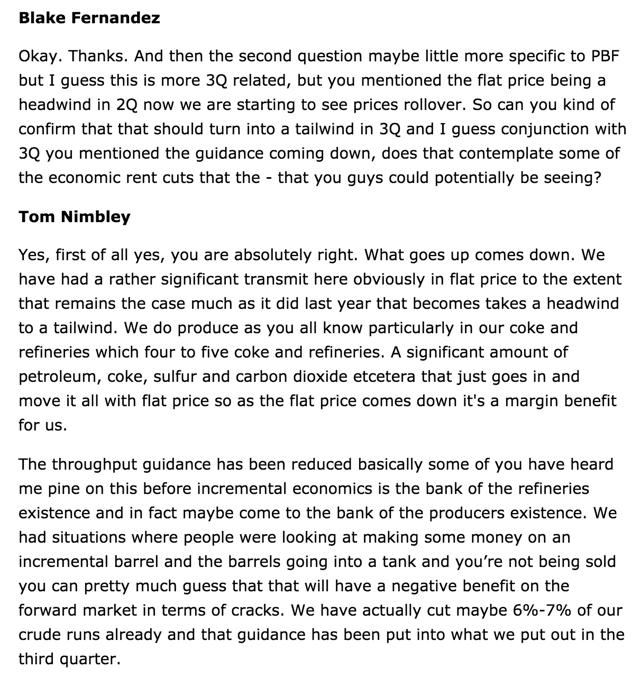 Unlike Valero's comment about "not making run cuts on near-term economics," PBF is saying that it has already started to cut 6%-7% of its crude runs. Nimbley's point about making negative profits on the excess supply is interesting. If refineries aren't selling the products they process, and instead those are going to storage, the company will have negative cash flow even if margins are positive. Unlike oil (NYSEARCA:USO) producers, where each incremental barrel produced could be sold at the spot price, refineries require end-user demand to meet the supply.
Later in the call, Nimbley reinforced his point that other refiners will start to cut throughput: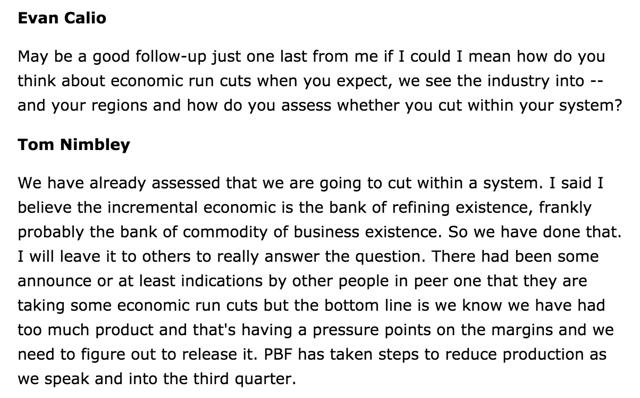 This point is similar to what Valero said. Gauging what Nimbley has said about what PBF will do and what its peers are likely to do, it could point to a sharp contraction in throughput over the next few months -- leading to large gasoline draws and crude builds. Rather than saying, "we won't cut but others will," PBF is taking the initiative to cut back throughput, which is one positive sign that the gasoline glut could end sooner than we expected.
As we said before, if refineries across the U.S. cut back throughput at the same time by 1 million b/d, it could alleviate the gasoline storage within two months. Whether that could be a possibility depends on what others are guiding to, so be sure to keep reading these updates.
Overall, what PBF said is rather positive for the gasoline situation, but bad for crude storage. Any large coordinated cuts by refiners will result in big builds for crude stock. With floating storage still being offloaded into the U.S., it could be several weeks of bad storage reports.
Let us know what you think about the PBF commentary, and where you think refiners will do this maintenance season.
Disclosure: I/we have no positions in any stocks mentioned, and no plans to initiate any positions within the next 72 hours.
I wrote this article myself, and it expresses my own opinions. I am not receiving compensation for it (other than from Seeking Alpha). I have no business relationship with any company whose stock is mentioned in this article.