Company Basics
CYS Investments, Inc. (NYSE:CYS) is a mid-cap mortgage Real Estate Investment Trust (mREIT). The company mainly invests in 30-year mortgages (50%) and 15-year mortgages (40%) insured by Fannie Mae (OTCQB:FNMA) and Freddie Mac (OTCQB:FMCC), earning its income by the difference of the asset's yield and the cost of funds. The company has performed relatively well compared to its peers the last few years. Here is a graphical illustration of the performance of CYS Investment, Inc. compared to its competitors in the past two years.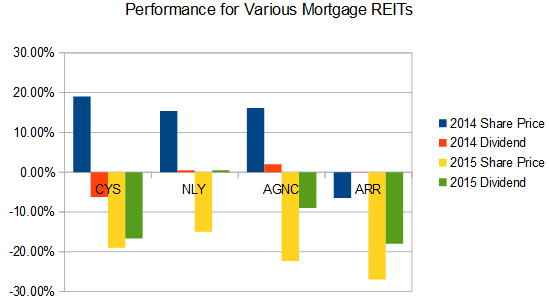 Company Facts (Q2 2016)
Market Cap: 1.34 billion
Share Price: $8.95
Dividend: $0.25 per common share
Dividend Yield: 11.36%
Book Value: $9.55
Relation to Book Value: 6% discount to book
Leverage: 6.91x
Company Fundamentals
A mortgage REIT is a complex investment instrument whose performance usually depend on three factors:
The company's net spread, which is the difference between the company's cost of funds and its asset yield.
The company's leverage, the lower the better (a normal and healthy mortgage REIT will have leverage between 6.0x to 8.0x).
The sustainability of its dividend and possibility of growth, commonly based on the two above factors and management's ability to adjust to changing rate environments.
In this article, we will discuss each of the current and forward environments for these three factors for CYS Investments, Inc. and compare it to its competitors.
Net Spread
Almost every mortgage REIT has performed poorly lately due to historically low interest rates and narrow interest rate margins. In contrast to its competitors, CYS Investments, Inc. has held up pretty well. Its latest report of net interest rate spread, inclusive of hedge, is 1.36%, which is very good. However, it is respectable compared to its peers. Refer to the chart below to see the net spread for CYS Investments and its competitors.
| | |
| --- | --- |
| | Net Interest Margin |
| CYS Q2 16 | 1.45% |
| CYS Q1 16 | 1.36% |
| NLY | 1.54% |
| AGNC | 0.94% |
| ARR | 1.37% |
With the current net spread and leverage, the dividend payout ratio is 97% ($0.26 earnings versus $0.25 dividend payout). This dividend is barely sustainable.
Leverage and Dividend Sustainability
The company's leverage is currently 6.91x, which is modestly high compared to its peers. Given that CYS currently has a modest 11% dividend, requiring 6.91 times leverage to achieve it is slightly disappointing. Here is a comprehensive chart comparing CYS Investments, Inc. to its competitors.
| | | |
| --- | --- | --- |
| | Leverage | Dividend / Dividend Yield |
| CYS Q2 16 | 6.91x | $0.25 / 11% |
| CYS Q1 16 | 6.8x | $0.26 / 11% |
| AGNC | 6.5x | $0.18 / 11% |
| NLY | 6.2x | $0.30 / 11% |
| ARR | 7.1x | $0.22 / 12.50% |
As can be seen from the chart, CYS is unfortunately not in the best position in terms of leverage. Compared to CYS, Annaly Capital Management is also yielding 11.0% with a leverage of 6.2x while also boasting bluechip status with a 10 billion market cap. Similarly, American Capital Agency is yielding 11.0% and still has a lower leverage of 6.5x. If you are looking for exposure to mortgage REITs, it may be better to consider those alternatives for now.
Although CYS Investments, Inc. has a comparatively high leverage, it is still in defensive enough position to sustain its dividend for the mid term future. Consider the following chart for future net spread changes and its leverage situation.
| | | |
| --- | --- | --- |
| Dividend | Net Spread | Leverage |
| $0.26 | 1.50% | 7.0x |
| $0.25 (current) | 1.45% | 6.91x |
| $0.24 | 1.45% | 6.80x |
| $0.23 | 1.40% | 6.75x |
| $0.22 | 1.40% | 6.6x |
Chart assuming CYS will keep leverage lower than 7.2x, which is the highest current leverage employed by REITs.
REIT Taxation Structure and Shelter
Mortgage REITs do not pay corporate income tax, and the shareholders receiving the dividend will have to pay the ordinary income tax at their marginal rate on every dollar received. This usually amounts to a large tax bill. To avoid this tax, a Roth IRA account or self directed 401(k) is perfect for its tax sheltering effect on these assets. In fact, holding REITs in tax sheltered accounts create a situation where all earnings are distributed untaxed. In contrast, a normal corporation would have to pay corporate income tax (~50%) and its dividends are also taxed (15%).
Conclusion
In conclusion, CYS is a well managed REIT that has performed decently in the past. The company is likely to keep its dividend steady at $0.25 per share, but the shares are very highly valued at the moment. The author recommends avoiding and selling CYS at the current valuation of $8.80 per share (6% discount to book). Instead, try researching Annaly Capital Management (NYSE:NLY) for a quality REIT and AGNC (NASDAQ:AGNC) for a mixture of quality and value.
Disclosure: I/we have no positions in any stocks mentioned, and no plans to initiate any positions within the next 72 hours.
I wrote this article myself, and it expresses my own opinions. I am not receiving compensation for it (other than from Seeking Alpha). I have no business relationship with any company whose stock is mentioned in this article.
Editor's Note: This article discusses one or more securities that do not trade on a major U.S. exchange. Please be aware of the risks associated with these stocks.