KeyCorp (NYSE:KEY) recently received approval for acquiring Buffalo-based First Niagara (NASDAQ:FNFG) in a $4.1b deal that is anticipated to greatly benefit the acquirer for many years to come. By fiscal year-end 2018, this deal is expected to be accretive to earnings (assuming no revenue synergies) by 5%, but the combination of these two regional banks is also expected to provide many other potential long-term benefits.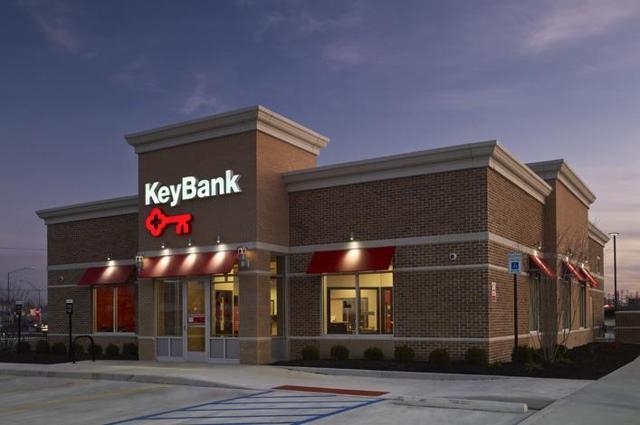 (Source)
Before I explain why long-term investors should consider adding KeyCorp to their watchlists, I will spend some time reviewing the most recent quarterly results for both KEY and FNFG.
KeyCorp's Q2 2016 Results
KeyCorp reported Q2 2016 adjusted EPS of $0.27 (excluding merger-related expenses), which was inline with analyst expectations. For comparison purposes, the bank reported adjusted EPS of $0.27 in the same quarter in the prior year.
Management has been laser focused on closing the First Niagara acquisition, so the earnings over the last few quarters have been negatively impacted by merger-related expenses. During Q2 2016, the bank spent ~$45m in merger-related expenses. Investors should anticipate for the bank to have elevated expenses throughout the remainder of 2016, but it is important to remember that this is a short-term headwind.
The following were some of the other highlights for the quarter: average loans up 5% YoY, net interest income up $14m, and noninterest expenses (ex merger-related expenses) were down by $5m.
First Niagara's Q2 2016 Results
First Niagara reported Q2 2016 adjusted EPS of $0.18 (excluding merger-related expenses), which beat the consensus EPS estimate of $0.15. For comparison purposes, the bank reported adjusted EPS of $0.14 in the same quarter in the prior year.
Similar to KeyCorp, First Niagara's Q2 2016 operating results were impacted by merger-related expenses ($17m) but the bank also had an after-tax loss of $7m on the sale of its entire high-yield energy bond portfolio.
The following were some of the other highlights for the quarter: $9m decrease in provision for loan losses (driven by lower net charge-offs), 2% increase in average loans, and a 6% (or $15m) decline in noninterest expenses.
What Can Realistically Be Expected From The "New" KeyCorp In 2016?
Like other U.S. Banks, KeyCorp's share price is down big so far in the current year and shares of this regional bank have significantly underperformed its peers. On a YTD basis, KEY shares are down ~11% while the SPDR S&P Regional Banking ETF (NYSEARCA:KRE) is down only ~4%.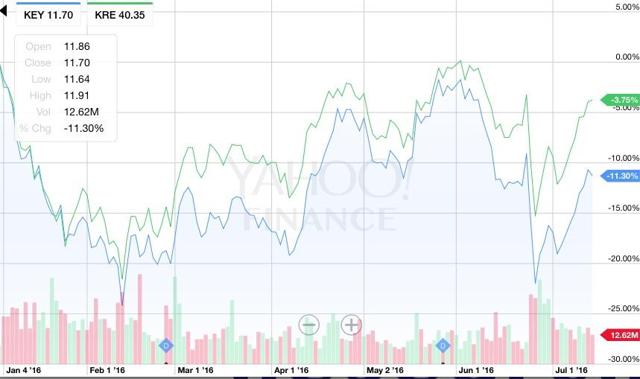 (Source: Yahoo! Finance)
The underperformance compared to its peers is a result of several different factors, but in my opinion, the two main contributors have been the uncertainty related to the FNFG acquisition and the fact that the bank has missed earnings estimates in four of the last six quarters. These two factors are somewhat intertwined in that KeyCorp has been shelling out a lot of money lately in order to ensure a smooth merger, which has resulted in less than stellar earnings reports. However, going forward management will now have the opportunity to focus solely on improving operations instead of spending countless hours on merger-related activities, which will likely benefit both the bank and its shareholders.
In general, shares of financial institutions are currently being negatively impacted by the expectation that interest rates are staying "lower for longer," so until sentiment begins to change shares of KeyCorp, and the other regional U.S. banks, are likely to trade at below-average valuations. KeyCorp and First Niagara are attractively valued based on full-year estimated earnings for 2016 and 2017, and both banks are also trading well below their book values.
To me, this is an opportunity to start (or build) positions in good companies that have the potential to come out of this challenging operating environment even stronger. KeyCorp is an excellent example of this type of company, because the FNFG acquisition is expected to create a lot of value over the next two to three years. I highlighted the benefits of the First Niagara acquisition in this article, but the following are some of management's expectations:
Significant cost savings from consolidating branches - 30% of First Niagara's branches are within two miles of KeyCorp branches.
Significant cost savings from utilizing KeyCorp's technology infrastructure because currently, First Niagara outsources most of its IT operations.
EPS accretion of 5% by 2018.
The "new" KeyCorp will be in a position to greatly improve both its top and bottom lines as a result of this completed deal, which management has touted since the merger was first announced. As such, I expect for KEY shares to outperform the bank's peers over the next 12-18 months.
Bottom Line
There is no denying the fact that KeyCorp is operating in a challenging environment, but in my opinion, management closed a merger that should be praised by investors with a long-term perspective. Investors should closely monitor management's commentary related to the completed merger, because there is a chance that the short-term guidance that was previously provided may change due to the current environment. However, the long-term benefits should still be intact.
The low interest rate environment appears to be with us for at least the remainder of 2016 so investors may get a chance to purchase KEY shares below the current price. Therefore, investors should not rush out to purchase shares tomorrow but any significant pullback should be considered a buying opportunity. Additionally, KeyCorp recently increased its dividend by 13% so the bank is paying you to be patient.
Full Disclosure: I have a small KEY position in my R.I.P. Portfolio and I recently added to the position.
If you found this article to be informative and would like to hear more about this company, or any other company that I analyze, please consider hitting the "Follow" button above.
Disclaimer: This article is not a recommendation to buy or sell any stock mentioned. These are only my personal opinions. Every investor must do his/her own due diligence before making any investment decision.
Disclosure: I am/we are long KEY, FNFG.
I wrote this article myself, and it expresses my own opinions. I am not receiving compensation for it (other than from Seeking Alpha). I have no business relationship with any company whose stock is mentioned in this article.