I recently attended a webinar for PetroShare (OTCQB:PRHR) - an early stage, Rocky Mountain DJ pure-play focused E&P. I found the E&P to be quite interesting. While PetroShare is indeed extremely early stage in development, until its recent acquisition the E&P only had two marginally "producing" Wells in a exploration Niobrara play in NW Colorado , it has a unique financing and growth mechanism available to it that I think could shorten its maturation curve as well as allow it to take advantage of bottom cycle pricing on acquisitions that otherwise would not be available. PetroShare is definitely an E&P worth following into the next handful of quarters - if even just to see a unique financing and growth mechanism deployed into real-time public markets.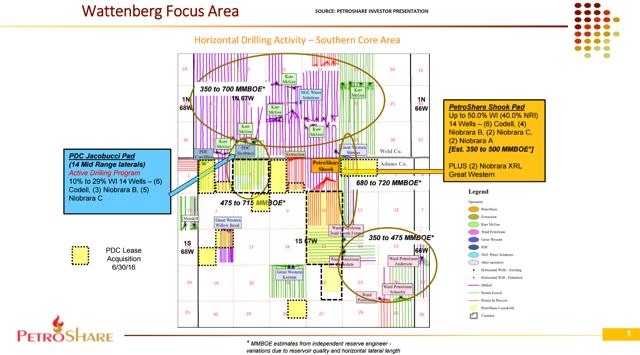 First, PetroShare was a rare 2015 Energy Complex IPO - having hosted an IPO in November 2015 and having raised $4.6 million at $1.00 per share (which was a fully subscribed offering). Inclusive of this offering, PetroShare has 21.7 million shares outstanding (of which ~30% are insider owned - which matters in my opinion). As of most recent close, shares are up 60% since IPO. It should be noted though that shares trade over the counter (OTCQB listed) and "by appointment" - liquidity is an issue for PetroShare equity. That said, the efficiency of the pricing of shares should be considered low at best. PetroShare, again, was formed to take advantage of bottom cycle pricing in the Niobrara / Codell formations with a specific, early focus on the Wattenberg.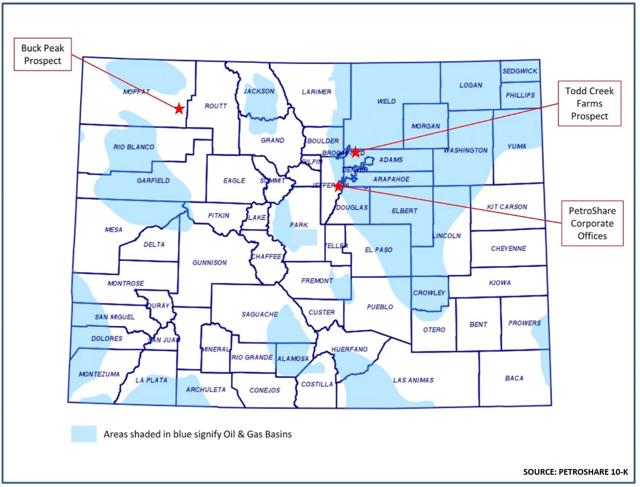 As alluded to above, PetroShare's two producing Wells are located in its Buck Peak Prospect area of NW Colorado - but I've been told that PetroShare's ongoing, longer-term focus will be overwhelmingly its Todd Creek Farms Prospect (see above for location indications of both Prospect areas). To that end, PetroShare actually closed a major acquisition just last week - made public via a July 5 th press release. It was this acquisition which made me accept the invite to the E&P's webinar.
PetroShare acquired producing vertical Wells and associated leases totaling a 3718 gross acres (2690 net acres) in Adams County, Colorado (see map above) - including 72 wells, 46 producing wells, a fully permitted 8 Well pad, 9 Non-Op permits, and shut-in Wells which hold all acreage as HBP. PetroShare's core focus area of the Todd Creek Farms Prospect is located in a sweet spot of Adams County in the southern Wattenberg field area. This was a meaningful acquisition for PetroShare and one that I believe could have production booming over the next several quarters (assuming financing can be acquired and deployed; it should be noted that there's also plenty of execution risk here). Immediately, however, the acquisition adds ~125 boe/d in production (62.5 boe/d net to PetroShare's 50% interest in the acquisition) and according to management the acquisition has substantial upside potential via simple workovers.
The acquisition also provides drilling potential for up to 36 Niobrara and Codell horizontal Wells, and includes a fully-permitted eight Well pad as well as working interest in 12 horizontal Wells recently proposed by a third-party operator. PetroShare will serve as the operator in the acquired vertical Wells. And while I'm not yet ready to celebrate any of the potential "upside" associated with the acquisition, via the expected workovers, I am certainly not discounting the importance and significance of this early strategic move by the E&P.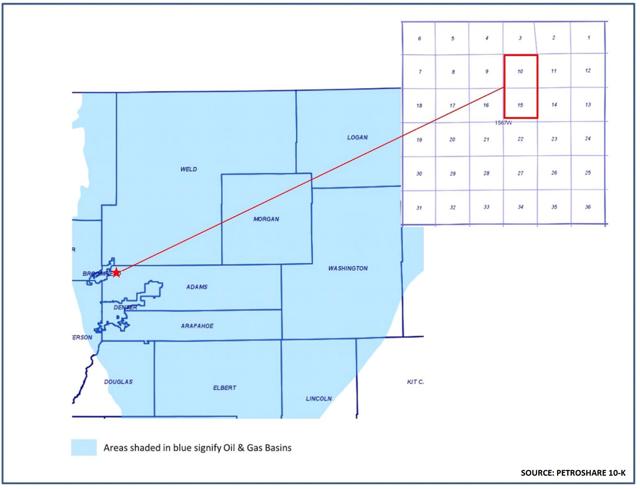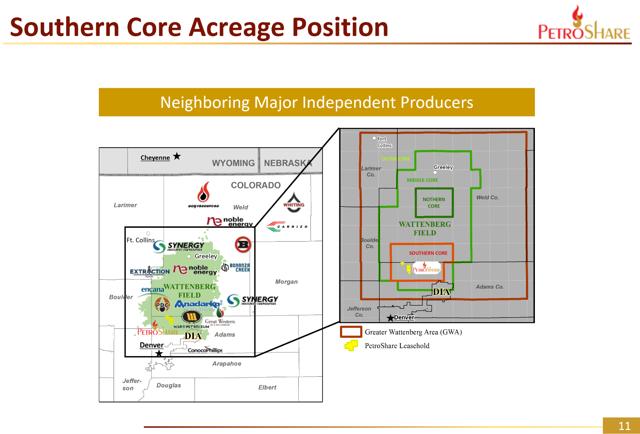 The fact that a ~$28 million market cap E&P just closed an original purchase price acquisition of $6.0 million (the purchase price has since been walked down, but it can be adjusted higher based on several moving pieces, to $4.6 million) is meaningful; and again I think this transaction is a microcosm of what exactly makes the PetroShare story different. At IPO, and this is partially how PetroShare was able to sell a full subscription to its IPO (no doubt), PetroShare had a $5.0 million line of credit with a 2018 maturation date. This is important in that at the time PetroShare had substantially no production, substantially no proved reserves, and substantially no assets. This LOC was quite literally secured on the backs of management and the Board of Directors (there exists some crossover between both). This LOC is also what allowed the acquisition of the above noted production and acreage. As a result of securing this line of credit and as a way for PetroShare to bring on a strategic development partner (which has become an increasingly important "must have" for immature E&P's in the current commodity pricing and financing environment), PetroShare also secured a development relationship with Providence Energy Operators LLC (via PetroShare 10-K filing):
"Also, in May 2015, we entered into a participation agreement with Providence Energy Operators, LLC ("Providence"). The participation agreement assigned Providence the option to acquire a 50% interest in the Kingdom Lease and permits Providence to acquire and participate in any oil and gas development on the Kingdom Lease and other potential leases that may be acquired within an area of mutual interest at its pro rata interest (the "AMI"). The AMI covers an area in Adams County, Colorado containing all of Township 1 South, Range 67 West, consisting of approximately 23,100 gross acres with an additional one mile border around the defined AMI area, plus any other mutually agreeable areas. Upon Providence's election to participate in a lease acquisition, it is obligated to pay its pro rata share of any lease acquisition costs, including those for the Kingdom Lease, and any expenses necessary to maintain the lease, less a one-time credit extended by us in the amount of $105,000. The participation agreement also contemplates that we would enter into a joint operating agreement with Providence and any proposed operator of the acreage to develop the Kingdom Lease and any additional acreage we acquire in the AMI. The participation agreement grants to Providence the option to participate in any well drilled on the Kingdom Lease on a pro rata basis. Providence exercised its option under the participation agreement to acquire a 50% interest in the Kingdom Lease, effective June 1, 2015, which had the effect of reducing our position in the Kingdom Lease to approximately 171 net acres."
Providence elected to participate (via exercising its option under the above noted participation agreement) in the above noted acquisition and now holds a 50% net interest in the assets.
This is where PetroShare becomes interesting and is differentiated. With its development partner having a substantial financing obligation of 50% (if it elects to participate), and if operating under the understanding that PetroShare will only choose to enter into developments that Providence has elected to participate (while speculative, I don't believe my logic is flawed), this substantially lowers the financing risk of PetroShare ownership (in terms of owning the E&P's equity and or follow-on cap structure vehicles). It's my understanding that in the event PetroShare and Providence agree on acquiring a particular property, Providence will entertain creative financing arrangements which would allow PetroShare to enter into an acquisition and development agreement and then secure financing for its share at a later date (via secured debt raise, preferred/convertible raise, equity raise, LOC extension, etc.) ultimately allowing it to acquire up to 50% ownership interest without significant delay, in any jointly acquired development project.
Ultimately what does this mean? Well, it means that PetroShare can be perfectly opportunistic with fund raising - a major advantage over immature peers who are often forced to raise capital at inopportune times or at punitively dilutive rates. In my time covering the energy space, I've only seen one other E&P with an agreement even closely offering this level of financing optionality (this E&P is NASDAQ listed Torchlight Energy). This matters.
Those familiar with my work in the Energy Complex (regarding covering E&P's) know that I take a "capital structure down" view of an E&P at all points of analysis. With PetroShare being essentially a NewCo (from a cap structure standpoint) and having a clean cap structure, outside of execution risk (the risk that PetroShare might not be a competent operator, the risk that it's acreage might not prove-out at all or to have the economics of offsetting plays, etc.), the primary risk associated with investing in it via capital markets is dilution and other forms of priming (I would consider equity value diluted via preferred/convertible share issuance the same as additional equity issuance); otherwise what I would term as "cap structure risk". PetroShare's risk regarding its capital structure is minimal to say the least. Again, this is an argument I've made in outside forums (SEE: Streetwise Energy Report, etc.) for only a handful of other E&P's (Torchlight Energy inclusive). I just think that when you can identify an E&P that's immature and that has a unique way of avoiding financing/cap structure risk points that you have to at least follow the E&P; which I plan to do.
At this point the PetroShare story is a bit young for my investing tastes - especially considering that I already have substantial exposure to another immature E&P name - but it certainly is interesting. The PetroShare story, again at this point, is entirely about execution and acreage prove-out - which is unique in itself given that we're talking about an Energy Complex name (a complex that is riddled with a wide spectrum of problems due to the long-depressed commodity pricing deck). When viewing the surrounding acreage prove-out (see the slide above; PetroShare owns acreage within a block of surrounding acreage having already been proven-out by independent producers PDC Energy, Anadarko, Encana, Synergy, Noble, etc.) I consider the execution risk here to be manageable as well. Still, as alluded to above, I'm going to be in wait and see mode for the time being.
I plan to consult several individuals within my network - geologists, bankers, operators, and others familiar with the general acreage area PetroShare has acquired - to dial-in my due diligence regarding this unique E&P. I'll report back to Seeking Alpha readers any material findings I might come across. For now, stay tuned to the PetroShare story - it could get really interesting, really fast.
Good luck, everybody.
Disclosure: I/we have no positions in any stocks mentioned, and no plans to initiate any positions within the next 72 hours.
I wrote this article myself, and it expresses my own opinions. I am not receiving compensation for it (other than from Seeking Alpha). I have no business relationship with any company whose stock is mentioned in this article.
Editor's Note: This article covers one or more stocks trading at less than $1 per share and/or with less than a $100 million market cap. Please be aware of the risks associated with these stocks.