Systemic European Bank Risks
After five years, the European debt crisis has produced systemic risk among major banks, and markets faced with uncertainty must be prepared to deal with a worst case scenario. As a group, European banks are contending with varying degrees of weakness as share values continue to decline. Investors are in a quandary about how bad the situation is and if managements know how to fix it.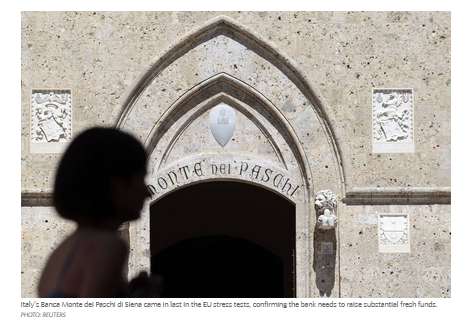 Compliments of the Author
In a recent SA article I focused attention on Italy's banks which are particularly weak as they struggle under unpaid loans. In particular, the Banca Monte Paschi (BMOPI) is the weakest, burdened with the greatest amount of bad loans and has a 67% chance of defaulting.
Most recently, I reported Q2 year to year income losses of an astounding 98% for Deutsche bank (NYSE:DB). Both are examples of weakness among European banks in crisis.
European Banking Authority Stress Tests
The European Banking Authority released results Friday of its latest stress test showing how much capital, or cushion against losses, banks would have left on their balance sheets in an adverse economic scenario.
The tests were authorized subsequent to the 2010 eurozone crisis in an environment where European banks have continued to struggle with diminished profits, bad loans, management problems, turnover, and share value losses.
Stress Test Results
It is no surprise that Banca Monte Paschi was at the bottom of the 51 banks stress tested. Other banks suffering large hits to capital buffers included Deutsche Bank AG, Barclays PLC (NYSE:BCS) and UniCredit (UCG).
It is important to note that on Friday prior to the EBA report, BMOPI announced it had secured the sale of $10.3 billion in bad loans and a 5 billion euros capital increase.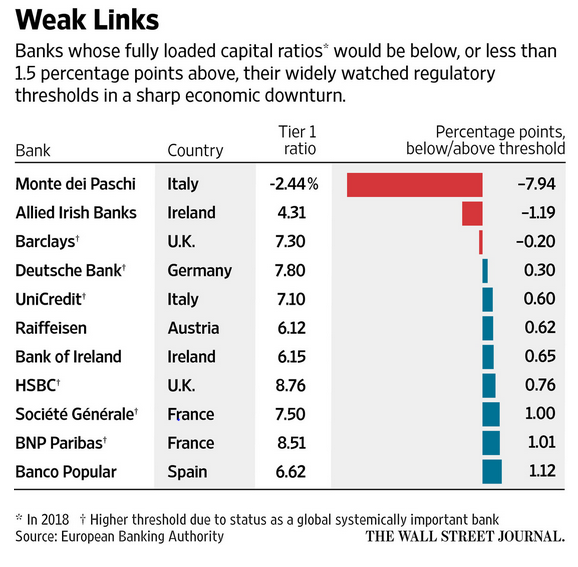 Compliments of the Author
Stress Test Less Rigorous
Looking at the standards banks had to meet, one can not escape the conclusion that the EBA was helping banks succeed as much as possible by using a less rigorous scenario for banks to meet.
Negative interest rates were not factored in
Effects of Brexit were excluded
There was no pass fail result for each bank based on a specific capital amount
Investors must interpret that factor for themselves
Struggling Greek and Portuguese banks were excluded from the data
Overall Results
It is difficult to paint a glossy picture when considering the fact that 25 banks failed the stress test out of the 51 tested. IMO, this does not quell concerns about the European banking systems financial health. A complete list of individual bank results is found in the citation above. Clearly, European banks need capital.

Kicking The Can
The EBA offers no specific assistance to European banks in trouble. Rather, the regulators of individual countries will use the numbers to calculate each bank's capital needs for solvency at some future time. They can offer guidance to hold more capital. If the capital is obtained, problem solved. But no banks will be forced to raise more funds.
Take Away
Some of the big ones are cheap, but they are not on my buy list at this time.
NOTE: Thank you for reading and commenting. You can follow my articles on SA by going to the top of the article page and clicking the circle button directly after my name and preceding the word (follow).
Disclosure: I/we have no positions in any stocks mentioned, and no plans to initiate any positions within the next 72 hours.
I wrote this article myself, and it expresses my own opinions. I am not receiving compensation for it (other than from Seeking Alpha). I have no business relationship with any company whose stock is mentioned in this article.