"Las Vegas is busy every day, so we know that not everyone is rational,"

- Charles Ellis
There has always been a significant difference between investment and speculation. But that difference can be elusive to some. Emotions and the need for yield-at-any-cost is causing irrational thinking in many areas of the current market. We all know the best times to buy - as Warren Buffett stated - is "when others are fearful."
But it can be extraordinarily difficult to pull the trigger and buy when there's "blood on the streets." Imagine buying stocks in late September 2008 when everyone was panicking as Lehman collapsed and the market fell 20%+ in a short period of time. The psychological barriers one would have had to overcome is immense. Greed is a powerful emotional force and one that is hard to conquer.
Sir Isaac Newton, one of the smartest people who have ever lived on this planet, fell for such a force. He fell victim to one of the first stock bubbles, the South Sea Company, a trade company with Spanish colonies. Newton actually was early and bought before much of the run up in the share price. But he also sold very early. He then had to sit idly-by and watch his friends continue to make huge sums of money as the shares skyrocketed. The emotional force of greed led him to re-enter the shares after the shares were up substantially. When the bubble popped, the share price went from L1,000 to about L150 in short order. Newton lost L20K, worth many millions of dollars in today's dollars, effectively bankrupting him. The emotional force of greed can be a powerful one.
Beware of Yields And Herd Mentality
Realty Income (NYSE:O) is the next of our "Beware of Yields" series. It has been a Seeking Alpha bear favorite as of late with several articles over the last week being published. The shares are up an amazing 50% in the last year and 20% alone in the last three months. Some recent top authors have chimed in about REITs in general and their valuation (see Brad Thomas HERE, and Adam Aliosi HERE).
The shares are a dividend-lover's dream. They have raised the dividend consistently and is one of the few stocks that pay monthly instead of quarterly. They call themselves the "Monthly Dividend Company." Given this backdrop, it is not a shock in the current environment that the shares have risen so dramatically. But the current valuation defies logic when you consider the risks and historical valuation comparisons.
Mr. Thomas made some good points showing that the Vanguard REIT index fund ETF has largely tracked the SPY for the last five years - as an argument that REITs generally are not overvalued. But if you include Realty Income into that chart, here's what it would have looked like: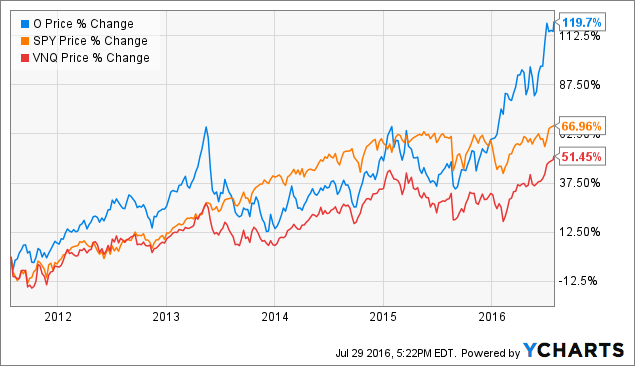 As you can clearly see, since the start of 2016, the lines diverge and Realty Income shares soar. They are now up more than double the Vanguard REIT Index ETF (NYSEARCA:VNQ) and nearly double the SPY since this time in 2011. To me, this particular REIT looks out of whack as the shares have gone parabolic.
We are not arguing that it is a bad company. On the contrary, as the San Diego-based firm has raised its payout for 74 consecutive quarters at a compound annual growth rate of 5%. Investors need to consider the trade-off. Realty Income pays $0.20 per month in dividend distribution. That payout is likely to continue to grow at most at 5% per year, even under the most optimistic scenarios (and could grow much slower).
If you are an income investor and what we call, a "distribution client," which is someone who relies on their portfolio for their spending needs, then you are more concerned about your distribution rather than the absolute value. This is where we find investors seeking stocks as bonds - in a hunt for yield for their portfolio. But that hunt for yield is focusing on yield-only, and not fundamental valuations increasing their risk.
But if you don't own the shares, why would you initiate a new position at these levels? The shares are at a sky-high valuation with P/FFO ttm at 21.3x and price-to-earnings ratios in the low-to-mid 20s. The P/FFO is by far the highest level multiple in the last ten years. The expectations for FFO in 2016 are $2.87 (already above their guide of $2.82-$2.86) and $3.04 for next year. So you have a 5% grower in earnings, and thus also payout, that is up 47% in the last year compared to the S&P 500, which is up 3.5%.
The PEG on the shares are now over 5x on earnings and 4.26x on FFO. How is that rational to an investor who is putting in a buy order (there were 3.9 million shares bought Friday)?
P/FFO per share: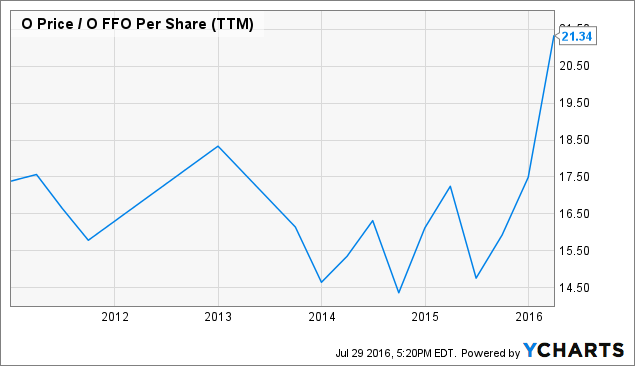 Today, the yield on Realty Income is down to ~3.3%, compared to the yield on the S&P 500 index of 2.1% and the ten-year treasury at 1.45%. Realty Income's yield was almost 6% in early 2014, when the yield on the ten-year was 2.6%, for a spread of ~3.4%. The current ten-year yield is 1.45% while the yield on the REIT is 3.3%, for a spread of 1.85%. The current spread is 46% less than the compensation an investor in the shares received just two years ago.
The chart below shows the spread between yield on Realty Income versus the 10-year treasury rate: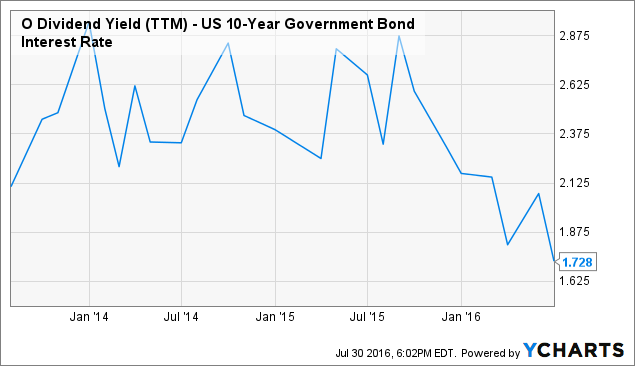 When analyzing the dividend-paying slow-growing companies, we like to use the earnings yield in addition to the spread over current interest rates. The chart above showed the spread falling, indicating the risk compensation that a yield-seeker receives has declined, and by a substantial amount in just the last six months. Below, we show the earnings yield, along with dividend yield and price. With the share price essentially going parabolic, the shares now contain a much lower payout. In fact, the lowest ever.
Earnings yield (E/P) is an interesting concept as it helps identify true yield power of a stock. The chart below shows the dividend yield, price, and earnings yield (red) of the shares. The current 1.51% earnings yield rate is an all-time low and essentially equivalent to the 10-year treasury rate. If an investor went back just four years, the spread on earnings yield and the 10-year was 220 bps.
Of course, the comparison between the 10-year yield and the yield on the shares of a company needs to be taken a step further. A risk assessment needs to made as we are evaluating an investment that carries no credit risk (10-year bond), to one with significant credit risk. Realty Income has virtually no spread (or risk premium), in our assessment, left in its share price. This is a levered real estate play.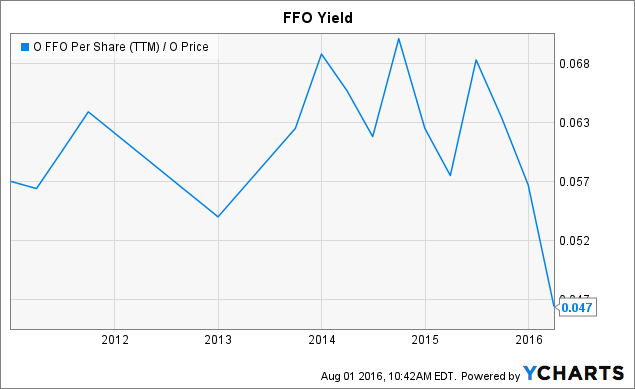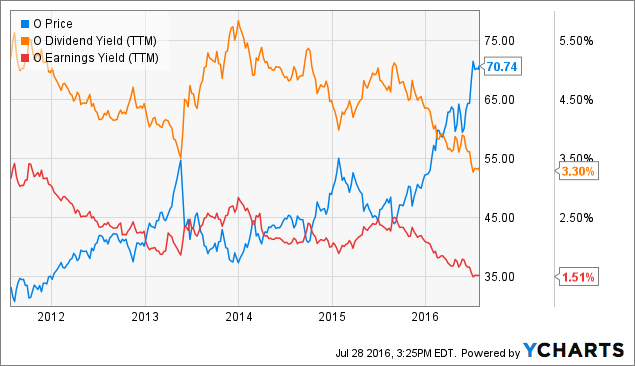 What Did REITs Do Last Time Around?
REITs are some of the most transparent asset classes to value. Real estate pays steady cash flows (Rent) which means the value of the asset is simply the discounted cash flows after expenses. The lower interest rates are, the higher the value of those future cash flows. A risk premium is then applied. The seeking of higher yields has significantly reduced that risk premium, as we noted above.
From the top of the real estate market in 2007, the shares of the Vanguard REIT Index Fund fell over two-thirds (68%) by early 2009. What about the potential total returns from here? They cannot be much above zero, if at all, given the valuations and already microscopic interest rates. Sam Zell noted back in January that for real estate investors, it was the best of times and the worst of times. It was the best of times for owners of real estate who are selling. It was the worst of times if you are a buyer as expected future returns are the worst he has ever seen. He has since sold all his real estate.
We are also bearish on non-residential real estate as it faces some long-term secular headwinds:
The amount of commercial space for shopping centers is likely to contract or slow substantially in the next decade.
Office space is also likely to slow given the work from home and shift to a freelance workforce.
Conclusion
Whether REITs are overvalued or not is not in question. Anything with a yield is being sought after and bid up in value. Investing is about relative trade-offs; a risk-return matrix and building a portfolio that meets your requirements, constraints, etc. With so many baby-boomers at, near, or in retirement, yield has become a primary requirement for investors. When you couple that with the dearth of yield in high-quality bonds of all sorts, the value of a security instrument that yields anything above 2% becomes richer.
But the rush into things that are geared towards yield are ignoring other risks. In terms of Realty Income, the shares are up some 27% in the last six months. Has Realty Income, an office REIT, really created 27% of sustainable and real value in the last six months? Earnings are predicted to grow just 5% for the next five years.
We think investors would be much better off levering by 100% the iShares 20+ Treasury Bond ETF (NYSEARCA:TLT), which essentially gets you close to the same yield as Realty Income shares, with less credit risk. Even levered, the annualized volatility of 2x TLT is 75% of Realty Income shares. When you move to a total return perspective, capital gains on Realty Income look more unfavorable at $70 versus the ten-year. The relative trade-off to us appears obvious and the current valuation and situation is a by-product of simple herd mentality.
"Another sign to watch for: In every bubble, there are always people trying to burst it by declaring that financial assets have become overvalued. At first, Prof. Goetzmann says, such skeptics earn respectful attention. But eventually, investors turn on them with anger and ridicule."
- Jason Zweig
Pitch For Subscribers
For people searching for yield outside of equities, please give some thought about trying our marketplace service, Yield Hunting: Alternative Yield Opportunities. We offer a free trial for investors to test out the newsletter. We attempt to construct a portfolio of discounted yield-generating securities that together would generate payouts of 7% to 10%.
Disclosure: I/we have no positions in any stocks mentioned, and no plans to initiate any positions within the next 72 hours.
I wrote this article myself, and it expresses my own opinions. I am not receiving compensation for it (other than from Seeking Alpha). I have no business relationship with any company whose stock is mentioned in this article.