Introduction, Brief Description and History of AltaGas
AltaGas Ltd. (OTCPK:ATGFF) [TSX:ALA] is one of North America's largest and most diversified energy infrastructure companies. It is engaged in power generation and the natural gas value chain, including extraction, processing, fractionation, transportation, and distribution. AltaGas is focused on building, owning and operating "clean energy" assets throughout North America.
The core investment thesis for AltaGas is attractive because of its solid, long-term visible growth, which is driven by its diversified asset base. Substantially all of AltaGas's assets are low-risk, regulated utilities and long-term contracted energy infrastructure. As a result, AltaGas delivers safe and stable income. The majority of AltaGas's 2016 earnings will come from regulated or long-term contracted operations that are less susceptible to commodity prices, throw off stable cash flows and account for most of the company's growth. Growth initiatives - both organic and through judicious acquisitions - will continue to build the rate base. This, coupled with the company's current attractive valuation, makes the stock a solid defensive investment.
AltaGas was formed 22 years ago, on April 1, 1994, from the remains of Alberta & Southern Gas Co., a company created to expedite Alberta gas exports to California and then deconstructed, following deregulation in U.S. gas markets in the early 1990s.
In the intervening 22 years, AltaGas has grown from nothing to the company it is today, with a total enterprise value of $10 billion. AltaGas's steady growth has come from its judicious selection and prudent execution of both organic growth projects and acquisition opportunities for energy assets. Today, AltaGas's business comprises energy infrastructure assets that span the North American continent.
In 1998, AltaGas bought its first gas utility, Centra Gas Alberta, Inc., for $108 million, picking up 55,200 customers in Alberta. The company entered the renewable power generation business in 2006 with its plan to build the 102-MW Bear Mountain wind power project near Dawson Creek, British Columbia. In 2009, AltaGas completed the $200 million project ahead of schedule and under budget - qualities that have become characteristic of the company's project construction record.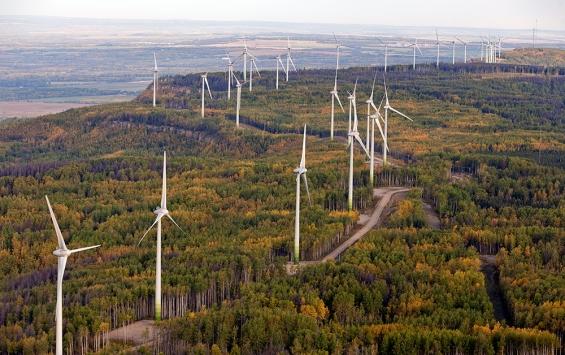 AltaGas Bear Mountain Wind Park
(Source: AltaGas website)
AltaGas first entered the liquefied natural gas (LNG) business in 2011 by acquiring the only natural gas pipeline system serving Kitimat, British Columbia, which is the site of several proposed LNG export terminals. In that same year, it also formed a partnership with Japan's Idemitsu Kosan Co. Ltd. (OTCPK:IDKOY) to export up to 2.3 million tonnes of LNG per year. However, given the current low LNG pricing environment, the two firms announced on May 10 that they would suspend the project "for the foreseeable future."
In 2013, the AltaGas-Idemitsu partnership paid $880 million to acquire two-thirds of Petrogas Energy, a privately-held company with a North American logistics network that generates more than $2.7 billion in annual revenue. The partnership acquired the stake to gain access to Petrogas's oil and gas distribution network to ensure a supply of liquefied petroleum gas (LPG) for the West Coast terminal. The acquisition also increased AltaGas's ability to move natural gas liquids and crude oil to markets in the United States and Eastern Canada.
Diversified Energy Infrastructure Underpinned by Structural Tailwinds
AltaGas is a diversified energy infrastructure business tightly focused on owning and operating assets that provide clean and affordable energy.
I look for thematic investment opportunities and a number of my earlier articles for Seeking Alpha have centered on such opportunities, which seek to capitalize on long-term structural trends. Unlike cyclical trends, they operate independently of markets and are typically disruptive, upsetting the fundamental characteristics of a particular industry. I believe the growing demand for clean energy is one such structural trend, and it underpins AltaGas's strategy. The rise of renewable power results in the increased need for clean-burning, gas-fired power plants to backstop renewable power sources.
(For further examples of thematic investment opportunities, you may be interested in reading my earlier articles on Brookfield Renewable Partners (BEP,) Brookfield Infrastructure Partners (NYSE:BIP), Agrium (NYSE:AGU), Cameco (NYSE:CCJ) and Manulife Financial (NYSE:MFC), all of which highlight growing structural trends).
The abundant supply of natural gas in North America, driven by new technology, has increased interest in natural gas as an economical, clean‑burning fuel. As a result, the use of natural gas for power generation, as well as household and industrial uses, has increased significantly, providing opportunities across the company's three business segments: Gas, Power, and Utilities.
With more than 1,700 employees across North America, AltaGas executes its strategy through three business segments, Gas, Power and Utilities. I have paraphrased the information from the AltaGas website and supplemented it with additional information to describe the company's three business segments, beginning with the Gas segment, which processes and transports more than two billion cubic feet per day (Bcf/d) of natural gas and includes natural gas gathering and processing plants; ethane and natural gas liquids extraction and separation; pipelines, storage and natural gas marketing.
The Power segment is engaged in the generation and sale of electricity across North America. The company's power generation assets have a capacity of more than 1,600 megawatts (MW), produced by hydroelectric, gas-fired, biomass and wind-power generation facilities. The majority of the company's power revenue is under long‑term contracts, except for its Alberta assets and the company's Pomona Energy Facility, which is located east of Los Angeles in the San Joaquin Valley. AltaGas is in the preliminary permitting stages to repower the Pomona facility with more efficient technology, using a single General Electric LMS100 natural gas turbine. The company is awaiting a decision from the California Energy Commission on this project.
The Utilities segment, which is responsible for 40% of earnings, serves almost 600,000 end users, representing a rate base of approximately $1.9 billion, through ownership of natural gas distribution utilities throughout North America - in Alaska, Alberta, British Columbia, Ontario, and Nova Scotia. The utilities are underpinned by regulated returns that provide stable earnings and cash flows.
AltaGas continues to expand its geographic footprint across all three business segments - including further opportunities to expand in California and across the United States - to capitalize on the demand for clean energy sources and continue to grow revenue and cash flow stability.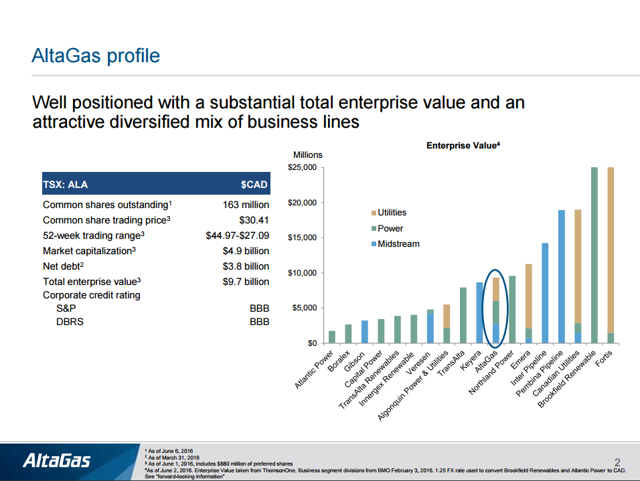 Source: AltaGas website
AltaGas's portfolio of infrastructure assets is evenly split between Canada and the United States in terms of normalized EBITDA. In addition, 42% of the company's normalized EBITDA is generated by contracted power operations, 37% comes from regulated utilities, with the remaining 21% coming from contracted midstream operations. AltaGas currently has established project plans for all of its business segments through 2020 to continue to grow its diversified business base.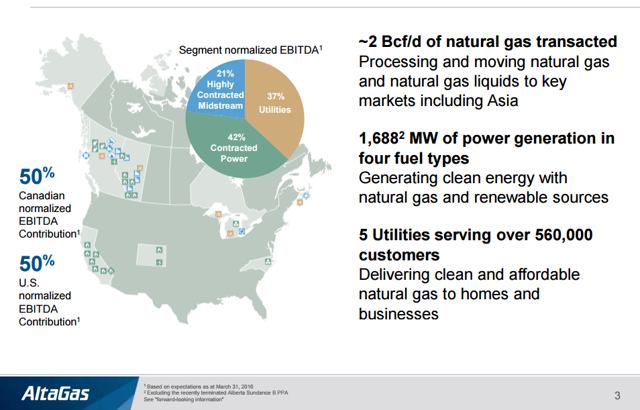 Source: AltaGas website
Sell-Off in Share Price
In May, Merrill Lynch published the results of a detailed study, which found that, over multiple different 10-year periods, share-price valuation was responsible for more than 80% of the variability in equity performance. In other words, the research determined that buying stocks when they are inexpensive has proven to be a consistently successful strategy for outperforming the market over every 10-year period covered in the study, which brings me to AltaGas: the company's shares are inexpensive. The share price has been dragged down some 40% from its high, established back in 2014, when the shares peaked at just under $53. Today, the shares are trading in the low $30s - levels not seen since 2012.
AltaGas remains one of my preferred holdings in the energy infrastructure sector, but its shares have not recovered alongside its peers so far this year. AltaGas was dragged down harder than its peers when oil and gas prices collapsed in mid-2014 despite having over 60% of its revenue coming from contracted power generation and distribution utilities.
The energy sell-off has battered stocks with even tenuous links to the oil and gas sector, but AltaGas's share price has lagged behind its pipeline and utility peers. I believe the company has been unduly punished, partially because of the two strikes against it in its very name - "Alberta" and "Gas."
AltaGas just completed a gas processing plant in B.C. - ahead of schedule and under budget, as usual. On July 21st, it reported better-than-expected second-quarter results and increased its dividend by 6.10%. However, even after a nice bounce on the day of its earnings announcement, the shares still yield 6.3%.
I believe S&P's "negative outlook" with respect to its BBB rating on AltaGas is another overhang on the stock price until there is greater clarity on what steps the company will take to ameliorate the negative outlook. I know from listening consistently to AltaGas's quarterly results conference call that S&P's "negative outlook" is an ongoing concern to RBC analyst Robert Kwan, who appears to be the Street's "axe" on the stock.
Finally, it appears that investor caution over uncertainty surrounding the post-contractual revenue stream and cash flow of the company's California power plants is also an overhang the share price.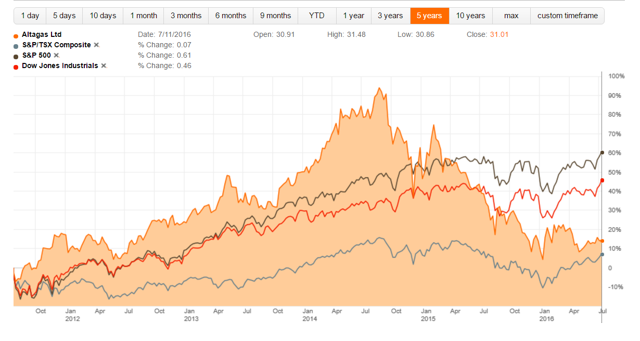 Even after the improvement in the price of crude oil this year, which lifted most other stocks with exposure to the province of Alberta, AltaGas has been a notable exception, which presents an opportunity for investors today. Because AltaGas is primarily focused on natural gas distribution and power generation, the sell-off and continued pressure appear to be overdone, from my perspective.
Solid Growth Performance
The company's guidance is for 20% growth in normalized EBITDA and up to 15% growth in normalized FFO for 2016, driven by the full-year contribution from its three new run-of-river hydroelectric projects in British Columbia and brand-new income in the second-half of this year from its new Townsend gas processing plant.
AltaGas has a multi-pronged growth strategy, including a leading LPG export strategy. AltaGas recently entered into a memorandum of understanding (MoU) with Astomos, covering at least 50% of the 40,000 barrel-per-day LPG production from AltaGas's Ridley Island Propane Export Terminal. Astomos is a Japanese importer and trader of LPG, which was formed by the merger of LPG divisions of Idemitsu Kosan and Mitsubishi Corp. (OTCPK:MSBHY) in 2006. Management noted on the recent Q2 FY 16 conference call that the capacity called for in the MoU with Astomos is sufficient to advance the project.
The Ridley Island Terminal is designed to ship 1.2 million tonnes of propane per year from British Columbia and Alberta producers, which will be transported to the facility using the existing Canadian National Railway (NYSE:CNI) rail network (you can read my article on CNI here).
The facility will offload 50 to 60 rail cars per day and deliver up to 30 shiploads of propane per year to premium global markets. AltaGas is working towards a final investment decision on Ridley Island this year and is targeting commercial operations to begin in 2018.
In addition, AltaGas is focusing on a growing number of new power opportunities in the Southwestern United States. The strong growth of renewable power is resulting in a growing need for clean-burning, gas-fired power plants to backstop various renewable power sources and AltaGas is preparing to respond to this growing demand by participating in a number of tender processes.
AltaGas reported record second-quarter 2016 results on July 21 and increased its dividend 6.1% to $2.10 annually. The dividend increase will take effect with the September 15 monthly dividend payment. Both the timing and the magnitude of the increase were in line with my expectations for the dividend. AltaGas has established itself as a steady dividend grower. The stock closed up 6.17% at $33.20 on the TSX on July 21, the day of the Q2 FY2016 results announcement, reflecting the solid financial and operational results and healthy dividend increase.
Record Second-Quarter Results
The company reported record second-quarter normalized EBITDA of $153 million, which was a 43% increase over the second quarter of 2015 and ahead of analysts' expectations of $150 million. Normalized EBITDA from the Power business segment was up 120% compared to last year and represented 47% of total normalized EBITDA in the quarter.
The strong normalized EBITDA performance in the Power segment resulted primarily from the addition of the three natural-gas fired electric generation facilities in San Joaquin Valley in northern California, totaling 523 MW, which AltaGas acquired at the end of November 2015, and to the 66 MW McLymont Creek hydroelectric facility, which was brought online in October 2015. McLymont Creek is the final facility of AltaGas's Northwest British Columbia hydroelectric operations to come on stream. Together, San Joaquin and McLymont Creek contributed over $30 million in EBITDA to second-quarter results.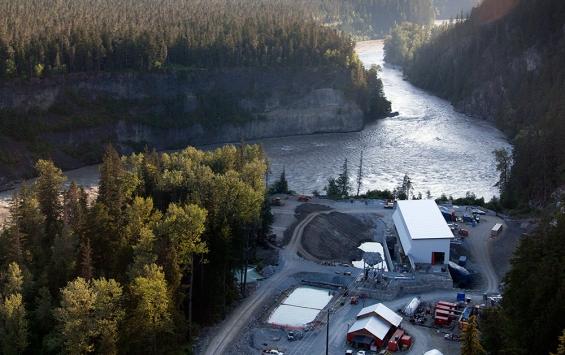 AltaGas McLymont Creek Hydroelectric Facility
(Source: AltaGas website)
Normalized funds from operations increased to $114 million or $0.75 per share for the second quarter compared to $68 million or $0.50 per share in the same period of 2015. This represents a 68% increase in normalized FFO and a 50% increase on a per share basis. Normalized net income was $29 million or $0.19 per share for the second quarter of 2016 compared to $9 million or $0.07 per share a year ago.
Adjusted per-share cash flow from operations (ACFFO/share) of $0.62 was ahead of analysts' consensus expectations of $0.57. The upside was due largely to quarterly timing on maintenance capex, which was lower than expected in Q2. Management reiterated its guidance for full-year 2016 maintenance capex. AltaGas also included a $7 million restructuring charge as a normalizing item to ACFFO. The charge relates to severance costs incurred to reduce the non-utilities headcount by 10%, which management indicated will lead to $7 million in annualized cost savings.
Normalized results (in $MM except per share figures)
| | | |
| --- | --- | --- |
| | Q2 2016 | Q2 2015 |
| Gas | $37 | $38 |
| Utilities | $46 | $41 |
| Power | $75 | $34 |
| Corporate | ($5) | ($6) |
| EBITDA | $153 | $107 |
| Depreciation & Amortization | ($69) | ($53) |
| Interest Expense | ($36) | ($30) |
| Current Income Tax | ($10) | ($3) |
| Future Income Tax | $6 | $2 |
| Non-Controlling Interests | ($2) | ($2) |
| Preferred Share Distributions | ($12) | ($10) |
| Other | 0 | ($1) |
| Normalized Earnings | $29 | $9 |
| Earnings per Share (EPS) | $0.19 | $0.07 |
| Adj. Cash Flow From Ops (ACFFO): | | |
| Reported Earnings (Net of Prefs) | $16 | ($22) |
| Depreciation & Amortization | $69 | $53 |
| Future Income Tax | ($6) | $7 |
| Other | $20 | $19 |
| Cash Flow From Operations | $100 | $56 |
| Maintenance Capex | ($5) | ($12) |
| ACFFO | $95 | $44 |
| Diluted Shares Outstanding (MM) | 152 | 136 |
| ACFFO/share | $0.62 | $0.32 |
In addition to the 120% increase in normalized EBITDA from AltaGas's Power segment, to $75 million, the Utilities segment increased 12% to $46 million. And, despite lower hedge gains, the company's Gas segment was even with Q2 2015 at $37 million. Approximately three-quarters of AltaGas's utility customers are in the U.S. and its U.S.-based utilities results continue to benefit from U.S.-Canadian dollar exchange-rate tailwinds.
AltaGas's balance sheet is in good shape and fully funded for 2016, with debt to total capital of 45% at the end of Q2 - down from 48% at the end of Q1 - and remains well below the company's bank and term-note covenant levels of 65% to 70%. In addition, the company has $1.4 billion available on its credit facilities. AltaGas continues to have ample liquidity via its bank lines and capital markets access to provide funding for its growth capital program, plus any potential acquisitions.
During the quarter, AltaGas completed a successful 10-year $350 million medium-term note (MTN) offering at an attractive coupon of 4.12%. Also, during the quarter, the company completed a successful public offering of 14.7 million common shares on a bought-deal basis, at an issue price of $30.00 per share, for total gross proceeds of $440 million. These financings are forward-looking, reflecting the company's view of the strong momentum it is seeing in its growth-project development program.
The strength and stability of AltaGas's funds from operations drive its business investments and the security of its dividend. AltaGas gas has one of the lowest cash-flow dividend-payout ratios among its peers. Moreover, the cash flow from its regulated utilities and its Northwest B.C. Hydro project alone more than covers the dividend, when including the dividend reinvestment plan (DRIP). This means that cash flow from all the remaining AltaGas assets can be directed to growth opportunities.
Management's outlook for full-year 2016 remains consistent. The company continues to guide for normalized EBITDA growth of 20% and normalized FFO growth of up to approximately 15% compared to 2015, which is unchanged from the outlook provided at the time of the first-quarter 2016 results announcement.
For 2016 growth capex, management has tightened the expected range to $600 million to $650 million (from $550 million to $650 million). Management also noted on the earnings conference call that the remainder of the capital for 2016 is largely discretionary, which gives it an additional degree of flexibility. In total, the company plans to spend between $2.5 billion and $3 billion between now and 2020, building additional natural gas shipping infrastructure, new power plants, and upgrading its pipelines. These projects should add between $200 million and $300 million to the company's EBITDA annually when completed.
In summary, AltaGas just completed a record second quarter and it remains on track for record-level performance through the remainder of the year. These results keep AltaGas on track to deliver on its EBITDA and FFO guidance for 2016. I see the stock as a good choice for investors looking for a well-covered dividend that I believe will continue to grow on an annual basis.
All three business segments have solid long-term growth potential with the company's current slate of capital projects. Moreover the company's mix of two-thirds utilities and highly contracted power generation provides downside protection in any prolonged softness in the oil, gas and power price environment.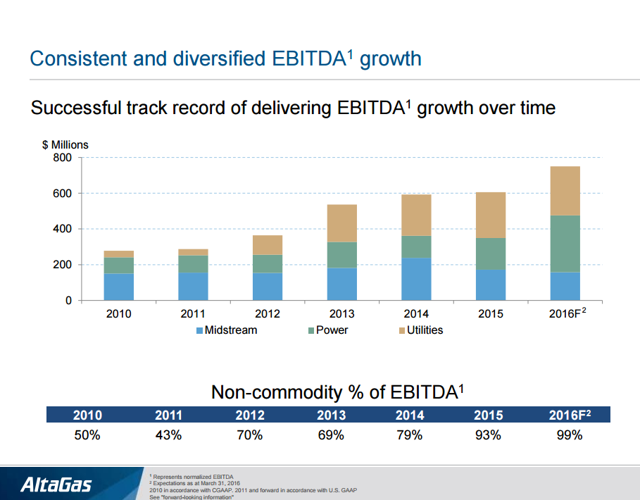 Source: AltaGas website
Visible New Growth Opportunities
AltaGas has a strong track record of integrating new acquisitions and driving growth through organic development. For example, its Townsend gas processing facility in Northeastern British Columbia was recently completed. Once again, AltaGas brought the facility and associated gas gathering system and the Townsend Truck Terminal online ahead of schedule and under budget, highlighting the company's construction expertise and its ability to capitalize on its in-house construction workforce. Townsend was commissioned more than a month early, entering commercial operations on July 10, and $40 million below budget. The facility has the ability to process about 200 million cubic feet of gas per day.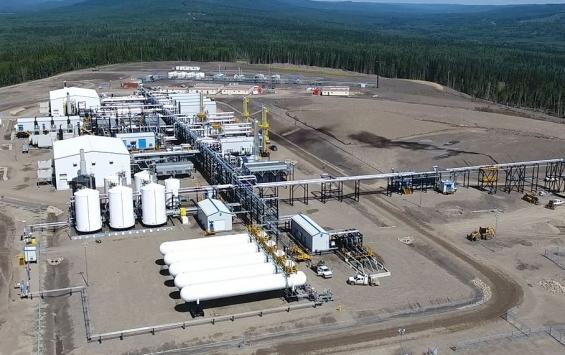 AltaGas Townsend Processing Facility
(Source: AltaGas website)
In 2014, AltaGas and Painted Pony Petroleum Ltd. (OTCPK:PDPYF) entered into a 15-year strategic alliance for the development of processing infrastructure and marketing services for natural gas in British Columbia. Painted Pony has reserved all firm capacity from the Townsend facility under a 20-year take-or-pay agreement with AltaGas. The project is expected to generate $20 million in EBITDA for AltaGas in 2016, doubling to $40 million in 2017.
Townsend is AltaGas's first major step in its Northeast British Columbia strategy and it sees significant potential to leverage its footprint in this area. It has already had discussions with various producers to build a deep cut facility and it sees the potential to double the Townsend facility before the end of the decade, eventually achieving one-billion cubic feet of processing capacity in the region.
AltaGas continues to progress on other new growth initiatives as well, including its North Pine liquids separation and handling facility near Fort St. John, British Columbia, and a new liquids separation project in Alberta's Deep Basin. The North Pine project will be connected to AltaGas's existing infrastructure in the region, including its Ridley Island Terminal, serving producers in the Montney region. AltaGas expects to reach a final investment decision this year for the North Pine project.
Other major projects under development include its Alton Natural Gas Storage Facility and Sonoran Energy, Inc. project. Alton is an underground natural gas storage facility and associated pipelines in the Stewiacke Salt Formation near Alton, Nova Scotia, approximately 70 kilometers from Halifax. Salt caverns for gas storage have been used for decades in North America and are a proven system for storing natural gas. The new gas storage facility will help stabilize Nova Scotia's natural gas costs by storing natural gas in the summer months, when the demand is low and withdrawing the gas in the colder winter months, when the demand is high.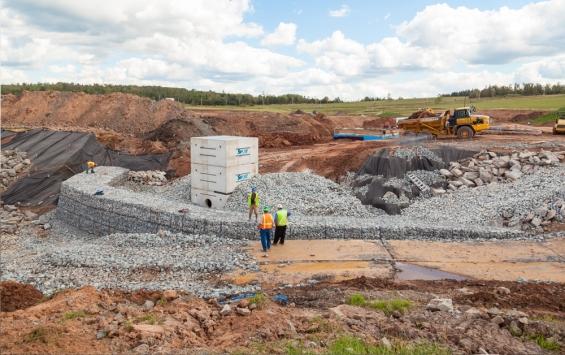 Construction of AltaGas Alton natural gas storage facility
(Source: AltaGas website)
On the power front, AltaGas is working on the Sonoran or Blythe II energy project, a 535 MW capacity natural-gas fired power plant next to the company's existing facility in Blythe, California, near the Arizona border. The Sonoran facility will be able to adjust its output at a rate of up to 50 MW per minute in order to meet the grid's varying load levels. Rapid-response, high-efficiency plants such as Sonoran are required to supplement renewable energy and will expand AltaGas's clean energy footprint in California.
The company acquired the initial Blythe Energy facility, a 507 MW natural gas-fired power plant, in 2014. AltaGas's current Blythe power plant can serve the western states of California, Arizona, Nevada, and New Mexico. The facility is underpinned by a seven-year power purchase agreement (PPA) with Southern California Edison. Blythe was the first major expansion of AltaGas's Power business unit into the United States and it provides a strong foothold for future growth opportunities in the region, including Blythe II.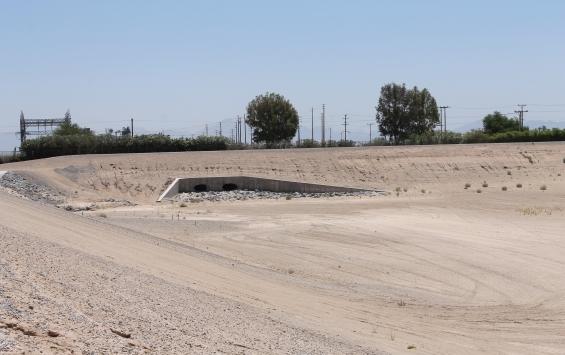 AltaGas Sonoran Project
(Source: AltaGas website)
Wrapping It Up - Investment Thesis
With AltaGas's breadth of business along the energy value chain, an experienced and cohesive management team which operates a conservative business model, efficient, reliable and profitable assets, market knowledge and financial discipline, the company has provided solid, predictable returns to investors over the long term. And AltaGas is well positioned for sustainable future growth. Viewed with a long investment horizon, AltaGas's shares represent good value at the current level. It is low-risk and diverse, with operations across North America.
During my professional career spanning 43 years, I had the opportunity to work directly with nine different CEOs in six different companies across a broad range of industries. Most were very good; two were ineffectual and triggered the ultimate destruction of a once great company, ending in bankruptcy. For me as an investor, the single most critical factor in making my investment decision is the quality of the management team, beginning with the CEO.
A great business in a great sector can be destroyed by poor leadership. If you doubt this, think back to the disasters of Jonathan Schwartz at Sun Microsystems, Chuck Conway at Kmart, Eckhard Pfeiffer at Compaq, or John Sculley at Apple (NASDAQ:AAPL), who made numerous mistakes - the most egregious of which was to fire Steve Jobs. This list is far from exhaustive; it is simply for the purpose of illustration.
Strong CEOs attract and retain strong talent. My first step in making an investment decision is to examine carefully the executive team to satisfy myself that it is composed of exceptional leaders with years of relevant industry experience and a demonstrated record of achievement.
AltaGas has solid, experienced C-level bench strength. Under the prudent leadership of David Cornhill, who was a founding member of AltaGas and served as the company's chairman and chief executive officer from its inception in 1994 until he retired as CEO last year, the management team has been successful in pursuing a diversified growth strategy, resulting in today's stable of energy assets with steep barriers to entry.
The company owns a growing footprint of power plants in California, Colorado, North Carolina, Ontario, and British Columbia. The company's power assets are 100% "clean energy," or clean-energy back-stop, including natural gas, hydro, wind, and biomass fuel sources. The need to backstop solar power generation is growing greater. As more solar energy comes online, flexible, clean-burning gas plants will become all the more important. In California alone, solar production recently reached a new record of over 8,000 MW. This dramatic increase of solar production underscores the need for flexible gas generation to quickly handle power needs in concert with the setting sun.
For example, the 2,200 MW Diablo Canyon nuclear facility in California will be retired by 2025 and replaced largely by renewable energy. This increases the total expected retirement of nuclear and thermal generation facilities to approximately 15,000 MW over the next decade. The vast majority of this power will be replaced with renewable energy, further increasing the value of flexible, fast-ramping, gas-fired facilities to backstop renewables.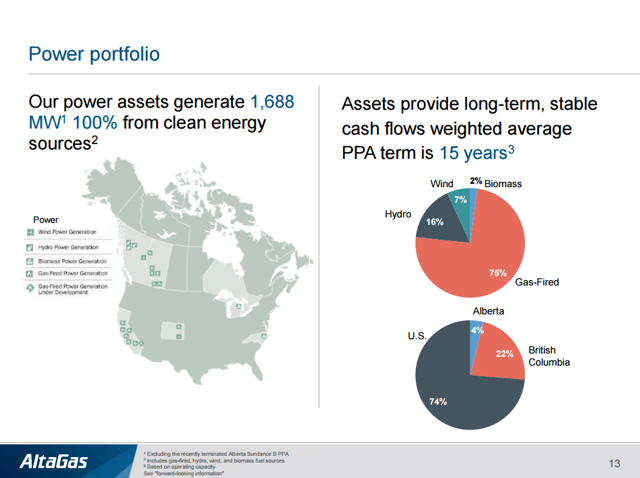 Source: AltaGas website
The Forrest Kerr, McLymont, and Volcano Creek run-of-river hydro power projects in northwest British Columbia are top-drawer assets, with the most attractive power contracts I have ever witnessed - a 60-year contract with B.C. Hydro at a fixed price with full consumer price index-linked escalation. These hydro projects have significant value and will drive solid cash flow growth that I expect will contribute to continued dividend growth as well.
AltaGas continues to maintain an excellent track record on execution. The company's in-house construction capabilities are top tier and it has demonstrated consistently its ability to deliver projects ahead of schedule and under budget. AltaGas continues to develop its full Northeast British Columbia and Canadian LPG export strategy, which will provide producers with an end-to-end energy value chain, including access to premium global markets.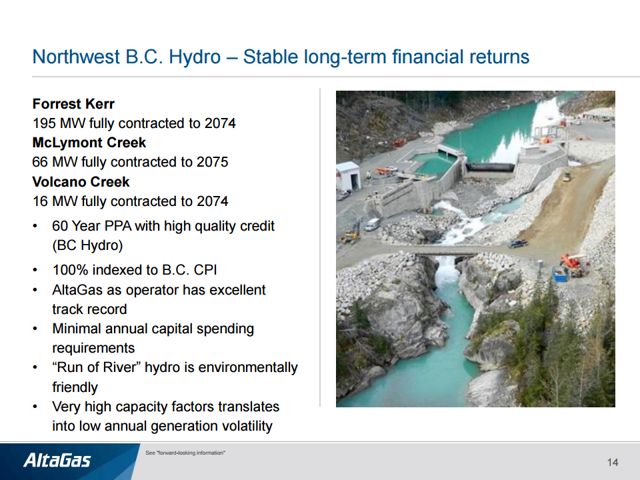 Source: AltaGas website
AltaGas's cash-flow generation power remains strong. For the full-year 2015, the company achieved normalized FFO of $470 million, or $3.41 per share. Its current price-to-cash flow (P/CF) ratio is 10.1, which is among the lowest in the Canadian energy sector and very attractive for a company of the quality of AltaGas. P/CF is an important valuation metric for the energy infrastructure sector versus earnings-based ratios because of the high level of costs associated with non-cash items, such as depreciation and amortization, for companies within the sector.
EV/EBITDA - also known as the "takeover multiple" - is the company's enterprise value divided by earnings before interest, taxes, depreciation and amortization. Again, a lower number reflects value and, at 18.63, this is also attractive for a quality company like AltaGas. AltaGas's debt-to-equity ratio is conservative at 0.93. I look for companies with a debt-to-equity ratio below 100, as it generally indicates the company has sufficient equity to meet its debt obligations.
High-yielding stocks are appealing in this era of low interest rates, but it is the dividend growth stocks that reward investors with safety and growing income over the long term. Dividend growers offer income today and the opportunity to earn more from rising payouts. To long-term investors like myself, dividends from high-quality companies like AltaGas are gifts that keep on giving. And it has been my pleasant experience that the steady dividend-growth stocks typically generate steady capital gains along the way as well.
AltaGas's investors are getting paid quite well to wait for the company's valuation to return to normal levels. The company pays a great dividend and it has been a solid dividend grower. On July 21, AltaGas increased its dividend by $0.01 per share per month, beginning with the September monthly payment. This represents a 6.1% increase in the dividend. With the July 21st announced dividend hike, AltaGas has now increased its dividend for six consecutive years, including two increases in 2015 - an 8.5% hike in May and an additional 3.1% hike in October.
To offer further perspective, in 2011, the company paid $1.33 per share in annual dividends. With the most recently announced increase, AltaGas will be paying a monthly dividend of $0.175 per share, or $2.10 per share annually, for a five-year average annual dividend growth of 8.5% and a current yield of 6.3%. It is not very often investors get this kind of dividend growth from a company paying more than a 6% yield. And the fact that AltaGas pays a monthly dividend makes it a good investment for retirees and others seeking a safe and growing income that is paid out monthly.
And investors don't have to worry about a dividend cut. The dividend payout was just 55% of funds from operations in 2015, and management is projecting that number to stay about the same for 2016. AltaGas has a target dividend payout range of 45% to 55% of normalized funds from operations and it expects its NFFO to grow by approximately 15% in 2016.
For eligible shareholders, investing in Canadian dividend-payers will save you a bundle, as the dividend income receives preferential tax treatment under the Federal Dividend Tax Credit. Just how sweet the deal is depends on your income. As with many features of the tax system, the benefits are greatest at moderate income levels, and not as attractive as your income rises. I focus on net returns - the money we get to keep in our pocket after fees (which I avoid), trading costs (which I minimize) and taxes (which I begrudge). Paying less tax means more money is left in your non-registered brokerage account. Most importantly, paying less money to the taxman allows the power of compounding - the eighth wonder of the world - to be that much greater.
Furthermore, AltaGas's DRIP provides eligible shareholders with the opportunity to reinvest their common share dividends in additional common shares of the company at a discount of between zero and 5% of the market price. According to the company's website, the board has set the current discount rate at 3%, which is another attractive aspect of an investment in AltaGas.
AltaGas's disciplined and proven strategy has created long-term value for shareholders. The company has a strong record since its inception of delivering growth and security in its dividend. Management is clearly committed to balancing yield and growth, maintaining financial strength, and remaining disciplined, as it always has been, in allocating capital to provide future value for shareholders.
AltaGas has a strong, diversified business and asset base, coupled with a healthy balance sheet. In addition, the company has many solid growth opportunities in front of it, which I expect it will be disciplined in pursuing, as it always has been.
The stock is being punished for AltaGas's exposure to Alberta and natural gas. The shares are discounted by 20% to 25% compared with its normal multiples, which implies a fair value in the range of C$40 to C$42. As the recovery continues in the energy sector and the current temporary overhangs on the stock are put behind it, AltaGas's shares should start to attract more attention. At the present time, investors can pick them up at a reasonable price, with an attractive, safe and growing dividend.
In my view, AltaGas's shares are a compelling combination of growth, safety, and income. Investors with a long-term perspective, who get in now, will benefit from the company's growth plan and they get paid an attractive, safe and growing dividend to wait.
While it's anyone's guess what the stock might do in the short term, I am confident that, over the long run, investors will be rewarded with share price gains and a dividend that continues to grow. The core engine for growth remains the company's diversified and growing portfolio of assets, with accretive acquisitions and continued capital expenditures continuing to drive rate-base growth.
Additional potential catalysts include continued further successes with new contracted infrastructure projects, future dividend increases and higher-than-expected frac spreads.
While there is no such thing as a risk-free investment, AltaGas's management is continuing to build a business that is relatively low risk, with high barriers to entry; however, risks include continued historically low energy prices, frac spreads or gas volumes that meaningfully differ from the company's forecasts, projects or acquisitions that underperform and/or fail to gain the confidence of investors, and specifically, tepid natural gas prices and drilling trends in Western Canada.
The focus of my articles for Seeking Alpha is on attractively valued, large-cap dividend growth stocks with sound business models, strong management teams, and wide economic moats - "Forever Stocks." I strive to provide an in-depth analysis of the companies I research. I wrote this article from the perspective of a long-term investor who follows a straightforward, four-part strategy:
Identify a company with strong competitive advantages.
Satisfy myself its competitive advantages are enduring.
Invest in this company when it is trading at a fair price.
Hold the stock forever, unless there is a significant change to the fundamentals associated with the company.
AltaGas fits this mold, and I will continue to hold my full position in the company, ideally forever.
If you found this article helpful, please "Follow" me on Seeking Alpha to receive notification whenever I publish a new article.
You may also be interested in recent articles I have written for Seeking Alpha that focus on stocks aligned with the investment approach I summarized above.
Disclosure: I am/we are long ATGFF.
I wrote this article myself, and it expresses my own opinions. I am not receiving compensation for it (other than from Seeking Alpha). I have no business relationship with any company whose stock is mentioned in this article.
Editor's Note: This article discusses one or more securities that do not trade on a major U.S. exchange. Please be aware of the risks associated with these stocks.