Shares of Amazon (NASDAQ:AMZN) have traded slightly higher following a strong Q2 ER which surprised on both the top and bottom line. The recent rally has brought shares up almost 60% since their low in early February. Around that time, we recommended investors buy into the high-growth name. While we do not fault investors who would like to profit-take here, we think the quarter affirmed that the company is just beginning to grow into its valuation. We think upside remains in a long-term window.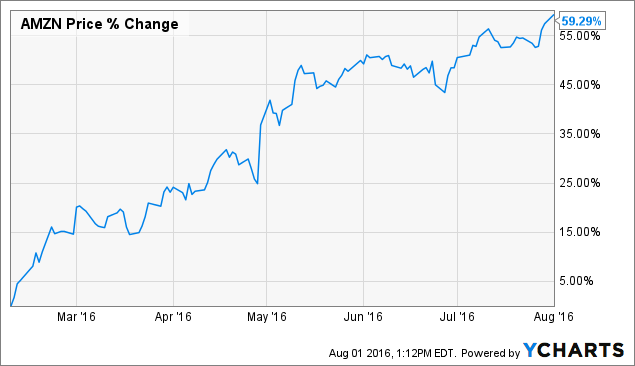 AMZN data by YCharts
The topline story is actually getting more impressive. AMZN saw sales grow 31% in the quarter. We haven't seen that sort of topline growth out of AMZN since Q1 of 2012 when sales jumped 34% YoY. In that quarter, North America retail sales grew 36% and International retail was up 31%. It is quite amazing that more than 4 years later, North America is still growing at a 28% clip (only 8% slower) while International has barley lost any steam at a 30% YoY growth rate. By putting value and convenience first, AMZN continues to takeover retail market share.
Consider this example. AMZN's YTD North American retail sales stand at just under $35 billion. By comparison, JC Penny (NYSE:JCP) and Macy's (NYSE:M) combined revenues through all of last year were $40 billion. In half of a year, AMZN is selling almost as much stuff in North America as M and JCP are selling through a whole year.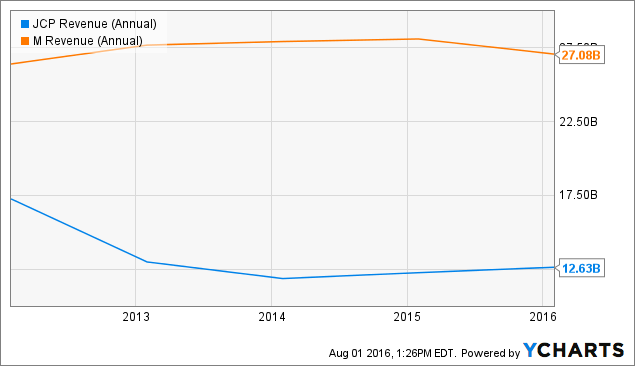 JCP Revenue (Annual) data by YCharts
The most exciting thing about this company, though, is that this topline growth is starting to flow through to bottom-line growth. Earnings grew 9.4x in the quarter to $1.78 per share. Through the first six months of 2016, earnings are up 41x to $2.84.
This earnings growth is driven by a convergence of several margin expansion tailwinds. The most obvious catalyst is that the high-margin AWS business continues to comprise a larger mix of sales. At 25% operating margins, the AWS business is far more profitable than the North America retail (4% operating margins) and International retail (negative operating margins) businesses. Strong AWS growth implies higher profitability. Moreover, North America retail margins are expanding with scale and International losses are getting smaller.
All of this is happening concurrent to 30%+ sales growth, and the result is that this high-P/E stock is actually now trading at a discount to trailing and forward growth. The 190x trailing P/E multiple is a discount to earnings growth which was more than 830% last quarter. The 75x forward multiple is a discount to the projected forward earnings growth of 81%.
Forever, bulls have argued to ignore the P/E multiple and instead look at cash flow multiples. They no longer have to rely on that argument as the stock is actually reasonably valued from an earnings standpoint. Due to significant earnings ramp this year, the P/E multiple has compressed from 900x to 190x in just 9 months. With each quarter, the P/E multiple takes a dramatic step-down.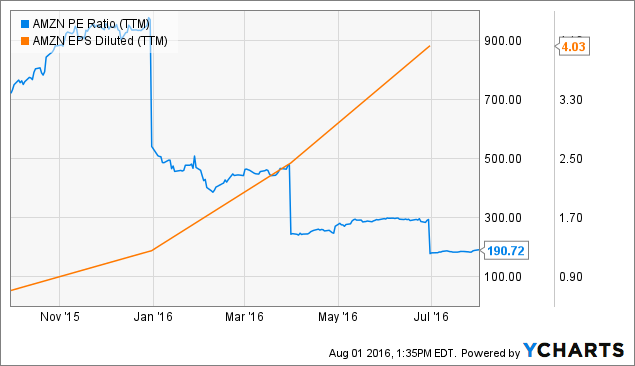 AMZN PE Ratio (TTM) data by YCharts
In our minds, the stock is finally growing into its valuation from an earnings standpoint. This earnings ramp and P/E multiple compression should attract more buyers to the stock, and we expect this trend to only continue. The P/E step-ladder in the chart above will continue to take steps down, and in perhaps just a few quarters, the stock will trade at a double-digit P/E. We remain long AMZN and think it is an attractive long-term investment.
Disclosure: I am/we are long AMZN.
I wrote this article myself, and it expresses my own opinions. I am not receiving compensation for it (other than from Seeking Alpha). I have no business relationship with any company whose stock is mentioned in this article.