By this point, we've all heard of Zillow (NASDAQ:Z), (NASDAQ:ZG). The online real estate search engine has become synonymous with searching for houses (We've all "Zillow'd" a house at one point). While I truly enjoy the website, I decided to research the stock to understand if there is a reason to invest in it.
Business Overview:

Zillow Group Inc. owns and operates a portfolio of real estate focused subsidiaries including Zillow, Trulia, DotLoop, StreetEasy, HotPads, Diverse Solutions, Naked Apartments, Mortech, and Retsly. This portfolio includes a broad range of services: real estate marketplace Zillow where it sells advertisements and real estate agent services, Mortech where it is a licensed mortgage broker, and DotLoop where it sells services to facilitate real estate sales digitally are only a few. Much of this was acquired when they purchased Trulia in 2015 and Zillow Group has documented their intent to continue to acquire others where it makes sense to add to their portfolio.
There are several primary revenue drivers for Zillow Group:
Real estate marketplace: There are a broad range of revenue drivers including real estate agent fees for being a primary broker for an area or listing and additional real estate agent fees for consumer relationship management, marketing, and business technology. The same fees can be applied to rental locations and their property managers. Based on faster growth than other revenue areas, this has grown from 70% of the total in Q1 2014 to 81% of revenue at the end of 2015.
Mortgage brokerage fees: These fees are generated by their actions as the link between consumer and mortgage servicing companies via anonymous quote generation and mortgage generation. This accounts for a steady 7-8% of revenue across the last 2 years.
Display ad revenue: This revenue is based on advertisements sold on their web and mobile pages. Based on lower growth than marketplace services, this has decreased from 19% in 2014 to 12% at the end of 2015. This is called out as a positive as it decreases seasonality of earnings.

Below are the 2015 primary cost drivers for Zillow:
Sales and Marketing: As a new and growing company, there is obviously a strong effort to build brand awareness and drive sales. This accounted for 39% of Zillow's operating costs.
Technology and Development: As a tech company, Zillow Group is spending large amounts to build out their platform and ensure that they are best in class. This accounted for 25% of their costs.
General and Administrative: General management, corporate functions, and legal expenses. Legal expenses are growing based on a number of open lawsuits. This accounted for 21% of expenses.
Cost of Revenue: General web and mobile platform upkeep and operations. This accounts for 8% of revenue.
Acquisition and Divestiture: Self-explanatory. 7% of expenses.
Financial Overview:
Zillow Group, as is the case with many tech companies under five years old, is not profitable. They operate at a loss based on the large expenditures in technology and sales/marketing. This is countered by rapid growth that feeds the next year's loss. For perspective, sales/marketing was equivalent to 48% of revenue and tech costs were 31% in 2015. Unfortunately, the rate of loss has actually been accelerating from 6% in 2013 to 13% in 2014 to 23% in 2015. If you exclude acquisitions, this is 6%-6%-13%, which is a little better though. The increase in 2015 ex-acquisitions was in tech costs, a function of building out their real estate agent platforms.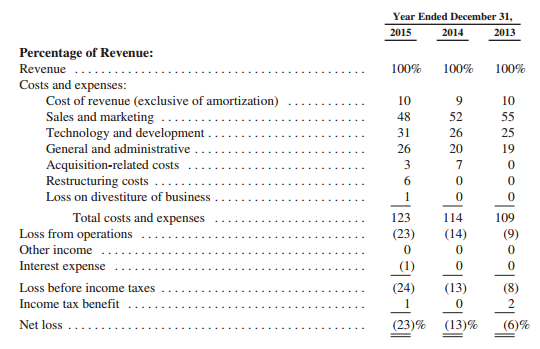 Corresponding to this loss has been rapid revenue growth. 2013-2014 growth was 65% and 2014-2015 growth was a blistering 98% with the Trulia acquisition. Broken out by quarters, Zillow has grown every quarter except Q4 2015 due to divestitures.
Zillow provides a couple of key growth metrics. Average monthly revenue per advertiser has grown steadily from $286 in March 2014 to $438 in December 2015. Monthly unique users grew from 70.6k to 123.7k in the same period. Agent advertisers grew from 53k to 92.3k as well. This matches fairly closely with the revenue growth rates across the 3 metrics.
Business Outlook:
Zillow has several well-known competitors including RealEstate.com and Apartments.com for online marketplaces. They also compete against all of the legacy forms of media for real estate advertising dollars (e.g. newspapers, magazines, etc). This will dictate a strong sales and tech spend to continue to maintain their lead and continue to drive movement from older media to online.
Real estate is a complex and localized market with most agents being independent proprietors and individual markets being small and complex. This will require Zillow to continue to invest in its statistical and economic engines that help it to understand the marketplace and spend on outreach to local groups.
In addition, Zillow's revenue will be tied to the total domestic real estate market. While diversifying into rental property will help, a downturn would drive reduced revenue from mortgage broker services, ad revenue, and pressure margins from real estate agent services from declining buyers and sellers.
Using all midpoints, Zillow is forecasting 2016 to include revenue of $810M, a 26% YoY growth excluding divestitures, and EBITDA of $120M, a 15% margin. After "ITDA," this will likely end up as marginal at best given forecasted capex of $42M and depreciation of $98M.
Given their position, Zillow will likely not be profitable for another 2-3 years but should see profitability shoot up as the market matures and their development costs decrease as a percentage of revenue. As shown in the 2016 guidance, revenue growth is slowing, but the market is hardly tapped as real estate advertising is over $10B per year and Zillow is the leading edge of web and mobile spaces. As the market continues to modernize in this area, Zillow will continue to grow revenue although competitors can be expected to attempt to take market share from them so margins could be pressured. Overall, there is still plenty of room though to grow, especially as millennials swing toward buying houses as they age.
Stock Review:
Zillow trades under ZG for class A shares and Z for class C shares, similar to Google (NASDAQ:GOOG), (NASDAQ:GOOGL). They effectively trade in line with each other but I will focus on ZG for my review.
Given its lack of profitability, P/E is null. Beta is 1.18, not terrible for a tech company. Stock liquidity is high with a market cap of approx. $7B. The stock price peaked in 2012 in the mid-40s, declining with a bottom with the rest of real estate focused stocks in Jan-Feb 2016 ($17). It has appreciated largely since ($39) but still hasn't recovered the peak. At its bottom in February, price to book value was ~1 but has risen to 2.6 with the stock price. Similarly, price to sales is now up to 10.
Conclusion:
Zillow Group has become synonymous with the online real estate marketplace. They have also proven effective at monetizing this through real estate agent services, mortgage broker services, and display ad revenue. At the same time, they have still only tackled a small fraction of the market and there is huge future opportunity despite multiple competitors starting up and YoY growth greater than 50% for the last 2 years.
Zillow is not profitable and likely will only be marginally so for another couple of years. Heavy investments in sales, marketing, and technology should set them up to maintain market share and for profitability as the market matures. While adding focus on the rental market, heavy exposure to the home sale market will mean that a real estate market downturn will be a significant risk to their measures across the board and given their lack of profitability, could threaten their viability if extended.
The price is expensive in the short term by all valuation metrics. Investors looking to jump in while the market is small, buy knowing that this will be a long-term play (likely 2+ years before significant gains). Investors looking for short-term gains should look elsewhere until a market pullback brings the price back to more reasonable levels, knowing that as a growth company so this is not at all guaranteed.
Sources: All info obtained from Zillow SEC filings and Yahoo Finance
Disclosure: I/we have no positions in any stocks mentioned, but may initiate a long position in ZG, Z over the next 72 hours.
I wrote this article myself, and it expresses my own opinions. I am not receiving compensation for it (other than from Seeking Alpha). I have no business relationship with any company whose stock is mentioned in this article.
Additional disclosure: All opinions are my own and for informational purposes only. Investors should always do their own due diligence before initiating a position.