Bulls triumphed in July. Markets finally broke through more than a year's worth of resistance, with the Dow and S&P 500 punching forward to new highs. After making new highs several weeks ago, markets moved to a holding pattern, with stocks trading in a narrow range subsequently.
Summer trading and relatively strong earnings - particularly from technology - continue to support the market. However, other obstacles are mounting, among them, the rising probability of more Fed rate hikes, geopolitical concerns in Europe, terrorism globally, and China's weakening currency.
Most urgent of all would be crude oil (NYSEARCA:USO), whose repeated moves lower suggest that there's more wrong with the global economy than US stock prices would indicate. Around midday on Monday, oil dipped under $40/barrel:

This move has wiped out virtually all gains since April for the commodity, and the drop represents an almost 25% loss for oil holders since crude's peak in early June.
And yet, equity (and high-yield bond) owners seem strangely unperturbed. Energy equities (NYSEARCA:XLE) are down strongly Monday as oil breaks the $40 mark, but XLE is still near 52-week highs. It's nowhere near where you'd expect with oil sinking back to within view of this past winter's lows: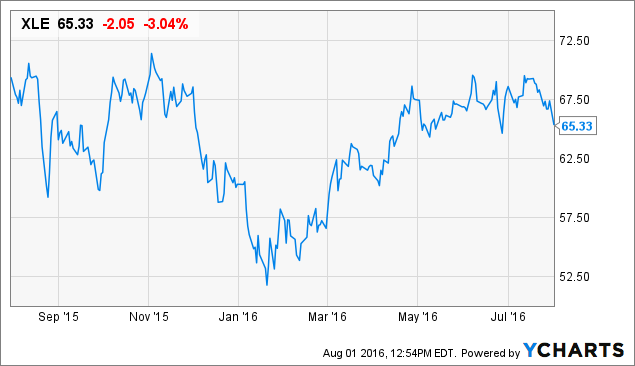 Energy stocks are still trading around where they did in November, despite a substantial loss in the underlying commodity. Downbeat to outright bad earnings results from the leading integrated oil firms should add to the selling pressure on the energy sector. But it simply hasn't materialized - yet.
As for oil, it remains clearly oversupplied, and unlike last year, now gasoline (NYSEARCA:UGA) supply greatly exceeds demand. This has caused a collapse in crack spreads, which is killing margins for independent refiners and integrated oil companies that didn't spin off their refining units.
While oil should hit $35 (or lower) technically, now that $40 has fallen, the gasoline situation offers a glimmer of hope. Record short gasoline futures positions now suggest that the market may be leaning too bearish on the refined goods space. A reversal in sentiment could cause a big squeeze in gasoline off the lows and help turn the overall mood for energy.
Outside of the energy sector, stocks rallied to new all-time highs on Monday morning, but they quickly fell back as oil dropped and then lost the $40 mark.
When Will The Correction Come?
Historically, July is (along with December) the most bullish month of the year, according to this article and corresponding image: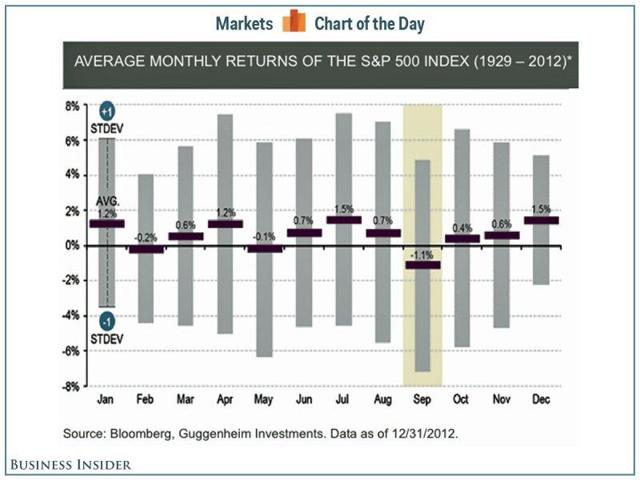 August, by contrast, is a more median type month. Stocks typically rise, but by a more modest degree. Still, the big selling tends to materialize after Labor Day, September is often a sharply negative month, with losses, on average, of greater than 1%, and the greatest potential losses of any month, based on a standard deviation basis.
If there's any underlying seasonal pattern, stocks rise during quiet summer trading, and then rapidly get repriced as vacationing investors return to their desks and decide to take profits and reduce risk. Negative events occur in a vacuum while traders are at the beach; when they return to their offices, then stocks are sold as the news is taken into account.
2014's big selloff started in mid-September. 2015's lurch lower initiated in late August. Trouble often strikes the stock market around Labor Day. To be clear, markets are overbought here, fundamentals are uninspiring and getting weaker - signs point to a big correction on deck. But as I've been cautioning since we broke out to new highs three weeks ago, you need to be careful shorting the market at the moment.
Volatility (NYSEARCA:VXX) (NYSEARCA:UVXY) continues to erode at a startling pace, the volatility ETFs are significantly red as of mid-day, even with the S&P down 12 points from the morning high. If you want to bet against the market, please pick some approach more sophisticated than buying UVXY - that ETF could easily be down another 25% in the next couple of weeks before the market starts to correct.
I am decidedly neutral on things here for the next few weeks. My retirement portfolio is all long and has almost no cash - as it usually is. In my trading book, I have a sizable position shorting volatility to profit from market inefficiency there. However, I have significant short positions and hedges to insulate from a sudden market break. I'll add to these shorts towards the end of August as the summer lull ends and things turn towards outright bearishness.
A big correction is coming, but in my view, you're still a couple of weeks early if you are starting going aggressively short today. This is not a good time to be shorting the market yet, and it's an equally bad time to take bold long positions. This move to new highs is not the start of a move straight up to 2,500 on the S&P 500. We can dispel with that notion. Part of investing is knowing when to sit on your hands - don't force anything in this dull summer trading.
Disclosure: I am/we are short VXX, UVXY.
I wrote this article myself, and it expresses my own opinions. I am not receiving compensation for it (other than from Seeking Alpha). I have no business relationship with any company whose stock is mentioned in this article.