From the ashes of the devastating Fort McMurray wildfires there was bound to be negative consequences within the companies operating in that area. One of the energy companies with the largest presence is Suncor Energy Inc. (NYSE:SU) which was faced with an unprecedented shut down of production during its last quarter, which is estimated to be around 20 million barrels of lost production.
This has led to an equally devastating quarterly report for Suncor and has sent shivers through its stock and have lead investors of the world's 13th largest integrated oil company to question the company's future.
The Q2 2016 backdraft
To put it bluntly Suncor's Q2 2016 report resembles more of a burned out wasteland than the financial sheets of one of the country's top oil producers. Cash flow from operations in the quarter fell to C$916 million from C$2.15 billion, the largest hit understandably came from its gross revenues from its oil sands operations which fell to C$1.16 billion from C$2.15 billion. Gross revenues from Exploration and Production fell to C$624 million from C$780 million and operating revenues from Refining & Marketing rose to C$885 million from C$816 million.
The drastic reduction to revenues stems from the drop in the average total upstream production of 330,700 boe/day in the quarter, down from 559,900 boe/day. Once again the fires in Fort McMurray are to blame as average daily production in the oil sands dropped to 177,500 boe/day from 423,000 boe/day. The lack of production for such a long stretch has led Suncor to post a net loss of C$735 million (-C$0.46 per share) as opposed to the net income of $729 million (C$0.50) Suncor generated during Q2 2015. This smoke-damaged quarter has also brought about a year to date net loss of C$478 million compared to a net income of C$388 million generated by this time last year.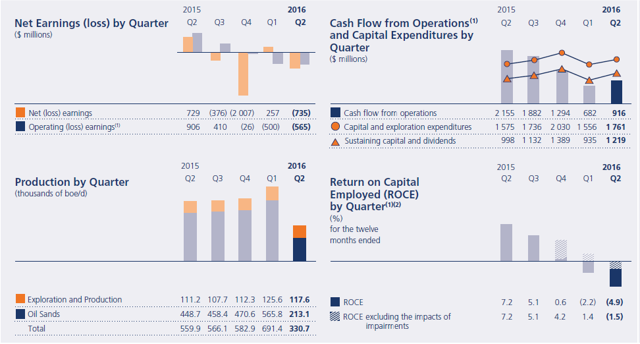 source Q2 2016 report
On top of the fallout from the forest fires net income also took a hit from a "C$73 million early payment of long term debt, an after tax non-cash charge of C$70 million relating to a mark to market loss on interest rate derivatives for future debt insurance, an exchange loss of C$27 million, and higher Syncrude related expenses."
Suncor continues to seek acquisitions
As oil prices have plummeted, hit the ground and begun to twitch, Suncor has used this as an opportunity to seek out growth through acquisitions. Such as its transformational C$6.6 billion acquisition of Canadian Oil Sands Limited, which made it the largest owner in the Syncrude consortium. During the past quarter Suncor also purchased Murphy Oil's 5% stake in Syncrude for C$937 million, which not only adds 17,500 boe/day of production but makes Suncor the majority stakeholder in Syncrude.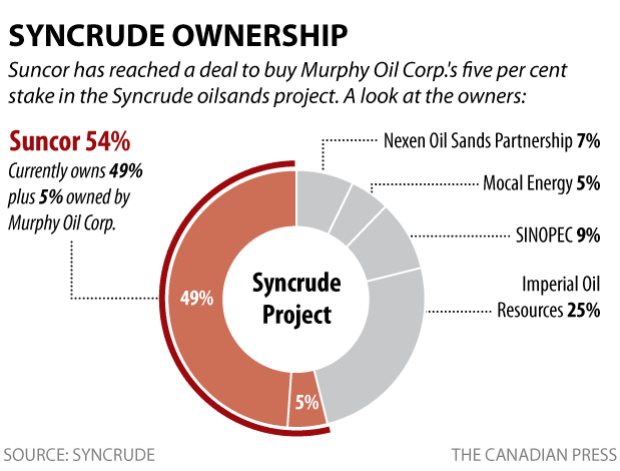 Suncor has been funding these types of acquisitions through its recent bought-deal offering which generated C$2.9 billion through 82,225,000 common shares sold at a price of $35.00 per common share. Suncor has also been able to shave expenses by reducing its costs per barrel to C$25.00 from C$37.00 which is where it was back in 2013. Suncor has also stated that it is also willing to sell certain assets and operations to help it proceed with its long term goals. It is believed that Suncor is looking to generate up to C$1.5 billion through this tactic and one of those assets which has been identified in its Q2 report has been the potential sale of its lubrication business. Suncor is hoping that acting this aggressively during such a down energy market will help it in its long term goals to increase its average production to 800,000 boe/day by 2019.
Some quick thinking such as this will be necessary as Suncor's total debt has increased in the second quarter to C$17.5 billion from C$15.3 billion. This has brought Suncor's net debt to cash flow from operations ratio to 3.0 from 1.2 in Q2 2015. Cash flow from operations (12 months ending June 30) fell to C$4.77 billion from C$7.4 billion and free cash flow (12 months ending June 30) is in the red at -C$2.3 billion from C$795 million. Much of this increased debt has come from the C$9 billion which Suncor has spent on acquisitions over the past 12 months, undoubtedly at discounted prices due to the price of oil. Despite all of this Suncor still paid out C$458 million in dividends in the quarter.
New life emerges from the ashes
These results must be tempered with the once in a lifetime circumstances surrounding the Fort McMurray forest fires and that Suncor's Q3 2016 report will paint a more accurate picture of the company. The debt will remain somewhat of an issue for as long as oil remains below $50.00 per barrel, but given the sheer size of Suncor's reserves it will be able to throttle its production until better prices materialize. As Suncor's CEO stated recently that "For practical purposes I have in my ownership enough resource for the next 100 years, perhaps 200 years depending on what rate we take it out at. But I'm not like most oil companies".
Just like in a natural forest fire the dead wood is burned away, seeds get activated and before long new life rises up from the embers. Suncor appears to be in a very similar situation following this Q2 report and the entire energy crash in general. I believe that the stock is now in a prime place for a long term hold on this company, and analysts are expressing a similar attitude with the current buy rating on the stock.
The shock of the quarterly report has sparked both increased price targets and an indifferent stock price.
| | | | | | |
| --- | --- | --- | --- | --- | --- |
| | Price | 52 Week Low | 52 Week High | Average price target | Price target range |
| TSX | C$35.14 | C$27.32 | C$40.35 | C$40.60 | C$38.00 - C$51.00 |
| NYSE | $26.91 | $18.71 | $30.70 | $38.97 | $32.61 - $41.00 |
On top of these increased price targets including the most recent TSX price target of C$41.00 from TD Securities. Then there is the dividend, as I mentioned earlier Suncor paid out C$458 million in dividends in the quarter, this works out to C$1.16 per share with a yield of 3.32% on the TSX and 3.38% on the NYSE. On a quarterly basis Suncor has increased its dividend (post stock split) from C$0.05 in 2008 to its most recent payout of C$0.29. Going forward I believe that Suncor remains a top pick in the oil sector and that all of the recent issues have presented an excellent opportunity to consider this company. As a disclaimer investors interested in Suncor should still keep a close eye on the company's debt and free cash flow levels for the immediate future to gauge the true health of the company until oil prices fully recover.
Author's note: If you enjoyed this article and found it helpful, please "Follow" me on Seeking Alpha to receive notification whenever I publish a new article.
You may also be interested in other recent articles I have written for Seeking Alpha with my Canadian point of view that focus on stocks and stories that I have found compelling. You can also find my previous articles here for further study.
Disclosure: I/we have no positions in any stocks mentioned, and no plans to initiate any positions within the next 72 hours.
I wrote this article myself, and it expresses my own opinions. I am not receiving compensation for it (other than from Seeking Alpha). I have no business relationship with any company whose stock is mentioned in this article.