The current market rally is being driven by two things:
Equity Risk Premium: ERP is the difference in the risk premia spread between assets, most notably 10yr treasuries and the equity markets. Falling rates around the world continue to make equities the only game in town.

China's Massive QE: China has been conducting a MASSIVE hidden QE over the last 6 months through their repo markets. This is likely having a large impact on commodity demand and boosting some emerging markets.
The Equity Risk Premium
Liquidity and spreads are the two most important factors to markets - always.
As the yield on long bonds (NYSEARCA:TLT) continues to move lower, the risk premium on equities is widening, making equities more attractive.
Long bonds have been one of our highest conviction trades this year, and have performed as hoped. They're being driven by global relative value. US bonds are cheap in comparison to the rest of the world at NIRP. The US is also the cleanest dirty shirt, economically speaking.
Here's a note from Deutsche on the subject of ERP and equities:
One should also look at how the equity risk premium has evolved to get an appreciation for the role it plays in supporting equities. From 1982 to 2009 it behaved fairly predictably, staying in a range between zero and 4 percent. The ERP climbed even as earnings increased because investors start demanding more from equities over the risk-free rate for protection against higher inflation and a maturing business cycle. In the two decades preceding the early 2000s, the ERP had seemed to be trending down ever so slightly, perhaps because of steady declines in inflation from levels observed during the 1970s. The dot- com boom saw the ERP reach a near-record low, and the subsequent market decline pushed it back up nearly to historical highs, which had prevailed for most of the 2000s.

After the SPX (SPY) lost nearly 60 percent of its value between 2007 and 2009, the equity risk premium reached new highs. Investors demanded as much as a 7 percent premium from stocks over government bonds as late as 2012, even as the general outlook was steadily improving. It wasn't until the last couple of years that the ERP began to decline, supporting equities even as earnings slowed. Currently at 3.6 percent the ERP is at its lowest level since the recession but still sits above the upper bound of its pre-crisis historical range. The important takeaway is that to the extent the ERP still has room to fall back to its historical average of 2 percent, it could provide roughly another 200 points of upside to the SPX.
The chart below from DB shows just how much impact ERP compression has had on this bull market.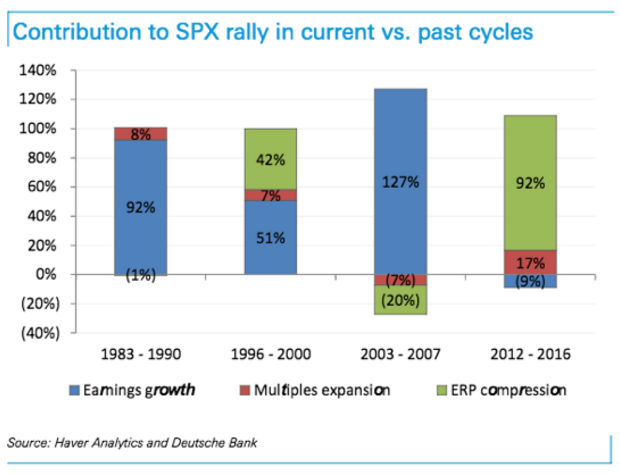 This is no surprise to us. The bull market of the last few years has been almost entirely driven by rate reduction and ERP compression. It started with QE and has been carried on by global central bank meddling and increased economic fears spurring a flight to safety.
As long as US bonds continue to rally with no external shocks, it's very likely that equities continue higher. Of course, the more ERP gets squeezed, the more susceptible it becomes too violent risk premium expansions (equity sell-offs).
ERP is comprised of treasury rates and earnings expectations. All it'd take is either a rise in interest rates or a hit to earnings estimates to kick off an ERP unwind. The longer rates fall and the more unrealistic earnings expectations become, the higher the probability of this unwind occurring.
The two charts below show how real this risk is. The chart on the left reveals the dramatic earnings increases expected by analysts and the chart on the right shows how the yield on the 10yr has now fallen more than two standard deviations below its 200 day moving average. The rubber band is stretched tight, just waiting to snap back.

China's Stealth QE
China (NYSEARCA:FXI) has been and continues to be the biggest market wildcard for both bulls and bears.
It's the largest bearish wildcard for global markets because of the inevitable yuan devaluation, which has steadily picked up steam over the last few weeks.
It's also the largest bullish wildcard for global markets because it's been injecting more cash into its system as a percentage of GDP than any other country in history. Here's the following from Crescat Capital:
The PBOC has injected over $1.6 trillion of cash into the Chinese markets this year through the repo market. This intervention (net of foreign reserve changes) is approximately $2.8 trillion annualized, or about 26% of its nominal GDP. This annualized net level of QE is beyond any other major central bank stimulus program today. It exceeds both that of the European Central Bank (ECB) and the Bank of Japan (BOJ).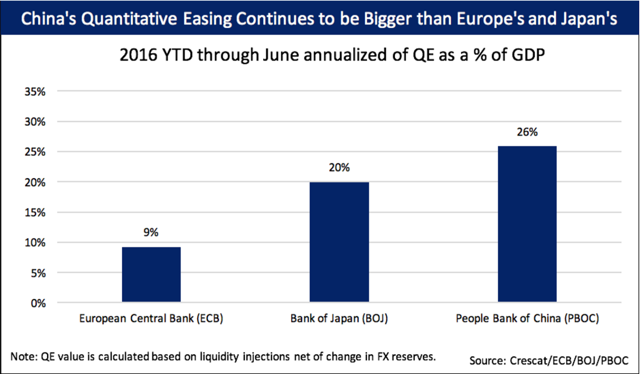 $1.6 trillion in monetary injections in just six months is nuts. There's just no way to know what this means for China over the short and medium term.
We agree with Kyle Bass that this monetary expansion means an eventual large yuan devaluation. But in the meantime, this could lead to increased infrastructure and other wasteful and gluttonous Chinese spending. It's already been blowing up Tier 1 property prices (again).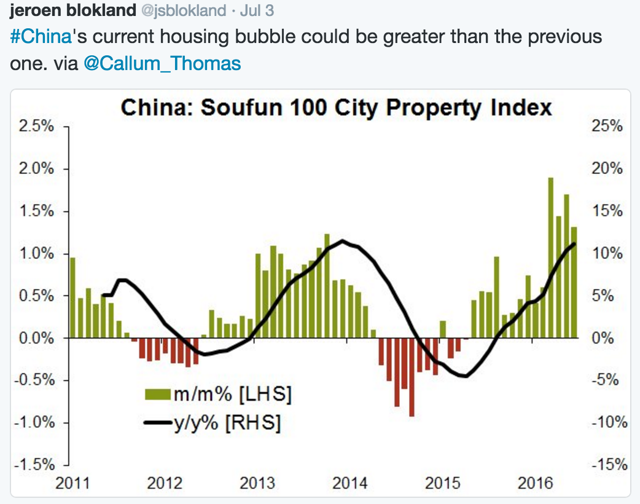 And that could be why we're seeing an uptick in a lot of the commodity emerging markets.
How long can China's monetary/credit expansion prop things up? No way to know. This is completely unprecedented and there are conflicting signals everywhere. China's corporate bond market has completely tanked, but at the same time, there's some Chinese equities (NYSEARCA:ASHR) that look positively bullish from a price action perspective.
The current market rally can indeed be very profitable, but it's also dangerous. There's no shortage of potential exogenous shocks that can turn the tides. The coming Italian banking crisis, Deutsche Bank's (NYSE:DB) potential failure, and the end of the Shanghai Accords (NYSEARCA:UUP) are just a few to consider. Our plan at Macro Ops is to ride this rally, but keep our risk management tight.
Disclosure: I/we have no positions in any stocks mentioned, and no plans to initiate any positions within the next 72 hours.
I wrote this article myself, and it expresses my own opinions. I am not receiving compensation for it (other than from Seeking Alpha). I have no business relationship with any company whose stock is mentioned in this article.